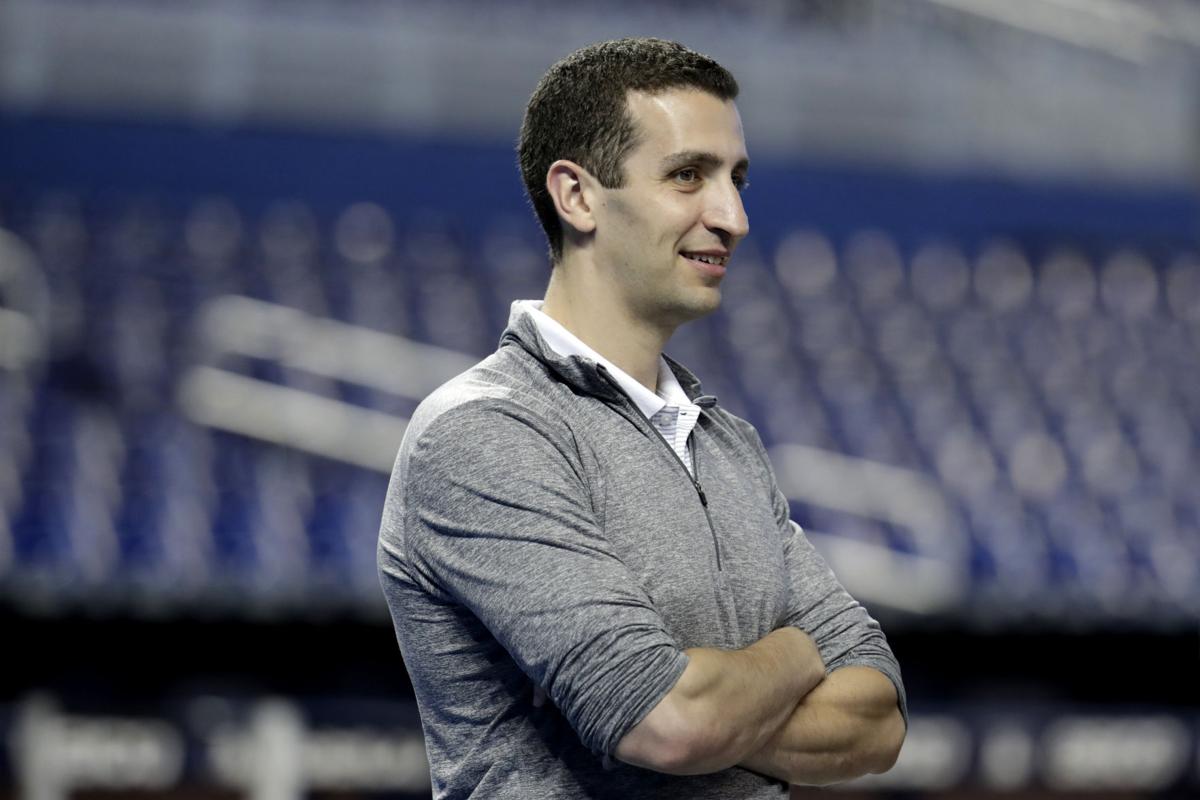 MILWAUKEE — Baseball is going to look significantly different when it finally makes its 2020 debut next month but how it looks doesn't much matter to David Stearns.
Instead, the Milwaukee Brewers' president of baseball operations is just happy to see his team return to the field more than three months after the global COVID-19 pandemic brought the game to a stop and is looking forward to what lies ahead.
"We know it's going to be an unusual season and going to be a different-looking season, but it's going to be a baseball season nonetheless," Stearns said during a video conference Friday morning. "That's something that I think is really meaningful for all of us."
His first priority is to settle on the list of 60 names that will make up the Brewers' player pool. Of that group, 45 will take part in the major league portion of Spring Training 2.0 — which will be held at Miller Park in Milwaukee — while the rest of that group will work out at the team's designated Alternate Training Facility, Neuroscience Group Field at Fox Cities Stadium in Appleton, home to the Brewers' Class A affiliate.
Players will report for intake testing on July 1 then undergo their usual pre-camp physical examinations before the first scheduled full-squad workout on Saturday, July 4.
Stearns and his staff are close to finalizing their list of players for big league camp and with the possibility of no minor league season, are likely to add some of the team's younger, lower-level prospects into their player pool in order to maintain their development.
"By the time we have a full complement of players in Appleton, there will be a handful of players who are there who are likely lower-level prospects who are there to continue their development," Stearns said.
So far, Stearns said he hasn't heard from any players who plan to opt out of the season due to health or family issues and that a "small number" of individuals in the organization have tested positive for COVID-19, but are asymptomatic and doing well.
Keeping everyone — players, coaches and staff — healthy and safe will be a primary focus as things slowly return to normalcy.
"We still recognize just how contagious this virus is," Stearns said. "We're putting in a number of precautions. ... We're going to do our best educate our players as best as possible on how they can remain healthy and how we can put ourselves in the best position to succeed in this environment and how we can keep everyone safe."
The actual schedule has yet to be released but the Brewers are expected to open the season either Thursday, July 23 or Friday, July 24. They'll play a 60-game schedule consisting of 40 games against their NL Central rivals and 20 more against teams from the American League Central Division.
That leaves little room for error, especially to open the season, but it's just another challenge Stearns thinks the Brewers are more than equipped to handle.
"The way I'm looking at it and the way I think we're going to approach this is we're waking up in the middle of the season and it's a five-way race for the Central Division championship," Stearns said. "That's probably not too dissimilar to what we thought it was going to look like at the front end of the season.
"We thought this was going to be a very tightly compact division, a very hotly-contested division with the vast majority of the division having very strong clubs this year. So that's where we are. We're in late July, we have a really tight division and have a really exciting pennant race coming up.
"If you think back to a normal season, when you're in those late July moments, I don't think anyone feels like you're in a mad dash to the finish line. I think you still recognize there's a long season left and a lot of season left. We've learned that first-hand over the past couple of years when even just a month or half a month of baseball at the end of the season can change the outcome of a season. We're cognizant of that. We understand that every game is going to take on more importance because there are fewer games but we also recognize that 60 games is still a lot of games.
"It's a lot of baseball and we have to be able to compete and be successful throughout the entirety of the 60 games so we're going to manage our roster in a way that allows us to be successful for the entirety of the 60 games."
While Stearns and his staff are working on the on-field product, Brewers President of Business Operations Rick Schlesinger is focused on the financial side of things, most notably the challenges posed by playing a season without fans in the stands at Miller Park.
Despite playing in one of the game's smallest markets, the Brewers ranked eighth last season in total attendance (2,923,333) and average attendance (36,090). Losing the revenue stream generated by ticket sales, parking and concessions is a deep blow for the business side of things and part of the reason the organization furloughed a number of its employees recently.
"The loss of that revenue is obviously severe and impactful," Schlesinger said. "So 2020 is going to be an extremely difficult financial picture for our organization."
Should conditions improve and both the City of Milwaukee and Major League Baseball allow the Brewers to open the gates, even on a limited basis, Schlesinger looks forward to welcoming fans back. Until then, he said the team plans to reach out to ticket holders over the "next 72 hours" with information on refunds or credits towards future games.
"What has been sort of interesting to me, and a testament to the bulk of our fans, is a lot of our fans and season ticket buyers have requested a credit if there's games this year and also for 2021 as opposed to refunds," Schlesinger said. "Even if the odds are small that we can have a large number of fans in 2020, a lot of our season seat-holders are still hanging onto that hope and keeping money in an account.
"We're obviously offering opportunities for credits, refunds and other exchanges based on the fact that without question 2020 is going to be a very different year in terms of whether or not we have fans."
Schlesinger also said the situation will not impact the transition of Miller Park to American Family Field at the end of the year.
"We're full-speed ahead," Schlesinger said. "Notwithstanding this unusual 2020 season, the ballpark will have a new name next year and new signage."
Be the first to know
Get local news delivered to your inbox!