One by one, the sporting events I most enjoy are falling victim to the ongoing battle with the coronavirus pandemic.
My favorite weekend of the year — the upset-riddled first and second rounds of the NCAA men's basketball tournament — came and went last week without so much as a ball being bounced.
My favorite day of the year — the Milwaukee Brewers' home opener — was scheduled for Thursday at Miller Park, but instead of playing host to the loathsome Chicago Cubs, the stadium that saved baseball in Milwaukee will sit empty.
No players, no fans, no game and no assurances there will even be a baseball season in 2020.
Like many of you, I'm saddened by that. It's OK to be saddened by that, too.
Please don't misunderstand that last sentence. There will be no whining here over the absence of the games and events that entertain us, certainly not while a national catastrophe unfolds around us. On a scale of 1 to 10 in terms of importance in our virus-ravaged country right now, sports is a 1.
It would be a -1 except spectator sports in general and baseball in particular serve useful functions, even in times like these. They provide us with an entertaining diversion from the daily grind that sometimes consumes us. They have become big business nationally and have the ability to spur local economies as well. Mostly, though, they provide us with a shared experience that facilitates communication and pulls us together like few things can.
Among all sports, baseball is special in that regard.
It's most endearing and enduring quality is its timing. The start of the baseball season coincides with the start of spring and the two have much in common. Whether they follow a dreary winter or a dreadful season, both inspire a palpable sense of rebirth and a hope and belief that better days are ahead. I don't have to tell you that we all need a little bit of that right now.
In most years, the talk on Opening Day would focus on the Brewers and the 162-game season about to the played.
We would be hoping, as we do every year, that the Brewers have enough starting pitching. We would be hoping Christian Yelich and Keston Hiura hit well enough to drive an offense that might have platoons everywhere else. We would be hoping Corey Knebel returns from elbow surgery and teams with Josh Hader to make the bullpen special once again. And we would be hoping this is another one of those seasons where the experts predict the Brewers didn't do enough to improve themselves and yet manager Craig Counsell somehow squeezes a playoff berth out of an allegedly substandard roster.
Major League Baseball hasn't publicly revealed any plans it has for the season or even if there will be a season. At this point, about the best we can hope for is an abbreviated season.
Even if the corner is turned on the spread of coronavirus in every part of the nation — and that's a big if — the most likely scenario for baseball might be an 81-game season starting around July 1. The players are working out on their own as best they can, but they'll need at least a month of team workouts and exhibition games to get ready once they reconvene, making a June 1 start the most optimistic estimate for a possible restart. Even if teams do return to the field, it seems unlikely large gatherings will be allowed in stadiums until the coronavirus threat is completely extinguished.
Now that it is apparent the season will be dramatically altered, people are offering up plans to save it. Player agent Scott Boras proposed a 162-game season, but it would include tons of doubleheaders, playoff games until Dec. 26 and many late-season games being played at neutral sites. In other words, it has no chance.
Besides, as we have discovered since the sports world abruptly shut down two weeks ago, there is no substitute for the real thing.
During the first weekend of the NCAA tournament, people offered up all sorts of diversions. They took simulated brackets and played out the tournament, sometimes by the so-called experts, sometimes by online voting, sometimes by statistically generated power rankings. One such venture even declared the University of Wisconsin the national champion, leading to T-shirts and a "One Shining Moment" video being produced to commemorate the, um, title.
Networks began airing past games from the NFL, NBA and major college sports. While I thoroughly enjoyed the reminder of just how good Sam Dekker was during UW's six-game tournament run in 2015, how advanced Russell Wilson was during his one season as quarterback of the Badgers and how Kareem Abdul-Jabbar was the NBA's best player the minute he stepped on the court as a rookie with the Milwaukee Bucks, memories are not enough to sustain us.
Games are what sustain us and there is nothing that quite matches the sights and sounds of Opening Day and the hope it inspires. The fact that we won't experience that Thursday is a reminder that we all must sacrifice, we all must do our part to control the spread of the coronavirus. If we do, perhaps we can still have an Opening Day in 2020.
---
Unanswered questions for the Brewers
FILLING OUT THE STARTING ROTATION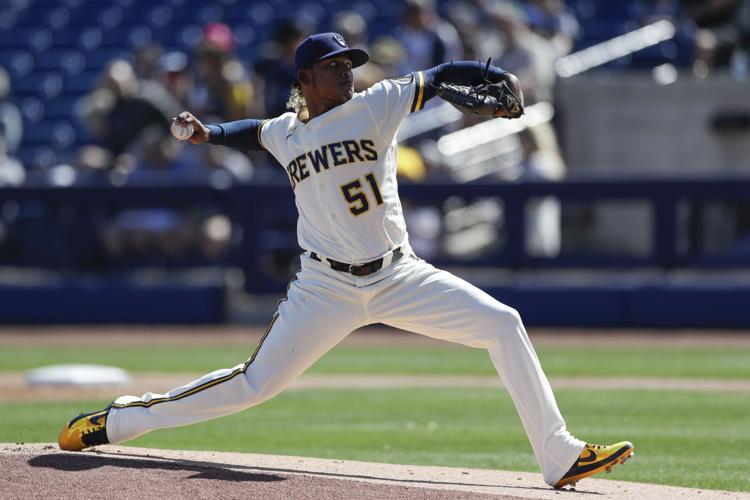 When camp opened, Craig Counsell considered four of his five starting rotation slots filled with some alignment of Brett Anderson, Adrian Houser, Josh Lindblom and Brandon Woodruff penciled in and Corbin Burnes, Eric Lauer and Freddy Peralta (above) battling for the fifth spot.
Lauer was the front-runner for that spot before suffering a left shoulder impingement that was likely to land him on the injured list to open the season. He appeared in three games in Arizona, allowing just one earned run with nine strikeouts over 5 1/3 innings of work.
Peralta, armed with a new-and-improved slider that he honed during winter ball, allowed six runs over 12 innings of work during Cactus League play while striking out 15 batters with just five walks during that stretch.
Burnes was considered behind Lauer and Peralta at the start of camp but he made a strong impression, going 2-0 with a 0.90 ERA in four appearances with 13 strikeouts and just three walks over 10 innings of work.
Picking one of the three was shaping up to be a difficult choice ahead of Opening Day and likely won't be any easier when play resumes.
ARCIA VS. URIAS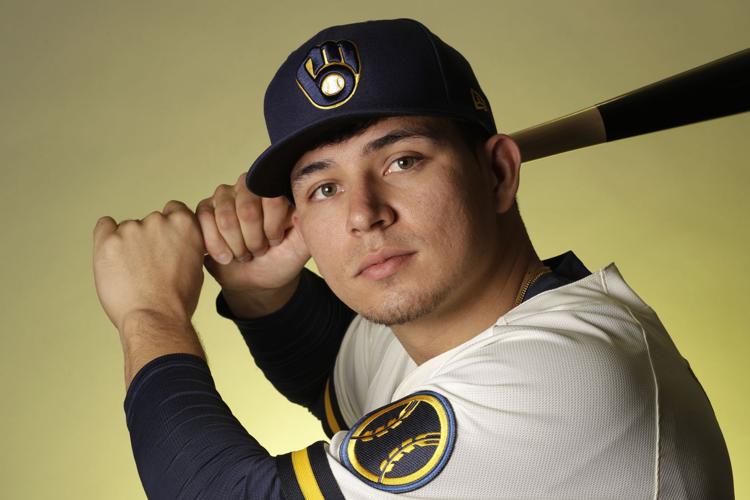 Luis Urias (above) had missed most of spring training while recovering from surgery to repair a fractured left wrist. He was supposed to make his first appearance of the spring on March 12, when the Brewers' split-squad contests against the Diamondbacks and Rockies were washed out by rain and MLB stopped all games the next day.
Urias' arrival in a November trade with San Diego seemed to put Orlando Arcia's future with the Brewers in doubt, but with Urias sidelined, Arcia took advantage of the opportunity, batting .296 (8-for-27) with five home runs, 12 RBI and a 1.236 OPS.
"Putting challenges in front of Orlando has always been effective," Counsell said. "I think he thrives on it and I think he almost needs it. He can handle it. He's been very productive in those situations and those spots."
LOGAN MORRISON'S BID FOR A SPOT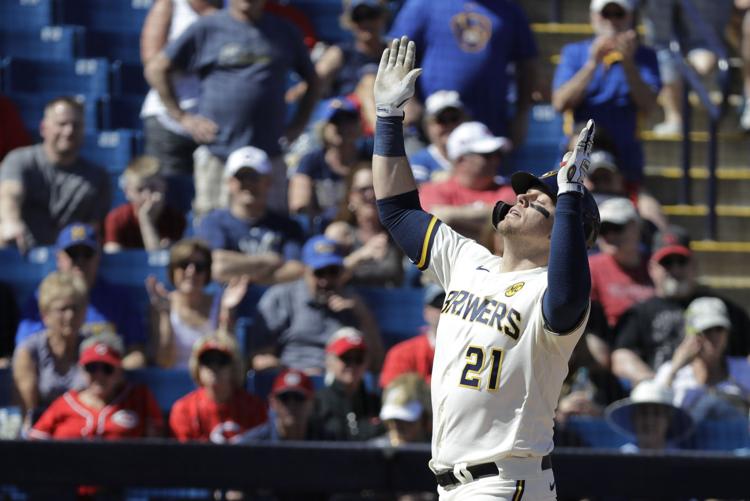 Logan Morrison (above) had no intention of going back to Class AAA and made that clear every time he stepped into the batter's box, going 9-for-30 with three home runs and seven RBI in 12 games.
Primarily a first baseman who can also play left, Morrison doesn't have the positional versatility that the Brewers covet but his power, along with the extra 26th roster spot this season, made him an intriguing late-inning pinch-hitting candidate.
"Logan is a proven major league hitter," Counsell said. "He's in competition to be a bench bat but a dangerous at-bat late in the game with a chance to leave the park is what he offers."
Like many veterans in camp on minor league deals, Morrison's contract included an out clause that would have allowed him to seek an opportunity elsewhere with 10 days left in Spring Training. How those clauses are handled moving forward has yet to be determined.
BRAUN'S BIG SWITCH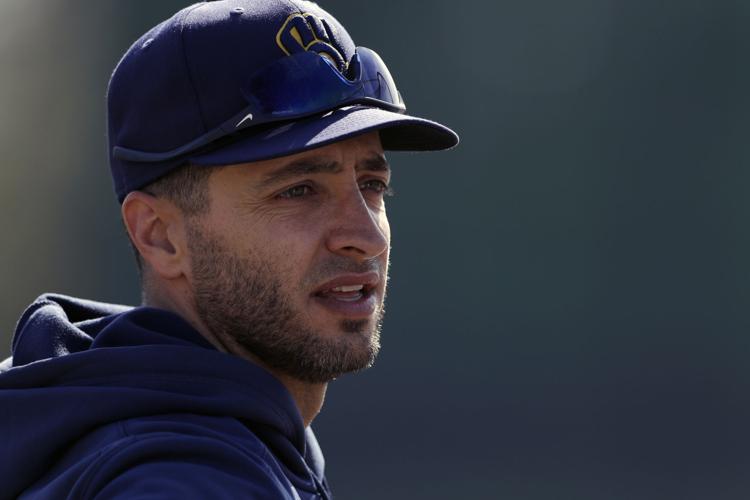 Ryan Braun (above) spent most of his camp out on the back fields getting re-acclimated to playing first base and right field where he was expected to split time during the regular season with Justin Smoak and Avisail Garcia, respectively.
Braun made his Cactus League debut on March 8, going 1-for-3, while serving as the team's designated hitter because of a sore right shoulder. He was expected to see time in the field later that week but those plans were ultimately scrapped when play was stopped.
Entering the final guaranteed year of the $105 million contract extension he signed in 2011, Braun has hinted at the possibility that this could be his last season. If it is, losing a significant chunk of it would be disappointing but Braun understands the reality of the situation.
"This is so much more important than baseball," Braun said. "This is something that's affecting everybody's livelihoods in every imaginable way and, in ways that weren't imaginable. Again, the health, safety and well-being of the general public is what's most important here and all of us should focus on what we can do to do our little part to make sure this thing doesn't spread and it doesn't get out of control here."
Be the first to know
Get local news delivered to your inbox!