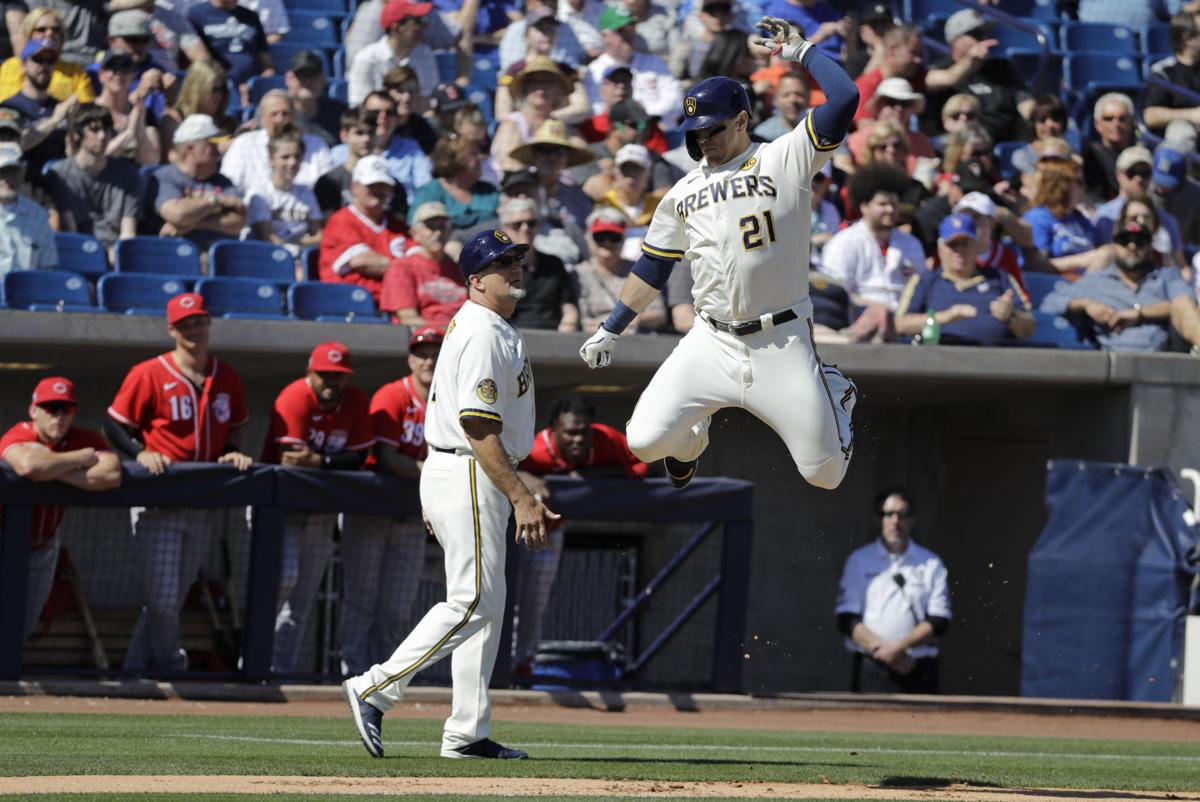 MILWAUKEE — Most players spent Major League Baseball's three-month COVID-19 hiatus maintaining their conditioning and skills while they waited for the call to go back to work.
Logan Morrison took a different approach.
The veteran slugger, in the Milwaukee Brewers' summer camp as a non-roster invitee, spent his quarantine essentially rebuilding his body. While many — athletes and civilians alike — lamented the addition of a "quarantine 15" to their waistlines, Morrison actually shed weight since leaving spring training in March.
"My body didn't feel particularly great in spring training," Morrison said Monday during a video conference with reporters. "If I played a back-to-back, I'd be sore or have joint soreness, all that kind of stuff."
Morrison, 32, spent his offseason working with a trainer on a rigorous and intense training program. He tried to maintain the program once camp opened but found that the nuanced portion of the workout, which he said incorporates a lot of specific form and breathing techniques, needed refining.
"Stuff that, if you're just a little bit off, you're not going to get all the benefits of it," Morrison said. "I had the extra time (during quarantine) to be able to understand it better and dive into it."
The extra work has paid off for Morrison, who said he's able to be quicker and more efficient with his workouts. If problems arise along the way, he says he can make an immediate adjustment to target any areas of concern.
"Knowledge is power," Morrison said. "One thing I learned through the process is the mind truly is the most powerful muscle in the body. I basically changed my body, the way I feel and the way I move."
Additionally, the usual aches, pains and soreness that come with getting back into baseball shape haven't been a problem in this version of camp. That's the most significant benefit for Morrison, who hit 38 homers with 85 RBIs in 149 games with the Rays in 2017. After signing a $5.5 million contract with the Twins the next season Morrison was plagued by a hip injury that held him to a .186 batting average, 15 home runs and a .644 OPS in 95 games.
The injury led to surgery and a minor league deal with the Yankees then another with the Phillies, who called him up for 35 at-bats over the final weeks of the 2019 season.
Morrison' pre-injury performance and numbers last season in Class AAA were enough for the Brewers to take a chance on him as a non-roster invitee. He made a strong case for inclusion on the Opening Day roster in 12 Cactus League games, hitting.300 (9-for-30) with three home runs and seven RBIs and posting a .964 OPS in 33 plate appearances.
"When I'm healthy, I'm a borderline All-Star," he said in March.
Brewers manager Craig Counsell and the front office coveted Morrison's ability to provide power off the bench in late-game situations but finding a spot for him on the 26-man roster presented a challenge.
With rosters expanding, at least for the first month of the season, there's room to add a player such as Morrison and what he did in March, as well as what he does now, will play a role in the decision, Counsell said.
"Logan's camp made an impression for sure," Counsell said. "His body of work as a baseball player makes an impression. His skill set is he's a dangerous left-handed bat. That's what he is. That's what he's done in his career, he's proven in his career. We have to find if there's a spot for that and where that fits the most and how he can help us."
Morrison made it clear he had no desire to return to the minor leagues for another season. He had an opt-out in his original contract that would allow him to look for another job if the Brewers didn't plan on adding him to their big league roster.
"If I'm here, that's awesome," Morrison said. "This is where I want to be, no doubt, but baseball is crazy. You never know what's going to happen so I'm just trying to be the best version of myself, whatever that is. And if it's nowhere, I'll go to an island. I'm not worried about it."
Adjusting to new rules
Counsell and his players are still getting used to the many on-field health and safety rules implemented as part of baseball's COVID-19 protocols.
Spitting, high-fives, tossing the ball around the diamond are all among the list no-no's this season. Eliminating those habits, many of which have been ingrained in players since their Little League days, isn't something that happens overnight.
"No one is perfect with this stuff, because when you're asking for a lot of behavior modification from everybody, we're all going to mess up a little bit, right?" Counsell said. "It's really about just reminders from everybody and kind of vigilance for each other that we take care of each other and just remind each other of when we're doing something that is (banned).
"It's hard to break some of the habits that we all have. I think that is the best way to say it. That's just kind of up to the group to keep reminding each other of. We're not going to be perfect. You're going to see things on TV during games, when we get into that segment, some of you are going to see somebody spit on TV. That's gonna happen. We're trying our best. Some of the habits that we all have are really hard to break."
MLB's health and safety manual didn't specify penalties for infractions, leaving it up to the players to police themselves in some form or another.
"Do we need a fine for it? I don't know," Counsell said. "It doesn't seem to be a thing that you (should) get fined for. I think it's really about us kind of calling each other on it, saying, 'That's not safe.' I think that's how you handle it."
Morrison admitted that he still throws the ball across the diamond after making a catch at first base and it's inevitable that he'll reflexively do it again.
"You're trying to break habits that you've had your entire life," Morrison said. "Spitting on the field or whatever, it's going to happen, unfortunately. If they fine me ... I mean, look. It's ridiculous, but I guess they can do whatever they want."
Let the games begin
With several days of controlled scrimmages in the books, the Brewers took it easy Monday, holding just a light workout to provide work for a handful of pitchers as the team prepared for phase two of its summer camp.Starting Tuesday, the Brewers will shift to a night schedule and play more intrasquad games, which Counsell has dubbed the "Blue & Gold World Series."
With only one official exhibition game on the schedule, and not until July 22, Counsell and his staff hope that this series of games will help ramp up the intensity in camp and break the monotony of seeing the same faces every day.
Whether or not it works, Counsell wasn't sure. But in what's already been a strange year, he's willing to give it a shot.
"This is how we're going to try to do it," he said. "We're still playing against each other, and there's just still limitations when you're playing against each other.
"The real thing that ramps it up is just we are (fewer) days away from the start of the season. That's what we have to prepare for. I know the players understand that and they're very cognizant of it… There's not enough time, frankly, in this camp to prepare for the things that we would in a normal camp. We're doing as much as we can for these guys, knowing that some stuff's going to be left out."
The players will form the teams through a draft with outfielder Avisaíl García and catcher Omar Narváez serving as captains.
Why the two newcomers? Counsell had a simple answer:
"I had the right to do that," he deadpanned, noting that both accepted the assignments "against their will."
On the air
Fans can watch live streams of the scrimmages on the team's website with commentary from the team's regular stable of broadcasters.
Brian Anderson, Bill Schroeder and Sophia Minnaert will call the games Tuesday and Wednesday while Matt Lepay will replace Anderson on Thursday's broadcast.
Radio announcers Jeff Levering and Lane Grindle will take over for Friday's scrimmage.
In addition, the Brewers will try to replicate a normal game atmosphere despite having no fans in the stands. The scoreboard will operate in usual game mode, there will be player introductions — but no walk-up music — and, by week's end, there will be piped-in crowd noise.