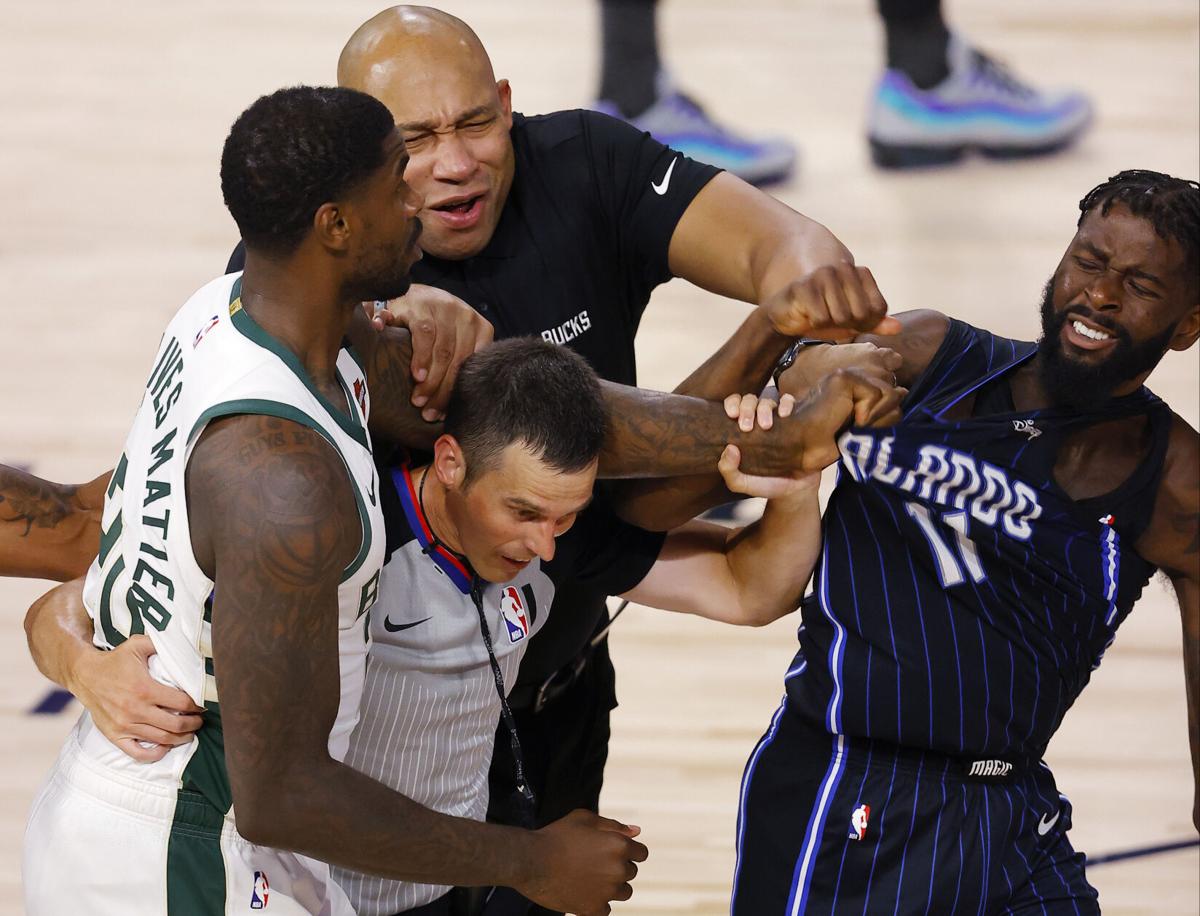 Marvin Williams has no intention of asking for forgiveness, not of his teammates and certainly not of James Ennis.
The Milwaukee Bucks veteran forward was ejected along with Ennis after the two were involved in a skirmish late in the first half of Saturday's 121-107 victory over the Orlando Magic in Game 3 of their first-round Eastern Conference playoff series.
"There's certainly not going to be any apologies," Williams told reporters during a video conference Sunday afternoon from inside the NBA bubble at Walt Disney World. "I know my teammates know that I want to be there for them any way I possibly can, but like I said, at the end of the day I'm a man and I'm always going to stand up for myself. So, I'm not going to apologize to James or to anybody for standing up for myself. No."
The NBA fined both players $15,000 for their roles in the altercation, but both will be available Monday afternoon when the Bucks return to the court and neither Williams — nor his teammates — have any intention of lowering their intensity. In fact, the Bucks plan to use Williams' ejection as a motivator as they look to take a commanding 3-1 lead in the best-of-seven series.
"Marvin's a leader. He always plays hard. He does everything for the team," Bucks forward Giannis Antetokounmpo said after the game. "What he did, it's got to mean something for the team, right. We were even more locked in and we were playing even harder, because that's what a good team does."
Williams and Ennis got tied up underneath the basket, battling for the rebound on a missed shot by Nicola Vucevic. Ennis shoved Williams toward the free throw line, then again when Williams started to get back down the court. Williams responded by shoving Ennis back, leading to the double fouls and ejections.
The two continued jarring at each other while referee Kevin Scott and Bucks assistant Darvin Ham tried to break up the scuffle. When Ennis tried to pull away from Williams, who was grabbing his jersey, he inadvertently knocked Ham to the ground and just missed hitting Scott.
Williams didn't think the initial shove was intentional at first. When Ennis did it a second time, the 15-year veteran felt he had to send a message.
"If anybody knows me, I don't condone violence ever," Williams said. "I don't think it belongs in any sport, but obviously sometimes things do get chippy — this is the playoffs — but at the end of the day, we're all grown men and there's just some things I'm not going to stand for. I feel like that's what I told him yesterday."
Speaking to a pool reporter after the game, referee Marc Davis said the altercation was classified as a "fight" — warranting automatic ejections — when it didn't break up "without the aid of game officials, coaches and players."
That explanation didn't set well with Williams, who signed with the Bucks in February after reaching a buyout agreement with the Hornets.
"Whenever there's some type of situation on the court, players, referees, coaches they always intervene," Williams said. "If that was their excuse I think that's a poor excuse. … I disagree with that 100%."
Bucks coach Mike Budenholzer stood behind Williams. And while he would prefer to not see his players involved in fights or ejected, he understands tempers can flare during a playoff series.
"Marvin's toughness, Marvin's competitiveness, our group, our edge is important to us," Budenholzer said. "We certainly don't want to ever not have that edge and have that physicality, have that competitiveness and hopefully you can stay in the game and things like that don't happen, but Marvin is a pro and we're just fortunate to have him and his toughness."
Be the first to know
Get local news delivered to your inbox!