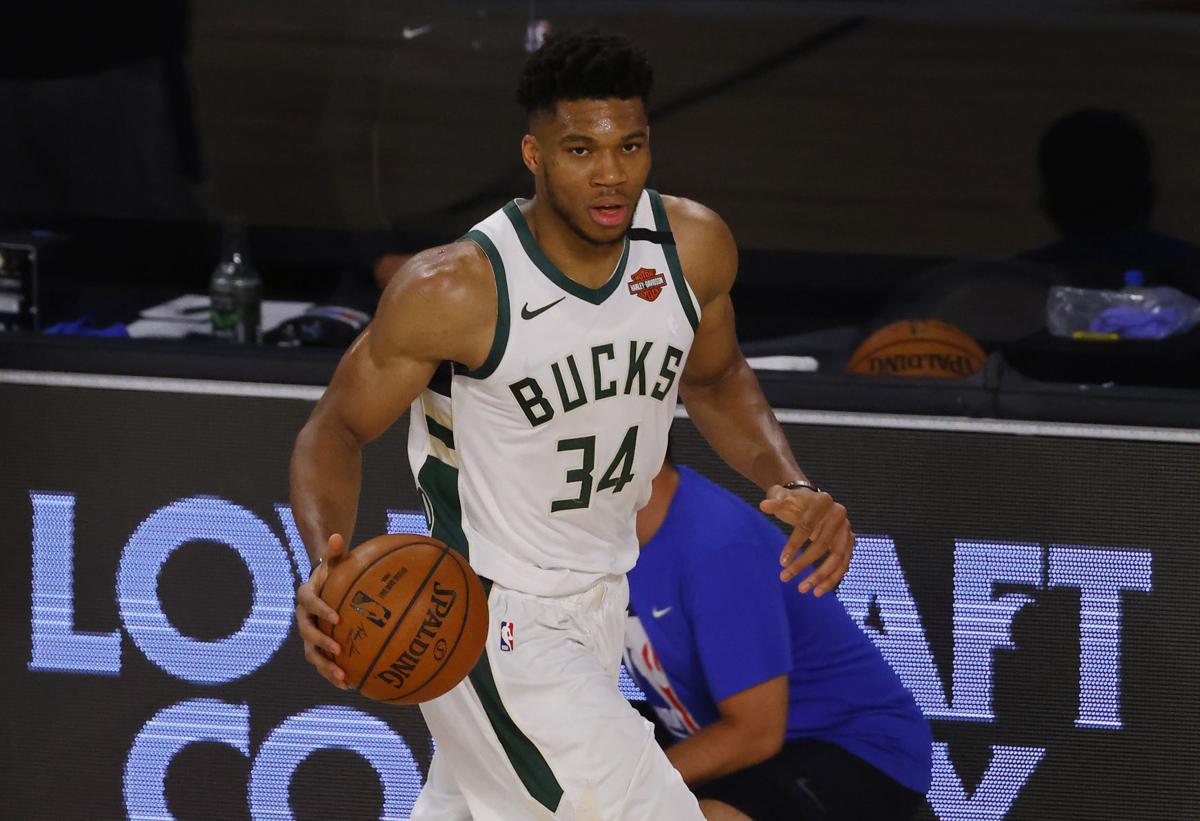 MILWAUKEE — The roster has been upgraded. The star has been signed for years to come. The slate is wiped clean.
And with all that, the expectation has been set.
Never in the 45 years since Kareem Abdul-Jabbar was traded to the Los Angeles Lakers have the Milwaukee Bucks been in a better position to win a championship. As they prepare to open the 2020-21 season Wednesday night in Boston, the Bucks know the window for winning is open.
The Bucks have managed to shrug off those failures with circumstance. Yes, they were minutes away from taking a commanding 3-0 lead against the Raptors, but they were still a growing team with little postseason experience going up against one of the best players in the game in Kawhi Leonard.
Last season brought its own set of unique circumstances. The league shut down for three months because of the COVID-19 pandemic; when play resumed play, it did so in a bubble setting that cost the Bucks their home-court advantage in the postseason, and the raucous, partisan environment that came with it.
This season will bring its own set of challenges, especially with the pandemic still hovering over the nation, requiring additional restrictions and protocols and keeping arenas empty. The short offseason, accelerated training camp and truncated exhibition schedule didn't help, especially as Budenholzer tries to integrate eight new players, including veteran point guard Jrue Holiday, into his system.
"Everybody's in the same boat, so we're all dealing with the same thing," Budenholzer said of the assimilation process. "Whether it's their own individual games or more the team (chemistry), we're no different from any other teams."
From that aspect, the Bucks aren't any different than other teams. But those teams don't have the reigning Most Valuable Player — two years running — on their roster and, thanks to a record-setting contract extension, locked up for the foreseeable future.
The mere presence of Giannis Antetokounmpo is what sets the Bucks apart. He makes them an immediate championship contender this year and beyond but also puts a giant target on their backs.
"Nobody wants to win a championship more than me, I can guarantee you that," Antetokounmpo said. "But there's steps to that. You've got to keep improving. You've got to keep getting better. Hopefully we can get that this year."
Most prognosticators list the Bucks as the favorites to win the Eastern Conference for a third straight season butm even with the offseason moves, the gap between Milwaukee and its competition has narrowed.
In Brooklyn, expectations are on the rise as Kyrie Irving and Kevin Durant take the floor under first-year coach Steve Nash. The Raptors lost Marc Gasol and Serge Ibaka but still have enough talent to challenge the Bucks for the top spot in the East. The Celtics lost Gordon Hayward but also bring back a strong core.
Washington has two stars in Bradley Beal and Russell Westbrook. Philadelphia looks to be better after replacing Al Horford and Josh Richardson with Seth Curry and Danny Green. Indiana made few changes to its roster but is banking on improvement through simple continuity.
And teams who don't have legitimate postseason aspirations will look for an upset when Milwaukee comes to town.
The Bucks know it won't be easy. And while they are admittedly not at full strength, they're ready for the challenge, ready to embrace the pressure and ready to shake off the sting of the last two seasons and live up to the lofty expectations.
"We're in a great position," Khris Middleton said. "We have a great opportunity ahead of us after we missed a couple of opportunities behind us. We have to take advantage of this time while we can. That window is not as big, not as open or not as easy as it used to be, so we have to take advantage of the opportunity when we can."
---
2020-21 Milwaukee Bucks Schedule
All Times Eastern
Games through March 4
Subject to change
Dec. 23 at Boston, 7:30 p.m.
Dec. 25 Golden State, 2:30 p.m.
Dec. 27 at New York, 7:30 p.m.
Dec. 29 at Miami, 7:30 p.m.
Dec. 30 at Miami, 7:30 p.m.
Jan. 11 at Orlando, 7 p.m.
Jan. 13 at Detroit, 7 p.m.
Jan. 15 Dallas, 7:30 p.m.
Jan. 18 at Brooklyn, 7:30 p.m.
Jan. 21 L.A. Lakers, 7:30 p.m.
Jan. 22 Washington, 8 p.m.
Jan. 24 Atlanta, 7:30 p.m.
Jan. 27 vs. Toronto at Tampa, Fla., 7:30 p.m.
Jan. 29 at New Orleans, 7:30 p.m.
Jan. 30 at Charlotte, 7 p.m.
Feb. 5 at Cleveland, 7:30 p.m.
Feb. 6 at Cleveland, 8 p.m.
Feb. 8 at Denver, 9:30 p.m.
Feb. 10 at Phoenix, 10 p.m.
Feb. 14 at Oklahoma City, 7 p.m.
Feb. 18 Toronto, 7:30 p.m.