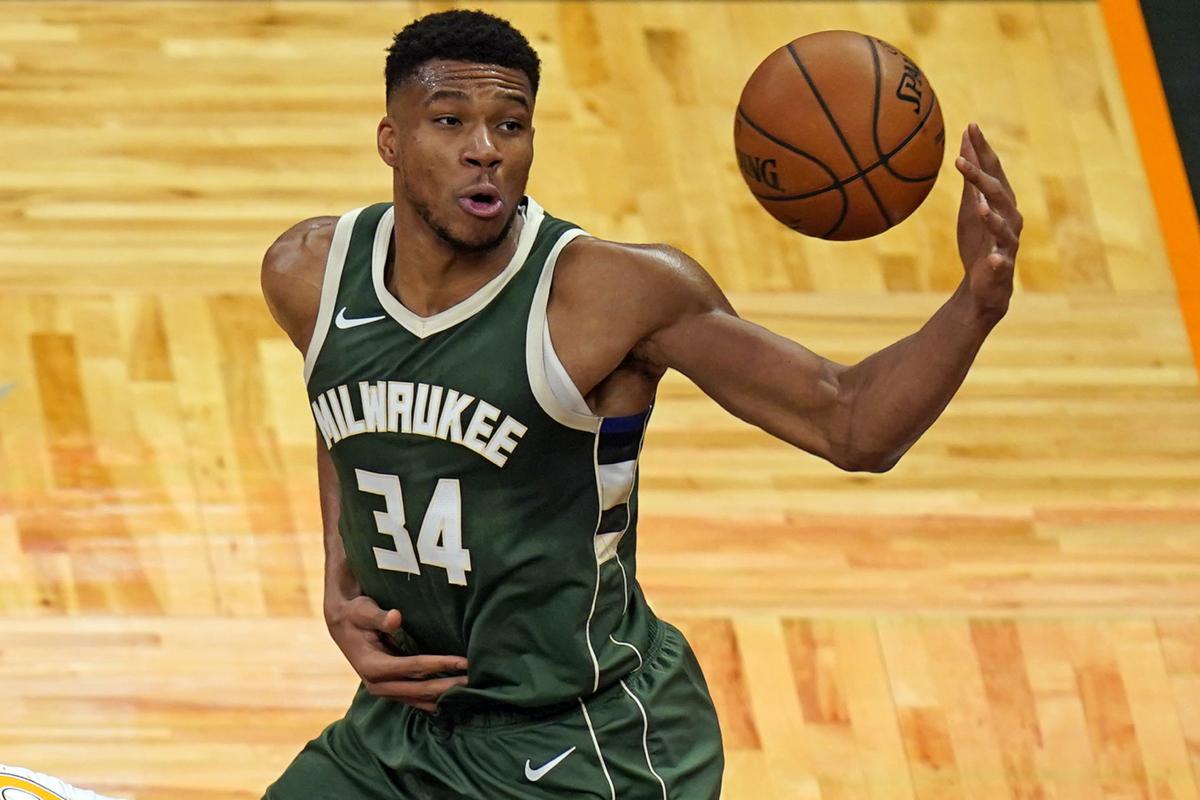 MILWAUKEE — On the court, the Milwaukee Bucks remain a work in progress. When it comes to maintaining a semblance of stability while playing during a global pandemic, the Bucks are off to about as good a start as one could expect.
No Bucks players have had to miss games, practices or other team activities because of positive COVID-19 tests this season, which so far has included trips to Boston, New York, Miami and Orlando with a visit to Detroit set for Wednesday night.
The rest of the National Basketball Association hasn't been as fortunate. The Orlando Magic, who lost to the Bucks on Monday night, had their Wednesday game against Boston postponed because of virus-related roster problems that have forced the Celtics to postpone their past two games.
The Dallas Mavericks — scheduled to visit Milwaukee on Friday night — and the Philadelphia 76ers have had games postponed. The Washington Wizards played without star Bradley Beal and the Chicago Bulls were without four players against the Bucks on New Year's Day due to COVID-19 protocols.
The onus is on the players to live up to the standards and expectations put in place. That's no easy task, but the Bucks understand what's at stake if they don't take the situation seriously.
"At the end of the day we're adults, so you cannot force us to stay in a room," Bucks forward Giannis Antetokounmpo said. "But if you go out, it's at your own risk, so you've got to be smart enough to take care of yourself because at the end of the day it doesn't just affect you, it affects us as a team and it affects our families also. So we've got to keep one another accountable. It's a real thing, but we're doing the right thing."
The league updated its protocols last week, expanding its mask requirements to all players on the active roster unless they are in the game, requiring all players and coaches to wear masks when around other players and coaches outside of team environments and requiring players to report the names of any private trainer, therapist, chiropractor or other specialist they work with outside team facilities.
Players, coaches and other staff were issued tracking devices that allow teams to identify those who may have come in contact with someone who has tested positive for COVID-19 and also alert personnel to when they are within six feet of person wearing a sensor.
The league updated its protocols again Tuesday, requiring for the next two weeks that players and staff remain at their residences except to attend official team activities, to perform essential activities or to tend to extraordinary circumstances. Interactions are to be limited to household members, family and staff working in the home. On the road, all members of a team's traveling party are restricted from leaving the hotel except for team activities or emergencies and are not allowed to interact with non-team hotel guests.
Pre-game meetings held in the locker room will be limited to 10 minutes and all participants will be required to wear masks. All other meetings will be held on the court, in league-approved spaces in an arena or in a room large enough to maintain six feet of distancing.
Other changes require updated seating plans for team travel that corresponds with seating assignments on the bench during games and prohibiting players from arriving at the arena more than three hours before tip-off.
There will also be changes to the testing procedures, with teams that have positive results subject to five consecutive days of twice-daily, lab-based testing in addition to the existing testing protocols.
"It's definitely changing every day, but I don't think we should really complain about it," Bucks forward Khris Middleton said. "I think the league (is) just trying to stay proactive and find ways to keep us the safest and allow us to continue to go out there and do our job, which is to play."