Barry Alvarez was a bold 43-year-old football coach in early 1990 when he joined a University of Wisconsin athletic department that barely was making ends meet.
Its budget was $14 million and administrators were exploring ways to crawl out from $1.4 million in debt that served as a reminder of the failures of the Badgers' keystone program.
The football team won just six games in three years under coach Don Morton, who was fired after only around 20,000 people showed up to 77,000-seat Camp Randall Stadium for a 31-3 loss to Michigan State to end the 1989 season.
UW only recently had entered into an exclusive radio contract for the first time, and the most reliable place to find a home Badgers football game on TV was a tape-delayed broadcast in late night or early the next morning.
Changes in college athletics already had been accelerating when Alvarez came to Madison 31 years ago, but UW largely was stuck in an earlier era. The Badgers since then have become high-level national players in lucrative times, and Alvarez was part of an attitude shift for the athletic department that continued through his term as athletic director.
Alvarez, 74, was reluctant to say Tuesday that he's a different person as he announced a June 30 end date for a 17-year stint leading the UW athletic program during which the department's budget nearly doubled.
"I don't know if it's changed me," he said. "I've always been a pretty confident person, had ideas of how I wanted to do things."
Wisconsin State Journal sports reporters Jim Polzin and Todd Milewski reflect on what was learned at an event where University of Wisconsin at…
UW-Madison Chancellor Rebecca Blank and a search committee led by Athletic Board chair Pete Miller will have to find a new athletic director to follow the transformational tenures of Alvarez and his predecessor, Pat Richter, as UW eyes an exit to a coronavirus pandemic that has strained finances.
Alvarez's successor also will enter a tumultuous period for college athletics that could prompt a new style of management.
UW, Alvarez evolve
Some who were there from the beginning of his time in Madison said Alvarez and the sports program at UW both went through transformations in the early 1990s to craft what's in place today.
Alvarez replaced Richter as athletic director in 2004 and also served as football coach through the 2005 season. But as a first-time college head coach in the early 1990s, Alvarez had to be persuaded that UW's rigorous academic requirements were a benefit, former Athletic Board chair James Hoyt said.
Hoyt recalled an academic affairs committee meeting where a distressed Alvarez pleaded the appeals case for a recruit whose admission had been denied. The coach argued that if the player wasn't allowed in, the Badgers would have to face him on Ohio State's roster.
It didn't work, Hoyt said, and Alvarez got the message.
"Barry turned around in a very short time," said Hoyt, a former journalism professor who served on the Athletic Board from 1990 to 2000, the last nine years as chair. "I heard him probably from his second year to third year giving wonderful presentations to the parents of the recruits on the value of an education and the value of the academics of the campus. He wouldn't have been able to give that coming in the front door."
Alvarez's bravado showed through on his first day at UW when he told media members and boosters assembled for a news conference that success-starved football fans should buy season tickets now because there soon wouldn't be any left.
He backed it up with a Big Ten championship and Rose Bowl victory following the 1993 season, starting a run of 11 bowl game appearances in 13 years. It was an attitude and financial shift for a program that had as many seasons with two wins or fewer as ones that ended in a bowl game (six) in the four decades before Alvarez's debut.
The idea that big things could happen for UW's major sports was cultivated by Alvarez, Richter and Chancellor Donna Shalala.
"That came along with (Alvarez) and it came from the chancellor's office," Hoyt said. "I heard Donna on more occasions than I could count make the argument that we expect our medical school to be No. 1, we expect our business school to be No. 1, we expect our law school to be No. 1. Why don't we have the same expectations for the athletic department?"
Some things haven't changed with Alvarez, according to those who have been close to him. One was loyalty, said Wayne Esser, the former longtime executive director of the Mendota Gridiron Club.
"If you were on his team, you were on his team and he expected you to stay there and we'll get the job done together," Esser said. "He didn't hang people out to dry."
Another, Joel Maturi said, was Alvarez determining a plan and sticking to it. Maturi, who was an associate athletic director at UW when Richter hired Alvarez and was AD at Minnesota from 2002 to 2012, said Alvarez showed his emotions at times but was calm and deliberative when decisions needed to be made.
"As confident as he is, as assertive as he seemingly can be, he does his homework," Maturi said. "He checks with people he respects and admires and people who have been in that position before to learn. Obviously it's paid dividends in everything that he's done."
Another, former athletics and UW-Madison administrator Alan Fish said, was character. That came from Bob Devaney, the former Nebraska football coach and athletic director whom Alvarez referenced as a model for his career path during a speech Tuesday at a televised celebration of his time at UW.
"Character mattered to Bob Devaney," Fish said. "That was what they built their programs on there. And I think when Barry was thinking about how he would want to build a program, whether it's a football program or an entire athletic department, the Bob Devaney model was in his DNA."
Money now rules
Alvarez was introduced as Badgers football coach on Jan. 2, 1990, about 5½ years after a U.S. Supreme Court ruling opened the market for college football TV contracts to be unregulated by the NCAA. Big Ten schools now get more than $50 million a year from conference media rights.
Money has become the name of the game in college athletics.
The average top-level NCAA athletics program had around $10 million in yearly revenue when Alvarez started his tenure at UW. It's now roughly $120 million.
The Badgers are planning a fiscal year 2022 budget of $129 million even in a pandemic that has rocked revenue streams. Total expenses crossed the $150 million threshold two years ago, putting the school in the top 10 nationally.
College athletic programs have moved toward being self-sustaining operations over the last 30 years, said Nick Schlereth, an assistant professor of recreation and sport management at Coastal Carolina who has studied college athletics finances.
The UW athletic department hadn't operated in a budget deficit while Alvarez was athletic director until the pandemic disrupted the 2019-20 school year.
An emphasis on upgrading athletics facilities also has been front and center with NCAA programs, Schlereth said. At UW, Alvarez has been cautious to toe the line between giving athletes the needed amenities while not crossing into opulence.
UW spent $43 million on capital projects in a five-year period ending last June.
Alvarez presided over the construction of a multi-sport training facility at Camp Randall as athletic director. The school has plans to renovate the south end of the football stadium to convert bleachers into in-demand premium seating and build a student-services addition onto the Kohl Center.
The role of a collegiate athletic director has been transformed while Alvarez has been in the seat, Schlereth said. Former football coaches such as Alvarez used to be commonplace in the job; now they're rare.
"Now that role of an AD is one where you still have to manage the coaches, but it's very much a business-centric mindset to what you're doing," Schlereth said. "It's how well can you fundraise as opposed to 'Oh, I'm the former coach and I just help build schedules.'"
Player pay arguments central
Just like a major transformation happened around when Alvarez started at UW, another one is coming as his tenure ends. Blank predicted several years of "change and controversy" ahead for college athletics in a speech to the Athletic Board this year.
The NCAA has been under fire for being slow to evolve on issues of player pay and freedom of movement. The U.S. Supreme Court last week heard oral arguments on whether the NCAA can restrict compensation related to education, and justices sounded cool on the organization's amateurism rationale.
State laws governing athletes' ability to profit from their name, image and likeness are set to start taking effect in July. Blank, a member of the NCAA Board of Governors, last year predicted that Congress would get involved in setting a national policy but legislation might not line up with the restrictions that she or others in college athletics administration hoped to see.
The NCAA in January delayed plans to revise its rules regarding players accepting endorsement money after a warning from the Justice Department that changes could raise antitrust concerns. Alterations to transfer policy are in the works.
Alvarez said Tuesday that he's concerned about where college sports goes from here.
"I think some of the decisions that are going to be made on NIL, transfers, some of the lawsuits that are coming out could really affect the future of college athletics as we see it," he said.
That wasn't why he decided to step away now, he said.
"If I wasn't ready to retire, I'd be ready to attack it," Alvarez said. "Whatever they gave me, I'd make the best of it. I'd figure out a way to make it an advantage. That's just how I operate."
Final countdown: Breaking down Barry Alvarez's career by the numbers
119 | Wins as football coach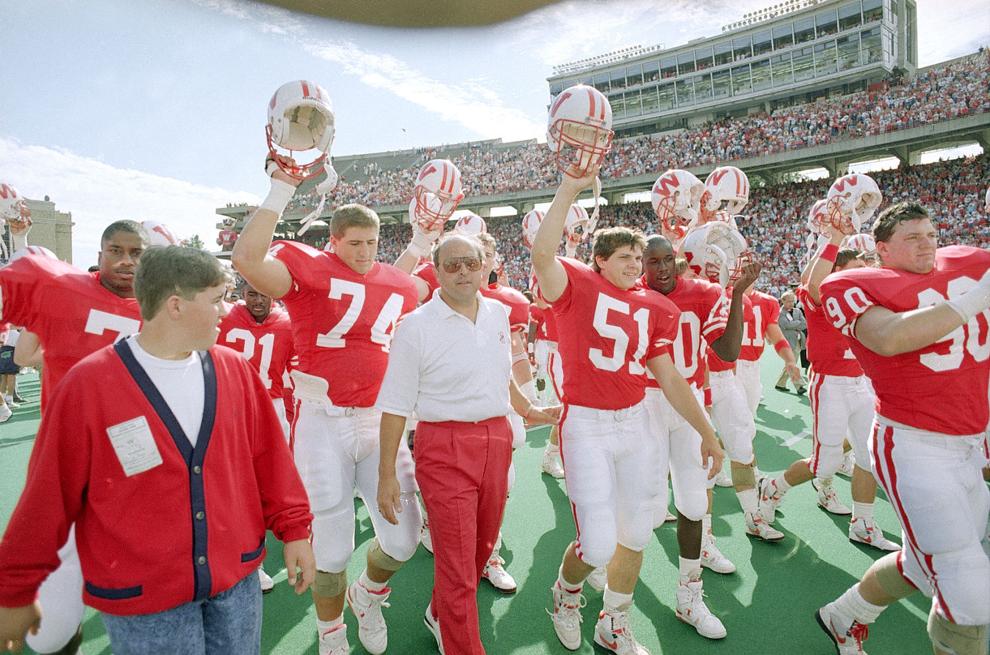 Alvarez picked up the first of his program-leading 119 victories at UW on Sept. 15, 1990, when the Badgers defeated Ball State 24-7 (above) at Camp Randall Stadium for their sole win of his inaugural season as head coach. His final win would come on Jan. 1, 2015, when he stepped in to lead UW to a 34-31 victory over Auburn in the Outback Bowl a month after Gary Andersen left the program for Oregon State. 
73 | Conference championships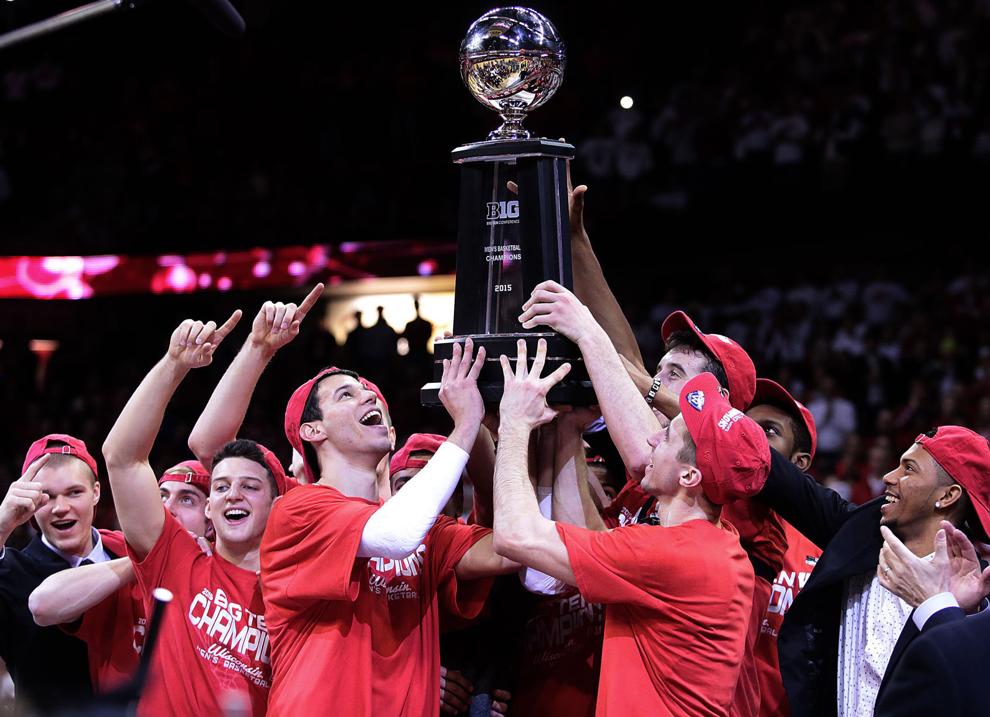 The Badgers won 73 conference championships (regular season and tournaments combined) during Alvarez's tenure as athletic director. 
ABOVE: UW men's basketball players celebrate their Big Ten Conference title following their 68-61 win over Michigan State at the Kohl Center March 1, 2015. The Badgers added the conference tournament crown exactly two weeks later with an 80-69 overtime win over Michigan State at the United Center in Chicago.
26 | Players suspended in Shoe Box scandal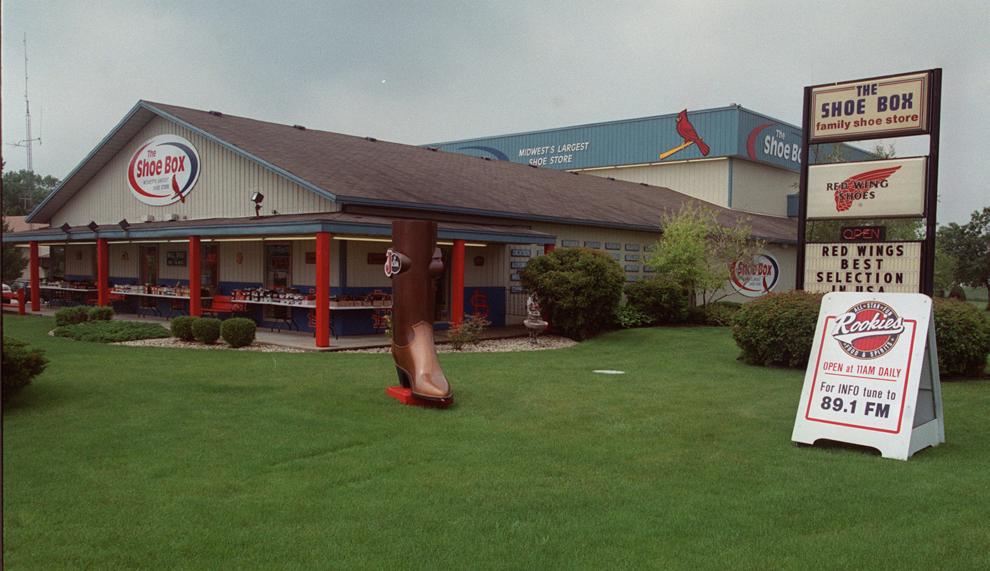 The NCAA suspended 26 of Alvarez's players for having accepted improper discounts from The Shoe Box (above), a discount retail store in Black Earth, forcing Alvarez to shuffle his lineup during the first four games of the 2000 football season. 
17 | Years as athletic director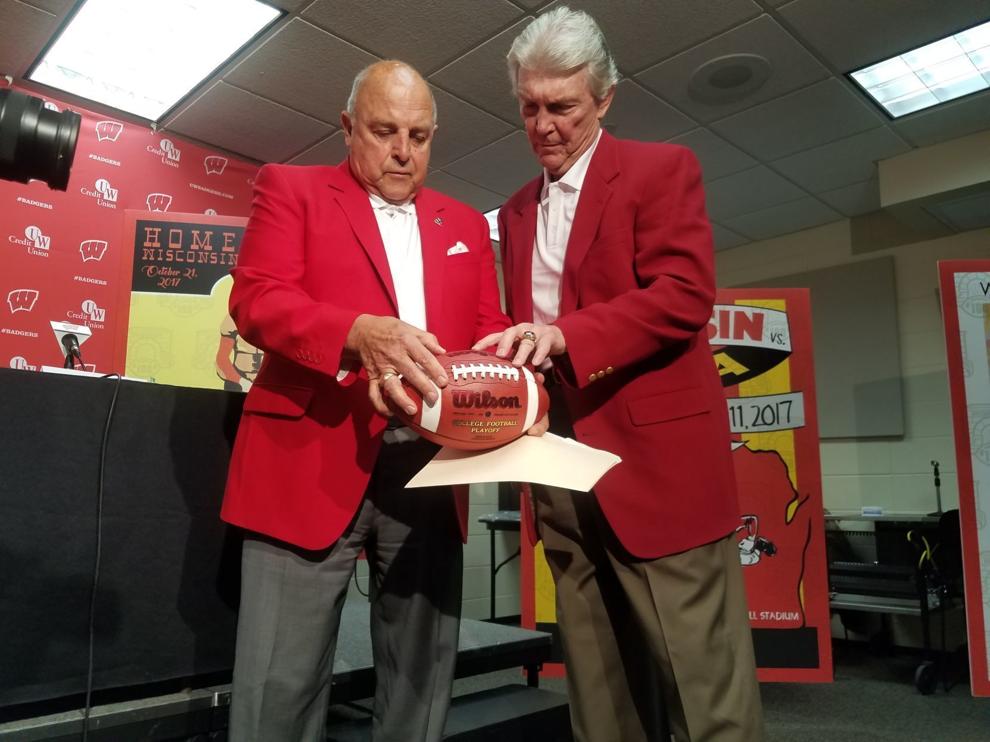 Taking over the job from Pat Richter (above right) in April 2004, Alvarez would go on to serve 17 years as athletic director at UW before announcing his retirement in April 2021. 
16 | National championships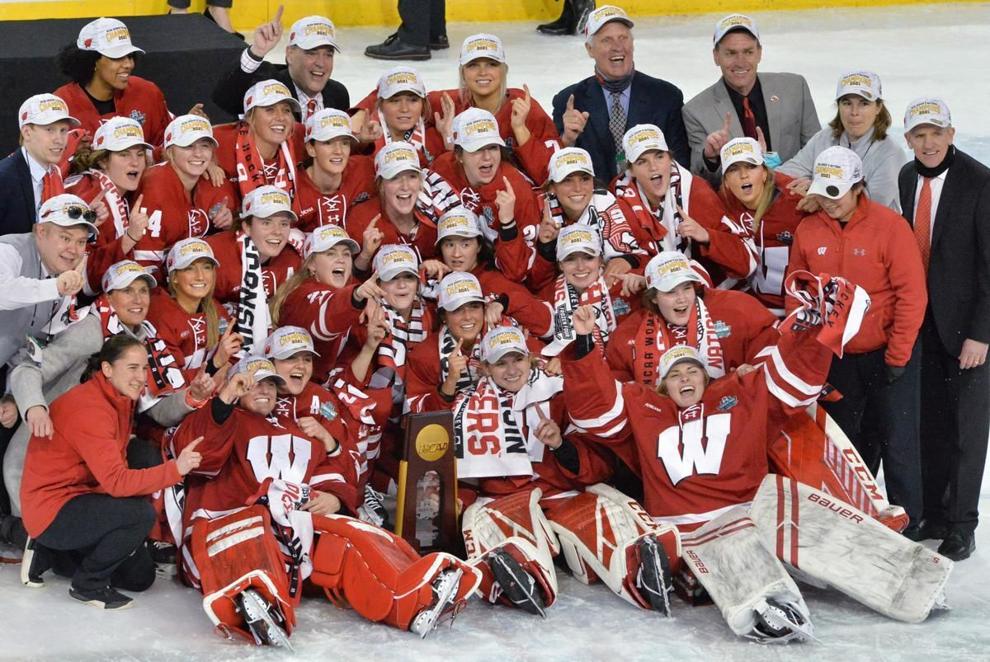 Alvarez's tenure as the athletic department's leader saw success across a number of programs, with 16 teams winning national championships, including six in women's hockey — with the most recent one (above) coming just this March — and five in women's lightweight rowing.
15 | Consecutive years of football bowl and men's basketball NCAA berths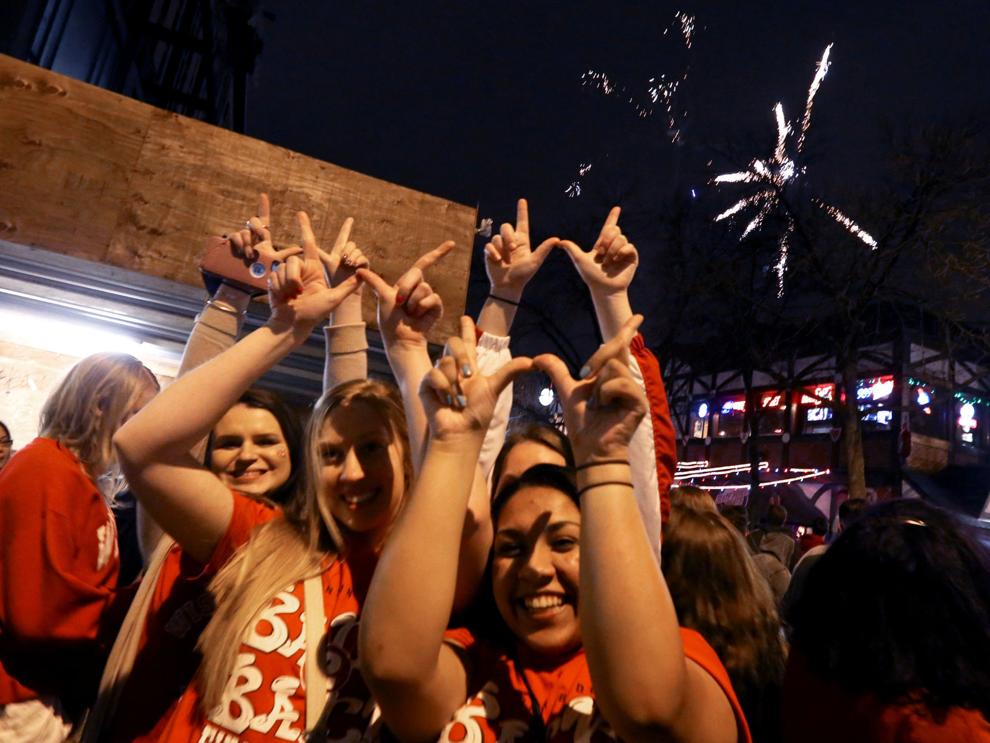 During Alvarez's tenure as AD, the Badgers football and men's basketball programs produced 15 consecutive years of playing in a bowl game and reaching the NCAA tournament, setting an NCAA record.
ABOVE: Badgers fans celebrate on State Street in Madison following the UW men's basketball team's NCAA National Championship loss to Duke April 6, 2015.
13 | Bowl appearances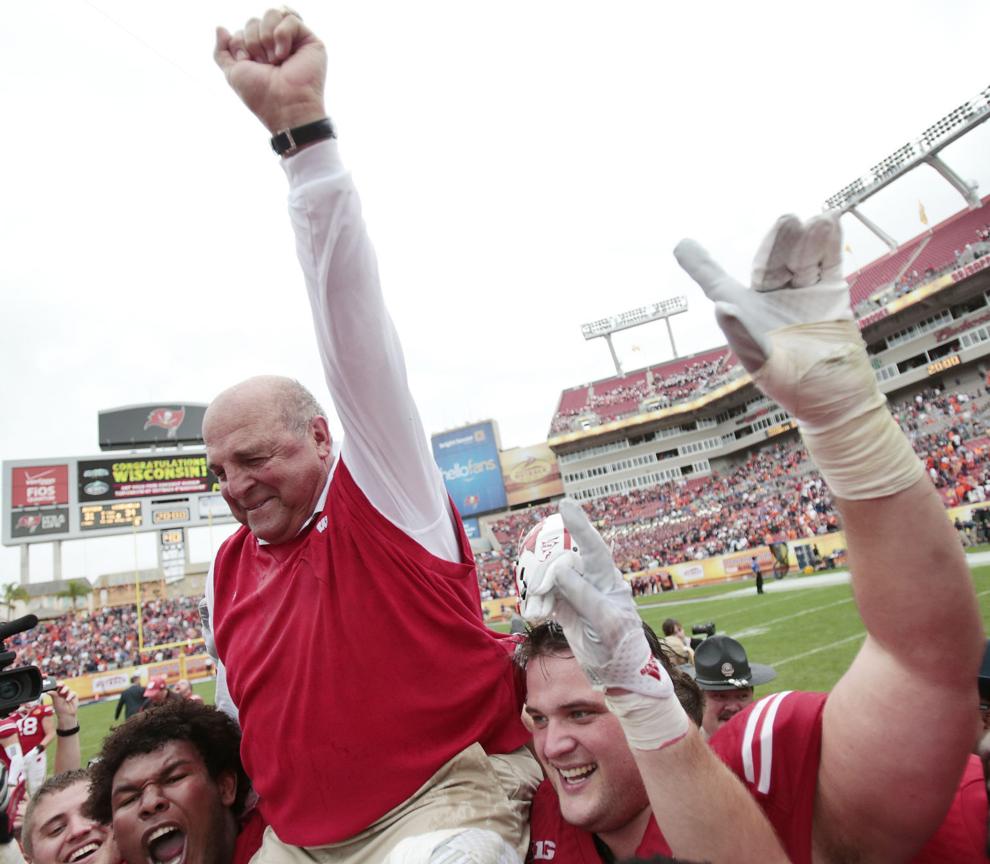 Alvarez lead the football team in 13 bowl appearances, including a final turn during the 2015 Outback Bowl (above) when he served as interim head coach after Gary Andersen left the month before to coach at Oregon State. 
9 | Bowl victories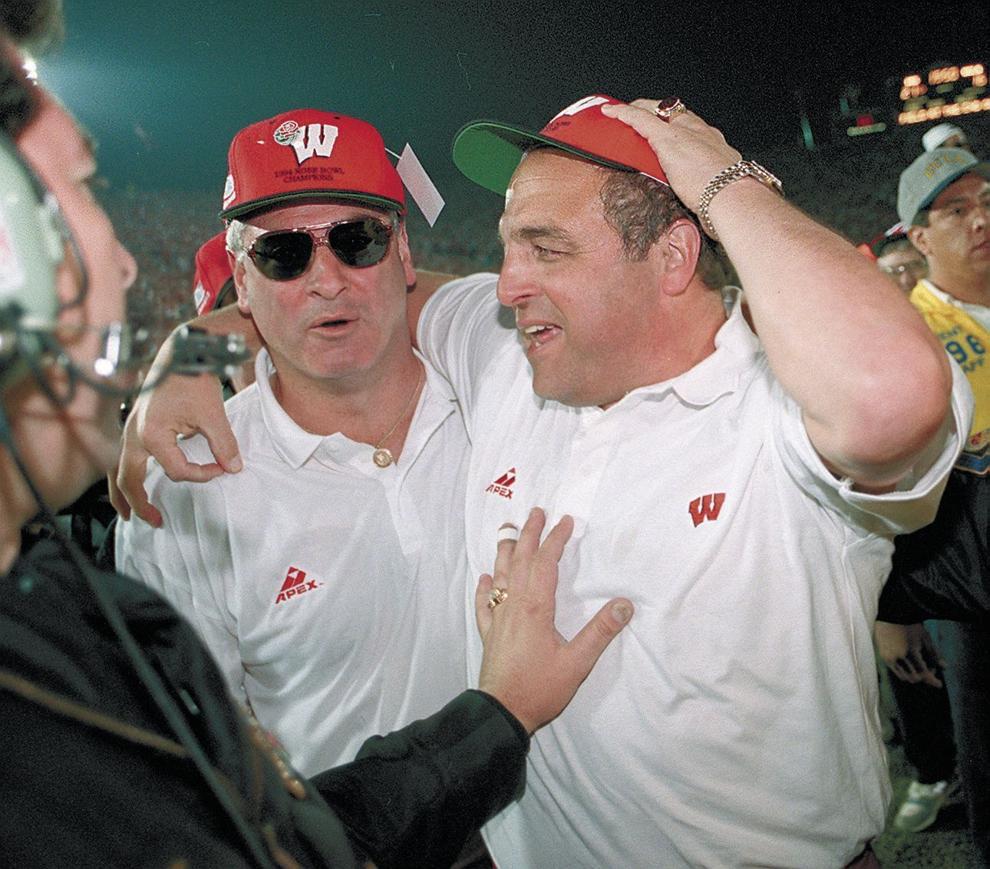 In his 13 bowl appearances, Alvarez came away with 9 victories, starting with the 1994 Rose Bowl (above), when UW took down UCLA 21-16 in Pasadena, Calif. 
3 | Rose Bowl victories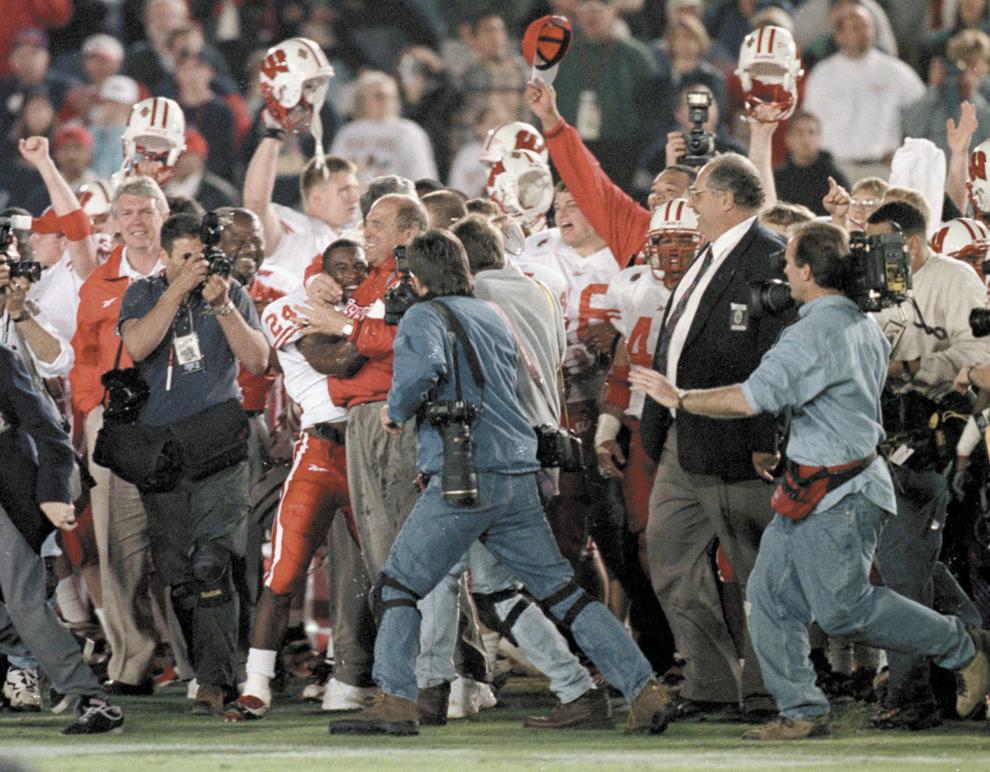 Alvarez finished his coaching career with 3 Rose Bowl victories, leading the Badgers to wins over UCLA after the 1993 and 1998 seasons, and a win over Stanford following the 1999 campaign. 
ABOVE: Alvarez reacts to a soaking at the end of UW's 38-31 victory over UCLA in the 1999 Rose Bowl.
2 | Seasons in dual roles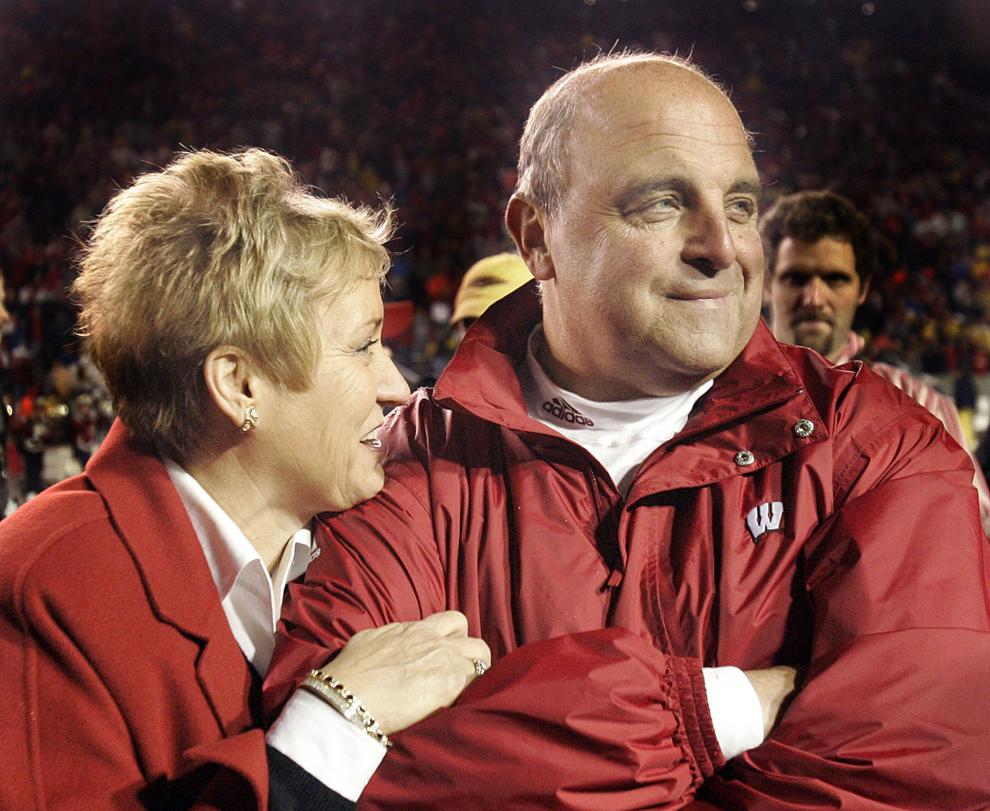 Alvarez spent 2 seasons as UW's head football coach and athletic director after taking over AD duties following Pat Richter's retirement in 2004. Alvarez compiled a 19-6 record while serving in the dual roles before retiring from coaching in 2006. 
ABOVE: Alvarez with his wife, Cindy, take in the applause and congratulations from the fans after Alvarez's final home game, a loss to Big Ten rival Iowa on Nov. 12, 2005.