The talent in the University of Wisconsin football quarterback room is apparent, which makes the Badgers' 15 spring practices a must-see in who emerges on the field going forward.
Saturday kicked off spring camp for a general evaluation, and that trio of transfer quarterbacks showed their potential. The first of 15 sessions that run through April 27 was not perfect by any means, nor was the expectation with the Air Raid being installed and the players building chemistry.
There were some incompletions, but there were also solid throws. Fickell said that quarterbacks' confidence stood out.
"Sometimes you can see guys kind of wear their emotions on their sleeve. It's chaotic," Fickell said. "Defensively, doing a lot of different things, and now all of a sudden you add rush guys from just the walkthroughs that we had been doing. And so you see some errant throws. You see a swing pass that sails over a guy's head which you'd say, 'Oh man, that should be an easy throw.'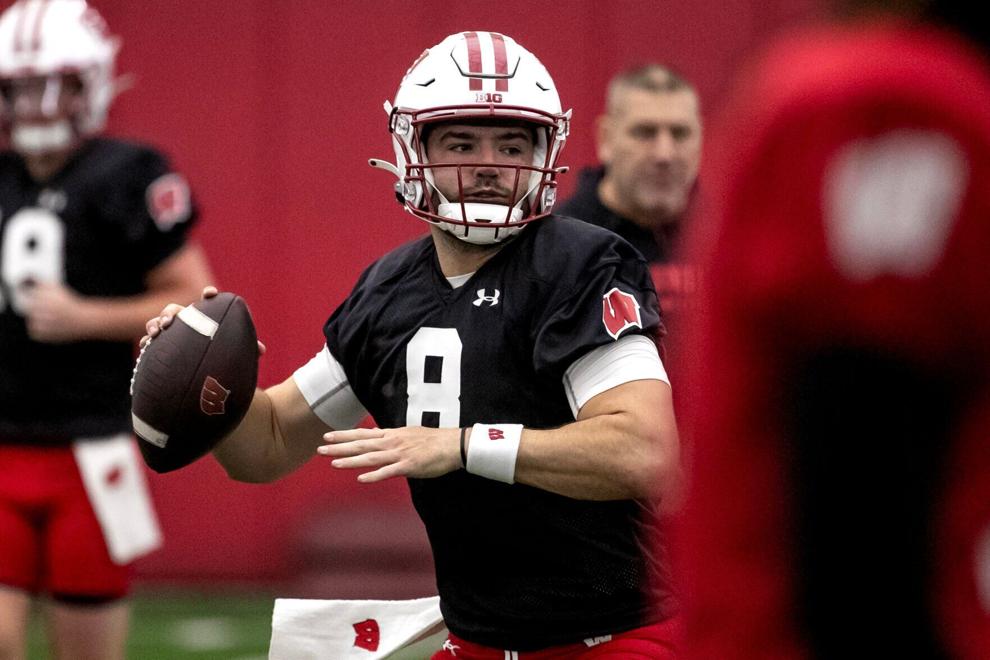 "I just watch the demeanor. I just watch the body language of a quarterback to see, 'OK, hey, can you handle that making a bad throw or throwing the thing over a guy's head.' And I think more than anything with those guys, I didn't see a guy flinch. I didn't see palms up. I didn't see a guy start to mope and pout. They understand the process and the next play's the most important one, so I think for the most part I was happy with those guys and just how they handled themselves more so demeanor-wise, because we all know everybody looks to them. 
"You're gonna feed off of that guy, whether you're an offensive lineman or not. I know there's not a huddle, but there's a sugar huddle, and if you can't look in that guy's eyes and see some confidence, I think it becomes difficult to a lot of people. So I thought they did a great job of that."
Braedyn Locke, who transferred from Mississippi State, received second-team reps. Oklahoma transfer Nick Evers arguably threw the pass of the day, airing out a deep throw to his left that showed a combination of arm strength, speed and accuracy. Redshirt freshman wide receiver Chris Brooks Jr. reeled in the reception over cornerback A'Khoury Lyde.
Redshirt freshmen Myles Burkett and Marshall Howe also received reps Saturday.
Here are two other observations of the offense.
Initial offensive line pairings
The new iteration of the UW offensive line under Jack Bicknell Jr. looked different in a couple areas, but it still held very similar components from last year's unit.
The combinations Saturday, from left tackle to right tackle, were: 
First-team: Jack Nelson, Tanor Bortolini, Jake Renfro, Michael Furtney, Riley Mahlman

Second-team: Nolan Rucci, Joe Brunner, Dylan Barrett, Joe Huber, Trey Wedig
Renfro and Huber both transferred from Cincinnati, and Bicknell inserted them early into the two-deep of the group.
"They both work really hard," Bortolini said Monday of the two former Bearcats. "And I think that's something you're always excited to have around you, you want guys that are gonna push you every day to be better. And those two definitely bring that.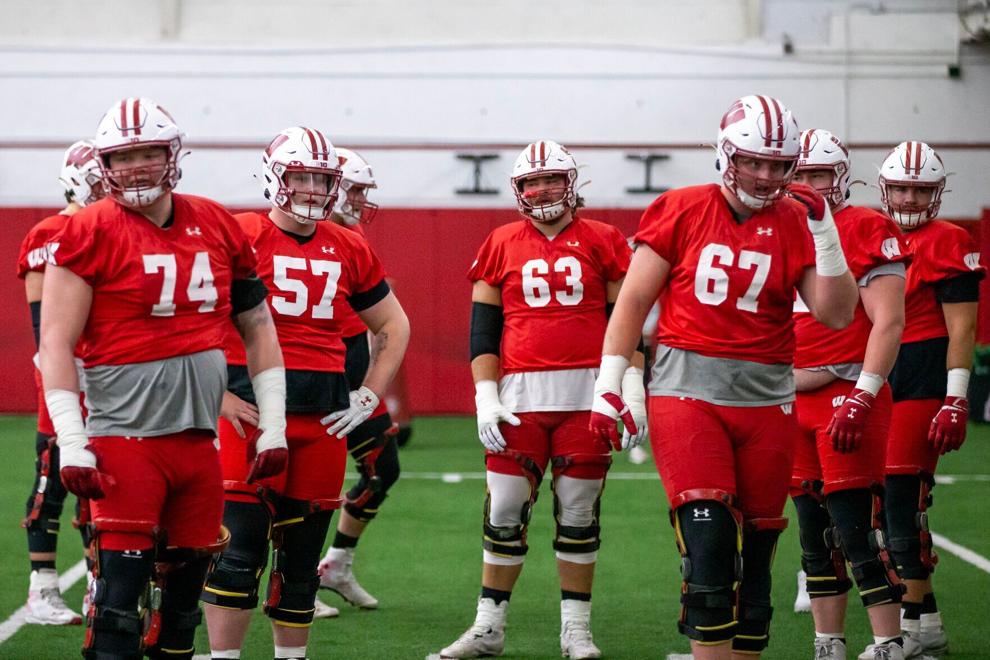 "Joe and Jake, they bring that intensity. They've done this system, they've been with coach Fick their whole college career, so they kind of know what it's like. They wouldn't have followed him here if it wasn't for a good reason. So we're excited to have them here, they're both really good players, really good athletes that bring that intensity and that drive we need in the offensive line."
Another line combination also featured, from left tackle to right tackle, reserves Max Rader/John Clifford, Kerry Kodanko, Drew Evans, J.P. Benzschawel and Barrett Nelson.
Lots of three-receiver sets
A UW offense running plays in 11 personnel (one running back, one tight end, three wide receivers) is nothing new but, if the first practice is any indication, that grouping will be even more prevalent going forward.
Senior Chimere Dike and third-year players Keontez Lewis and Skyler Bell received first-team reps at wide receiver. Lewis stayed in bounds and snagged a nice pass from Mordecai falling near the left sideline.
The next trio up included Southern Cal transfer CJ Williams, Cincinnati transfer Will Pauling and Brooks. Pauling caught 12 passes for 122 yards last season as a redshirt freshman, and his speed and agility in the slot stood out during his first practice as a Badger.
Anthony, Quincy Burroughs, Markus Allen, Tommy McIntosh, Alex Moeller and Haakon Anderson also received reps during team 11-on-11 periods. Allen, now wearing No. 14, worked in the slot.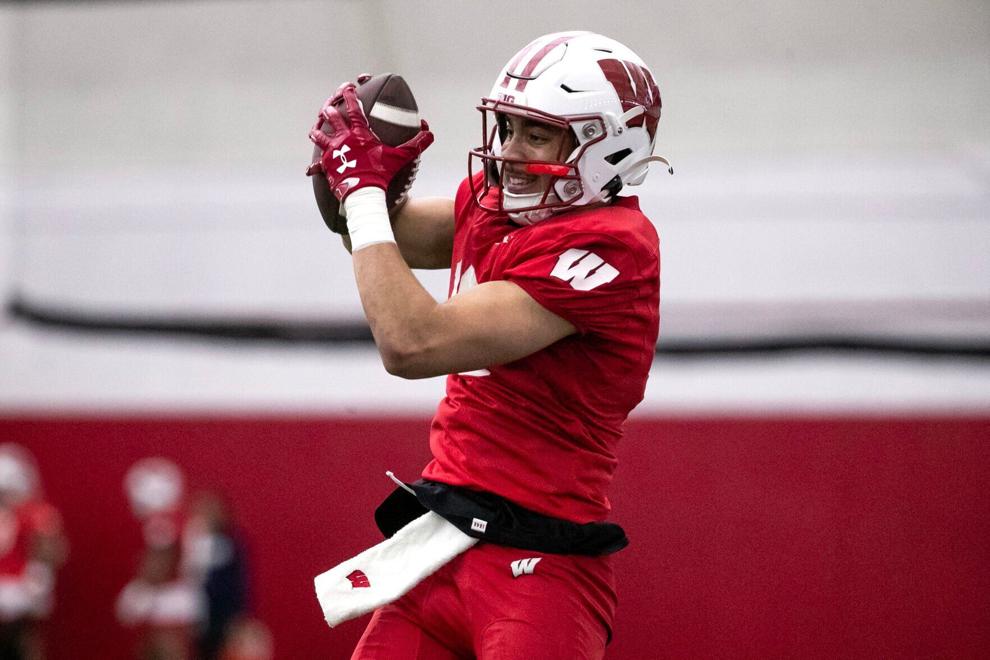 Depth charts do not mean as much at this time of year, over five months away from the 2023 season opener, and further evaluations will take place. That will be especially true within Mike Brown's wide receiver room, which holds a combination of veteran playing experience and youthful talent to be tapped.
Two running-back sets were also seen on some snaps, including Chez Mellusi and Braelon Allen in the backfield at the same time.