Gary Brown receives immunotherapy treatments once a month, a 15-minute infusion designed to boost his immune system and hold off what would be a third bout with cancer.
There are also regular CT scans, including those hold-your-breath moments afterward until the doctor gives the all clear and delivers the go-ahead for the running backs coach for the University of Wisconsin football team to go back to what he's been doing. Be healthy. Enjoy life. Coach hard.
One way of looking at all of this is it's a lot for Brown to have on his mind as he nears his debut as a member of the UW coaching staff. But that's not how Brown, who spent a season out of football so he could get his health in order, chooses to view his situation.
There's no woe-is-me attitude, no dwelling on any bad news that might come down the road.
"It's made my resolve stronger," Brown said one afternoon earlier this month after wrapping up a staff meeting. "It gave me a sense of, 'Hey, you can fight and fight and fight and win the fights.' Just because they say cancer again, I don't feel like I've lost. I can go fight, because I've got a lot to fight for."
Brown, 52, doesn't advertise his story but he'll share the details if asked. The way he sees it, perhaps it will inspire someone who's going through his or her own fight.
So when a request was made of Brown to speak to the entire team during camp — the assigned topic being a three-pronged talk on his heroes, his highlights and his hardships — there was no hesitation on his part.
In fact, there may not have been a better person inside the building to deliver that message.
'It's part of the deal'
The first piece of bad news came about a decade ago while Brown was an assistant coach with the Cleveland Browns.
By then, Brown had been getting colonoscopies on a regular basis due to a history of colon cancer in his family. His father had died of a heart attack about 20 years ago while on the operating table to have a blockage removed from his colon, an event that occurred about a year after Brown's mother had died of lung cancer.
This checkup for Brown revealed a tumor and he underwent surgery to remove about a foot and a half of his colon. Fortunately, the cancer hadn't spread into Brown's lymph nodes and, after about a month away from work in the offseason, he returned to his job.
But one other diagnosis was made during that episode: Brown had Lynch Syndrome, a hereditary disorder that increases the risk of certain cancers. In other words, Brown knew he may never totally be in the clear.
"It's just a routine I have to live with the rest of my life," he said. "It's part of the deal."
Two winters ago, Brown wasn't feeling right and noticed his urine was dark. After learning the day he coached in the 2020 East-West Shrine Game that he wasn't being retained by the Dallas Cowboys after Mike McCarthy took over as head coach, Brown returned home to Texas and consulted with a friend who's a doctor.
Blood tests raised some red flags and a subsequent CT scan revealed a tumor located between Brown's pancreas and bile duct. He underwent chemotherapy and a surgery that Brown said wasn't successful, leading to a trip to Johns Hopkins in Maryland to find a better course of action.
Doctors there suggested an immunotherapy treatment that had yielded good results with other patients who have Lynch Syndrome. His doctors in Baltimore — and now Madison — have been pleased with the results.
"It's been working really, really well," Brown said. "We're just moving forward. I'm not out of the woods, but my scans look really good."
Family matters
Brown's debut at UW — the No. 12 Badgers open against No. 19 Penn State on Saturday at Camp Randall Stadium — will come against his alma mater.
We now enter the highlights portion of Brown's story:
He played for the Nittany Lions from 1987-90, spending most of his time in State College as a running back. But after leading the team in rushing as a sophomore, he gave way to Blair Thomas and was shifted to the defensive side of the ball. It was Brown whose 53-yard fumble return for a touchdown sealed Penn State's 50-37 win over Ty Detmer and BYU in the 1989 Holiday Bowl.
Brown returned to running back the following season and later made his mark at that spot in the NFL, surpassing the 1,000-yard mark with the Houston Oilers in 1993 and with the New York Giants five years later.
When UW needed a replacement for John Settle, who left for Kentucky last spring, it landed a guy who had over a decade of coaching experience in the NFL. That gave Brown instant credibility with a young group of tailbacks led by sophomore Jalen Berger.
One thing that stood about Brown during practices open to the media is that he was loud in practice without being a screamer. Almost everything that came out of his mouth was encouraging.
"He's really down to earth, like family," freshman tailback Braelon Allen said. "I know I can talk to him about anything. I know he's going to help me get to where I want to be."
Go beyond the college and NFL portions of Brown's coaching resume — he was at Rutgers for a season before being hired by the Browns in 2009 — and it's hard not to notice the humble beginnings of that career.
After his knees gave out on him and he retired from playing, Brown probably could have called in some favors from his NFL connections and skipped a few rungs. Instead, he returned to his alma mater in Williamsport, Pennsylvania, and spent time as a volunteer assistant at the high school level.
From there, Brown made two stops at the NCAA Division III level, coaching at Lycoming College in Williamsport and down the road at Susquehanna University. He still counts two men from those early days — Frank Girardi at Lycoming and Steve Briggs at Susquehanna — as mentors who helped shape the way he coaches today.
"I played," Brown said, "but I needed to learn how to coach, how to teach, how to get guys to understand what I'm trying to tell them instead of going out there and saying, 'Do this, do that.'"
Heroes? That list starts with his Kim and three children: daughter Malena, who graduated from Penn State and is a production intern at Good Morning America; daughter Dorianna, who earned a Division I scholarship in softball and is a freshman outfielder at Evansville; and son Tre, who's about to turn 16 and is a standout baseball player.
As much as he missed being out of football in 2020, the silver lining was that he got to spend a lot more time with his family. When Brown said he's got a lot to fight for, it's them to which he's referring.
"I don't really have time to think about the negative things," Brown said. "I have a great time thinking about the positive things."
Analysis: Predicting the best players, games and surprises in Big Ten football this season
Top five Heisman Trophy candidates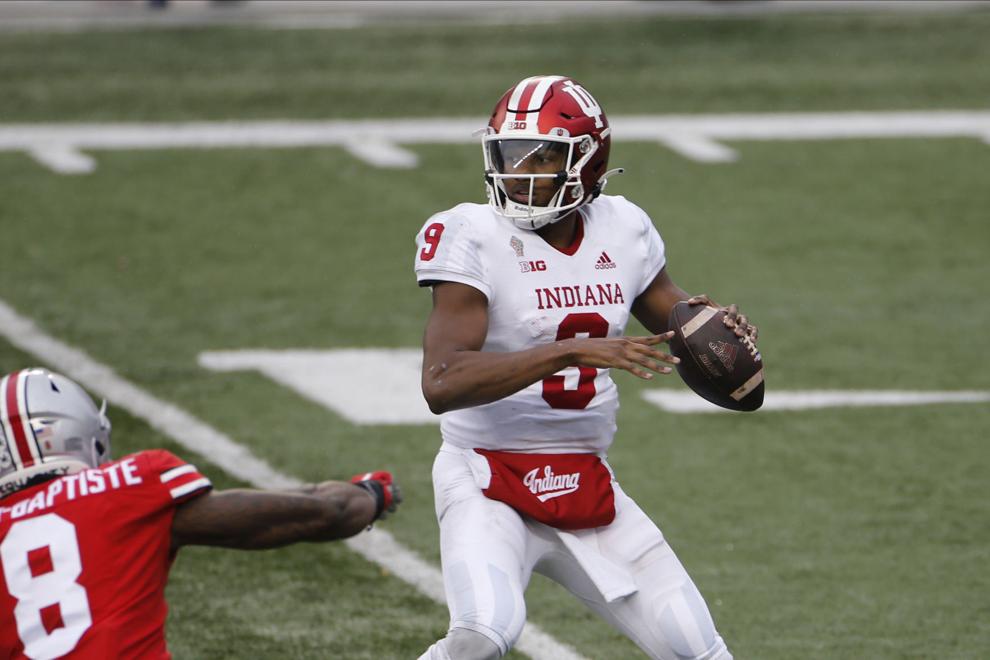 1. Michael Penix Jr. (above), QB, Indiana: Penix is electric when he's healthy. Each of his three seasons at Indiana have ended with him on the sideline due to injuries. But he's 10-2 as a starter and has thrown for at least 300 yards in four of those games.
2. C.J. Stroud, QB, Ohio State: There are reasons Stroud shouldn't be on this list, starting with the fact that he hasn't attempted a pass at the college level and was in a three-player battle to replace NFL first-rounder Justin Fields. But the oddsmakers believe in Stroud: BetOnline has his odds to win the Heisman at 10/1, the highest Big Ten player on that list and tied for third overall.
3. Mohamed Ibrahim, RB, Minnesota: Ibrahim is a workhorse, and the Golden Gophers' best chance at making a run at the West Division title is to feed him the ball and let him go to work behind an experienced offensive line. He's already produced 2,840 yards and 31 rushing touchdowns — ninth and sixth, respectively on Minnesota's all-time list — in 28 career games.
4. Chris Olave, WR, Ohio State: Olave enters his senior campaign with 22 career touchdown receptions, two of which came during a 132-yard performance during a victory over Clemson in a College Football Playoff semifinal last season.
5. Sean Clifford, QB, Penn State: Clifford needs to cut down on his turnovers — he had nine interceptions last season — but he plays in a quarterback-friendly scheme and has plenty of playmakers around him.
Top five quarterbacks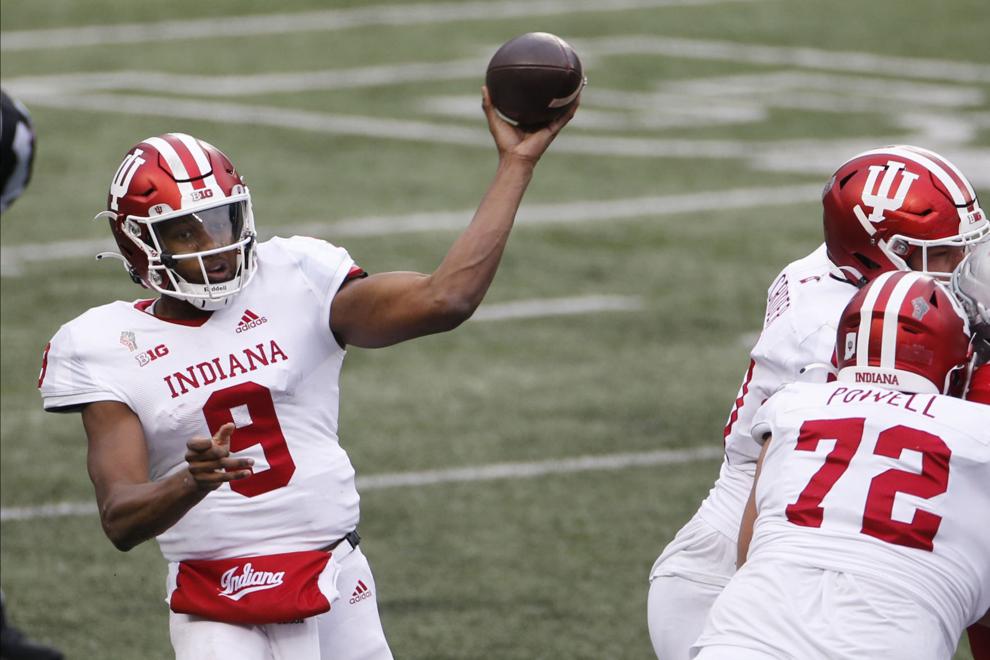 1. Michael Penix Jr. (above), Indiana: While Penix's completion percentage dipped to 56.4 last season, he still finished with 1,645 yards passing with 14 touchdowns and four interceptions before a torn ACL ended his season after six games.
2. Sean Clifford, Penn State: Clifford, who has 20 career starts under his belt, threw for 1,883 yards and 16 touchdowns while rushing for 335 yards and five scores last season.
3. Taulia Tagovailoa, Maryland: The younger brother of Tua Tagovailoa started four games last season after transferring from Alabama. His 13.5 yards per completion led the Big Ten, and he was second in passing efficiency rating (138.5.)
4. Tanner Morgan, Minnesota: After setting program records by throwing for 3,253 yards and 30 touchdowns in 2019, Morgan's completion percentage, yards per attempt and quarterback rating dropped significantly last season.
5. Adrian Martinez, Nebraska: Martinez still has work to do to become a more consistent passer, but he completed a program-record 71.5% of his passes in 2020 and led the Cornhuskers with 521 yards rushing and seven scores on the ground.
Top five running backs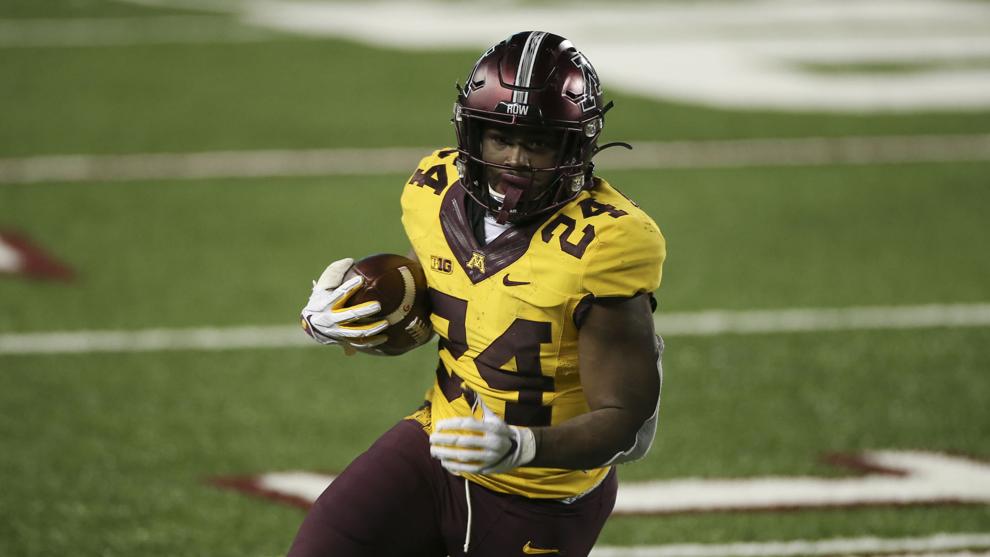 1. Mohamed Ibrahim (above), Minnesota: Ibrahim led the Big Ten with 15 touchdowns and 153.7 yards rushing per game as a junior, needing only seven games to go over the 1,000-yard mark.
3. Master Teague III, Ohio State: Teague led the Buckeyes with eight rushing touchdowns last season and rushed for a career-high 169 yards in a 42-35 win over then-No. 9 Indiana. But there are some blue-chip tailbacks competing for playing time with Teague in a strong Buckeyes backfield.
4. Zander Horvath, Purdue: Horvath led the Boilermakers with 442 yards rushing and was among the team leaders in receptions (30) and receiving yards (304) last season.
5. Chase Brown, Illinois: Brown registered only 18 carries in the first three games of the season before breaking through with a big game (17 carries, 131 yards) in a win at Rutgers. He followed that with 110 yards and two touchdowns the following week at Nebraska.
Top five wide receivers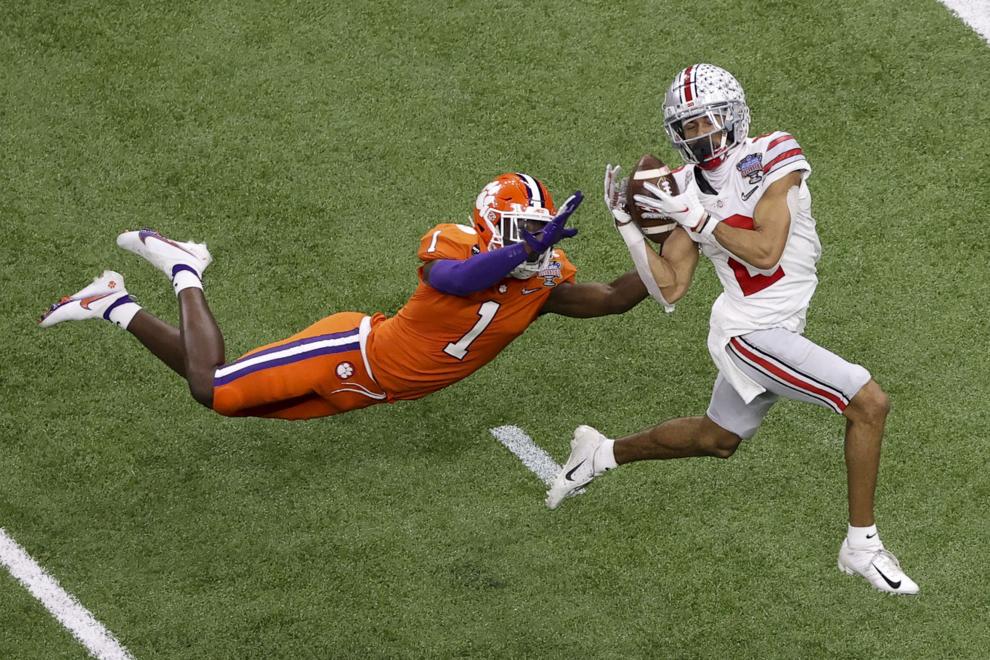 1. Chris Olave (above), Ohio State: Olave shocked a lot of people when he decided to return to the Buckeyes rather than enter the NFL draft. Olave tied a program record with 7.1 receptions per game, finishing with 50 for 729 yards and seven scores.
2. David Bell, Purdue: Bell has gone over the 100-yard mark in 10 of his 18 career games with the Boilermakers. He led the Big Ten with 104.2 yards receiving per game as a sophomore last season, finishing with 53 catches for 625 yards and eight touchdowns.
3. Ty Fryfogle, Indiana: Fryfogle was the Big Ten's Richter-Howard Receiver of the Year after finishing with 37 catches for 721 yards — a whopping 19.5 average — and seven touchdowns. Fryfogle reached the 200-yard mark in back-to-back weeks against Michigan State and Ohio State.
4. Jahan Dotson, Penn State: Dotson had 52 catches for 884 yards and eight touchdowns as a junior, catching a pass of 20 yards or longer in eight of nine games.
5. Garrett Wilson, Ohio State: Wilson, a dangerous slot receiver, had 43 catches for 723 yards and six touchdowns as a sophomore last season.
Top five tight ends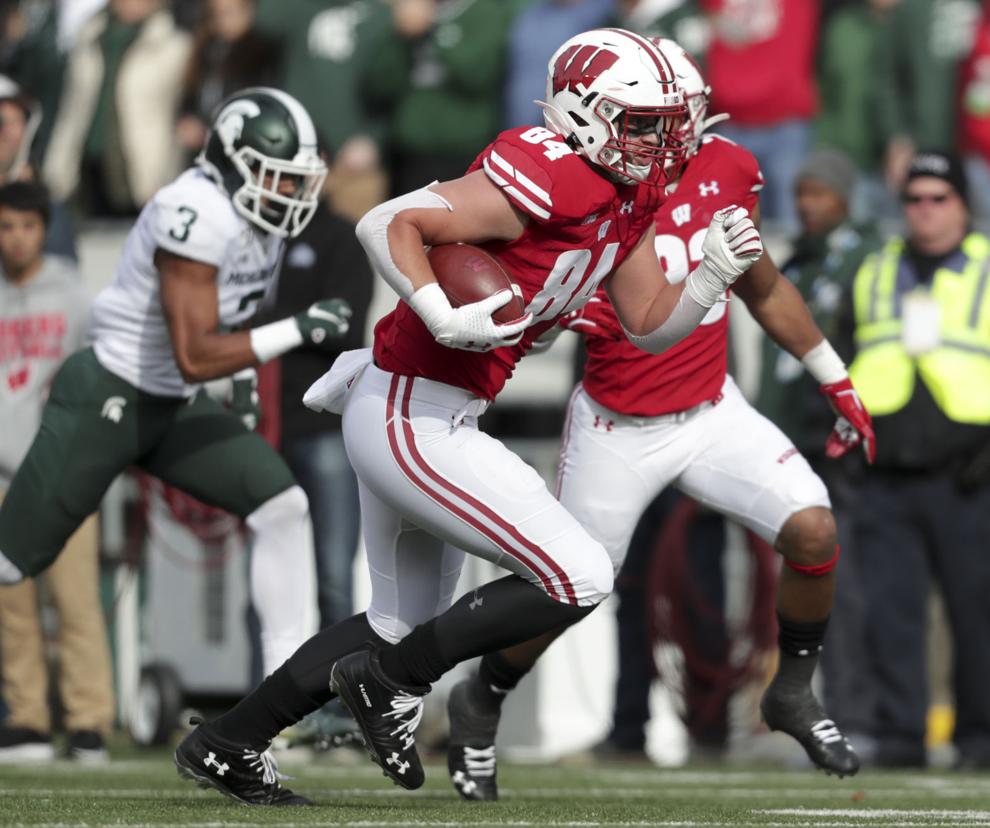 1. Jake Ferguson (above), UW: Ferguson has been steady during his first three seasons playing for the Badgers, amassing 99 catches for 1,168 yards and 10 touchdowns. The former Madison Memorial standout believes he has one more big step to take before his time at UW is over.
2. Jeremy Ruckert, Ohio State: Nine of Ruckert's 28 career catches have resulted in touchdowns.
3. Peyton Hendershot, Indiana: The Hoosiers need Hendershot, who had 23 catches for 151 yards and four touchdowns last season, to return to his 2019 form (52 receptions for 622 yards).
4. Sam LaPorta, Iowa: LaPorta appears poised for a breakout season at a position that has been very fruitful for the Hawkeyes over the years. He had a team-high 27 receptions in 2020.
5. Daniel Barker, Illinois: Barker, who has 16 career starts, had at least one reception in seven of eight games as a junior last season.
Top five offensive linemen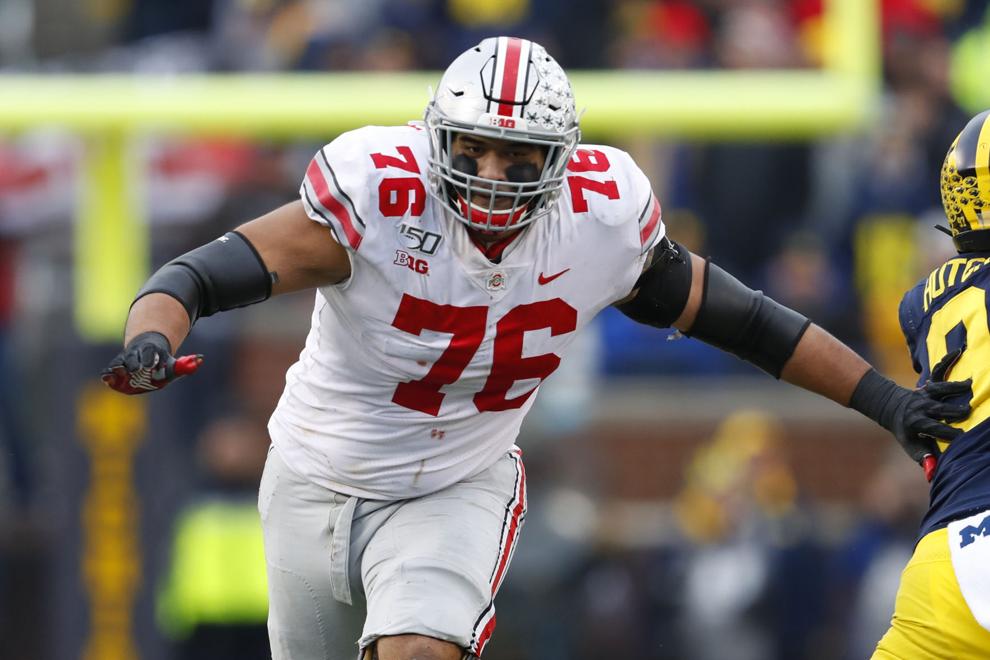 1. Thayer Munford (above), Ohio State: Munford was a first-team All-Big Ten selection at left tackle last season but may move to left guard this season so the Buckeyes can get their five best linemen on the field.
2. Tyler Linderbaum, Iowa: The Hawkeyes' only returning starter on the line is a great one. Linderbaum was one of three finalists for the Rimington Trophy as a sophomore last season.
3. Rasheed Walker, Penn State: Walker has made 22 career starts at left tackle and is being projected as a 2022 NFL first-round pick by some.
4. Peter Skoronski, Northwestern: Skoronski stepped in as a true freshman and started every game at left tackle after Rashawn Slater opted out of the 2020 season.
5. Nicholas Petit-Frere, Ohio State: Petit-Frere, the bookend of the Buckeyes' front five opposite Munford, was a second-team All-Big Ten pick by the league's coaches in his first season as a starter.
Top five defensive linemen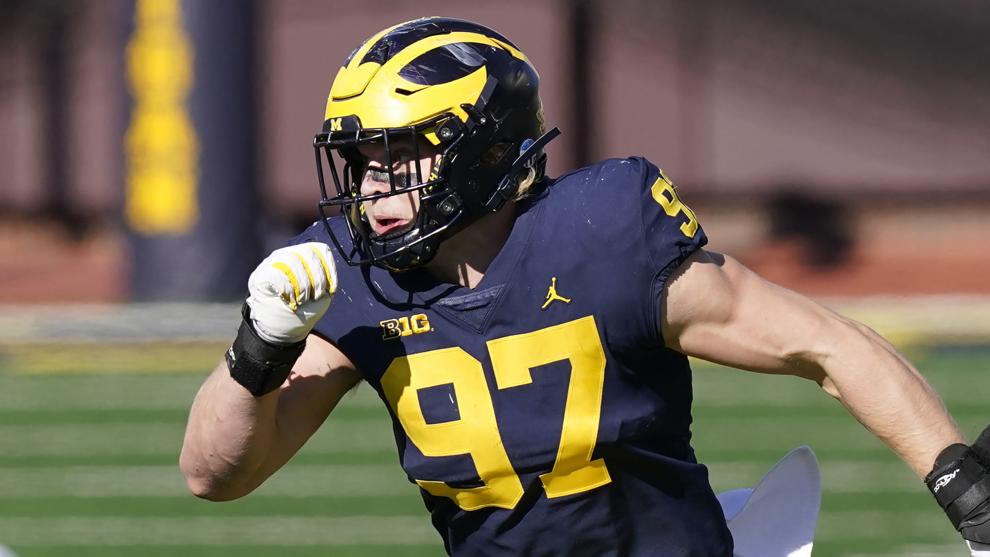 1. Aidan Hutchinson (above), DE, Michigan: Hutchinson's decision to return for his senior season was huge for the Wolverines, who will benefit from his leadership and playmaking ability.
2. George Karlaftis, DE, Purdue: After being named a Freshman All-American in 2019, Karlaftis' playing time was limited last season due to injury and COVID-19. The five-star recruit who decided to stay home and play for the Boilermakers is projected as a first-round pick in 2022.
3. Haskell Garrett, DT, Ohio State: Garrett survived a gunshot wound to the face last offseason and appeared in all eight games for the Buckeyes in 2020. The 300-pounder has played in 40 games during his career and is a load in the middle of the Buckeyes' defensive front.
4. Zach Harrison, DE, Ohio State: Harrison, a 6-6, 272-pound pest on the edge, was named second-team All-Big Ten by the coaches last season.
5. Owen Carney, DE, Illinois: Carney was a consensus All-Big Ten second-team selection last season after recording five sacks in eight games.
Top five linebackers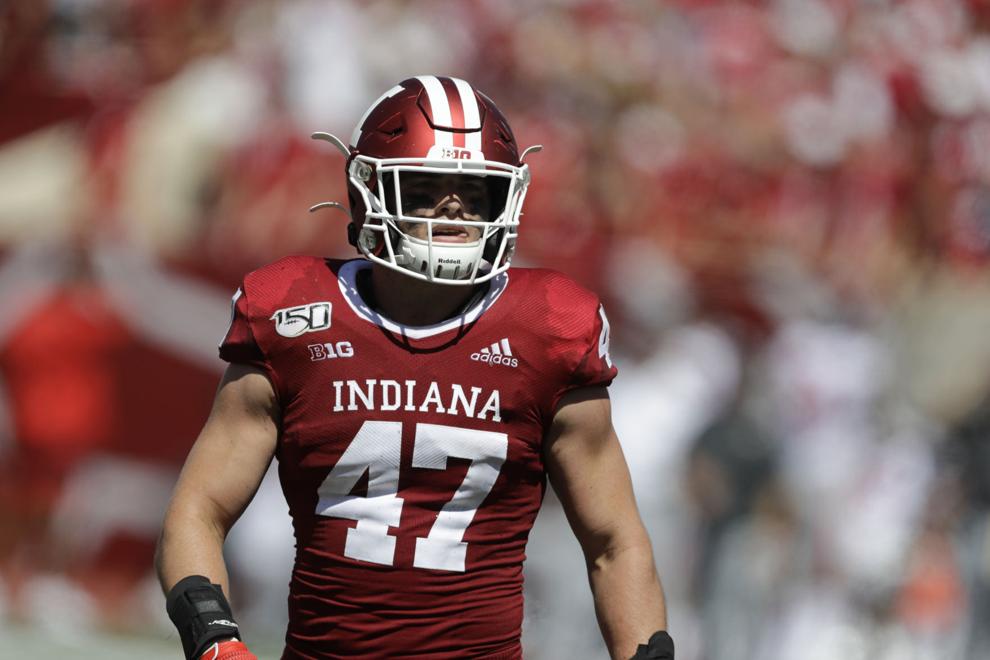 1. Micah McFadden, Indiana: McFadden recorded six sacks and led the Hoosiers in tackles for the second consecutive season as a sophomore.
2. Olakunle Fatukasi, Rutgers: Fatukasi turned down a chance at the NFL to return for his senior campaign in Piscataway after leading the Big Ten with 101 tackles last season.
3. Jack Sanborn, UW: Sanborn has led the Badgers in tackles in each of his two seasons as a starter.
4. Jake Hansen, Illinois: Hansen's combined 14 takeaways over the past two seasons are the most in the nation.
5. Brandon Smith, Penn State: Smith started all nine games last season, finishing with eight tackles for loss, two sacks, an interception and a fumble recovery.
Top five defensive backs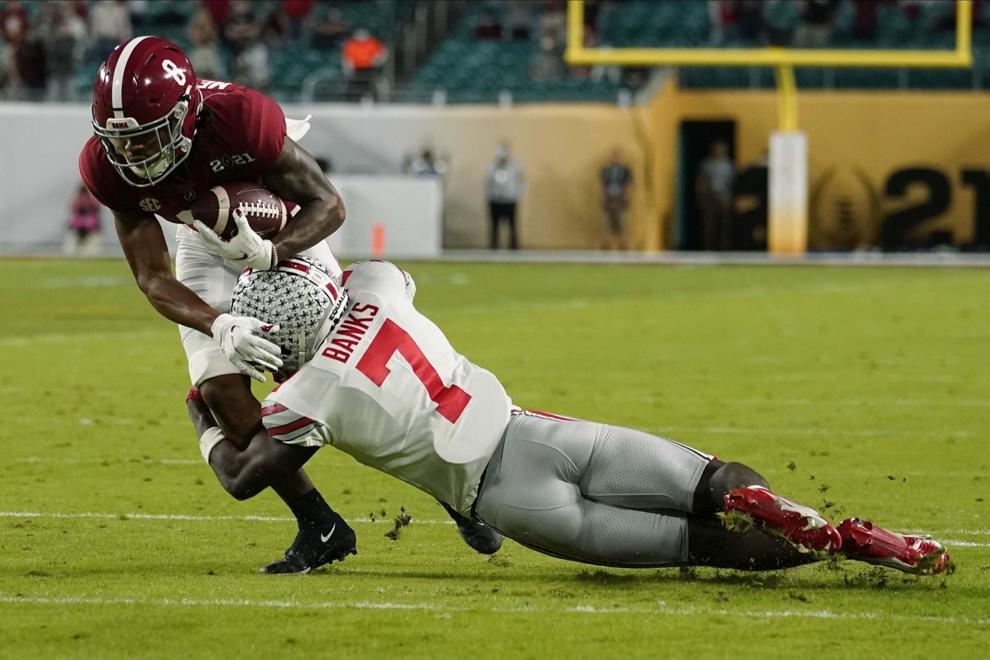 1. Sevyn Banks (above), CB, Ohio State: Banks, poised to be the next great lockdown cornerback for the Buckeyes, led the team with seven PBUs last season.
2. Brandon Joseph, S, Northwestern: Joseph earned first-team All-America honors as a redshirt freshman after finishing with six interceptions, tied for the most in the nation. Two of those picks came in a win over UW.
3. Tiawan Mullen, CB, Indiana: Mullen was named a first-team All-American by the Football Writers Association of American after producing 4½ tackles for loss, 3½ sacks, three interceptions and a forced fumble last season.
4. Jaquan Brisker, S, Penn State: Brisker had a team-high six pass breakups and was third in tackles with 57 as a first-time starter last season.
5. Cam Taylor-Britt, CB, Nebraska: Taylor-Britt has started 17 games over the past two seasons. He was a second-team All-Big Ten pick last season after finishing with four pass breakups and two interceptions.
Top five specialists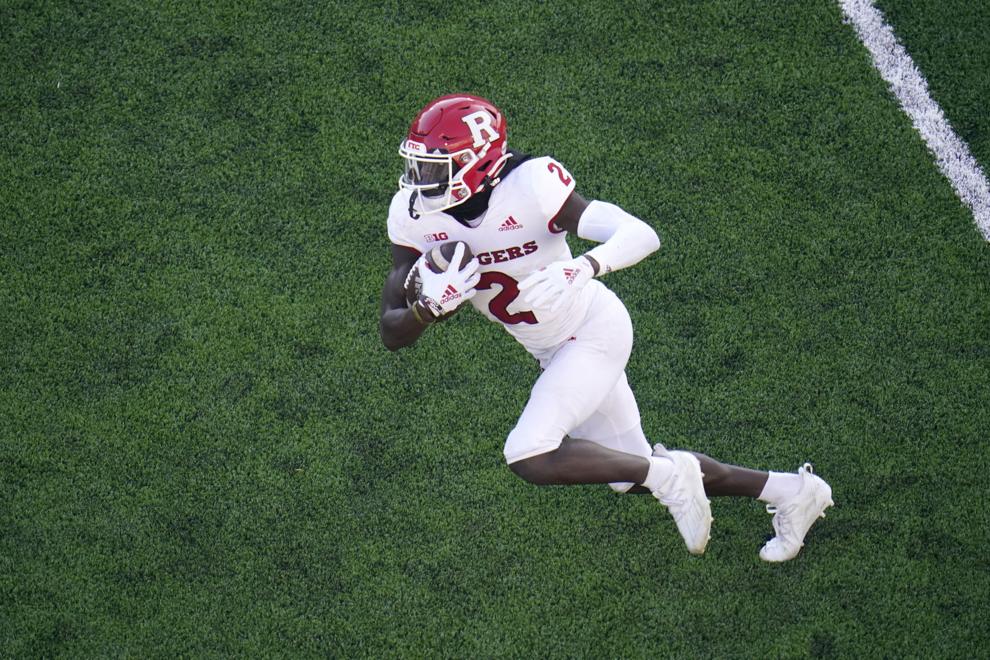 1. Aron Cruickshank, KR, Rutgers: Cruickshank has returned four kickoffs for touchdowns over the past two seasons: Two at UW in 2019 and two at Rutgers, where he transferred to be closer to his home in New York.
2. Connor Culp, K, Nebraska: Culp went 13 of 15 on field goals with a long of 49 yards last season after joining the Cornhuskers as a graduate transfer from LSU.
3. Tory Taylor, P, Iowa: Taylor averaged 44.1 yards per punt and dropped 18 of his 40 attempts inside the 20-yard line last season.
4. Charles Campbell, K, Indiana: Campbell went 10 of 11 on field goals last season. He was 3 of 3 from 50-plus yards, with a long of 53.
5. Charlie Jones, PR, Iowa: Jones arrived at Iowa as a walk-on but earned a scholarship last winter after averaging a Big Ten-best 10.5 yards per punt return last season. He had a 54-yard return for a touchdown against Michigan State.
Top five position groups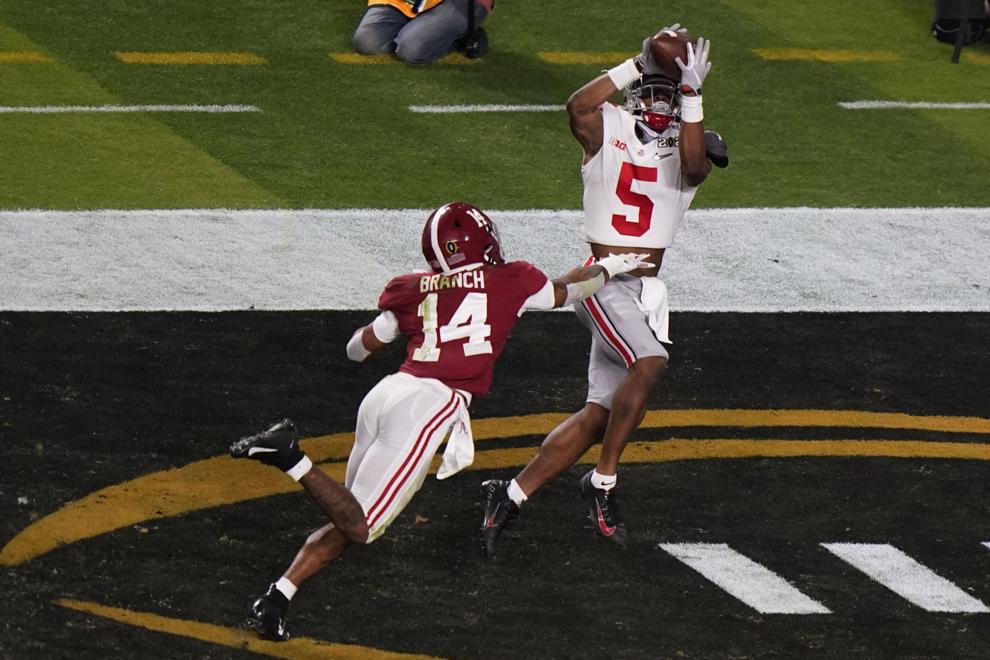 1. Ohio State receivers: Chris Olave and Garrett Wilson (above) combined for 73 catches, 1,452 yards and 13 touchdowns last season and there are players such as Jaxon Smith-Njigba and Jameson Williams eager to emerge as complementary pieces.
2. UW linebackers: Jack Sanborn and Leo Chenal are experienced playmakers on the inside, and Nick Herbig is a potential star at outside linebacker. Noah Burks has been a dependable player at the other outside spot, but the Badgers have recruited well at that position and Burks may get pushed by young players such as Darryl Peterson.
3. Ohio State offensive line: The Buckeyes have to replace two key starters after center Josh Myers (Green Bay) and guard Wyatt Davis (Minnesota) were selected on the second day of the NFL draft. No problem. The Buckeyes still have Thayer Munford and Nicholas Petit-Frere along with plenty of highly recruited players who have been waiting for their turn to get on the field.
4. Iowa secondary: The Hawkeyes return all four starters, a group that includes senior cornerback Matt Hankins and senior free safety Jack Koerner.
5. Rutgers secondary: The Scarlet Knights return three starters and add cornerback Patrice Rene, a transfer from North Carolina. Avery Young has started 30 games at cornerback but may move to free safety.
Top five impact freshmen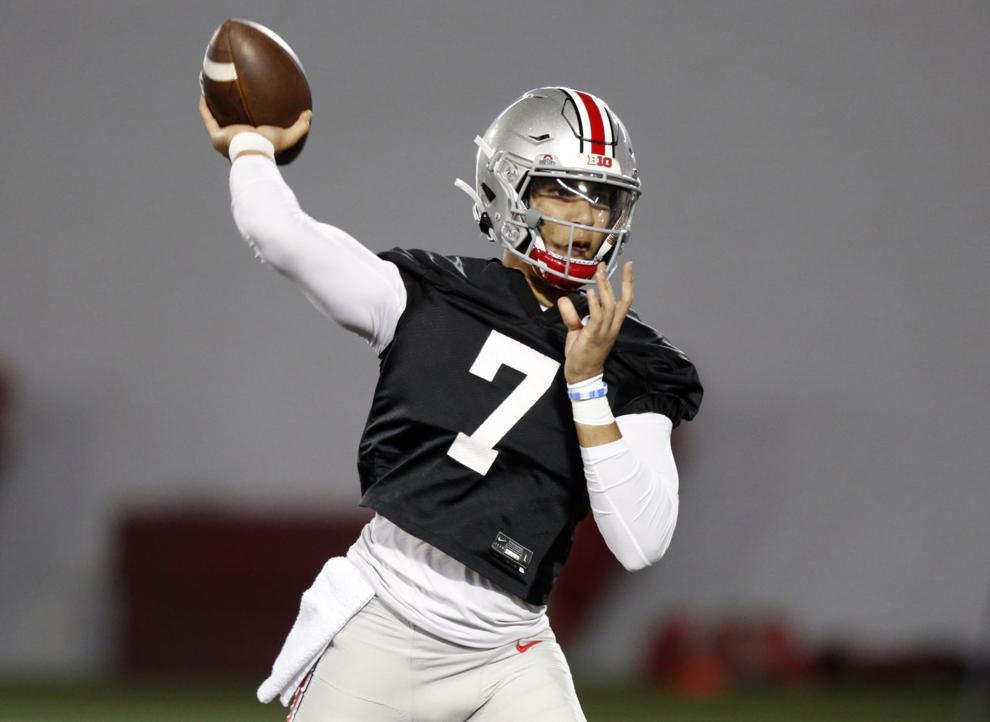 1. C.J. Stroud (above), QB, Ohio State: Stroud appeared in three games while serving as Justin Fields' understudy and had a 48-yard touchdown run against Michigan State last season. He went 16 of 22 for 185 yards and two touchdowns in Ohio State's spring game. Stroud won't have anything handed to him, especially with the top QB in the 2022 class, Quinn Ewers, reclassifying and joining the Buckeyes late in the summer.
2. TreVeyon Henderson, RB, Ohio State: One of the top prospects in the Buckeyes' loaded 2021 class has made a solid impression since enrolling early in January. Ohio State has an embarrassment of young talent at tailback: In addition to Henderson and fellow true freshman Evan Pryor, redshirt freshman Miyan Williams is in the mix to push veteran Master Teague III for carries.
3. J.J. McCarthy, QB, Michigan: Cade McNamara will head into the season as the Wolverines' starter. But don't be surprised if McCarthy, a five-star recruit from Florida, pushes McNamara for that spot.
4. Kalen King, CB, Penn State: Penn State coach James Franklin has raved about King, who enrolled early and has a knack for being disruptive in the secondary.
5. Ma'a Gaoteote, LB, Michigan State: The highest-ranked player in the Spartans' 2021 class may be counted on to play immediately at a spot that lacks depth.
Top five breakout/bounce-back candidates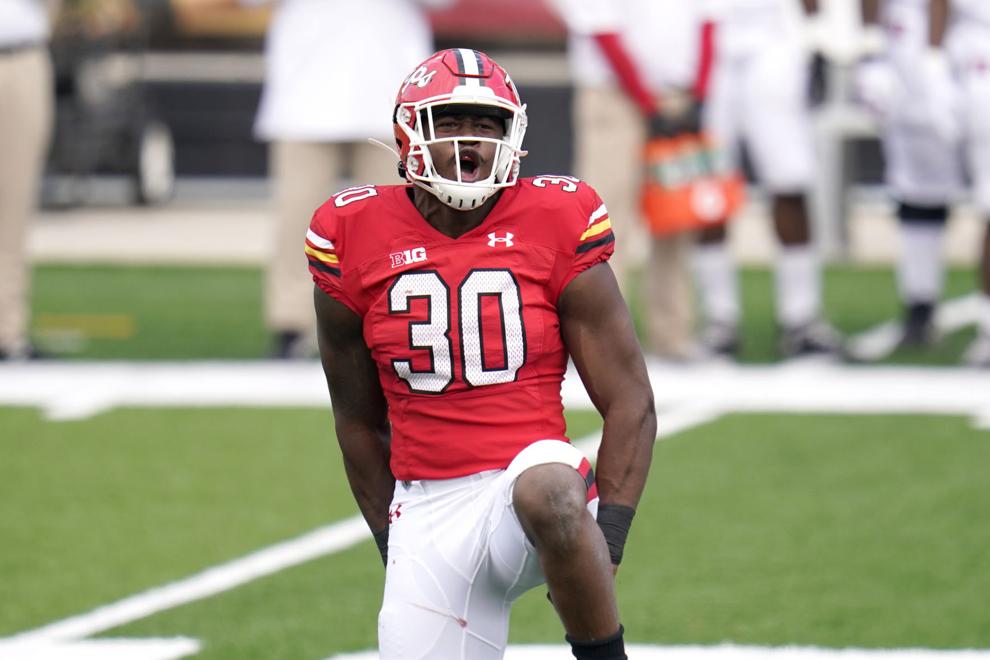 1. Durell Nchami (above), LB, Maryland: Nchami had 4½ tackles for loss while appearing in 10 games as a freshman in 2018. But injuries have plagued him the past two seasons, with an ACL tear completely wiping out 2019 and a leg injury limiting Nchami to three games last season. Nchami would give Maryland's pass-rushing efforts a big boost if he can stay on the field.
2. Tim Baldwin Jr., RB, Indiana: The Hoosiers have to replace Stevie Scott III, who scored 30 touchdowns over the past three seasons. Baldwin may be the guy to fill those shoes after showing signs of explosiveness last season, including a 106-yard effort against Maryland.
3. Daniel Jackson, WR, Minnesota: Jackson finished with modest receiving totals as a true freshman, catching 12 passes for 167 yards. But he had four for 67 yards in a loss at UW and should get more targets as the Gophers try to replace Rashod Bateman.
4. Milton Wright, WR, Purdue: Wright has 42 catches for 593 yards and three touchdowns during his first two seasons at Purdue. There could be a big jump this season as Purdue tries not to rely too heavily on David Bell now that Rondale Moore is in the NFL.
5. Max Melton, CB, Rutgers: Melton, whose older brother Bo is the Scarlet Knights' top receiver, finished with 21 tackles while starting six games as a true freshman.
Top five impact transfers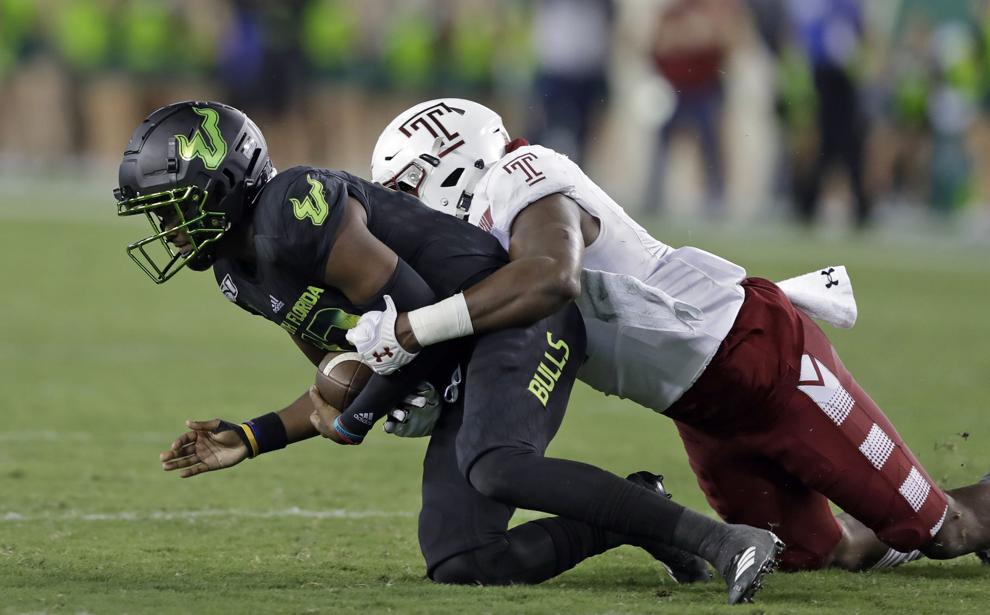 1. Arnold Ebiketie (above), DE, Penn State: Ebiketie was a second-team American Athletic Conference choice last season after leading the Owls in tackles for loss (8½), sacks (4) and forced fumbles (3). Penn State needs all the experience it can muster while replacing three starters on the defensive line, including All-Big Ten defensive end Shaka Toney.
2. Daylen Baldwin, WR, Michigan: Baldwin joins the Wolverines after catching 27 passes for 540 yards and seven touchdowns in six games this spring at Jackson State, an FCS program. Baldwin is big (6-2, 219) with good hands and chose Michigan over Ohio State, among others.
3. Anthony Russo, QB, Michigan State: Russo started 26 games at Temple, throwing for 6,292 yards with 44 touchdowns and 32 interceptions. He joins a Michigan State team that ranked 13th in the Big Ten in passing efficiency last season.
4. Chase Hayden, RB, Illinois: Hayden carried the ball 49 times for 249 yards and three touchdowns while playing for Bret Bielema as a true freshman in 2017 at Arkansas. They now are reunited and, knowing how much Bielema loves to run the ball, Hayden should get plenty of opportunities while competing with Chase Brown.
5. Ryan Hilinski, QB, Northwestern: Hilinski started as a true freshman at South Carolina in 2019, throwing for more than 2,300 yards, but he only appeared in two games last season and has had injury issues during his college career. Hunter Johnson won the starting job over Hilinski in training camp, but at least the Wildcats have an experienced backup they can turn to if Johnson struggles.
Top five potentially surprising teams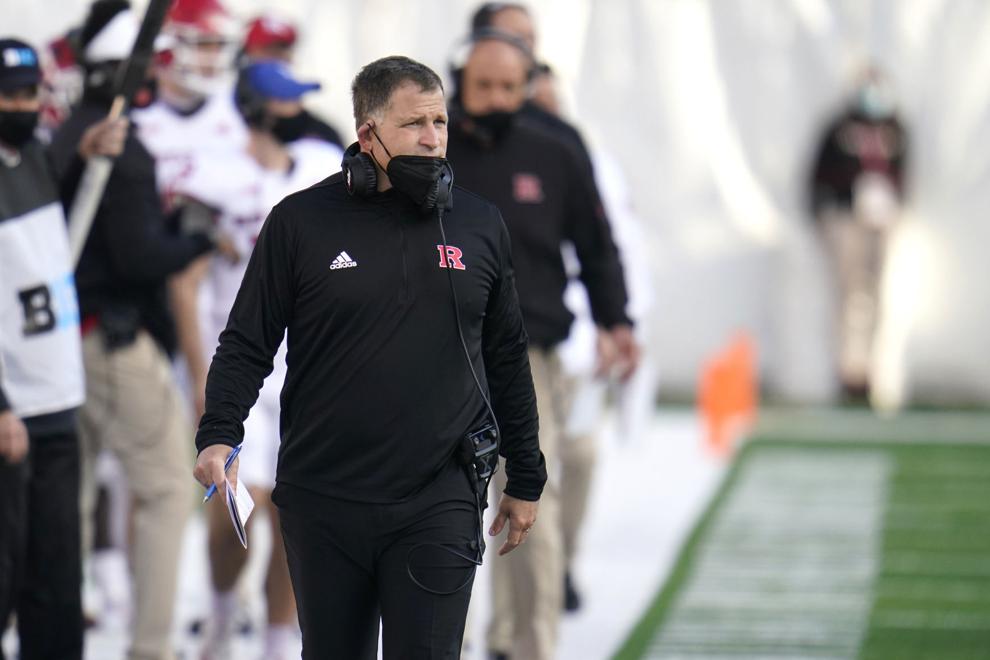 1. Rutgers: The Scarlet Knights went 3-6 in the first year of Greg Schiano's second stint at the school. While that may not sound great, road wins against Michigan State, Purdue and Maryland were a big deal for a program that had gone a combined 3-21 overall and 0-18 in the Big Ten the previous two seasons. Rutgers should continue to make strides under Schiano (above).
2. Minnesota: The Golden Gophers, slotted for fourth place in the West, have nine starters back on offense. Minnesota could be in the hunt for a title heading into the regular-season finale against visiting UW if quarterback Tanner Morgan can return to his 2019 form.
3. Maryland: Mike Locksley is 5-12 overall and 3-11 in Big Ten play through two seasons. But Locksley has recruited well and has a talented young quarterback in Taulia Tagovailoa. The Terrapins could be ready to make some noise.
4. Nebraska: The Cornhuskers return nine starters on defense and are starting to build some depth on the roster entering Scott Frost's fourth season. Nebraska finally might be able to build some momentum if it can win tossup games at Illinois and Michigan State to open Big Ten play.
5. Illinois: The Fighting Illini are picked to finish last in the West Division after going 2-6 last season. But a middle-of-the-pack result wouldn't be surprising considering Illinois returns 15 starters, eight of whom are seniors.
Top five potentially disappointing teams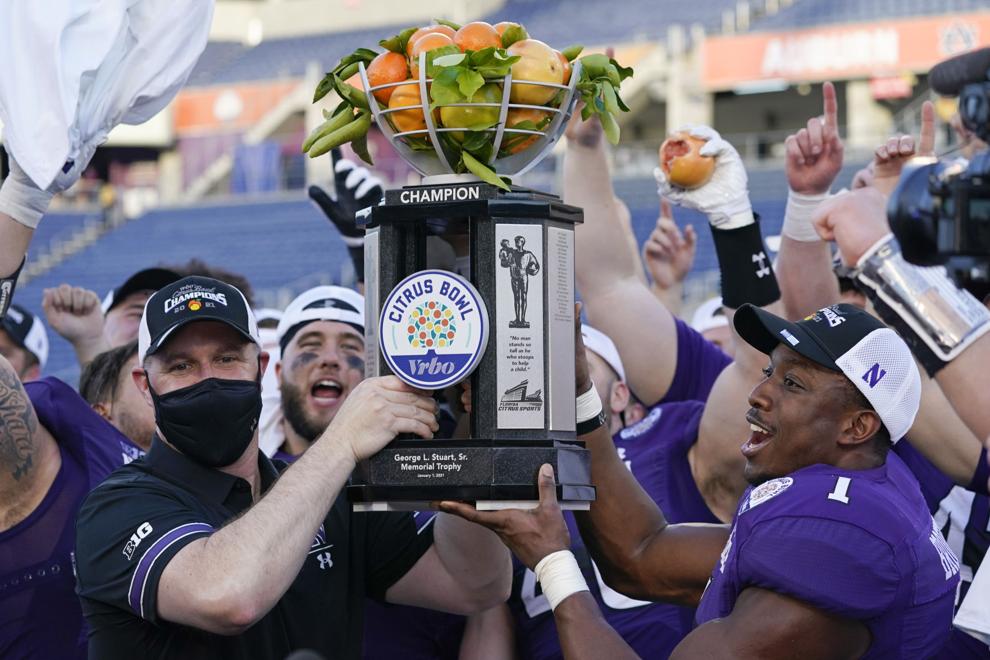 1. Northwestern: The Wildcats are the defending West Division champs and are picked to finish third. But they return only seven starters and could struggle on offense.
2. Indiana: Hoosiers coach Tom Allen is talking the talk after his team went 6-1 in Big Ten play last season. But how will Indiana react to having a target on its back for the first time in forever? And can star quarterback Michael Penix Jr. finally stay healthy?
3. UW: What if Graham Mertz struggles again and the running game fails to get going? The Badgers only can rely on their defense so much and can't be flat early in the season, with games against Penn State and Notre Dame in the opening month.
4. Penn State: A tale of two 2020 seasons for the Nittany Lions included a double-digit home loss to Maryland as part of an 0-5 start. A four-game winning streak to end the season is a big reason Penn State is picked to finish second in the Big Ten East. But the Nittany Lions are closer to Indiana, Michigan and Maryland than they are to Ohio State.
5. Iowa: The Hawkeyes always walk a fine line. While you can pencil them in for at least seven wins, a run at the Big Ten West title depends on whether quarterback Spencer Petras can be more accurate than he was during his first season as a starter.
Top five coaches with something to prove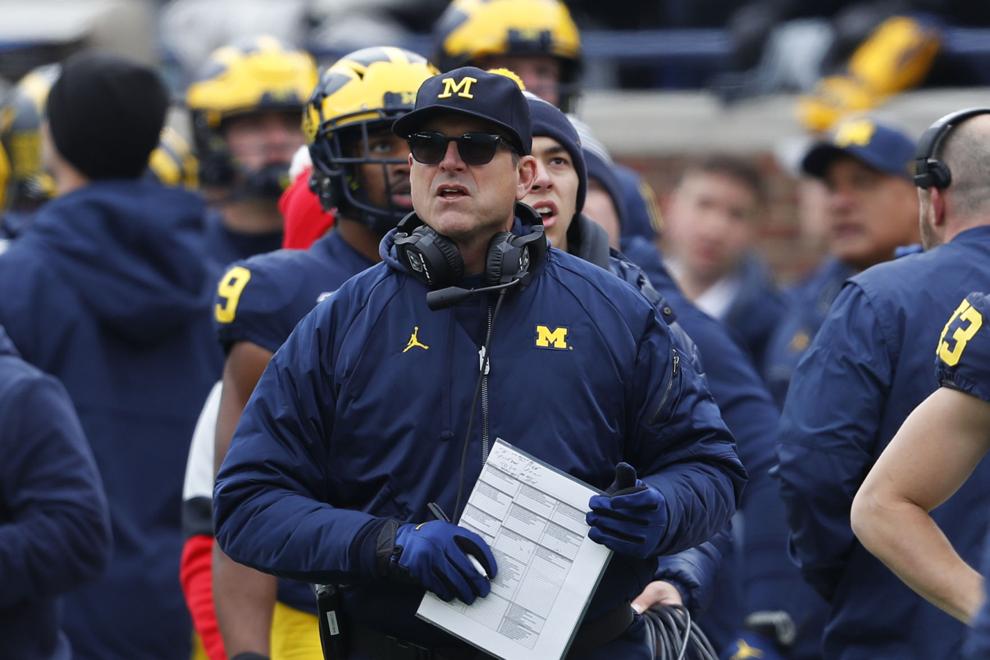 1. Jim Harbaugh (above), Michigan: Harbaugh is 49-22 overall and 34-16 through six seasons at his alma mater. Those would be considered decent numbers at most places, but Harbaugh is one of the highest-paid coaches in the game, hasn't delivered a Big Ten title or a win over archrival Ohio State and is coming off a 2-4 season.
2. Scott Frost, Nebraska: Frost was supposed to be the savior in Lincoln. Not quite. The Cornhuskers are 12-20 overall and 9-17 in Big Ten play heading into Year 4 of the Frost era and there may not be a Year 5 if Frost can't get Nebraska to a bowl game for the first time since 2016.
3. Jeff Brohm, Purdue: The Boilermakers went 13-13 overall and 9-9 in the Big Ten over Brohm's first two seasons. They're 6-12 overall and 5-10 in the conference over the past two seasons, a trend that Brohm needs to change in a hurry.
4. James Franklin, Penn State: The Nittany Lions went 4-5 in 2020 after winning 11 games three times in a span of four seasons. That marked the program's first losing season since 2004.
5. Paul Chryst, UW: Chryst doesn't have to worry about job security, but UW fans would feel a lot better about the state of the program if the Badgers can bounce back from an uneven 2020 campaign and perhaps get over the hump to win a Big Ten title.
Five toughest conference schedules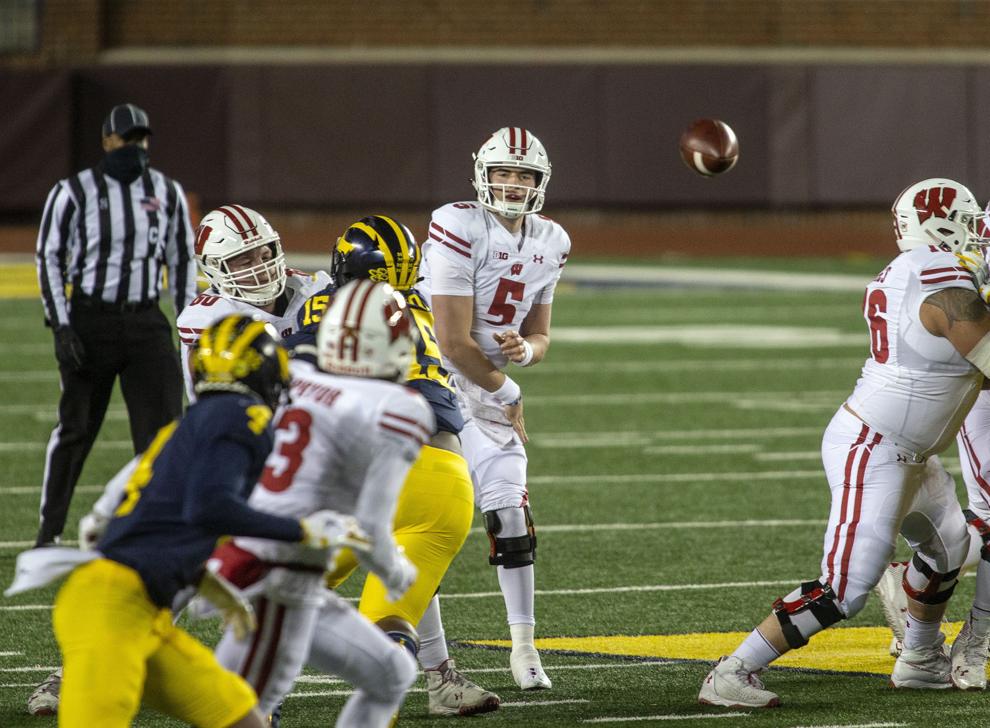 1. Michigan: The Wolverines visit UW early in the season and have a difficult four-game closing stretch that includes home games against Indiana and Ohio State sandwiched around trips to Penn State and Maryland.
2. Purdue: The Boilermakers open Big Ten play with home games against Illinois and Minnesota, but their slate gets much more difficult from there with back-to-back games against Iowa and UW. Plus, Purdue gets crossover opponents Ohio State and Indiana in a span of three games to end the regular season.
3. Rutgers: The Scarlet Knights play four of five games on the road during a stretch that begins in mid-October. That grind ends with a home game against UW followed by trips to Indiana and Penn State.
4. Penn State: Road trips to UW, Iowa and Ohio State await a program that started 2020 with five consecutive defeats before it rallied to win its final four games.
5. Michigan State: Year 2 of the Melvin Tucker era includes the usual East Division grind. Whether the Spartans can improve on their 2-5 mark may depend on whether they can knock off Michigan and Penn State in East Lansing.
Five easiest conference schedules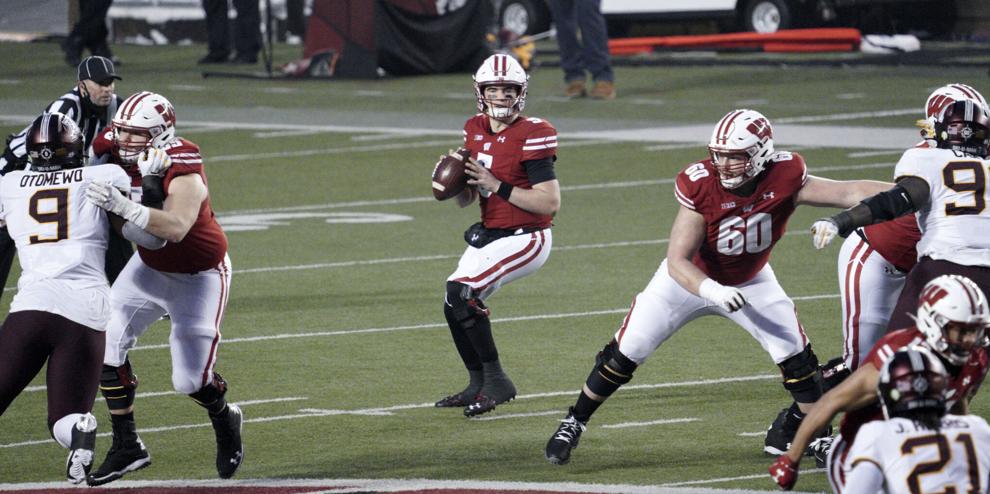 1. UW: The Badgers' crossover games are against Penn State and Michigan, but both are at home. Their road schedule — Illinois, Purdue, Rutgers and Minnesota — looks manageable on paper.
2. Ohio State: The most challenging part of the Buckeyes' slate comes in October when they go to Indiana and host Penn State in back-to-back weeks.
3. Northwestern: The Wildcats may not play a ranked team in Big Ten play until a trip to UW on Nov. 13.
4. Nebraska: The Cornhuskers can build some momentum early in the season with some winnable games on the docket. They'd better take advantage because the season ends with home games against Ohio State and Iowa wrapped around a trip to UW.
5. Illinois: Nothing will come easy for the Fighting Illini as they look for their first winning campaign in a decade, but the schedule makers were kind to first-year coach Bret Bielema. Illinois has to go to Penn State, but its other two crossover games are at home against Rutgers and Maryland. Plus, the Illini avoids a trip to UW.
Top five conference games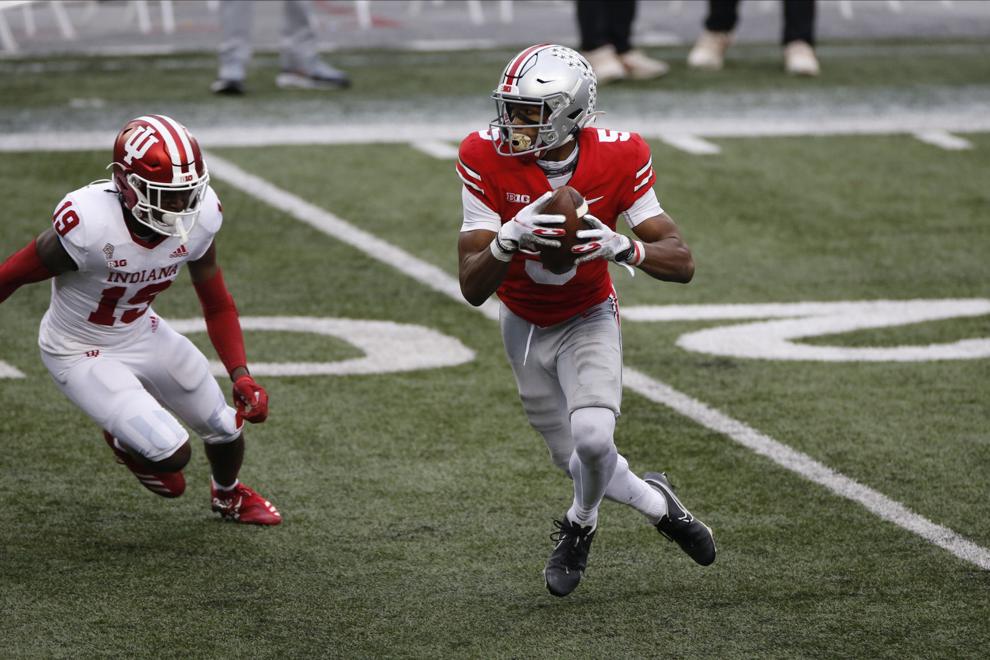 1. Ohio State at Indiana, Oct. 23: The Buckeyes had to hold on for dear life to win this matchup last season in Columbus. Ohio State led 35-14 early in the third quarter before Indiana scored four touchdowns in a span of 15:22 to cut its deficit to a touchdown.
2. Penn State at UW, Sept. 4: A Top 25 matchup to open the season, and fans finally back inside Camp Randall Stadium? Sounds delightful.
3. Penn State at Ohio State, Oct. 30: The Buckeyes have won four consecutive games in this series, but two of those games were decided by one point.
4. UW at Illinois, Oct. 9: The Badgers' first meeting with an old friend, Bret Bielema, who went 68-24 in seven seasons at UW from 2006 to 2012. Bielema has a big rebuilding project in front of him in Champaign, but his return to the Big Ten makes the conference more interesting.
5. Ohio State at Michigan, Nov. 27: The rivals didn't play last season for the first time since 1918 because of COVID-19 issues within the Michigan program. It was probably a good thing for the Wolverines, who haven't beaten the Buckeyes in a decade and were outscored 118-66 in the two most recent meetings.
Top five nonconference games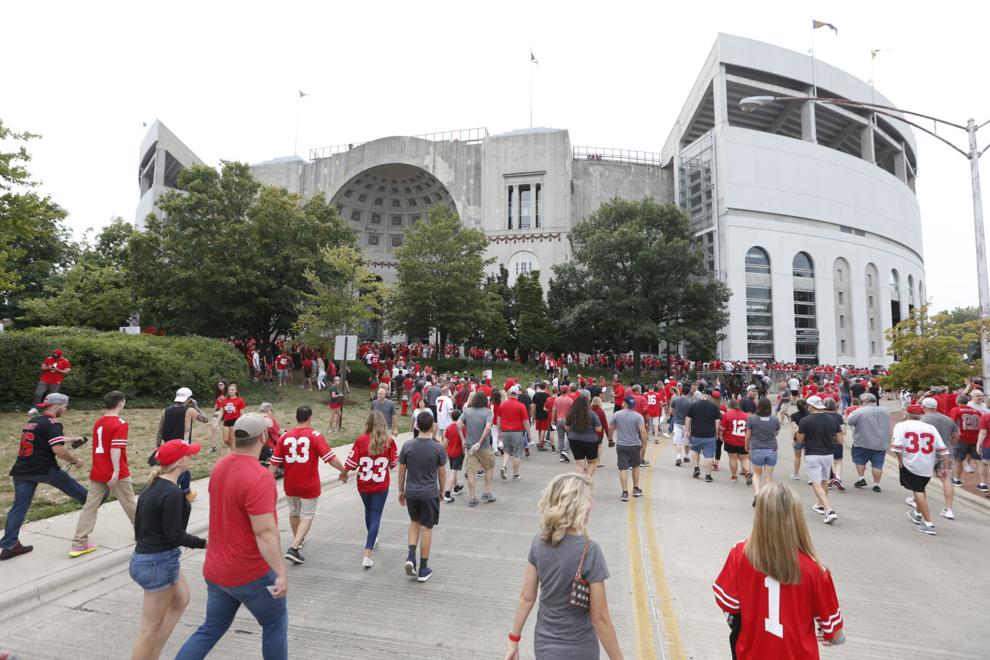 1. Oregon at Ohio State, Sept. 11: The Buckeyes and Ducks were scheduled to play in Eugene last season, but that game got canceled due to the COVID-19 pandemic. They'll meet in Columbus in what should be a good résumé builder for the winner.
2. UW vs. Notre Dame in Chicago, Sept. 25: The first meeting between these programs since 1964 will take place at Soldier Field and — as if the matchup needed any more hoopla — former Badgers quarterback Jack Coan likely will be directing the Fighting Irish offense.
3. Washington at Michigan, Sept. 11: Signature wins have been hard to come by during the Jim Harbaugh era at Michigan. He's got a chance to post one early in the season against one of the favorites in the Pac-12 Conference.
4. Iowa at Iowa State, Sept. 11: The Hawkeyes have won the previous five meetings in this instate rivalry, but the Cyclones are coming off a 9-3 season and are trending upward under Matt Campbell's watch.
5. Nebraska at Oklahoma, Sept. 18: This used to be a heck of a matchup when the Cornhuskers and Sooners were Big Eight powerhouses. The programs are pretty far apart in college football's echelon these days. One side story: A school that already left the Big 12 going against another with one foot out the door in that conference.