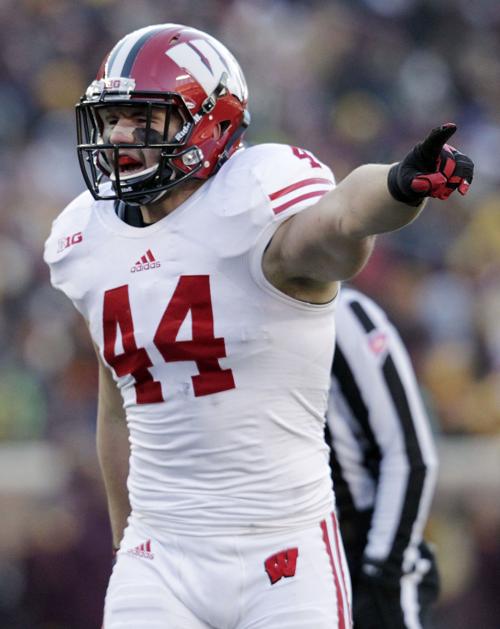 One of the best linebackers in Badgers history earned another honor Monday.
Chris Borland was named one of the three linebackers for the Big Ten Network's All-Decade team. Iowa product and current Denver Bronco Josey Jewell and Michigan alum and current Pittsburgh Steeler Devin Bush were the other linebackers selected to the first team. UW's T.J. Watt was a second-team pick. 
Borland's career at the University of Wisconsin started with a bang by earning Big Ten Conference freshman of the year accolades, but a shoulder injury derailed his sophomore campaign and limited him to just two games.
He built a reputation as a hard hitter and a tackling machine last three years on the field for the Badgers. He tallied 143, 104 and 112 tackles in those years, respectively, and his career total of 420 tackles is sixth-most in program history. Borland is fourth in UW history with 50 tackles for loss, and was an All-Big Ten selection four times, including two first-team nods.
His 15 forced fumbles are a conference record, and when he left college he was tied for the conference record with five defensive player of the week awards.
Borland's senior year of 2013 was arguably his best, as he won the conference's defensive player of the year and linebacker of the year awards en route to a first-team All-American selection by the Football Writers Association of America.
"He was really unblockable," former Ohio State coach and current Big Ten Network analyst Urban Meyer said. "He was a guy that you have a guy accounting for him, but he would beat blocks so easily."
The Kettering, Ohio, product was lightly recruited coming out of high school, but made his mark quickly on the Badgers. He was also a valued member of the special teams units at UW.
He was drafted in the third round of the 2014 NFL Draft by the San Francisco 49ers, but played just one pro season. After a rookie year in which he posted 102 tackles, he retired from football due to concerns of repetitive head trauma.
The BTN All-Decade team was voted on by a panel of 24 writers and analysts. The team's offensive line (Tuesday); tight ends and defensive backs (Wednesday); wide receivers and defensive line (Thursday); quarterback, specialists, all-purpose player and coach (Friday) will be announced later this week.
---
Get to know the Badgers' 2021 recruiting class
JP BENZSCHAWEL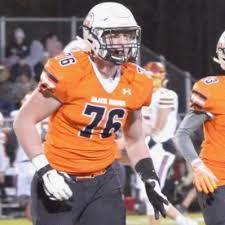 JP Benzschawel, an offensive lineman out of Grafton, was the first recruit in the Badgers' 2021 class, continuing the family tradition at UW.
Benzschawel's brothers, Beau (2015-18) and Luke (2016-19) played offensive line and tight end, respectively, for the Badgers. His father, Scott (1983-87) and uncle Eric (1988-92) also played football for UW.
Benzschawel is one of the top-ranked offensive tackles in the country. A four-star recruit on 247sports, and ESPN, and a three-star on Rivals, Benzschawel is a top-200 recruit nationally by 247sports and ESPN.
JACKSON ACKER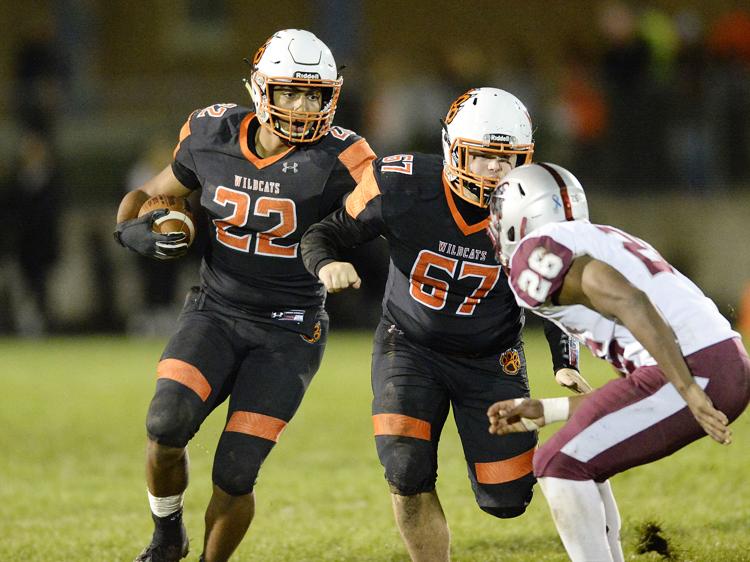 Jackson Acker, a running back from Verona, committed to the Badgers soon after receiving an offer in June 2019.
UW was Acker's first scholarship offer after his sophomore season, but he used it as momentum for a strong junior campaign at Verona High School. He was a first-team running back on the Wisconsin State Journal's All-Area team, rushing for 929 yards and 11 touchdowns in eight games.
Acker is a three-star recruit according to 247sports, Rivals and ESPN.
DEACON HILL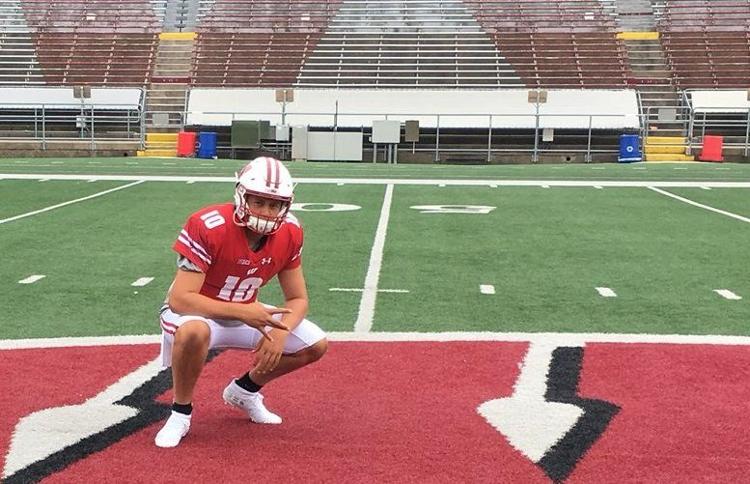 Deacon Hill, a quarterback from Santa Barbara, Calif., committed to the Badgers in July 2019.
A 6-foot-4, 225-pound, pro-style prospect, Hill was part of wave of recruiting commitments for UW. Hill turned down offers from Kansas State and Nevada in favor of the Badgers.
Hill turned heads at an Elite 11 regional camp in California with his big arm and deep throws. He is the lone quarterback thus far in the 2021 class, and the 2020 class added just one in walk-on Daniel Wright.
Hill is listed as a three-star recruit by 247sports, Rivals and ESPN.
LOYAL CRAWFORD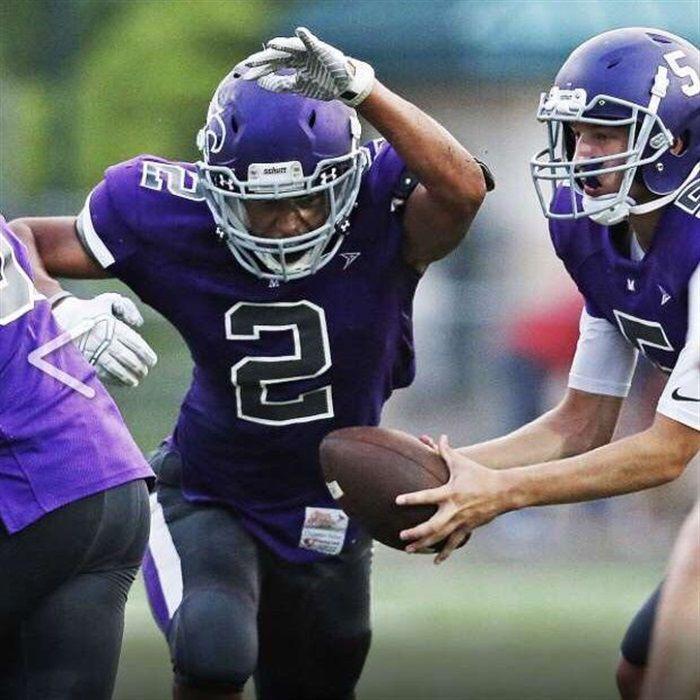 Loyal Crawford, a running back from Eau Claire, Wis., committed to the Badgers in August 2019.
A fast, shifty and explosive back, Crawford was limited to five games as a junior due to injury. Still, he tallied 671 rushing yards and 11 touchdowns in that span. He was one of the first freshmen to suit up for a varsity game at Eau Claire Memorial High School.
Crawford — listed at 6-foot and 190 pounds — is a three-star recruit per 247sports, Rivals and ESPN.
UW's scholarship offer the first Division I offer Crawford had received, according to multiple outlets.
RILEY MAHLMAN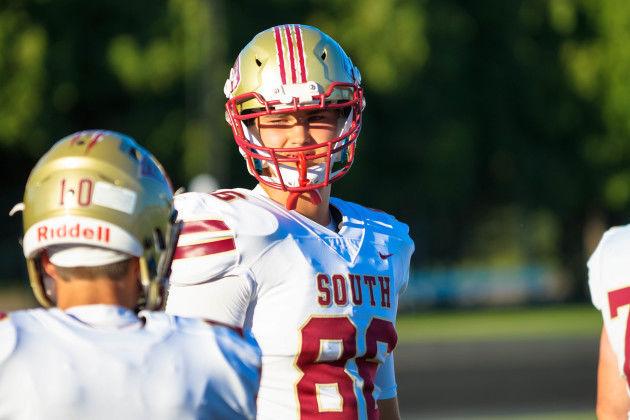 Riley Mahlman, an offensive lineman from Lakeville, Minn., committed to the Badgers after watching them defeat Michigan at Camp Randall Stadium in September 2019.
Mahlman is ranked as a four-star prospect by 247sports and ESPN, and a three-star by Rivals. He's ranked as the top recruit in the state of Minnesota by 247sports and ESPN, and the No. 2 Minnesota product by Rivals. UW beat out Ohio State, Iowa, Minnesota, Michigan State, Florida and others for Mahlman.
With Mahlman and 2020 linebacker Kaden Johnson, the Badgers secured the top-ranked recruit out of Minnesota in consecutive years.
The 6-foot-7, 265-pound tackle also played tight end for Lakeville South High School.
BRYAN SANBORN
Bryan Sanborn, an inside linebacker from Lake Zurich, Ill., committed to UW in December 2019.
Sanborn, the younger brother of Badgers inside linebacker Jack Sanborn, is a three-star recruit according to 247sports, Rivals and ESPN.
The 6-foot-2, 215-pound prospect had a handful of Power Five offers, including Iowa, Minnesota and Nebraska. Bryan's late father, Paul, played football at Oregon.
AYO ADEBOGUN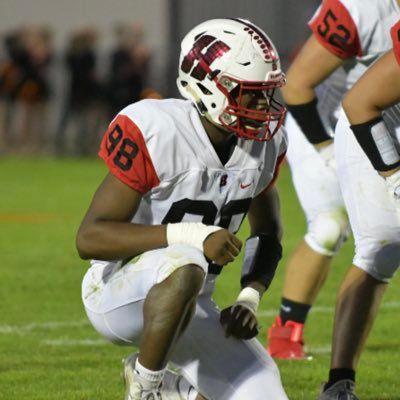 Ayo Adebogun, a linebacker/defensive end hailing from Mequon, committed to the Badgers in December 2019.
The 6-foot-3, 205-pounder was a second-team all-state selection by the Wisconsin Associated Press as a junior, a season in which he tallied 16 sacks and 75 total tackles.
The Homestead High School product is a three-star recruit per 247sports, Rivals and ESPN.
HUNTER WOHLER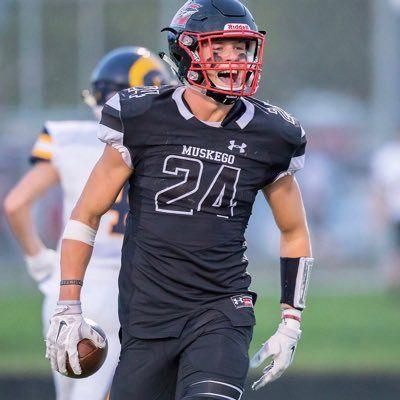 Hunter Wohler, a safety out of Muskego, orally committed to UW just before Christmas 2019.
Rated by multiple recruiting sites as the best or second-best prospect in Wisconsin in his class, Wohler helped Muskego to an unbeaten record and a WIAA Division I state championship as a junior. Wohler had 122 total tackles and two interceptions as a junior, and he was named the state's Associated Press' player of the year.
Wohler — listed at 6-foot-1 and 180 pounds — is rated as a four-star recruit by 247sports, Rivals, and ESPN. He's ranked as the No. 298 overall prospect in the 2021 class by ESPN.
JAKE CHANEY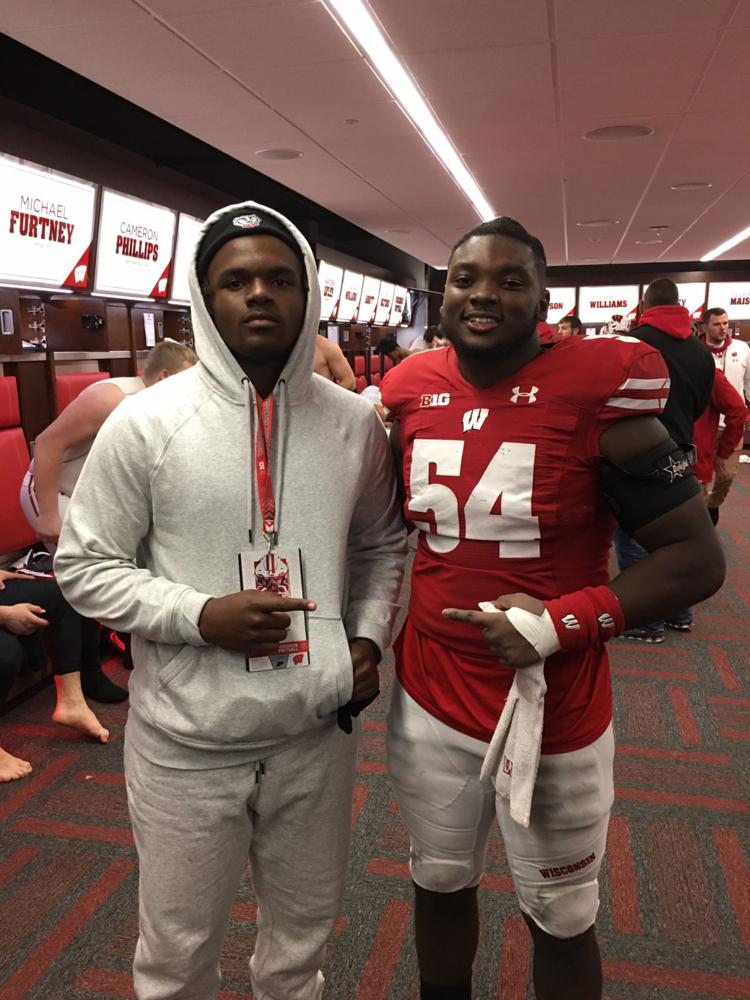 Jake Chaney, a linebacker out of Lehigh Acres, Fla., committed to the Badgers in March 2020.
The 6-foot, 200-pound prospect is a three-star recruit according to 247sports and Rivals.
He was the District 7A player of the year last season after recording 100 tackles as a junior. Jake Chaney's father, James, is his coach at Lehigh Senior High School and played at Florida State from 1988-1991.
Chaney was the third linebacker and ninth overall recruit in the 2021 class.
ANTWAN ROBERTS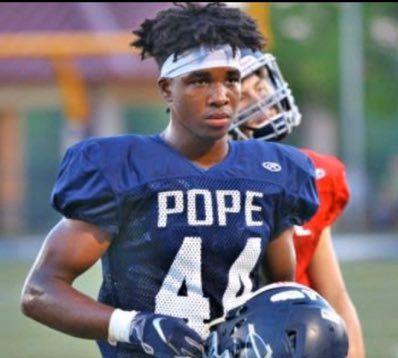 Antwan Roberts announced in April that he'd be attending the University of Wisconsin.
The 6-foot-1, 189-pound back is a three-star recruit per Rivals and 247sports.
UW was the only Big Ten program to offer Roberts a scholarship. He was also considering offers from Cincinnati, Duke, Kentucky, Louisville, Memphis, Missouri and Vanderbilt. He also played defensive back for his high school, Pope John Paul II.
JACK PUGH
Jack Pugh, a tight end out of Hilliard, Ohio, announced his commitment to the Badgers in late May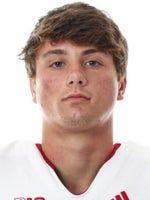 Pugh — ranked a four-star recruit by 247Sports and ESPN, and a three-star prospect by rivals — is ranked in the top 12 of tight ends in his class. The 6-foot-5, 235-pound prospect had scholarship offers from more than 20 programs, including a majority of the Big Ten Conference schools.
Pugh has the prototypical size to play as an on-the-line tight end, but has also split out as a receiver often through his high school career. A standout basketball player, Pugh also showed explosiveness as a defensive end for Hilliard Bradley High School.
DARRYL PETERSON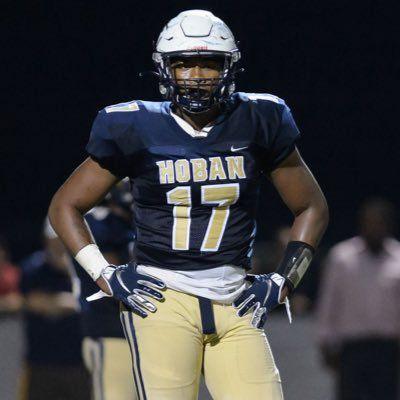 Peterson, a three-star outside linebacker/defensive end from Akron, Ohio, committed to UW on June 1, 2020.
He was one of the Badgers' top targets on defense since the spring of 2019. He tallied 21 sacks in his junior season at Archbishop Hoban, and chose the Badgers over offers from Alabama, Michigan, West Virginia and more.
247Sports, Rivals and ESPN all rate Peterson — a 6-foot-3, 235-pounder — as a three-star prospect. He's the first linebacker in the 2021 class.
MIKE JARVIS
Mike Jarvis, a 6-foot-5, 250-pound lineman out of Medford, N.J., announced his commitment to the Badgers on June 3, 2020. 
A three-star prospect on 247Sports and a two-star per Rivals, Jarvis has potential to play as a defensive or offensive lineman, although he's been primarily recruited for his ability on defense. 
Jarvis picked UW over scholarship offers from Duke, Florida State, Indiana, Nebraska, Princeton, Rutgers and others.
TJ BOLLERS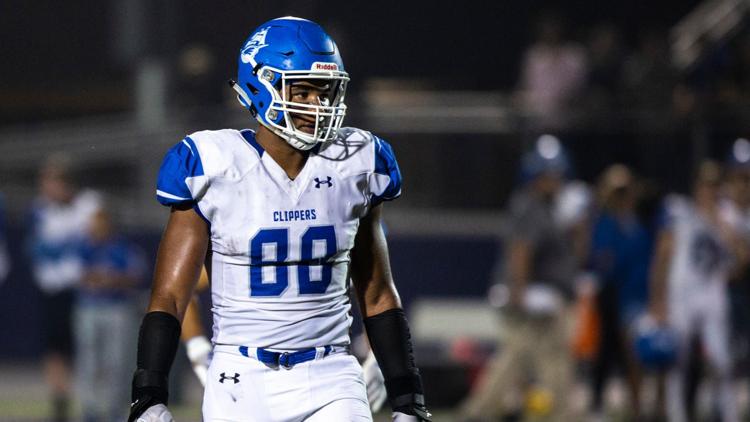 Outside linebacker/defensive end TJ Bollers added to a hot recruiting streak for the Badgers when he committed in June 2020. 
Rated a four-star recruit by 247Sports, ESPN and Rivals, Bollers held offers from the likes of Notre Dame, Oklahoma, Penn State and most of the Big Ten. He narrowed his choices to Alabama, California, Iowa State, Nebraska, Northwestern and UW before making his decision..
Bollers — listed at 6-foot-3 and 250 pounds — is ranked the 98th overall recruit in the country by Rivals, 147th by 247Sports and 200th by ESPN.
RICARDO HALLMAN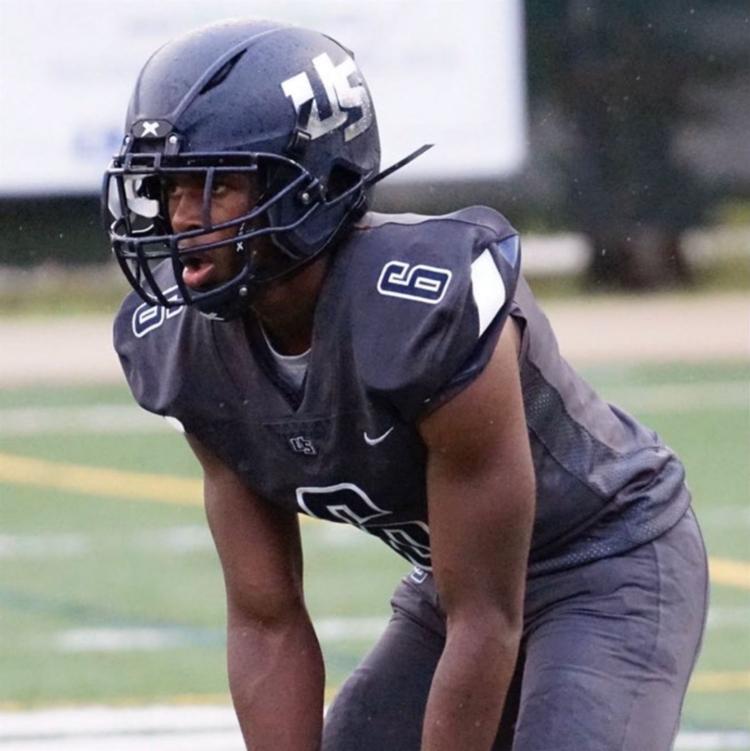 Hallman, a 6-foot cornerback out of Fort Lauderdale, Fla., tweeted his commitment to the Badgers in late June 2020.
Hallman, ranked a four-star prospect by Rivals and a three-star by 247Sports and ESPN, had offers from at least 16 Football Bowl Subdivision programs, including Ohio State, Michigan, Penn State, Miami, Florida and Florida State.
UW defensive coordinator Jim Leonhard was a key piece to Hallman choosing the Badgers. Hallman has said in multiple interviews that he and Leonhard spoke often and that Leonhard was the kind of coach he wanted to play for. Leonhard was also key in UW landing another 2021 prospect out of Florida, linebacker Jake Cheney.
Adding Hallman to the fold continues a strong South Florida connection to UW's secondary — current Badgers' defensive backs Faion Hicks, Semar Melvin and Rachard Wildgoose are all from that area.
Be the first to know
Get local news delivered to your inbox!