University of Wisconsin athletics officials said they weren't sure what to expect for crowd sizes when fans were allowed back into football games at Camp Randall Stadium while the pandemic continued in 2021.
The results can't be considered shocking: Ticket usage was down 8% for the season compared to 2019, and three of the seven games were among the 10 smallest crowds since 2006, when data for ticket scans started being tracked.
Only 50,729 tickets were scanned for the home finale Nov. 20, the second-lowest total of 102 games on record. UW officials forecasted a small gathering that day because it was the opening weekend of Wisconsin's gun deer hunting season, which typically has scaled down crowds.
The Badgers also had the COVID-19 pandemic to deal with in trying to bring back people to the stadium in 2021 as well as a change to digital tickets that prompted them to ask fans to arrive earlier than usual.
"So I think from where we were in the beginning of the year, we were amazingly pleased with the turnout and the support from our fans," said Brian Lucas, UW's director of football brand communications. "I mean, do we want 80,000 every game? Yeah, definitely. Absolutely. But we recognize too that, especially in the fall and even right now, we're in new territory."
The average number of tickets scanned for Badgers home football games in 2021 at 80,321-seat Camp Randall Stadium was 57,548. It's the first time in 15 seasons of data that the number has been below 60,000.
The average number of tickets distributed was 70,829 while the average announced attendance including team personnel, staff and media was 73,466.
Individual game scanner counts ranged from the Nebraska game at the low end to the Sept. 4 game against Penn State at the top. The season opener had 64,335 ticket scanned, making it the best-attended first home game since 2016. The others in that group, however, all were nonconference contests that typically have smaller crowds.
UW has used ticket scanners at gates to count the number of fans in attendance since 2006. For the first time in 2021, fans had to scan the tickets themselves using devices on pedestals as opposed to handing a ticket to an usher.
The count isn't an exact science, Lucas said, but UW doesn't think the figures are off by hundreds or thousands.
The Nov. 13 game against Northwestern drew a scanned total of 51,118, the fourth-smallest since 2006. Nos. 1 and 3 on that list are the 2015 game against Rutgers (48,289) and the 2008 game against Cal Poly (50,921), respectively.
A Sept. 11 game against Eastern Michigan had the ninth-smallest scanned total since 2006 at 55,949.
Nearly 19% of tickets distributed went unused in the 2021 season (an average of 13,282 per game), a high for the 15 seasons on record. Lucas said UW conducts surveys of ticket holders to try to determine why they didn't use tickets and when they make that decision.
For those who decide not to use tickets before the day of the game, Lucas said UW can make it easier to transfer them to someone else. And for those who decide to stay outside the stadium, UW can make it more appealing to come inside, he said.
"All of that data helps us to try to get better for next year to start putting the best product forward for people," Lucas said.
The percentages of tickets unused by students and the general public in 2021 were vastly different. Students let 11.5% of distributed tickets go unused, while 20.4% of the rest of the stadium was a no-show.
Season superlatives: The MVPs, unsung heroes and best plays of Wisconsin football's season
Offensive MVP and newcomer of the year: Braelon Allen, running back
Stats: 186 carries, 1,268 yards, 12 touchdowns; eight catches, 39 yards
Things changed for the Badgers when Allen became a featured back. It wasn't just that the game in which Allen became the No. 2 behind Chez Mellusi — Oct. 9 at Illinois — was the start of a seven-game win streak. Allen's running helped changed UW's offensive identity and attitude.
The Fond du Lac native and 17-year-old became known around college football for his size and breaking tackles. He set a UW freshman record with seven consecutive 100-yard rushing game and finished with the fifth-most rushing yards by a freshman in UW history.
After Mellusi was injured in a blowout win at Rutgers, Allen carried the Badgers to wins over Northwestern and Nebraska.
"One of the things that's been impressive is that he's been really consistent," Chryst said. "I think (he) certainly came in with intentions of, and the confidence maybe that, 'I can help this. I'm here to play.' And yet humble enough to do all that he has to — how to learn and listening to other players."
Defensive MVP: Leo Chenal, inside linebacker
Stats: 115 tackles, 18½ for loss, eight sacks, five quarterback hits, two forced fumbles
Expectations were sky-high for Chenal coming into the season after he showed promise in 2020. The start of his season was delayed a bit after contracting COVID-19 and having to sit out the first two games, but he was the most impactful linebacker in the Big Ten Conference and one of the best in the nation this season.
He earned second-team All-American honors from multiple outlets and was the Big Ten's linebacker of the year. His ability to knife through the line of scrimmage to come up with tackles for loss was impressive throughout the season, and he was once again one of the Badgers best pass-rushers.
"Last year we knew if it looks like Leo's a little out of sorts, let's go downhill," UW defensive coordinator Jim Leonhard said. "Let's get him going and impacting it physically a little bit, try to take a little thinking off his plate. Now you've just seen the football intelligence just continuing to grow with experience and just reps in this defense. He's making plays in different ways that maybe last year, especially early in the season, he wasn't quite ready to do."
Specialist MVP: Andy Vujnovich, punter
Stats: 49 punts, 2,274 yards, 46.4 average, long punt of 68 yards, 15 of 50-plus, 16 downed inside the opponent's 20
The Badgers weren't a particularly strong group on special teams this season, but one consistent presence that unit had was Vujnovich in the punting game. In his second year with the program after transferring from Division-III University of Dubuque, Vujnovich set the program record for punting average in a season.
Vujnovich got a good deal of attention for his prowess in the weight room, earning a spot on The Athletic's Freaks list in the preseason, and UW special teams coordinator Chris Haering said he'd put Vujnovich's offseason work up against any other player's.
"This team cares about each other," Chryst said. "And a great way to reflect the way that you care is you doing your part. 'Vuj's' doing that. There's been some great efforts up front and in front of him, but he's been good."
Most improved offensive player: Josh Seltzner, guard
After being used in a rotation at guard earlier in his career, Seltzner solidified his place in the starting unit with a strong fall camp and then put together an All-American season. A weight drop was a significant part of Seltzner's success, as he felt more flexible and could get his pad level underneath opponents and move them off the ball.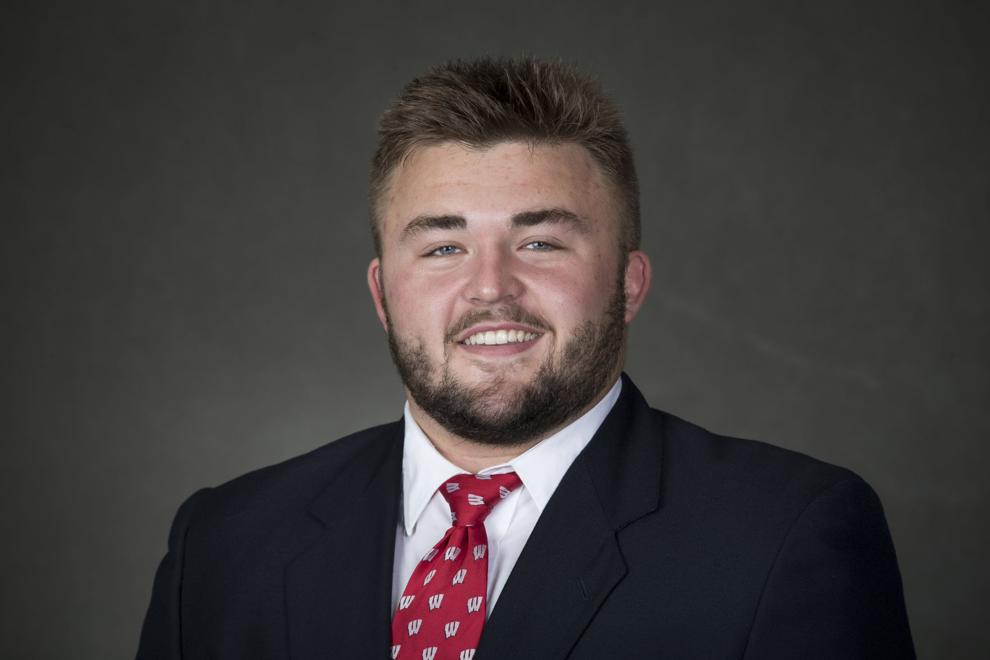 Seltzner's pass blocking was the best it's looked in his UW career, helping to keep the pocket clean from interior pressure. This was Seltzner's first year as a full-time starter, but he'll be trying his hand at the NFL next year.
"There was kind of a calm confidence, and that seemed to be reflected in a steady play," Chryst said of Seltzner. "So it kind of matched the way that (he) went about it. The moments, the challenges, it seemed very confident."
Most improved defensive player: Caesar Williams, cornerback
Stats: 28 tackles, three interceptions, six pass breakups
Williams took full advantage of his sixth season in the Badgers' program and showed he'd taken strides to clean up some of his technique mistakes that led to penalties. He was targeted 44 times this season and allowed just 19 catches and one touchdown, according to PFF. He had a career-high three picks this season, including one returned for a touchdown.
His length became an asset he could use to break up passes even if he wasn't in perfect position, and he smarter with his physicality while covering down the field.
"Understanding who you are as a player, length, foot quickness, physicality, all that stuff comes into play with these corners," Leonhard said. "It's such a technical game. And I think right now you're seeing it all come together for him to just trust in who he is, what his technique (is), how his eyes work, where that leads him."
Defensive newcomer of the year: Hunter Wohler, safety
Stats: 17 tackles, three for loss, one sack, one pass breakup
This was the most difficult category to select a winner for because the Badgers didn't feature many newcomers on defense this season. UW had a veteran group across the defense, but Wohler was a consistent special teams player and showed a good nose for the ball when he played on defense.
Wohler is a big, rangy safety and has the speed to cover a lot of ground in zone or turn and run with a receiver in man. His time as a bigger contributor on defense is coming next season, but he showed enough promise this year to earn this award.
"He's always trying to rip at the ball," Chenal said of Wohler. "He's always trying to make that extra game-changing play. He's getting a bunch of PBUs in practice and he's getting those strips, which is huge, could be game-changing in a game. But he's confident, and that's one of the biggest things that you could say for a freshman is having that confidence."
Offensive unsung hero: Chimere Dike, wide receiver
Stats: 19 catches, 272 yards, one touchdown; three carries, 19 yards
The line of statistics above aren't great, but they're a reason why Dike's play and attitude this season deserve recognition. UW targeted Dike just 32 times this year, per PFF, and he didn't have the breakout year that he looked to be on track for after flashing in 2020 and a strong offseason.
But Dike gave consistent effort as a run-blocker or a jet-sweep decoy, and he didn't allow the lack of opportunities affect him. Multiple coaches and teammates in December that Dike is ready to be the leader of the receiver room and the No. 1 option next season.
"I think that being that we do have a young room, I talked about Chimere Dike being the guy that is now the leader in that room in regards to his routine, how he prepares, the way he goes about his business on a daily basis," UW receivers coach Alvis Whitted said. "I think that's the standard for a lot of guys to shape and mold their routines after and it'll be great."
Defensive unsung hero: Keeanu Benton, nose tackle
Stats: 25 tackles, five for loss, 2½ sacks, two pass break-ups, four quarterback hits, two fumble recoveries
The Badgers had the No. 1 rushing defense for much of the season and a significant reason that was able to happen was the play of nose tackle Keeanu Benton. Though he didn't rack up tackles for loss or sacks this season, his impact on the unit was acknowledged by everyone. Offensive lines paid attention to him and made sure they had two bodies to block him.
"To me, it's just disruption," Leonhard said of measuring Benton's impact. "You're not always going to get the production week in and week out, but how disruptive (are you?) How our teams blocking you? How many opportunities of getting one-on-ones in either the run game or the pass game are you allowed to have? Because obviously if you're taking two, you're helping this defense out in a big way."
He told reporters he's leaning toward coming back to UW for his senior season, which would be a boon for the Badgers' defense that could be light on experience next year.
Biggest offensive play of the year: Braelon Allen's third TD against Nebraska
Allen began his career against Nebraska much like his childhood idol Melvin Gordon did — with a dominant performance.
Allen had 22 carries, 228 yards and three touchdowns in a 35-28 win over the Cornhuskers at Camp Randall, but his final rushing attempt was the most impactful. His 53-yard run off the right side saw him read a pair of pull blocks well, sprint through the second level and stiff arm the last defender who had a chance at him before finishing the play in the south end zone.
Not only was it a winning touchdown in a game that pushed the Badgers to their seventh consecutive win, the play featured everything special about Allen as a ball-carrier — vision, speed, power and an unwillingness to be tackled. Nebraska fans had to deal with massive games from Gordon and Jonathan Taylor in the past, and now they'll have to worry about what Allen might do against them next.
Biggest defensive play of the year: Fourth-down stop against Iowa
UW's defense had plenty to do with the Badgers' 27-7 win over No. 9 Iowa at Camp Randall, but the stop it made on a fourth down late in the third quarter stunted the bit of momentum the Hawkeyes were creating.
Nose tackle Bryson Williams and inside linebacker Leo Chenal were able to submarine Iowa All-American and Rimington-Trophy-winning center Tyler Linderbaum to stop fullback Monte Pottebaum's run short of the sticks on a fourth-and-1. UW led 20-7 at the time, and the Badgers offense drove down the field and put the game away on the ensuing possession.
"Right after that play, it just swung the momentum," Iowa coach Kirk Ferentz said. "The game was pretty much over at that point."
With just two bowl games left to be played, the Badgers defense is No. 1 in the FBS in total yards allowed and No. 1 in rushing defense.