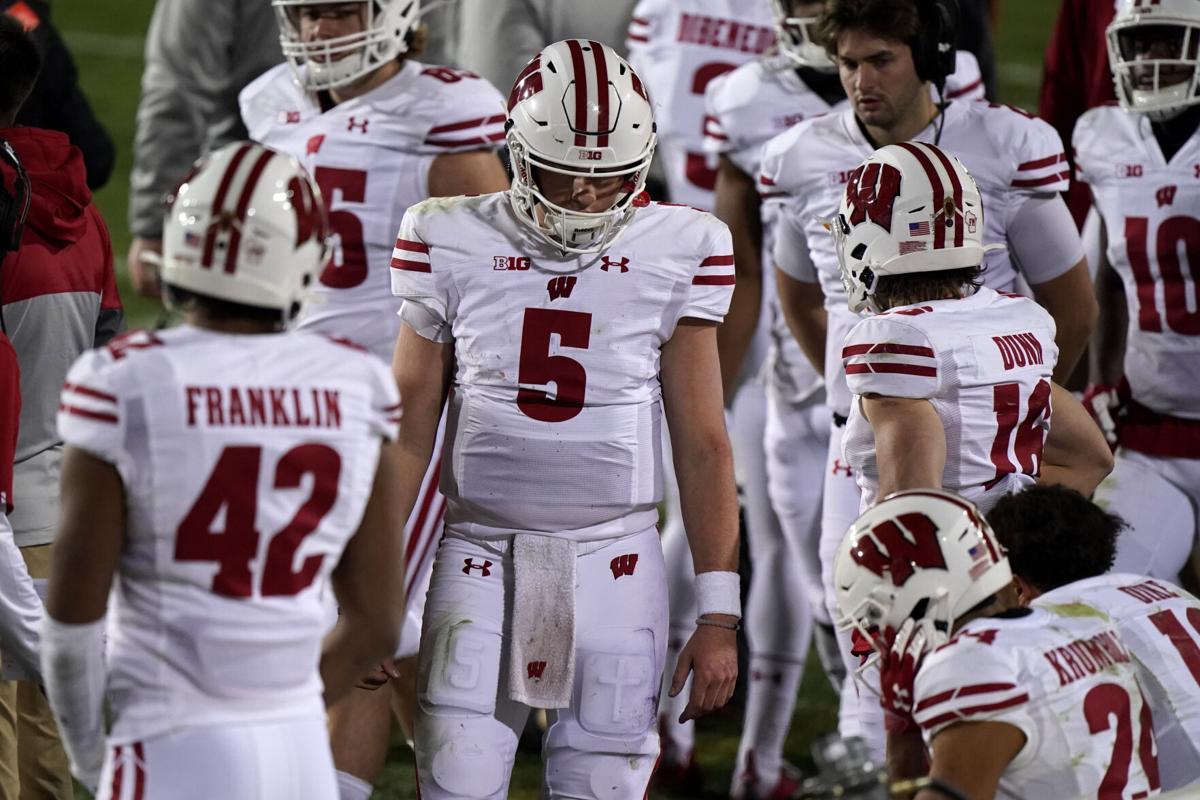 EVANSTON, Ill. — The honeymoon was glorious, but it couldn't last forever.
And when it ended for Graham Mertz, the ride from Paradise Island to Misery Town was swift and brutal.
After dealing with little to no on-the-field adversity while leading the University of Wisconsin football team to victories in his first two career starts, the redshirt freshman quarterback's inexperience showed Saturday afternoon against a terrific defense. Mertz turned the ball over four times — three interceptions and a fumble — in the No. 10 Badgers' 17-7 loss to No. 19 Northwestern at Ryan Field.
It didn't help matters that Mertz didn't have his two best wide receivers on the field with him, and there was plenty of blame to go around on a UW offense that couldn't get out of its own way. But on a day when the Badgers needed their young star to be great, he instead took a step back.
"I do believe what drives him is doing all he can for this team, and when you're not able to do that or do it enough, it's a growing situation," UW coach Paul Chryst said. "This one was painful for a lot of us, and we've got to learn from it. We've got to take away what you can from it and go forward.
"I don't know if there's many quarterbacks that play that don't go through those highs and those lows. You've got to find a way to continue to work through and be consistent when things are going well and when things aren't going well."
Mertz completed 74.4 percent of his passes during his first two starts — sandwiched around a positive COVID-19 test that sidelined him for two weeks — but he went just 23 of 41 for 230 yards against the Wildcats (5-0). He attempted 64 passes without throwing an interception dating to his debut last season, but his first career pick came in the second quarter and that was followed by two more.
"Northwestern's a great, veteran defense," Mertz said. "They knew what was coming with our progressions, so obviously there were some that I'd like to get back. But now it's just taking it as a learning experience and grow from it."
Not having senior wide receivers Danny Davis and Kendric Pryor, out with unspecified injuries, was a significant blow. It left UW (2-1) with an inexperienced group at that position, with the biggest playmaker being a guy playing in his third career game.
That player, freshman Chimere Dike, provided one of the few highlights for the UW offense when he got loose in the Northwestern secondary and hauled in a 49-yard touchdown pass from Mertz after a play-action fake.
But things began to unravel for the UW passing game in the second quarter, when Mertz threw interceptions on back-to-back possessions. The first was deflected before it got to tight end Hayden Rucci, who couldn't corral the ball. It ended up in the hands of Northwestern redshirt freshman safety Brandon Joseph.
On the next series, Mertz airmailed an attempt to Jack Dunn on a dig route and, again, Joseph was there to gobble it up for his fifth interception of the season.
On his final pick, Mertz tried to hit Dike along the sidelines but missed to the inside. Greg Newsome II grabbed it for Northwestern's 11th interception of the season.
"For me, it was a couple misses on location," Mertz said. "In general, we had a couple small miscues that led us to not be able to score on those drives."
For as impressive as he looked during his first two starts, it was easy to forget at times that Mertz is a freshman. Saturday, he finally looked like one.
"Knowing a guy like Graham, he's going to bounce back great," Dike said. "He's a grinder, he loves to work, and I know he's a guy that we can count on. I expect him to bounce back fine and I'm looking forward to seeing the future and seeing what we do next week."
Photos: Badgers offense stalls against Wildcats' stingy defense
Be the first to know
Get local news delivered to your inbox!