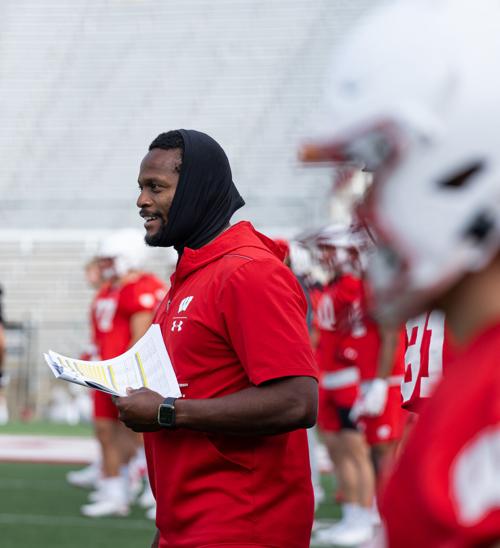 It's been an unusual getting-to-know-you process for Alvis Whitted, who was just getting started in his new job as the wide receivers coach for the University of Wisconsin football program when the COVID-19 pandemic hit.
As if being the only new addition to Paul Chryst's staff wasn't challenging enough, Whitted had to build relationships with his colleagues and players while working remotely for a significant chunk of the past seven months.
From the sounds of it, that process went about as smooth as possible. Whitted has adapted to his surroundings as the No. 16 Badgers close in on their delayed start to the season — they open Friday against visiting Illinois — and, just as important, those around Whitted appear comfortable with him.
Take this testimonial from Danny Davis.
"Great dude. I love him," Davis said of Whitted during a Zoom teleconference with reporters last week. "He's been actually a mentor to me and I've just been soaking in everything I can get."
Both Davis and fellow senior Kendric Pryor said they were shocked when their previous position coach, Ted Gilmore, announced in a meeting last February that he was leaving UW to coach tight ends on Melvin Tucker's staff at Michigan State.
But both players made it clear they didn't have any hard feelings toward Gilmore and understood it's a business.
Enter Whitted, who was fired after one season of coaching the wide receivers on Matt LeFleur's staff with the Green Bay Packers.
Continuity has been a hallmark of Chryst's time at UW, and that's reflected on his coaching staff. Whitted was joining a group on offense — Joe Rudolph (coordinator/offensive line), John Settle (running backs), Mickey Turner (tight ends), Jon Budmayr (quarterbacks) — that has been together since Chryst returned to Madison following the 2014 season.
"His best asset is he has a humble approach," Turner said of Whitted, who was a football and track standout at North Carolina State before playing nine seasons in the NFL. "If you kind of come into Paul Chryst's staff and you think you know it all, we're such a detail-oriented, hard-work-first kind of mind-set that, unless you live by that, you can kind of get put on blast really quick.
"He's the exact opposite. He's like, 'I'm here to learn, I'm here to do the best I can, and if something's wrong I'll get it right.' He's not trying to showboat or any of that stuff. He's been a great fit."
Pryor did his homework before he had a chance to meet Whitted in person and liked what he read. Four players Whitted coached at Colorado State — Michael Gallup (Cowboys), Rashard Higgins (Browns), Bisi Johnson (Vikings) and Preston Williams (Dolphins) — are playing in the NFL.
Plus, Pryor said he's enjoyed picking Whitted's brain about what makes Packers receiver Davante Adams one of the best at his position in the NFL.
"He's been a great coach so far, just giving us great information, just kind of helping us and giving us things they did in the league, trying to help us get better at our craft," Pryor said. "Each day, he's coming up with different drills and different things to do to help us work on our game."
When Pryor described Whitted as a coach, two words he used were "energy" and "swagger."
Those adjectives were relayed to Whitted, who chuckled.
"Well, I would say that's pretty fairly accurate," he said. "This is why we do what we do. This is why we coach the game, that's why I played the game. The game has been good to me, it's been a really important factor in my life and I'm just thankful to be able to pour into these young men and show them the lessons that I learned and to teach and to show them what this game is all about. I try to just go by example and show my passion in everything that I do, whether it's in the classroom, whether it's on the field and I love to see these guys having fun and make plays and really get their teammates going."
Whitted said he feels fortunate to inherit an experienced group. Even though UW is in the process of replacing its best playmaker (Quintez Cephus) and a four-year contributor (A.J. Taylor), Davis and Pryor lead a senior quartet that includes Jack Dunn and Adam Krumholz.
As of now, UW's rotation includes those four along with Chimere Dike, a true freshman from Waukesha North who has turned heads in camp.
"A lot of people don't really know who he is, but I think they're going to know who he is," tight end Jake Ferguson said. "He's making a lot of plays."
Whitted has a pretty simple philosophy when it comes to what he expects from his players: effort.
"I want to see guys that are around the football when they don't have it in their hands," he said. "I want to see the type of energy that they bring. I want to see how they're progressing in the offense in regards to can they retain and are they coachable, can they apply the first time that you make a correction. Those are the little things that I'm looking for."
Davis said it's been easy to follow the lead of their new position coach, a guy who has adapted to a unique first seven months on the job.
"He just keeps it with the energy and juiced up all the time," Davis said. "We feed off that as receivers and we just love to make plays so we can keep the juice going. He's definitely, I would say, a big reason for how our energy picks up and how our energy stays."
---
Get ready for Badgers season with a position-by-position breakdown of Wisconsin's roster
QUARTERBACKS
DEPTH CHART
Projected starter; Ht.; Wt.; Yr.; Hometown
5 | Graham Mertz (above); 6-3; 224; Fr.; Overland Park, Kan.
2 | Chase Wolf; 6-1;197;So.;Cincinnati, Ohio
15 | Danny Vanden Boom; 6-5; 212; Jr.; Kimberly
17 | Jack Coan; 6-3;220; Sr.; Sayville, N.Y. (Injured)
12 | Daniel Wright; 6-8; 215; Fr.; Sergeant Bluff, Iowa
THE SKINNY
Jack Coan's foot injury in a preseason practice throws a monkey wrench into the plan at the position. The anticipated duel between Coan and heralded recruit Graham Mertz never came to be this offseason as the COVID-19 pandemic wiped out spring practices. But with Coan recovering from surgery, Mertz will have to prepare for a starting role in a modified fall training camp. Coan threw for 2,727 yards and 18 touchdowns last season, but Mertz will likely be asked to generate more offense through the air without star tailback Jonathan Taylor in the backfield to carry the load. 
GLASS-IS-HALF-FULL FORECAST
Mertz lives up to the hype and develops a quick bond with his receiving threats, allowing UW to be sharp despite the strange offseason. The running game stays at a high enough level to allow Mertz to utilize play-action — one of the program's strengths — and the offensive line keeps him healthy and upright throughout the condensed season. Mertz's strong arm stretches out defenses and creates space around the field. 
GLASS-IS-HALF-EMPTY FORECAST
The running game takes a step back, Mertz is forced into more obvious passing situations and his lack of experience shines through and results in a stagnant offense. Changes on the offensive line don't work out and Mertz is under pressure often. 
THE NUMBER
8 | Career games played by the Badgers' healthy quarterbacks, none of which were starts. 
RUNNING BACKS
DEPTH CHART
Projected starter; Ht.; Wt.; Yr.; Hometown
14 | Nakia Watson (above); 5-11; 228; So.; Austin, Texas
37 | Garrett Groshek; 5-11; 214; Sr; Amherst Junction
20 | Isaac Guerendo; 6-0; 210; So.; Clayton, Ind.
8 | Jalen Berger; 6-0; 210; Fr.; Newark, N.J.
32 | Julius Davis; Fr.; Menomonee Falls
FULLBACKS
34 | Mason Stokke; 6-2; 239; Sr.; Menomonie
44 | John Chenal; 6-2; 252; Jr; Grantsburg
28 | Quan Easterling; 6-3; 238; Fr.; Akron, Ohio
THE SKINNY
Replacing Jonathan Taylor — the second-leading rusher in UW and Big Ten history — won't be an easy task. Nor will it be a one-man job. Nakia Watson slides into the starter's role, but it's fair to assume other backs will be more involved than they were last season when Taylor tallied 320 rushing attempts. Watson (74 carries, 331 yards, two touchdowns) showed flashes in relief of Taylor, but Garrett Groshek's role may expand further from the passing-down option he's been in the past. Four-star recruit Jalen Berger could be a factor as well, especially as a receiving threat out of the backfield. John Chenal and Mason Stokke will split fullback duties, but Stokke remains the first option.
GLASS-IS-HALF-FULL FORECAST
The array of body types and skills in the backfield creates a whole-is-greater-than-sum-of-its-parts rushing attack that keeps the offense on schedule and fresh bodies taking carries throughout the game. Stokke and Chenal continue to grow into versatile threats at fullback, Berger makes a splash as a freshman and Isaac Guerendo builds off strong special teams performances to become a weapon on offense.
GLASS-IS-HALF-EMPTY FORECAST
None of the running backs take a step forward and the Badgers lose the ground game for which they're known. Without a known commodity at tailback, play-action fakes are less effective, and the lack of breakaway speed in the backfield leads to grinding drives that don't produce points.
THE NUMBER
37.2 | Percentage of the offensive yards gained by Taylor last season.
WIDE RECEIVERS
DEPTH CHART
Projected starters; Ht.; Wt.; Yr.; Hometown
7 | Danny Davis (above); 6-0; 194; Sr.; Springfield, Ohio
3 | Kendric Pryor; 5-11; 180; Sr.; Hazel Crest, Ill.
16 | Jack Dunn; 5-7; 174; Sr.; Madison
24 | Adam Krumholz; 6-1; 193; Sr.; Stoughton
81 | Taj Mustapha; 6-0; 190; So.; Southfield, Mich.
89 | A.J. Abbott; 6-2; 192; So.; Northville, Mich.
10 | Stephan Bracey; 5-10; 172; Fr.; Grand Rapids, Mich.
39 | Mike Gregoire; 5-10; 171; So.; Green Bay
31 | Jordan DiBenedetto; 6-0; 190; So.; Stoughton
21 | Cooper Nelson; 6-4; 187; Fr.; Sun Prairie
13 | Chimere Dike; 6-1; 193; Fr.; Waukesha
86 | Devin Chandler; 6-0; 176; Fr.; Huntersville, N.C.
25 | Isaac Smith; 6-2; 190; Fr.; Memphis, Tenn.
24 | Haakon Anderson; 6-1; 200; Fr.; Verona
THE SKINNY
Receivers coach Alvis Whitted has his work cut out for him in his first year at UW. Inheriting an experienced group, Whitted hasn't had much time to work with his new receivers due to COVID-19 and the shuffled schedule this fall. But Whitted, who played nine years in the NFL, has a track record of developing receivers from his time at Colorado State. He'll need to bring along the Badgers wideouts quickly — top four options Danny Davis, Kendric Pryor, Jack Dunn and Adam Krumholz have played often the past two years, but no other receiver has. Davis and Pryor weren't ready to be the top receivers in 2018 but made a handful of plays each last season to be optimistic they'll be able to take the next step. Their timing with quarterback Graham Mertz needs to be on point from the first play of the truncated season.
GLASS-IS-HALF-FULL FORECAST
Davis emerges as a true No. 1 receiver, forces defenses to give help over top and opens things up for teammates, while Pryor's transition into the slot pays off with quick completions and big gains after the catch. A new contributor — possibly Taj Mustapha or A.J. Abbott — carves out a role for himself and gives the group more options.
GLASS-IS-HALF-EMPTY FORECAST
Lack of depth leads to little to no rotation, and the receivers who play wear down as games progress. Mertz struggles in place of the injured Jack Coan, and without Quintez Cephus' ability to win contested catches, the passing game resembles 2018.
THE NUMBER
139 | Total career games played by the 14 receivers on the roster.
TIGHT ENDS
DEPTH CHART
Projected starter; Ht.; Wt.; Yr.; Hometown
84 | Jake Ferguson; 6-5; 246; Jr.; Madison
87 | Hayden Rucci; 6-4; 250; Fr.; Lititz, Penn.
46 | Gabe Lloyd; 6-4; 231; Sr.; Green Bay
49 | Cam Large; 6-3; 257; Fr.; Pomfret, Conn.
41 | Jack Eschenbach; 6-6; 224; So.; Downers Grove, Ill.
85 | Clay Cundiff; 6-3; 251; Fr.; Wichita, Kan.
48 | Cole Dakovich; 6-5; 252; Fr.; Waukesha
42 | Jaylan Franklin; 6-4; 222; So.; Brownstown, Mich.
THE SKINNY
The Badgers have one of the conference's top tight ends returning in Jake Ferguson, but not much is known about the players behind him. Injuries ravaged the tight end room last season, to the point UW coaches moved Cormac Sampson from the offense line back to tight end. Ferguson played the second-most snaps on the team offensively, but his production as a receiver slipped at times. Playing less and being more rested may help him make more of an impact in the passing game, which means another tight end must take on more responsibility. Hayden Rucci, Gabe Lloyd and freshman Cam Large are all candidates for reps behind Ferguson, and with how often the Badgers employ two-tight-end sets, the No. 2 tight end role is an important one.
GLASS-IS-HALF-FULL FORECAST
Two or three of the young tight ends take a big step forward, and a fresh Ferguson becomes a consistent matchup problem for opponents in the middle of the field. The tight end group continues its success blocking on the edge, which is vital to UW's running game, and establishes some depth.
GLASS-IS-HALF-EMPTY FORECAST
Blocking slips as the young players find their footing in a conference-only schedule, affecting each facet of the offense. As a reliable blocker, Ferguson is kept on the line more often and is available to throw to less. Another quiet year at the position.
THE NUMBER
0 | Catches for tight ends not named Jake Ferguson in 2019.
OFFENSIVE LINE
DEPTH CHART
Projected starters; Ht.; Wt.; Yr.; Hometown
71 | Cole Van Lanen (above); 6-5; 312; Sr.; Green Bay
67 | Jon Dietzen; 6-6; 319; Sr.; Black Creek
62 | Cormac Sampson; 6-4; 280; So.; Eau Claire
60 | Logan Bruss; 6-5; 310; Jr.; Appleton
65 | Tyler Beach; 6-6; 309; Grafton
76 | Kaden Lyles; 6-3; 321; Jr.; Madison
70 | Josh Seltzner; 6-4; 327; Jr.; Columbus
50 | Logan Brown; 6-6; 311; Grand Rapids, Mich.
75 | Joe Tippmann; 6-6; 312; Fr.; Fort Wayne, Ind.
61 | Dylan Barrett; 6-5; 306; Fr.; St. Charles, Ill.
59 | Andrew Lyons; 6-5; 311; So.; Kenosha
69 | Aaron Vopal; 6-6; 312; Jr.; De Pere
74 | Michael Furtney; 6-5; 307; So.; Milan, Mich.
77 | Blake Smithback; 6-2; 305; Jr.; Waunakee
63 | Tanor Bortolini; 6-4; 287; Fr.; Kewaunee
64 | Sean Timmis; 6-4; 286; Fr.; Shorewood
68 | Ben Barton; 6-5; 285; St. Charles, Ill.
73 | Kerry Kodanko; 6-2; 292; Fr.; West De Pere
78 | Trey Wedig; 6-7; 320; Fr.; Oconomowoc
79 | Jack Nelson; 6-7; 289; Fr. ;Stoughton
THE SKINNY
On paper, the offensive line looks to be in the same situation as it was last year, replacing three starters. However, the difference is the players stepping into starting roles gained a good deal of experience last season and aren't coming in as new as they were in 2019. The only position at which the Badgers lack a returner who's started games is center. Senior tackle Cole Van Lanen, a preseason second-team AP All-American, said in August the offensive line "has more knowledge" than any group he's been around at UW. Transferring their mental preparation to on-field execution will be the key for this group, which has a number of highly touted recruits in its ranks and on the way.
GLASS-IS-HALF-FULL FORECAST
A healthy Van Lanen anchors a line that's No. 1 or 2 in the Big Ten. The combination of Logan Bruss and Tyler Beach on the right side blows holes through defenses and talented players on the second unit act as insurance against injuries. The line again allows the fewest sacks in conference play.
GLASS-IS-HALF-EMPTY FORECAST
Communication isn't as clean without a veteran center, leading to mistakes and broken plays. Teams blitz often and pressure on the quarterback converts to turnovers. Without steady play up front, the offense never finds its rhythm.
THE NUMBER
4 | The Badgers have had at least one first-team All-Big Ten offensive lineman in each of the past four years and 10 of the past 11.
LINEBACKERS
DEPTH CHART
Projected starters; Ht.; Wt.; Yr.; Hometown
57 | Jack Sanborn (above); 6-2; 232; Jr.; Lake Zurich, Ill.
45 | Leo Chenal; 6-2; 250; So.; Grantsburg
58 | Mike Maskalunas; 6-3; 231; Sr.; Long Grove, Ill.
55 | Maema Njongmeta; 6-0; 220; Fr.; Buffalo Grove, Ill.
53 | Malik Reed; 6-0; 218; Fr.; Chandler, Ariz.
39 | Tatum Grass; 6-2; 222; Fr.; Holmen
43 | Preston Zachman; 6-1; 215; Fr.; Elysburg, Penn.
54 | Jordan Turner; 6-1; 216; Fr.; Farmington, Mich.
34 | Ross Gengler; 6-2; 215; Fr.; Delavan
41 | Noah Burks; 6-2; 240; Sr.; Carmel, Ind.
50 | Izayah Green-May; 6-6; 221; So.; Bolingbrook, Ill.
7 | Spencer Lytle; 6-2; 223; Fr.; Redondo Beach, Calif.
19 | Nick Herbig; 6-2; 225; Fr.; Honolulu, Hawaii
32 | Marty Strey; 6-2; 219; So.; Sun Prairie
52 | Kaden Johnson; 6-2; 227; Fr.; St. Paul, Minn.
59 | Aaron Witt; 6-6; 240; Fr.; Winona, Minn.
37 | Riley Nowakowski; 6-1; 236; Fr.; Milwaukee
98 | C.J. Goetz; 6-3; 241; So.; Muskego
THE SKINNY
The Badgers have as many linebackers in the NFL in 2020 as they do offensive linemen, and another from this group will have a chance to join the pro ranks after the season. Jack Sanborn leads the defense from his inside linebacker spot, and will be the key communicator in the middle of the field. Leo Chenal looked ready to be a contributor last season before an injury cut his playing time, but he showed the speed and physicality needed to play Big Ten football and should be able to fill Chris Orr's pass-rushing role from a year ago. Experienced senior Mike Maskalunas will play a big role as a sub, and coordinator Jim Leonhard was very high on freshmen Malik Reed and Jordan Turner. However, the outside linebacker spots are the biggest question marks on the defense. Noah Burks played well in spurts opposite Zack Baun, but the Badgers may need more out of his role. Izayah Green-May was slated to start last year before a thumb injury derailed his momentum. Spencer Lytle, Nick Herbig and Kaden Johnson, prized recruits from the past two classes, may find their way into the rotation as well.
GLASS-IS-HALF-FULL FORECAST
Sanborn plays at the All-American level he's capable of, Chenal posts a breakout year and becomes a feared hitter, and the pair rack up tackles for UW. Green-May finds his niche and uses his body size to his advantage — a key challenge to him this year, according to Leonhard — and the young outside linebackers use their athleticism to make plays on the edges.
GLASS-IS-HALF-EMPTY FORECAST
No outside linebacker fills the void left by Baun and the Badgers struggle to get a consistent pass rush against an all-Big Ten schedule. Chenal's inexperience overshadows his physical gifts, and the starts and stops of the offseason stunt the young linebackers' development too much to make an impact this year.
THE NUMBER
27.3 | Third-down percentage conversion rate by opponents, the lowest since the program began recording the statistic in 1981.
DEFENSIVE LINE
DEPTH CHART
Projected starter; Ht.; Wt.; Yr.; Hometown
95 | Keeanu Benton; 6-4; 315; So.; Janesville
91 | Bryson Williams; 6-2; 300; Jr.; Lincoln, Neb.
97 | Isaiahh Loudermilk (above); 6-7; 293; Sr.; Howard, Kan.
93 | Garrett Rand; 6-2; 279; Sr.; Chandler, Ariz.
92 | Matt Henningsen; 6-3; 286; Jr.; Menomonee Falls
51 | Gio Paez; 6-3; 305; Fr.; Los Angeles
94 | Boyd Dietzen; 6-3; 264; So.; Kimberly
56 | Rodas Johnson; 6-2; 293; Fr.; Columbus, Ohio
99 | Isaiah Mullens; 6-4; 283; So.; Columbus, Ohio
90 | James Thompson Jr.; 6-5; 277; Fr.; Cincinnati, Ohio
75 | Michael Balistreri; 6-4; 288; Jr.; Grafton
96 | Cade McDonald; 6-6 ; 267; Fr.; Houlton
THE SKINNY
A group that came into its own the second half of the season returns all three starters and has solid depth across the front. Isaiahh Loudermilk, Garrett Rand and Keeanu Benton make up a line that tallied 63 tackles, 12 of which were for loss. Bryson Williams, who's recovering from a left knee injury, shifts to the backup nose tackle role behind Benton after having his 2019 season derailed by injuries. Benton was slated to miss spring practices with a core injury, so having a rotation with Williams could help keep both players healthy. Given what the Badgers lost in their pass rush from last season, more pressure will need to be generated from the line. Benton showed power to get after quarterbacks up the middle, and Loudermilk and Rand were effective in stunts last season. Matt Henningsen also will be a crucial piece of the line, rotating with Loudermilk and Rand at end.
GLASS-IS-HALF-FULL FORECAST
A strength down the stretch last season for UW gets even better, and becomes more active in pressuring the quarterback. While occupying blocks and freeing up a talented group of linebackers to attack the ball is usually their mission, an ideal year for the line sees it shedding their blockers more often to stop things at the point of attack.
GLASS-IS-HALF-EMPTY FORECAST
Trying to force the issue of generating pressure opens up big lanes and lets blockers get to the second level consistently. Injuries that affected offseason workout schedules put the group behind from the start and they don't recover.
THE NUMBER
6 | Total sacks last season for this year's projected starting defensive linemen.
DEFENSIVE BACKS
DEPTH CHART
Projected starters; Ht.; Wt.; Yr.; Hometown
1 | Faion Hicks (above); 5-10; 185; Jr.; Miami
21 | Caesar Williams; 6-0; 188; Sr.; Grand Prairie, Texas
5 | Rachad Wildgoose; 5-11; 197; Jr.; Miramar, Fla.
4 | Donte Burton; 5-10; 180; So.; Loganville, Ga.
8 | Deron Harrell; 6-2; 182; Jr.; Denver, Colo.
20 | Semar Melvin; 5-11; 166; Fr.; Pembroke Pines, Fla.
6 | Dean Engram; 5-9; 164; Fr.; Columbia, Md.
11 | Alexander Smith; 5-11; 182; So.; Culver City, Calif.
36 | Kobe Knaak; 5-9; 191; Sr.; Franklin
17 | Max Lofy; 5-10; 184; Fr.; Colorado Springs, Colo.
16 | Amaun Williams; 5-10; 185; Fr.; Milwaukee
25 | Eric Burrell; 6-0; 195; Sr.; Severn, Md.
18 | Collin Wilder; 5-10; 194; Sr.; Katy, Texas
9 | Scott Nelson; 6-2; 204; Jr.; Detroit, Mich.
31 | Madison Cone; 5-9; 182; Sr.; Kernersville, N.C.
15 | John Torchio; 6-1; 205; So.; Lafayette, Calif.
30 | Tyler Mais; 6-1; 196; Jr.; Waunakee
38 | Dante Caputo; 5-11; 181; Fr.; Pittsburgh, Penn.
29 | Brady Schipper; 5-11; 206; So.; Stoughton
26 | Travian Blaylock; 5-11; 200; So.; Humble, Texas
12 | Titus Toler; 5-11; 192; Fr.; Long Beach, Calif.
THE SKINNY
No position group returns as many snaps from last season as the secondary. Up-and-down play early in the year gave way to more consistency as the unit got more reps together. Defensive coordinator Jim Leonhard employed a hot-hand mentality to the group, especially at corner, rewarding those players performing best at practice with game reps. Faion Hicks, Caesar Williams, Rachad Wildgoose, Donte Burton, Deron Harrell and Semar Melvin all started games at corner a year ago. Having as many players as he does at his disposal allows Leonhard to rotate and keep competition high at practice. Safety also is loaded with returning talent, with starter Eric Burrell returning. Reggie Pearson, who started 12 games in 2019, was not medically cleared to play this season. The safety group is deep with experience, as well, with Scott Nelson returning from injury and seniors Collin Wilder and Madison Cone available.
GLASS-IS-HALF-FULL FORECAST
The depth and experience of the secondary makes up for the lack of explosive pass-rush, and the group tallies at least an interception per game. Hicks, Williams and Wildgoose continue their ascent and form one of the best DB trios in the conference, and their ability to plaster onto receivers lets Leonhard be creative with blitzes.
GLASS-IS-HALF-EMPTY FORECAST
The rotation at corner and possibly safety leads to communication errors and a lack of continuity. The tackling woes that crept up last season return and the secondary doesn't find a way to handle the spread attacks featured by six of UW's opponents this year.
THE NUMBER
12 | Interceptions last season, tied for the program's fewest since 2015.
SPECIALISTS
DEPTH CHART
Projected starter; Ht.; Wt.; Yr.; Hometown
19 | Collin Larsh (above); 5-10; 184; Jr.; Marshall, Wis.
26 | Jack Van Dyke; 6-5; 202; Fr.; Neenah
28 | Gavin Meyers; 6-1; 175; Fr.; Oshkosh
38 | Andy Vujnovich; 6-3; 232; Jr.; Columbus
96 | Conor Schlichting; 6-2; 222; Jr.; Madison
28 | Gavin Meyers; 6-1; 175; Fr.; Oshkosh
51 | Adam Bay; 6-0; 229; Sr.; Mesa, Ariz.
52 | Josh Bernhagen; 6-2; 245; Sr.; Madison
63 | Peter Bowden; 6-2; 217; Fr.; San Diego, Calif.
THE SKINNY
Special teams were an Achilles' heel last season. Even ignoring the mishandled punt snaps that led to touchdowns that swung both the Big Ten Championship Game against Ohio State and the Rose Bowl against Oregon, the kicking game wasn't UW's friend. The two bright spots of special teams a year ago, kick returner Aron Cruickshank and kickoff specialist Zach Hintze, are gone. Cruickshank transferred to Rutgers and Hintze — who booted a program-record 62-yard field goal last season — graduated. Kicker Collin Larsh returns after going 12-for-18 on field goals and 53 of 54 on extra points. UW brought in Division III transfer Andy Vujnovich as a punting option, but freshman Jack Van Dyke could put pressure on to take over the placekicking or kickoff roles. Oshkosh product Gavin Meyer provides depth as a kicker/punter.
GLASS-IS-HALF-FULL FORECAST
Vujnovich's skill improves the punting game enough that the defense isn't put in bad positions, and Larsh shakes off a Rose Bowl miss and maintains his confidence throughout the season. A new star emerges in the return game and the Badgers avoid the special teams mistakes that haunted them in 2019.
GLASS-IS-HALF-EMPTY FORECAST
Things stay about the same, and the other two phases of the game have to make up for deficiencies in the kicking game.
THE NUMBER
112 | Ranking out of 130 teams in the FBS with an average net punt yardage of 36.23.
Be the first to know
Get local news delivered to your inbox!