When the Badgers have the ball
A lot of attention will be paid this week to the availability of quarterback Graham Mertz, who is questionable after suffering a chest injury on a sack last week against Michigan. Mertz said he'll try everything he can to practice and play this week.
If Mertz can't go, junior Chase Wolf would start for the Badgers against an Illinois defense that has recorded 85 pressures in six games. UW needs more from its offensive line in both pass protection and run blocking. Multiple linemen and Mertz said that the game plan this week features more elements to help the line, but they didn't divulge what those will look like.
Illinois edge rusher Owen Carney, who has 4½ sacks over his last three games, will challenge UW's senior tackles to protect the quarterback better than they have early this season.
UW could be down to its third and fourth tight ends because both Jake Ferguson and Jack Eschenbach are questionable.
Don't be surprised to see more tailbacks getting involved. UW isn't getting enough from its rushing attack — just more than 100 yards per game against Power Five opponents — and may try to get freshman Braelon Allen more touches because he has the ability to push a pile at 6 foot 2, 238 pounds.
Also look for receiver Chimere Dike to continue getting more looks after making two big catches, including a touchdown, against Michigan.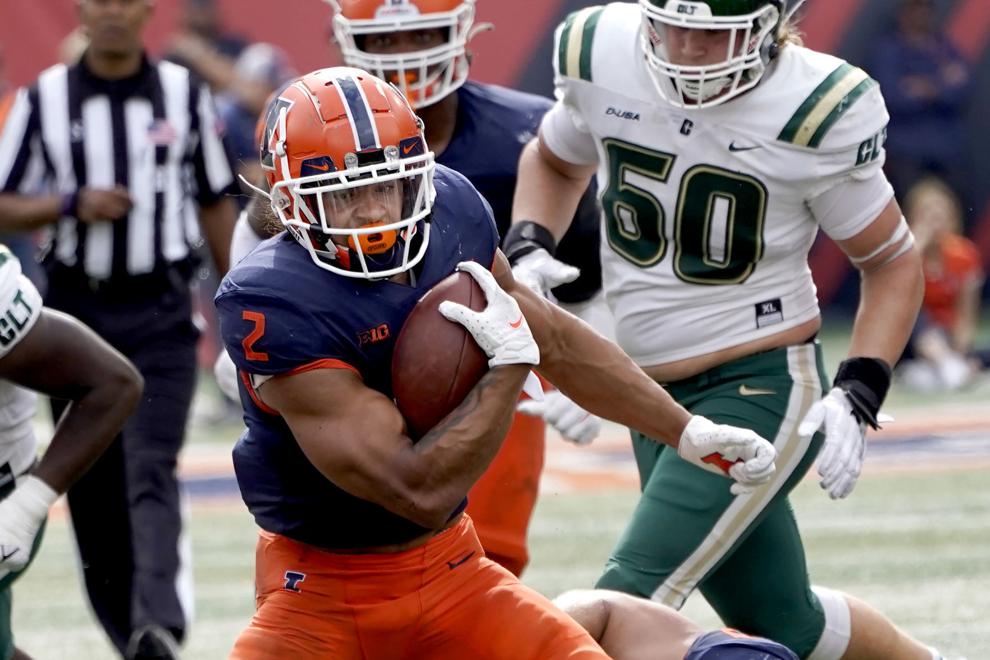 When the Illini has the ball
Illinois touts one of the most experienced rosters in college football and its offense is littered with players with more than 15 games of experience under their belts. Center Doug Kramer and fellow offensive linemen Verderian Lowe and Alex Palczewski power a unit that resembles what coach Bret Bielema ran at UW in form, but not always in function.
Running back Chase Brown just posted 257 yards rushing against Charlotte, but Illinois, much like the Badgers' other Power Five opponents this season, uses its run game to set up deep passes. Quarterback Brandon Peters missed time with a shoulder injury this season and he's only thrown one touchdown in 3½ games.
Illinois protects the ball well, giving away just four turnovers, but it shares a problem with the Badgers' offense — ineffective play in the red zone. Illinois has scored on 10 of 16 red-zone drives this season; UW has scored on 10 of 15 in two fewer games.
UW's defense will need to find ways to get into the backfield and bring down Peters after not recording a sack last week. Peters has decent mobility and picked up rushing gains of 30 and 31 yards against the Badgers last season.
UW's toughest matchup on the outside might be Isaiah Williams. The wide receiver who converted from quarterback is averaging nearly five catches per game and runs a lot of short routes that can be difficult for cornerbacks to combat if they're not in press coverage.
Special teams
Both punters could be active in this game, an under-the-radar matchup between two of the best in the Big Ten. UW's Andy Vujnovich is fourth in the conference with an average try of 47.7 yards. Illinois' Blake Hayes is averaging 45.8 yards per punt, but 19 of his 38 punts have pinned the opponent inside its 20-yard line and 11 have traveled 50-plus yards, tied for the most in the league.
Neither team has had much return game to speak of, but Illinois' advantage with kicker James McCourt (11 of 16 on field goals this season) has been diminished by the solid play of UW's Collin Larsh (6 of 8).
Trends
UW is trying to avoid a 1-4 start for the first time since 1990 and going back-to-back season with a three-game losing streak for the first time since 2003-04. UW coach Paul Chryst is 5-1 against Illinois as the Badgers' coach. The Badgers are 10-point favorites but are 1-3 against the spread this season.
Illinois hasn't won a Power Five game since its Week 0 upset against Nebraska. Bret Bielema went 37-19 in conference play as UW's coach, but he was 11-29 in SEC games as the coach at Arkansas. He's off to a 1-2 start in Big Ten play at Illinois.