Having fun was the only thing on Andy Vujnovich's mind when he arrived on the University of Wisconsin campus three years ago.
The Columbus native and Badgers punter didn't have pro football aspirations at that point. He just wanted to perform at the Division I level and see where it took him. But his journey at UW instilled in him the confidence that he could make punting his profession, and he took another step on that path Thursday at the Badgers' pro day. Vujnovich punted and participated in a handful of drills for representatives for all 32 NFL teams.
Vujnovich successfully made the jump from Division III Dubuque to UW before the 2020 season began and he gave the Badgers a reliable punting option the past three seasons. Now he's trying to chase down a dream of playing in the NFL and complete a journey reminiscent of former UW offensive tackle Ryan Ramczyk, whose college career started at UW-Stevens Point before becoming a first-round pick and all-pro for the New Orleans Saints.
"I knew that punting was my key to get somewhere (in college football), but I wasn't at the level to compete at the D-I level, I'd say," Vujnovich said, "and that's why I went D-III. I just wanted to play football just to keep playing. And then that's where I just continued playing, got better, and then got the opportunity here. That's where the passion came through to kind of actually strive for the next level. Because I knew that if I keep getting better like I did before, then I could probably keep improving and compete at the next level."
Vujnovich's strength and athleticism was recognized on The Athletic's "Freaks List" each of his last two years at UW, and he put on a freakish performance for a punter at the McClain Center. He said he completed 21 reps of 225 pounds on the bench press, and he tallied a 36-inch vertical leap and a broad jump of 10 feet, 7 inches. That broad jump matched those of Illinois running back Chase Brown and Iowa cornerback Riley Moss at the NFL Scouting Combine.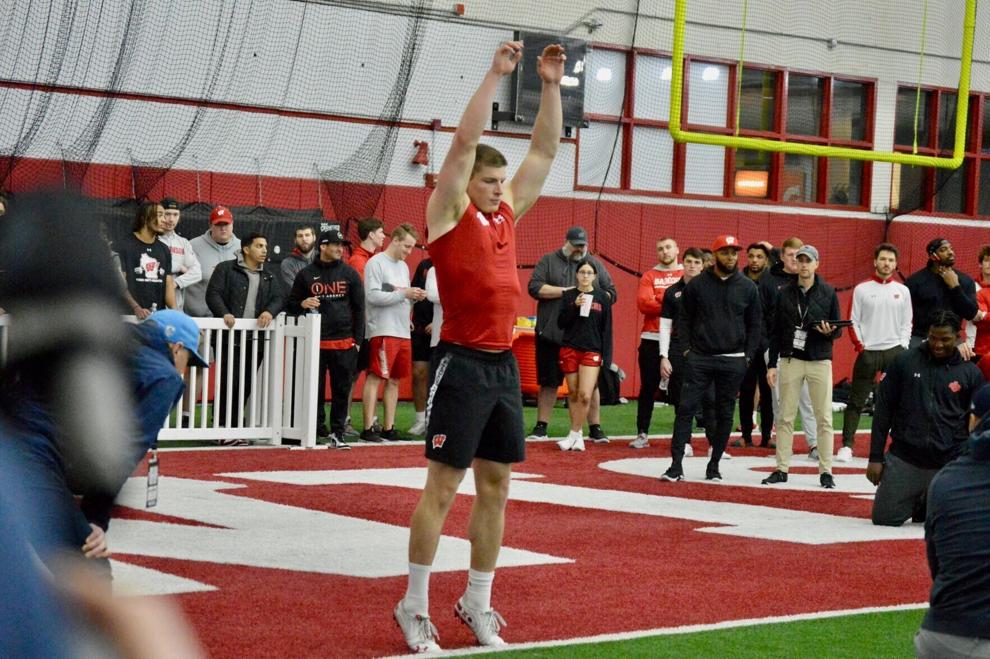 UW hasn't had a specialist drafted since the Carolina Panthers selected punter Brad Nortman in the sixth round of the 2012 draft. The NFL is full of undrafted kickers and punters, but teams have been a bit more willing to address specialist roster spots through the draft in recent years. Teams drafted 20 punters over the past 10 years, with seven of those selections coming the past three drafts. Last's year's draft saw four punters picked, tied with 2018 for the most punters taken in a single draft since the league expanded to 32 teams.
"(Punts are) the one play that you're guaranteed at least 40-plus yards," Vujnovich said. "It's not an offensive play, but it's a defensive tactic. And if you can pin them deep, the value in that is just unreal … it's just a key part of the game. I feel like (NFL teams are) kind of conservative, they don't want to waste a draft spot, but they know and we know that it's valuable to the team. They are slowly realizing it as well."
Vujnovich set the Badgers program record for career punting average (44.2 yards per punt) over his three seasons, and set the single-season record in 2021 (46.4). He also had 53 punts downed inside the opponents' 20-yard line at UW, including 24 last season, and 38 punts of more than 50 yards.
He'll have plenty of tape to show teams working through adverse conditions, particularly the Maryland game last season in which he averaged just under 40 yards per punt despite rain in the first half and harsh winds throughout. He got good feedback for handling the snow at Camp Randall during his punting workout Thursday.
After participating in the Hula Bowl in January, Vujnovich worked with longtime specialist coach Gary Zauner at his camp in Gilbert, Arizona. Vujnovich took second place in the competition among 19 punters in the draft class, and he hopes the exposure he's gotten the past few months gives him a shot to be drafted.
Vujnovich keeps his dream in healthy perspective, and said he plans on trying to make NFL rosters for a few years before looking to his computer science degree from UW for career options.
"Anything that happens from here on out, is gonna be a big bonus for me," Vujnovich said. "I mean, I'd love to make the NFL and everything, but I know that the percentage is very low. So I gotta keep it real, but doesn't mean I can't try and just have fun with it."