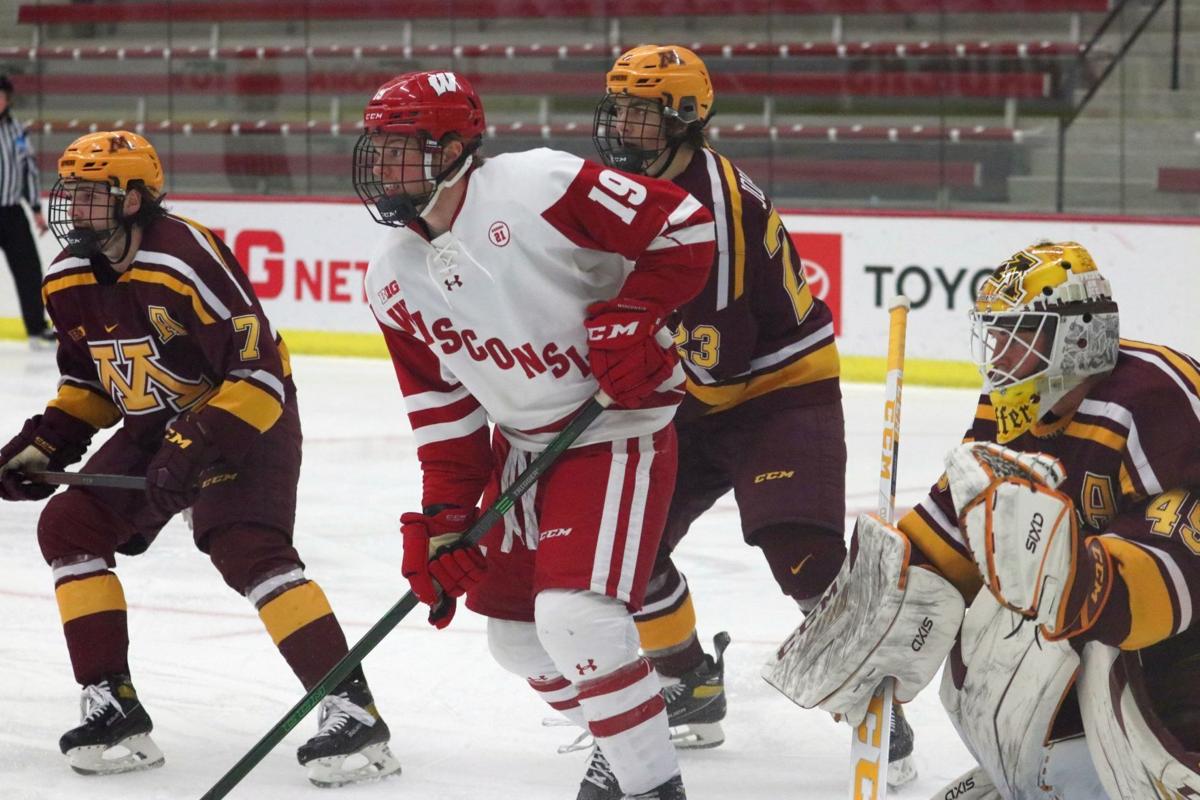 There's little room for error in playing a team as talented as No. 1 Minnesota, especially when it's motivated a day after suffering its first loss of the season.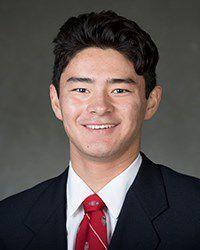 A few critical mistakes Sunday, small though they may have been, cost the University of Wisconsin men's hockey team a chance at a sweep in a game that offered them enough opportunities for success.
"I think we played really well for most of the game," Tyler Inamoto said. "It's just dumb mistakes that cost us."
Bryce Brodzinski finished UW's comeback hopes in the last three minutes, scoring off the final Badgers miscue in a 5-3 Golden Gophers victory at LaBahn Arena.
Inamoto, a senior defenseman, took the blame for that one, a misread of a clearing attempt from deep in his own zone as the Badgers were in search of a tying goal. His pass around the boards got picked off at the blue line by Jaxon Nelson, who passed to Brodzinski for an open shot.
"I tried to put as much as I could behind it but I didn't get enough," Inamoto said. "Errors like that is exactly why we lost. ... We were still in the game and a stupid mistake like that cost us."
A day after he made 35 saves in a 3-1 victory, Badgers goaltender Robbie Beydoun wasn't as sharp Sunday. He allowed five goals on 24 shots.
But there were other factors that contributed heavily. Turnovers, a slow line change and a bad penalty made the Badgers' job harder than it needed to be.
"They're as good of a college team as there is right now," Badgers coach Tony Granato said. "They were able to make more of their chances tonight. We were able to make more of our chances last night. With how hard both teams played and how good both teams played, I think it probably deserved to be a split."
The Gophers, who won their first 10 games before falling on Saturday, turned an early Badgers turnover into an early lead on their first shot of the game.
UW's Dylan Holloway couldn't handle a pass from Mike Vorlicky in the offensive zone and Minnesota transitioned with an odd-man rush. Brock Faber connected with Sammy Walker for a one-timer just 81 seconds in.
With the game tied 2-2 in the second, the Badgers didn't get the puck deep before the fourth line went off for a change. With only Inamoto and Ty Emberson back for the Badgers on a 4-on-2 rush, Minnesota's Jonny Sorenson finished it off.
Early in the third, Vorlicky was whistled for a needless interference penalty behind the play when he swatted away Blake McLaughlin's stick as the Gophers forward tried to pick it up off the ice.
Ben Meyers rang in a shot off the crossbar on the ensuing power play as the Gophers (11-1, 9-1 Big Ten) took a 4-2 advantage.
Granato called it "not a smart penalty."
"A couple decisions with the puck tonight weren't smart," he said. "If you're going to win championships and you're going to continue to get better, you've got to start taking some of those out of the equation and out of the game."
Sam Stange and Brock Caufield scored in the first and second periods, respectively, to give the Badgers (6-6, 6-3-0-1) a 2-1 lead that lasted only 2:02 before McLaughlin equalized. Junior defenseman Jesper Peltonen had a career-best two assists; he and defensive partner Anthony Kehrer were both plus-3.
Cole Caufield forced a turnover deep in Minnesota's zone and later scored on a one-timer from Ty Pelton-Byce to cut the Badgers' third-period deficit to 4-3. The Badgers launched 29 shot attempts to the Gophers' 11 in the final 20 minutes but couldn't find an equalizer.
Cole Caufield found a burst of energy in the sixth period of the series, which came after only one practice with his UW teammates following his return from the World Junior Championship.
"We were doing a good job until the third period and then he amped it up," Minnesota coach Bob Motzko said. "I thought for five periods we did a terrific job and then not only on the goal but he had three or four just great opportunities. That shows you what a big-time player he is. You can hold him down for a while but it's almost impossible to shut him down for an entire weekend."
The Badgers outshot Minnesota 32-24 for the game and had 61% of the shot attempts.
"I loved how we played," Cole Caufield said. "We competed with the so-called No. 1 team in the country so we can't hang our heads over anything. We're one, two goals away from getting a sweep there."
---
19 former Badgers men's hockey players in NHL training camps
19 former Badgers men's hockey players in NHL training camps
Brian Elliott, Philadelphia Flyers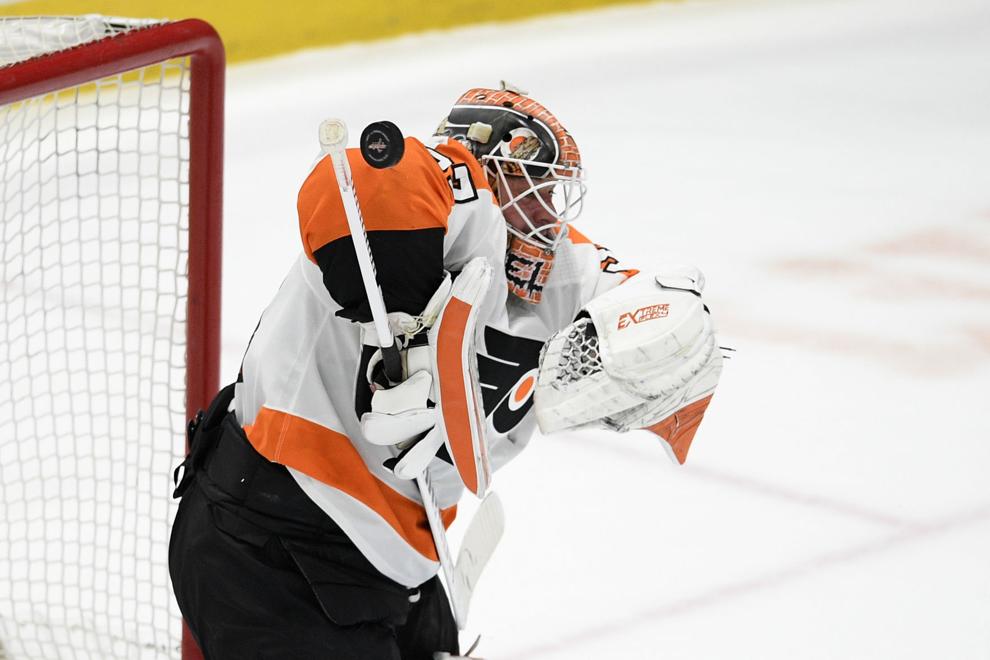 Trent Frederic, Boston Bruins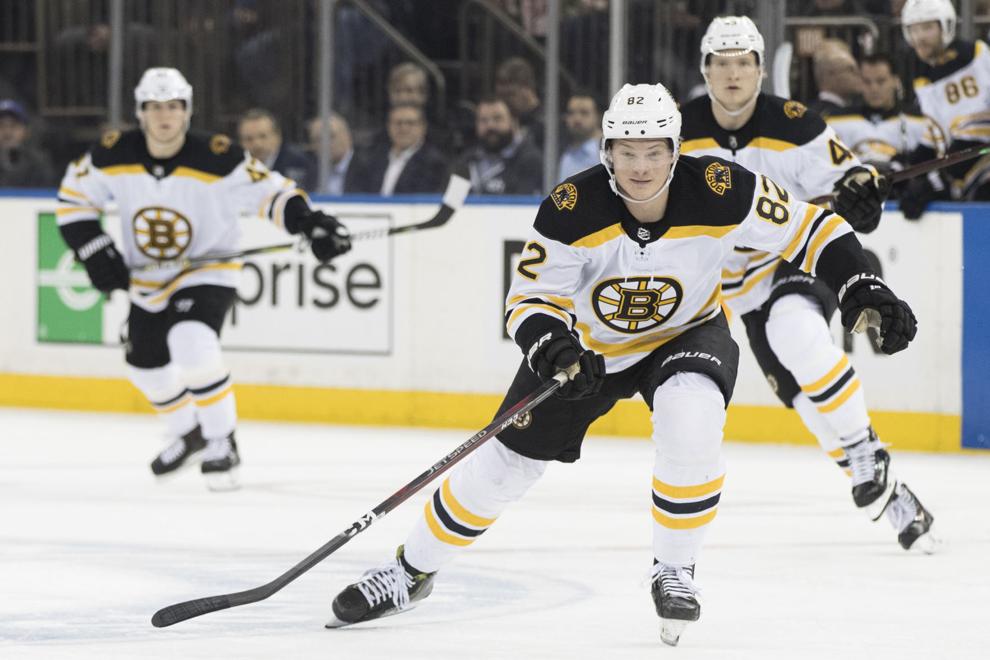 Jake Gardiner, Carolina Hurricanes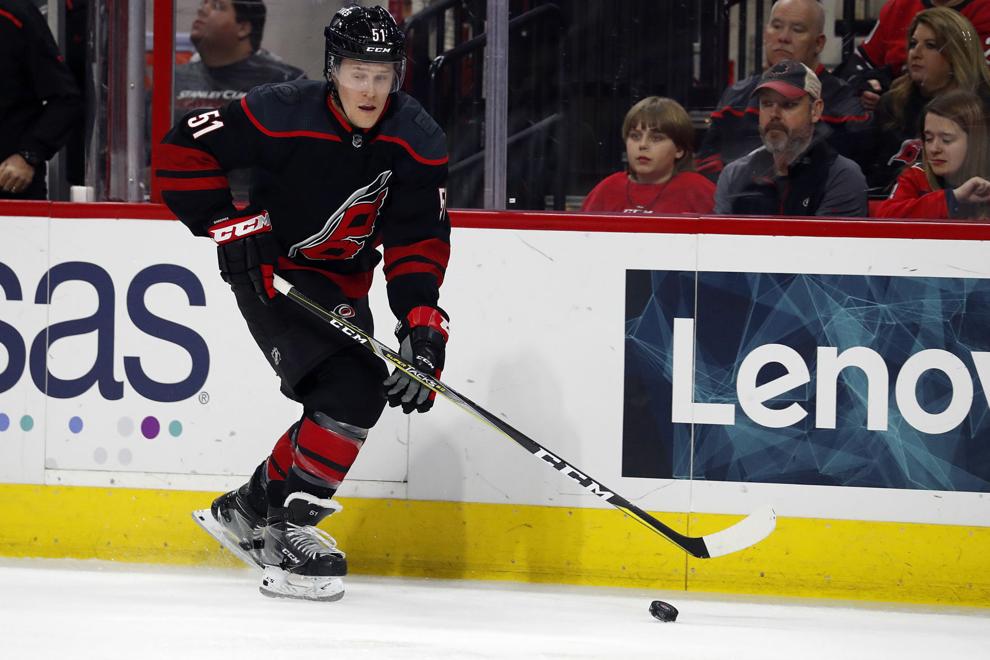 Cameron Hughes, Boston Bruins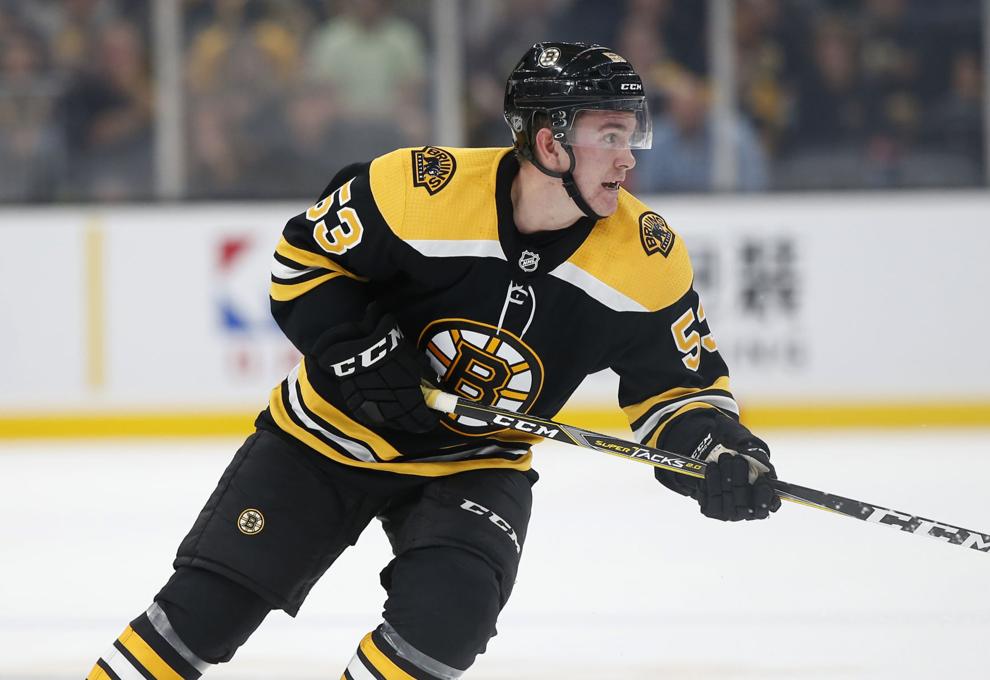 Wyatt Kalynuk, Chicago Blackhawks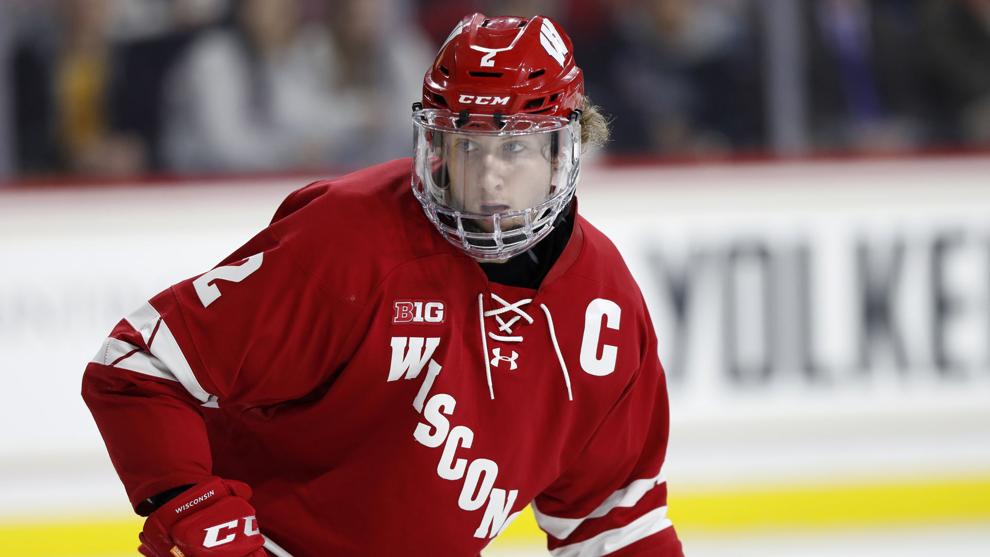 Luke Kunin, Nashville Predators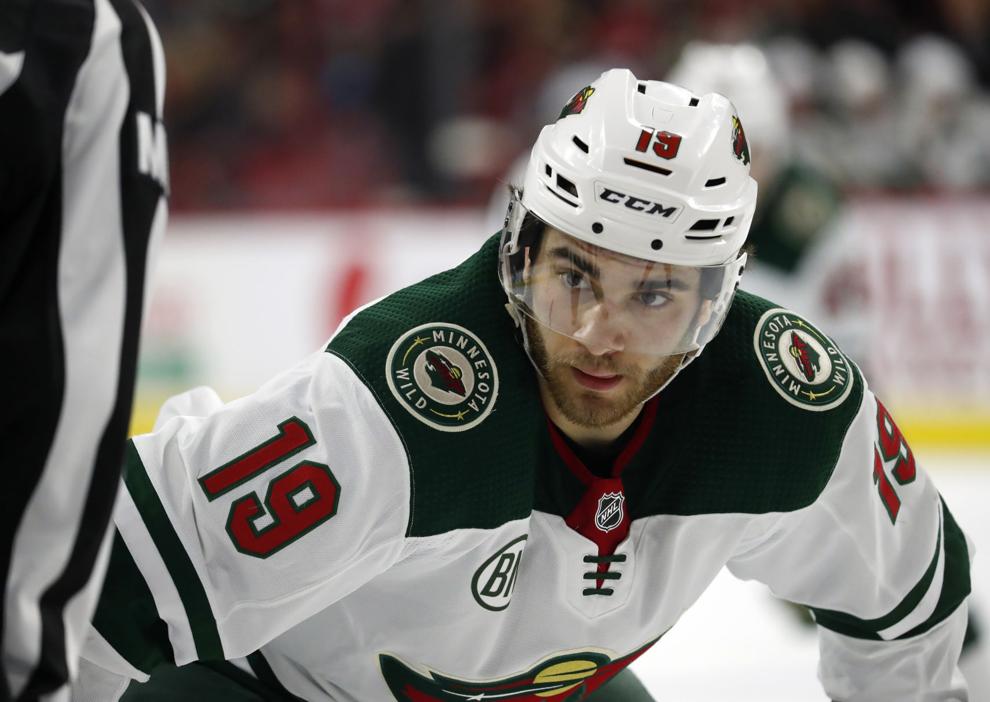 Jake McCabe, Buffalo Sabres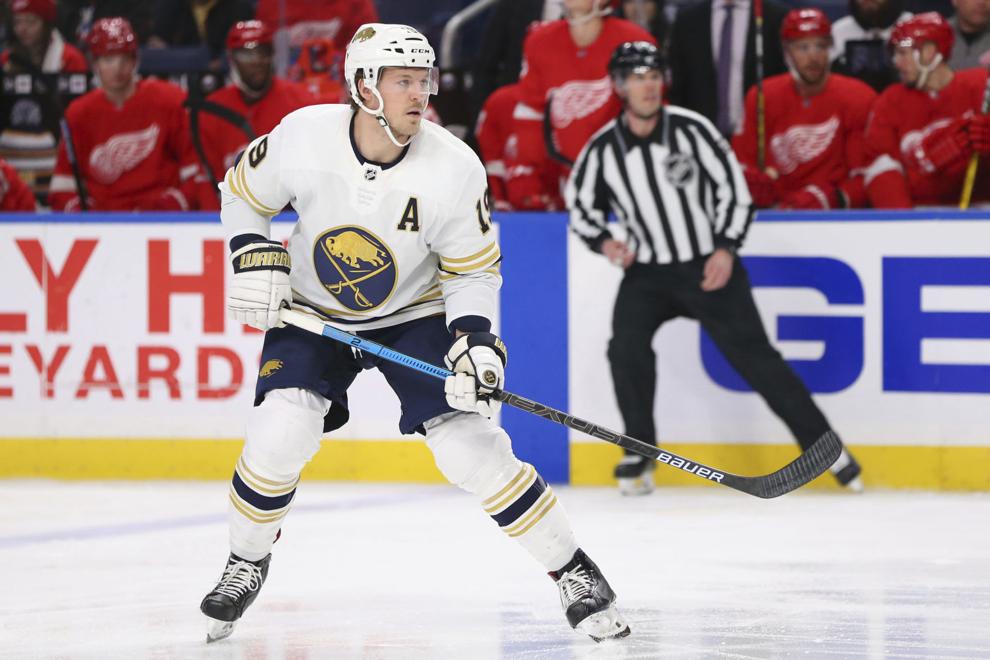 Ryan McDonagh, Tampa Bay Lightning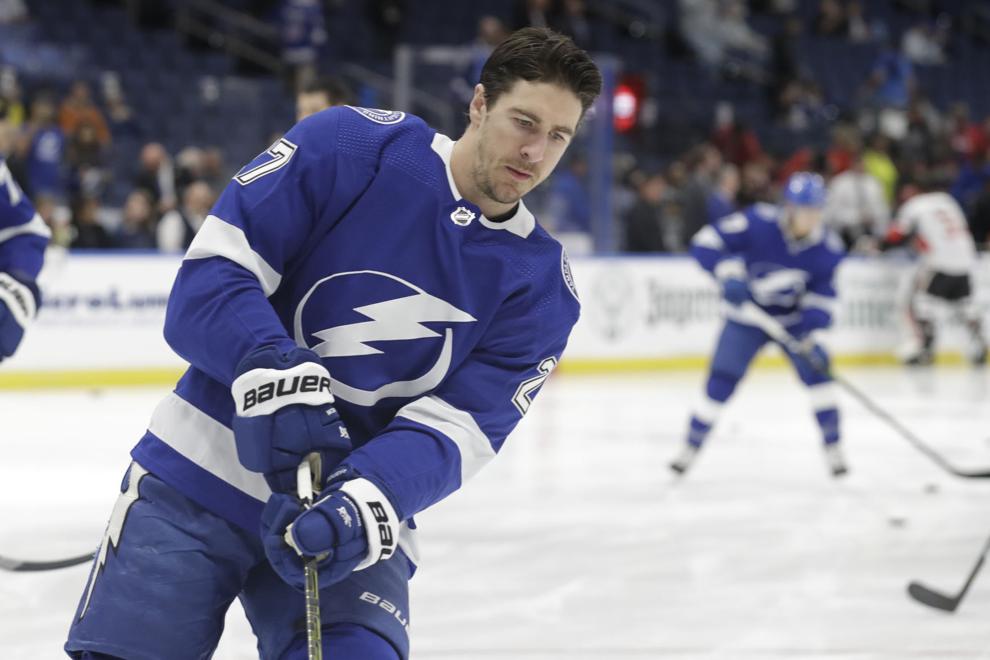 K'Andre Miller, New York Rangers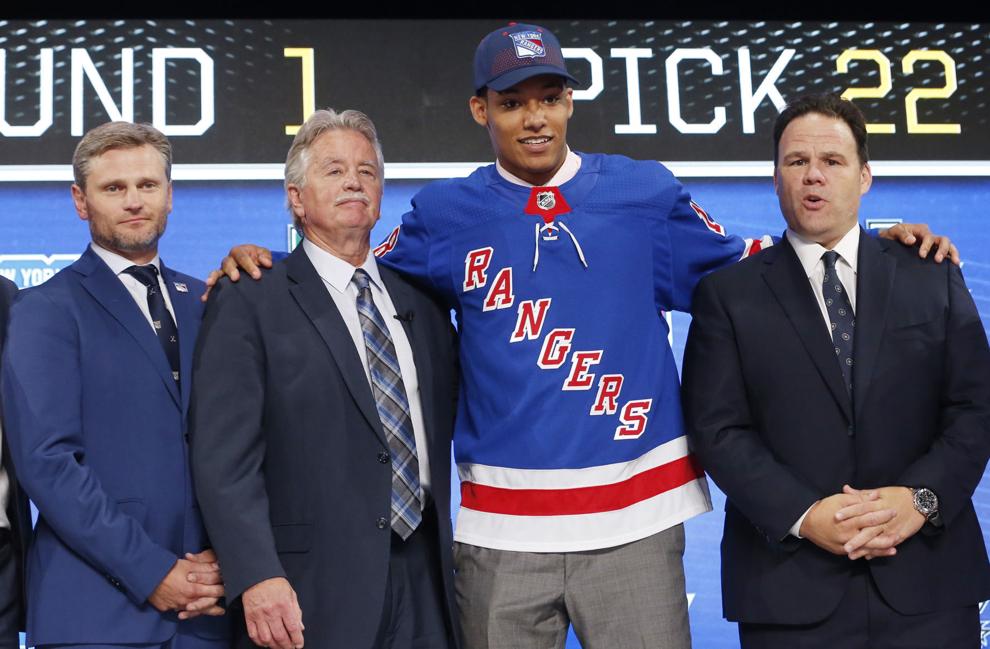 Joe Pavelski, Dallas Stars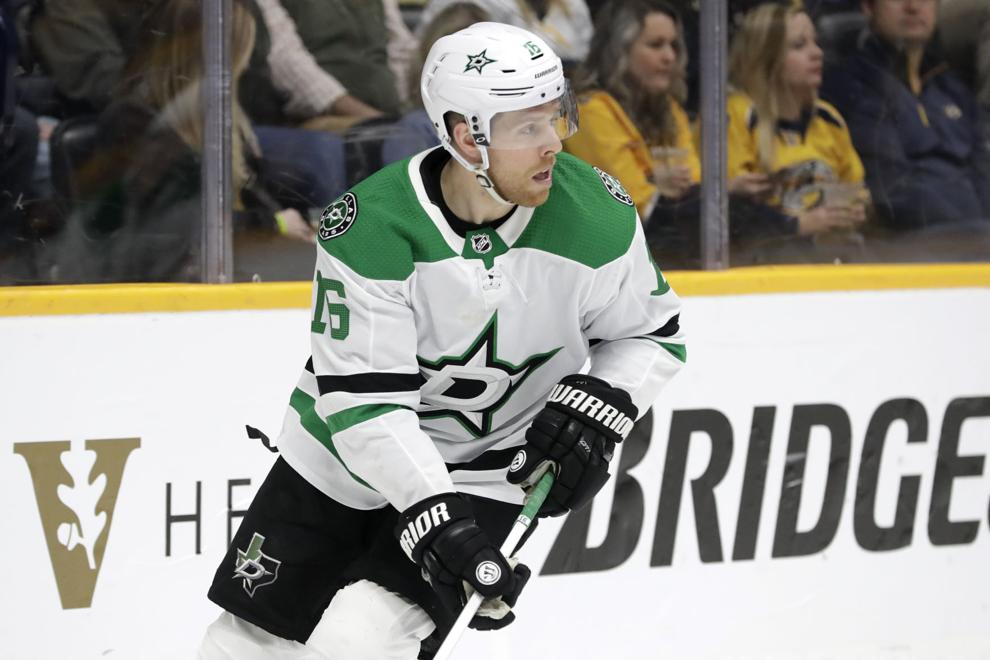 Justin Schultz, Washington Capitals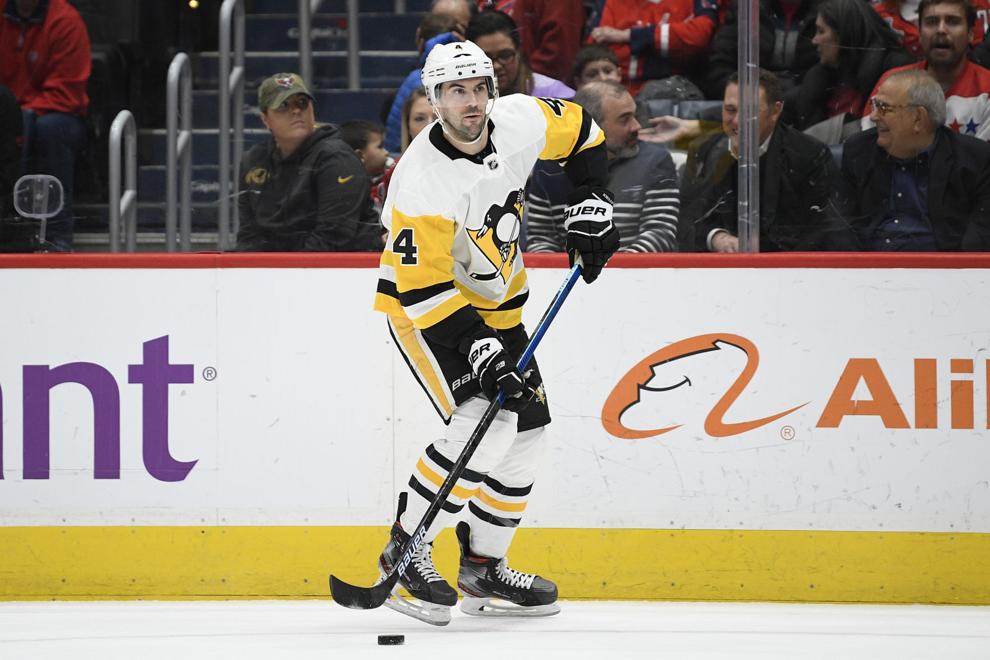 Brendan Smith, New York Rangers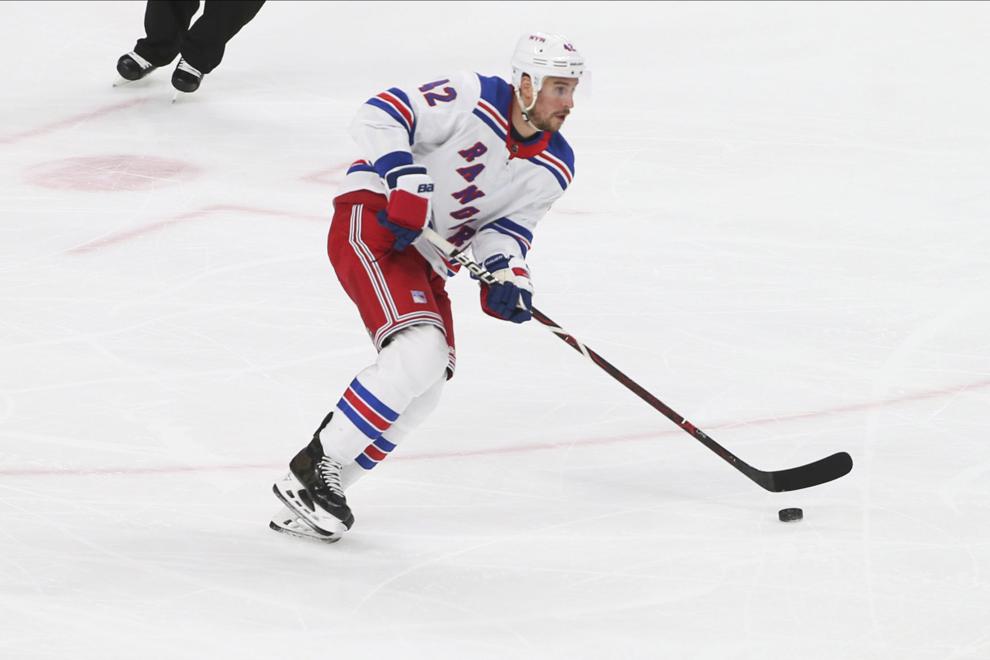 Craig Smith, Boston Bruins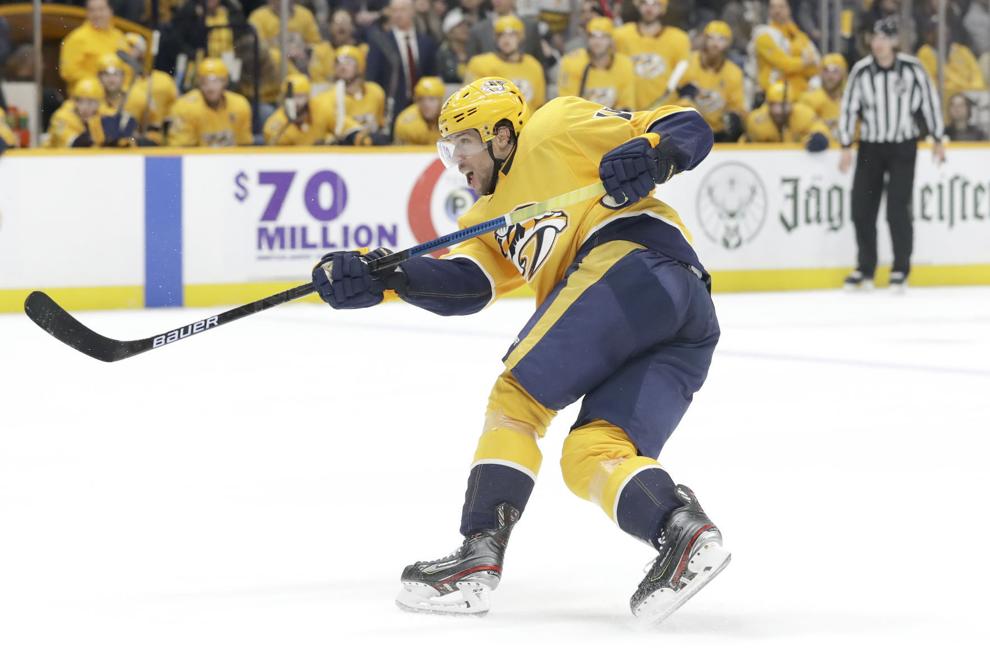 Derek Stepan, Ottawa Senators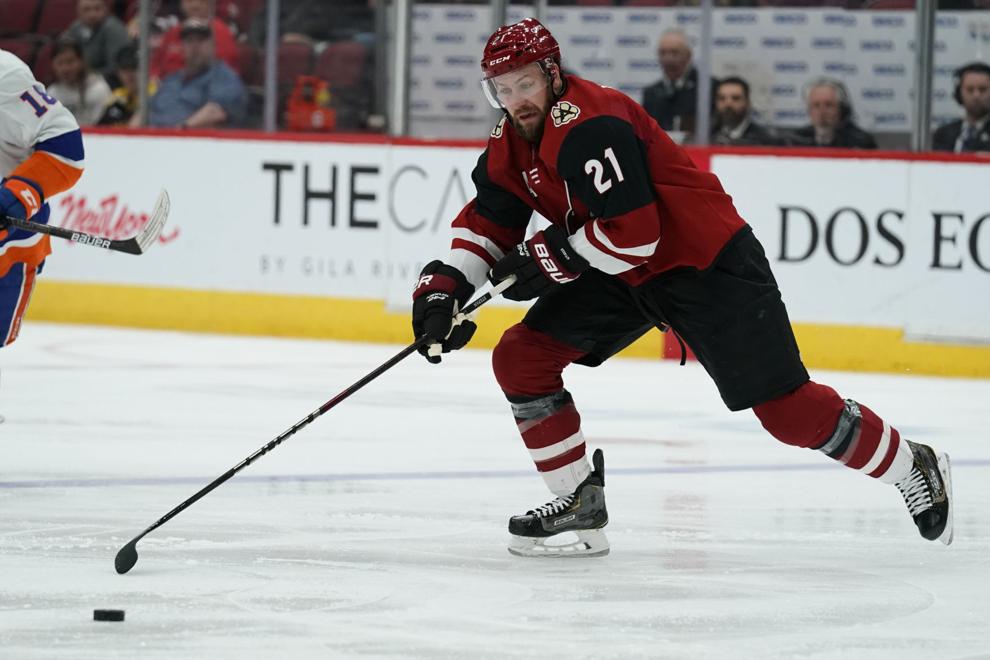 Ben Street, New Jersey Devils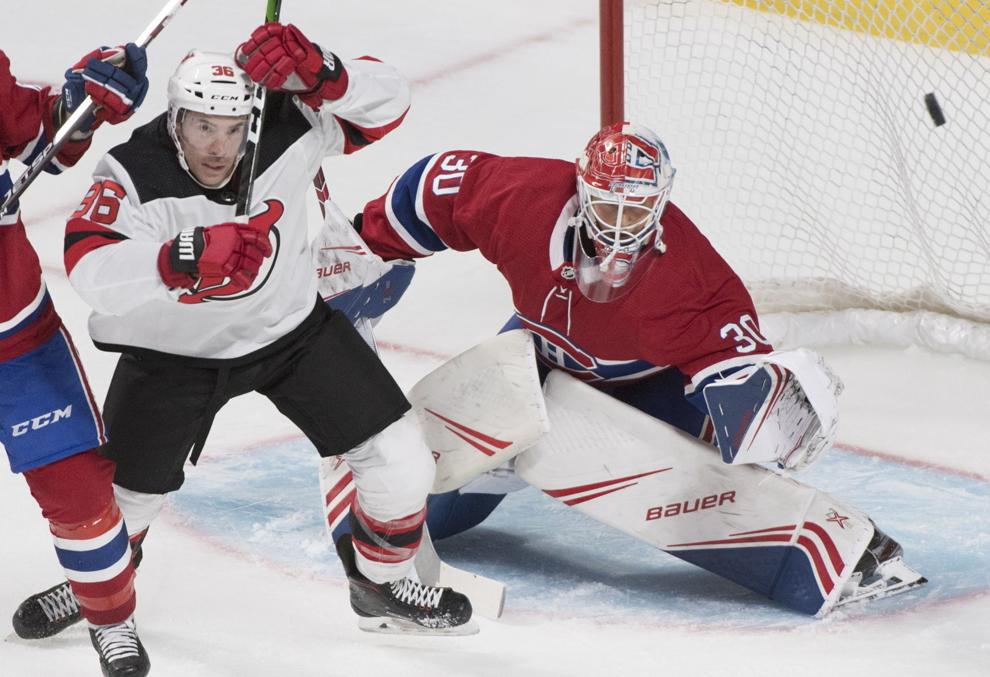 Ryan Suter, Minnesota Wild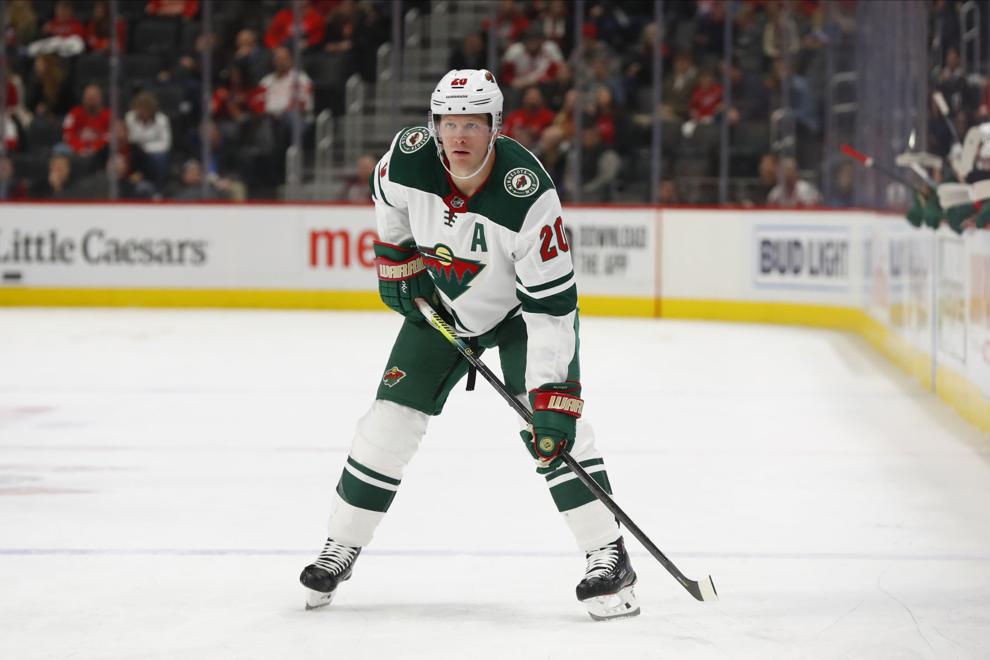 Peter Tischke, Colorado Avalanche
Alex Turcotte, Los Angeles Kings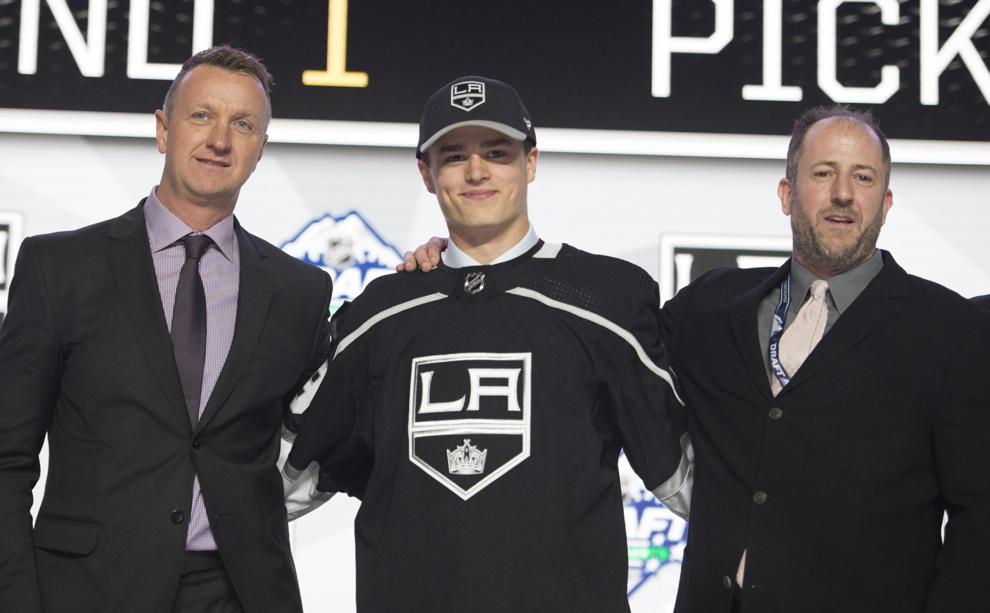 Kyle Turris, Edmonton Oilers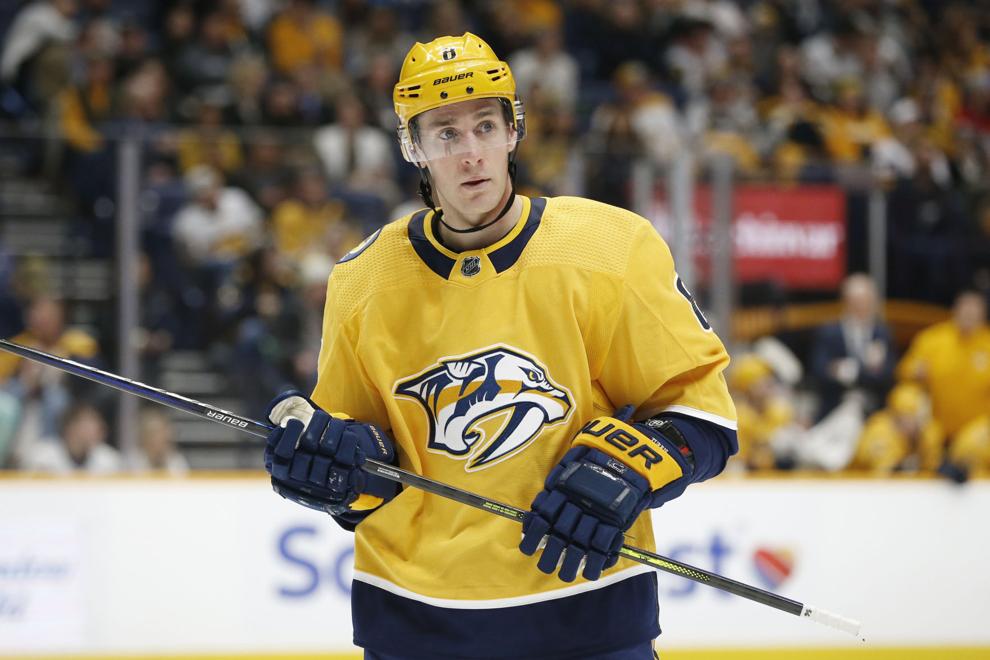 First period: M — Walker 4 (Faber, McLaughlin), 1:21. W — Stange 5 (Ahcan, Peltonen), 13:41. Penalties: Nevers, M, 4:47; C. Caufield, W, 16:03; Ranta, M, 18:18.
Second period: W — B. Caufield 5 (Ahcan, Peltonen), 11:58. M — McLaughlin 3 (Walker, Johnson), 14:00; M — Sorenson 4 (Johnson, Brodzinski), 17:02. Penalties: De St. Phalle, W, 7:51; Faber, M, 18:16.
Third period: M — Meyers 5 (LaCombe, McManus), 2:35 (pp). W — C. Caufield 7 (Pelton-Byce, Weissbach), 4:12. M — Brodzinski 5 (Nelson), 17:43. Penalty: Vorlicky, W, 1:05.
Saves: M (LaFontaine 11-6-12) 29; W (Beydoun 7-7-5) 19. Power plays: M 1-for-3; W 0-for-3.