When Sean Dhooghe scored his third goal of the game to put the University of Wisconsin men's hockey team ahead for good late in the first game of a playoff series at Penn State last March, it ended two long hat trick droughts for the team.
The Badgers hadn't had a player score three times in a contest in more than five years, since Michael Mersch did in January 2014. They hadn't recorded a postseason hat trick since Joe Pavelski's performance in a 2006 NCAA regional game.
Not bad company for Dhooghe to join with his 15th — and final, as it turned out — goal of the season.
But there are subtexts to Dhooghe leading the 2018-19 Badgers in goal-scoring. One: No one else was able to reach double digits, making it only the second time in the 56-year modern era of the program only one player got to 10 goals.
Also: Dhooghe was OK with how he played but decidedly not OK with how the season turned out. The Badgers were finished by early March for the second straight year, with a 14-18-5 record.
"At the end of the day, it needs to be more," Dhooghe said. "Every single guy in the locker room needs to bring more."
Now a junior who'll serve as an alternate captain in 2019-20, Dhooghe is adamant that work ethic traits that may have gotten by in the past won't be acceptable anymore.
"Expectations are high," he said. "And everyone knows that we're coming in with high expectations. But I think the best part is we're seeing everybody on the team, both staff and players, raising the bar every day."
Over his first two seasons, Dhooghe has become one of the recognized players around the UW team for his willingness to play a game that doesn't match his 5-foot-3 stature.
But here's what else you need to know about Dhooghe's makeup: The expectations he sets for himself are extraordinarily high.
"I think it's something that I've had just internally within myself," he said. "It was instilled in me in a young age by my father that there's no quitting, there's no leaving anything behind, no leaving teammates behind. Right or wrong, there's always a decision. And every decision you make impacts your life positively or negatively, whether you realize it or not."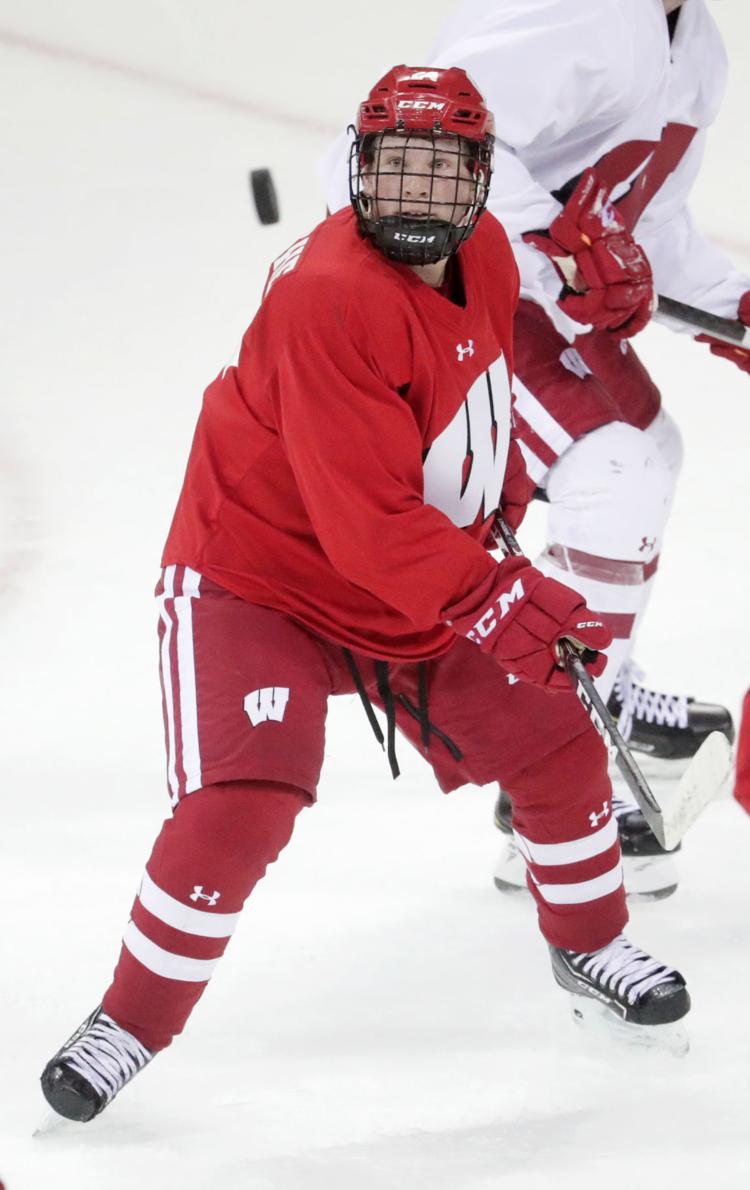 Classmate Tarek Baker once said something that has stuck with Dhooghe as a perfect way of expressing his drive: He hates to lose more than he likes to win.
"We can't be celebrating on weekends when we win, it's got to be normal," Dhooghe said. "It's got to be the normal thing, and when we lose it's going to be not normal. And I think that's where our mindset lacked last year was we didn't expect to win."
Dhooghe had one-third of his season goal total by the time the season's second weekend was over last October. He scored once in the series finale against Boston College, then twice each at Clarkson and St. Lawrence.
You have free articles remaining.
Keep reading for FREE!
Enjoy more articles by signing up or logging in. No credit card required.
Then came a slowdown, with only two goals in a 12-game span before he ended the first half by scoring in each game against Michigan State.
From there, he went to the final selection camp for the U.S. World Junior Championship team but failed to make the cut.
When the Badgers picked back up for the second half, Dhooghe went 11 games without a goal and with only two assists.
"I think the World Junior experience of not making that team was hard on him," UW coach Tony Granato said. "I think he lost a little bit of energy from that. It took him a while to build himself back up.
"And that's natural. He had it in his heart to be part of that team. He had great success when he was a U18 at the world championships, was one of the leading scorers. And he thought that was his time. He wanted to be part of it. And you take that away from someone that has that dream, it's a learning experience on how to deal with that."
When Dhooghe's energy and spirit returned, Granato said, it fueled a late-season push that included the playoff hat trick. Two games before that, Dhooghe scored twice, including an overtime goal to beat Michigan.
In the offseason, he was invited to the Arizona Coyotes' development camp as a free agent. That's not a new concept to Dhooghe: NHL teams have been intrigued enough by his puck skills to extend offers for their summer camps three years running.
The vibe at Arizona's camp struck a chord with Dhooghe. The motto that the team had printed on shirts seemed like it was made for him: "Everything matters."
"It's very similar to what we are here with the details," Dhooghe said. "And the details matter. You know, details build dynasties, details win championships. So I really liked how they focused on everything matters, whether it's warmup before practice or another shift in the game."
It's what he's bringing back to help the team move past two straight underwhelming seasons and get into the NCAA tournament mix.
The group of forwards has received a high-end-talent infusion in the offseason with the arrival of NHL first-round picks Alex Turcotte and Cole Caufield. Fellow freshman Dylan Holloway is projected to be selected in the top half of the first round in 2020.
Speedy winger Linus Weissbach missed 10 games last season because of a broken hand but will get time on the first line again this year.
And if Dhooghe can consistently score like he did in stretches a year ago, the Badgers should be in good shape.
Last season was frustrating from a team perspective, Dhooghe said, but he's trying not to dwell on it, especially with the promise of what's ahead.
"There is light at the end of the tunnel and I think we're coming out the other end here," he said. "And we're right there. I think this is our chance. We've got a great team. The freshmen coming in already have been fantastic. They've jelled great and just things couldn't look better for us right now."