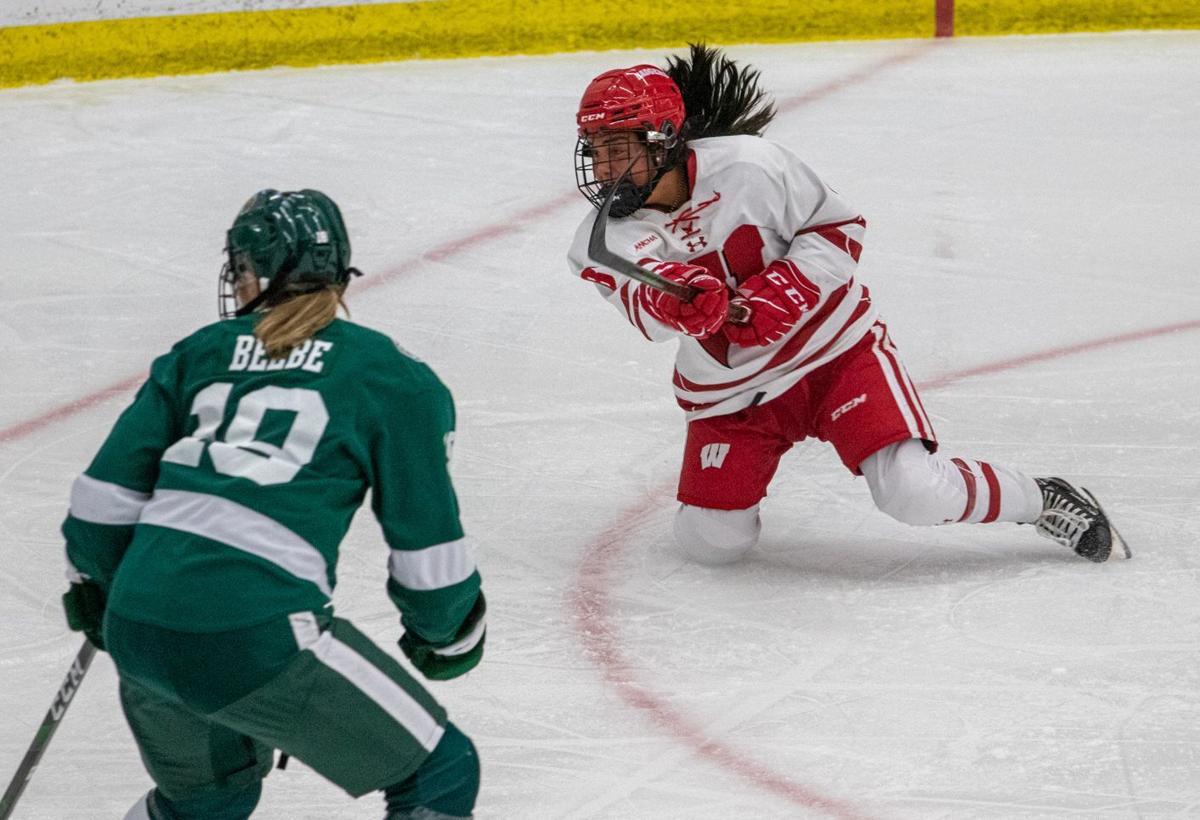 Makenna Webster hasn't been too upset about missing out on one element of the typical college experience in her freshman year with the University of Wisconsin women's hockey team.
What's to love about walking to class in the cold, anyway?
"It's so nice just getting up and going on your computer, doing class and then coming to the rink whenever you want, getting on the ice whenever you want, going to shoot pucks whenever you want," Webster said.
This has been a season drastically different from any in the past because of the COVID-19 pandemic. Yet while Webster and her fellow freshmen have missed out on playing in front of sold-out LaBahn Arena crowds in their first season, they still are getting one big part of the UW experience.
The Badgers are in the mix for trophies as the end of the regular season approaches.
The first can be secured as early as Friday when top-ranked UW opens its final Western Collegiate Hockey Association series at No. 7 Minnesota Duluth. A regulation, overtime or shootout victory either Friday or Saturday or a pair of overtime or shootout losses would be enough to wrap up the Badgers' fourth WCHA crown in five seasons.
When freshmen arrive with the Badgers, they quickly find out the season is built around the team accelerating to this point, when the games take on higher values.
"Just learning from the older girls and learning from our captains, I think they've shown us the culture here at Wisconsin," Webster said. "They just pass it down to us. They're showing us how badly they want to win.
"I think every one of the freshmen look up to them. We want to do it not just for the team but for the captains who are going to be leaving us."
Webster scored a goal in both games against Bemidji State two weeks ago before the Badgers had off last weekend. That was a confidence boost, she said, after a season where the points haven't been easy to come by.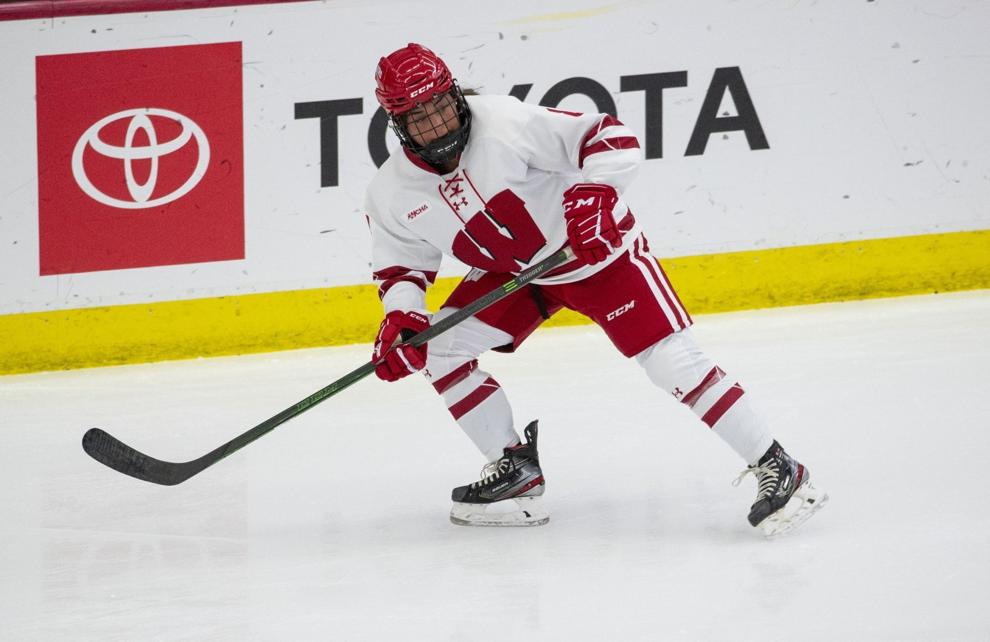 She had 39 goals and 84 points in 50 games last season at Shattuck-St. Mary's prep school in Minnesota. But this season has been different, starting with the vastly decreased number of games.
The pandemic delayed the start, and UW had six games wiped out because of positive COVID-19 tests. It has been a challenging road for everyone, but coach Mark Johnson said his team's six freshmen have been especially impacted.
In a normal season, 14 games would be near the midpoint and a time for reflection and planning for the second half, he said. It instead is time for the elevated stakes of the postseason.
"Our freshmen are no different than other freshmen around the country," Johnson said. "I'm sure their expectations were really high coming into their respective universities. Then you had to practice for a long period of time. A lot of our freshmen had COVID. They were out for two or three weeks, weren't on the ice for long stretches. Then you've got to come back, get yourself back into shape. They're doing classes a little bit different, so there's a lot of things that are thrown at them."
Webster and the other freshmen have heard Johnson tell them to trust the process of developing into college players. Webster eventually wants to be in a role where she can bring energy in all situations and deliver scoring punch.
Right now, however, the process is about becoming more dependable in all areas on the ice, Johnson said.
"They practice hard. They're competitive," he said about the UW freshmen. "So the next step is to give it time. And obviously we'd all like to have 15 or 20 more games, but we don't have it. Now it comes down to these meaningful games up in Duluth this weekend. We'll see how they react and take it from there."
From there, it's the WCHA Final Faceoff then the NCAA tournament. Among freshmen, Webster and fellow Shattuck product Casey O'Brien have been in the lineup every game; Maddi Wheeler missed one outing.
They've faced a ranked team in more than half of their games so the intensity should be getting familiar. That's part of the process they're trying to trust.
"It's hard playing the first-, second-, third-best team every other weekend," Webster said. "It's hard for us freshmen just jumping right out there. We haven't been able to have a normal year.
"It's just such a tough year. We've just got to learn from our older girls and learn from our coaches."
Look back on State Journal coverage of Badgers women's hockey games in the 2020-21 season
Read stories from University of Wisconsin women's hockey games in the 2020-21 season.