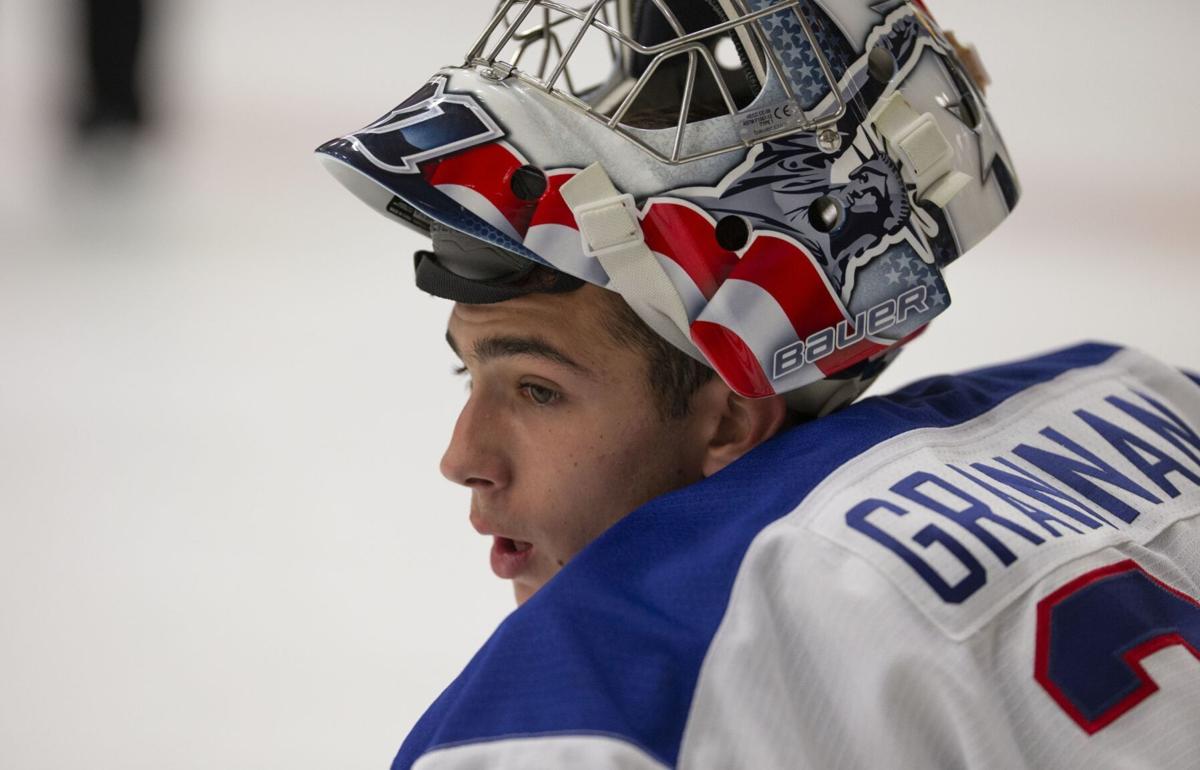 The arrival of two University of Wisconsin men's hockey recruits has been pushed back as the final makeup of the 2021-22 roster becomes clearer.
Goaltender Noah Grannan won't be part of the Badgers' incoming class in the fall and the Germantown native could be returning to the United States Hockey League.
Grannan signed a National Letter of Intent with UW last November but he faces recovery from hip surgery, Sioux Falls Stampede coach Marty Murray said.
Newton, from Whitefish Bay, has played with the North American Hockey League's Janesville Jets since February. He started the season with Sioux City in the USHL.
Injury derailed season
Grannan's father, Jeremy, declined to share information regarding the 19-year-old goaltender's health and plans for the 2021-22 season.
Murray said Grannan likely won't be ready to play when next season starts. Grannan last played on March 21 and missed Sioux Falls' last 11 games because of hip problems.
"He would look fine and then all of a sudden he said it was like a knife going into his hip," Murray said. "It was real unfortunate he had to end the season the way he did but I think he made the right call in getting his hips done. Hopefully he can move forward here and be the player that everybody hopes he can be."
Grannan was first eligible to join the Badgers last season but instead played in the USHL with Sioux Falls. He hasn't posted a save percentage over .900 in two years with the USA Hockey National Team Development Program or his 22 games with the junior team.
He was gaining confidence this season when the hip injuries surfaced, Murray said.
"He's a kid that's going to work hard through his rehab and I think that's a good start," he said. "Hopefully he can expedite the process and get back to being 100% healthy wherever he ends up. At the end of the day you want to see him do well, and if that's with us if he comes back or if it's Wisconsin or whatever, for him just to get healthy is the biggest thing right now."
Numbers game with forwards
UW is adding Caden Brown, Liam Malmquist, Brayden Morrison and Zach Urdahl as freshman forwards next season and has recruited transfers Max Johnson from Bowling Green and Carson Bantle from Michigan Tech. That puts the team at 15 forwards, making it unlikely that Newton would have a major place in the lineup in the fall.
He didn't have a point in 15 games last season with Sioux City before being moved to Janesville. There, the 19-year-old brought a veteran presence that the team came to count on, Jets coach Parker Burgess said.
"Every day he shows up to the rink or to the weight room or to a film session, he's a pro," Burgess said. "He has a pro-style mentality. That's a credit to how he was coached in Sioux City with Luke Strand up there. He knows when he comes to the rink it's time for business. I think that's infectious in our group and I think they see his level of professionalism."
Newton recorded 18 points in 29 regular-season games during his second stint with Janesville. Another year in juniors won't hurt him, Burgess said.
The busy transfer market and availability of an extra season of eligibility for current college players has muddied the future for dozens of junior players who were expecting to move up next season.
Roster mostly set
There's only one uncertain spot with the Badgers' 2021-22 roster barring an unexpected change, Granato said. Defenseman Shay Donovan entered the transfer portal in April but hasn't finalized his plans. It sounds like a return to UW, where he has played just 12 games in two seasons, isn't out of the question.
Based on that decision, the team could have either 27 or 28 players. Nine or 10 of them are defensemen — an inflated number because Tyler Inamoto and Josh Ess elected to return for a fifth season.
Here's how the roster breaks down with games of college experience:
Forwards (15): Max Johnson (143 at Bowling Green), Tarek Baker (137), Brock Caufield (99), Roman Ahcan (96), Jack Gorniak (96), Dominick Mersch (92), Owen Lindmark (63), Ryder Donovan (54), Mathieu de St. Phalle (31), Sam Stange (29), Carson Bantle (19 at Michigan Tech), Caden Brown (incoming freshman), Liam Malmquist (incoming freshman), Brayden Morrison (incoming freshman), Zach Urdahl (incoming freshman).
Defensemen (10): Josh Ess (136), Tyler Inamoto (132), Mike Vorlicky (56), Jesper Peltonen (50), Anthony Kehrer (31), Luke LaMaster (14), Shay Donovan (12), Corson Ceulemans (incoming freshman), Daniel Laatsch (incoming freshman), Jacob Martin (incoming freshman).
Goaltenders (3): Jared Moe (19 at Minnesota), Cameron Rowe (16), Ben Garrity (0).