Large-scale conference changes in NCAA men's hockey are typically met with a large amount of hand-wringing.
So it went this offseason when seven members of the Western Collegiate Hockey Association stunned the league office by filing notice to leave after the 2020-21 season.
Those schools — Bemidji State, Bowling Green, Ferris State, Lake Superior State, Michigan Tech, Minnesota State and Northern Michigan — are looking to form a league of their own, apparently free of the current league structure and the three other WCHA teams.
The geography of the teams left out did not go unnoticed. Alaska, Alaska Anchorage and Alabama Huntsville are among the most remote outposts for Division I college hockey.
The announcement left questions to be answered over the coming months:
Will the three outsiders continue to be viable college hockey programs? Alabama Huntsville has plans for a new arena, but higher education financial woes in Alaska are forcing those schools to go the other way and return games to smaller, on-campus facilities. Funding for the Seawolves and Nanooks is best described as tenuous.
How far will the dominoes fall in this cycle of conference changes? In 2013, the addition of the Big Ten Conference and the National Collegiate Hockey Conference ended the Central Collegiate Hockey Association and impacted 21 teams. Opening the books again could prompt other schools to want to shift for geographical or competitive reasons.
As the 2019-20 season begins, there's uncertainty at the conference level across the country. Hockey East is looking for a successor to commissioner Joe Bertagna, whose contract isn't being extended after this season. The Big Ten is waiting on word from Illinois about the potential for being its eighth team.
Here are five other items to keep an eye on around NCAA men's hockey this season:
1. Rising to the top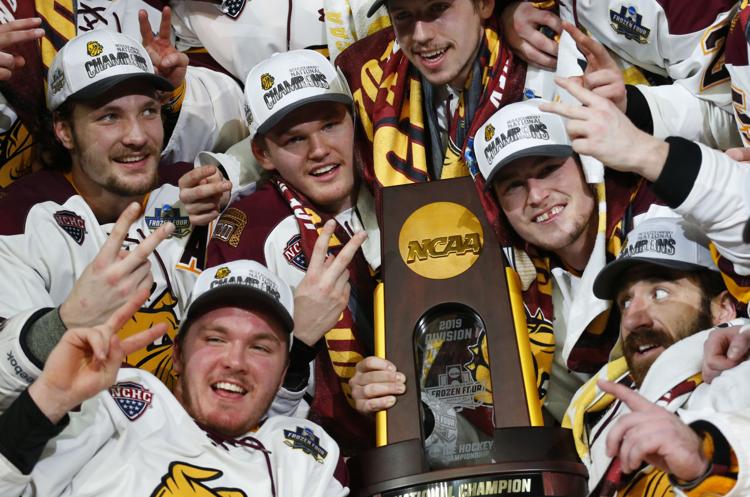 If Minnesota Duluth does what no team has done in 66 years and win a third straight NCAA championship, it will have a case for rising to the top of the list of college hockey's greatest accomplishments.
The Bulldogs, who play at the University of Wisconsin on Oct. 18-19, already have played in three straight national championship games; a fourth would be unprecedented.
And they've done it without a group laden with sure-fire future NHL superstars. Instead, a smaller cast of draft picks with a collection of four-year college players has made Duluth a force in March and April.
Both of the Bulldogs' 2018-19 All-Americans, first-team goaltender Hunter Shepard and second-team defenseman Scott Perunovich, are back to guide the drive for NCAA men's hockey's first three-peat since Michigan won in 1951, 1952 and 1953.
2. Blazing a trail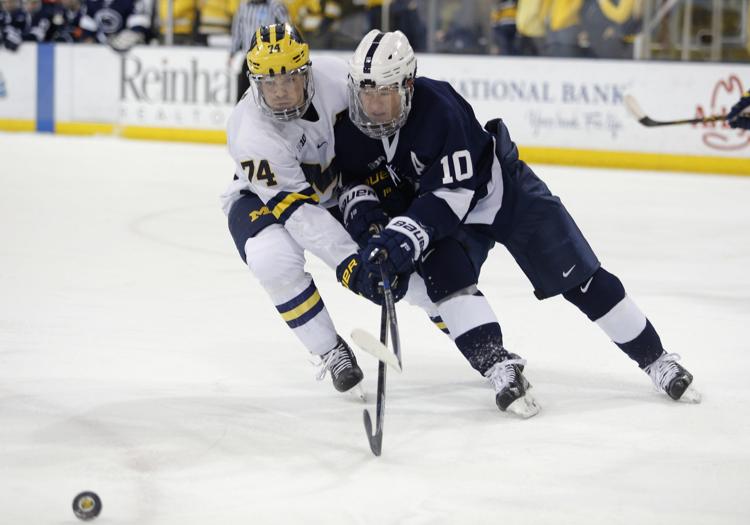 Illinois has been reported to be getting closer to being able to announce it will field a varsity men's hockey team that would bring the Big Ten to eight.
With that in mind, the league asked teams to hold off on scheduling additional non-conference games past 2022 because a decision needs to be made on whether the slate of Big Ten games would expand with eight members.
Beyond that it would be another large, nationally branded school getting in the mix, adding Illinois would be important to college hockey because of how it's being put together. Penn State and Arizona State were developed with large donations; at Illinois, it's about more contributions of smaller amounts.
College hockey administrators have said that is a path that other schools interested in adding hockey might find more palatable.
3. Frozen Four back in Motor City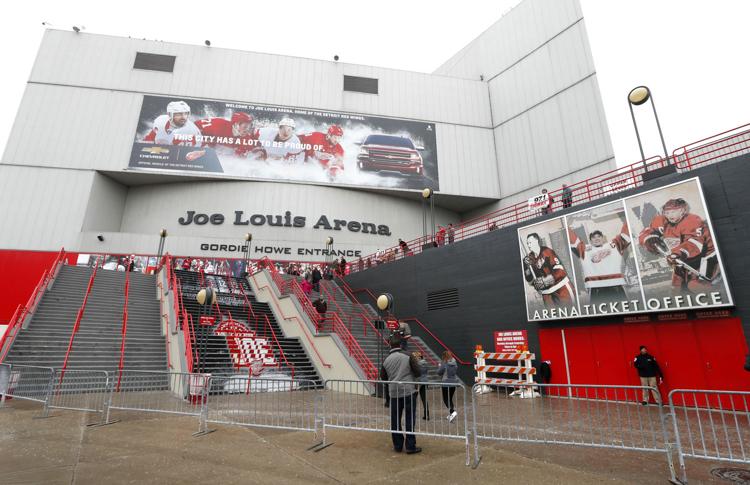 The men's Frozen Four makes a seventh appearance in Detroit in 2020, with a fourth venue in the city getting a chance to host.
Little Caesars Arena follows Ford Field, Joe Louis Arena (above) and Olympia Stadium when it hosts the April 9 semifinals and April 11 championship game.
The Badgers appeared in three of the previous six Frozen Fours in Detroit, one in each venue (the Olympia in 1977, Joe Louis Arena in 1990 and Ford Field in 2010).
After small crowds at the 2019 Frozen Four in Buffalo, New York, the NCAA and Detroit organizers lowered some ticket prices for the 2020 event.
4. First-round talent abounds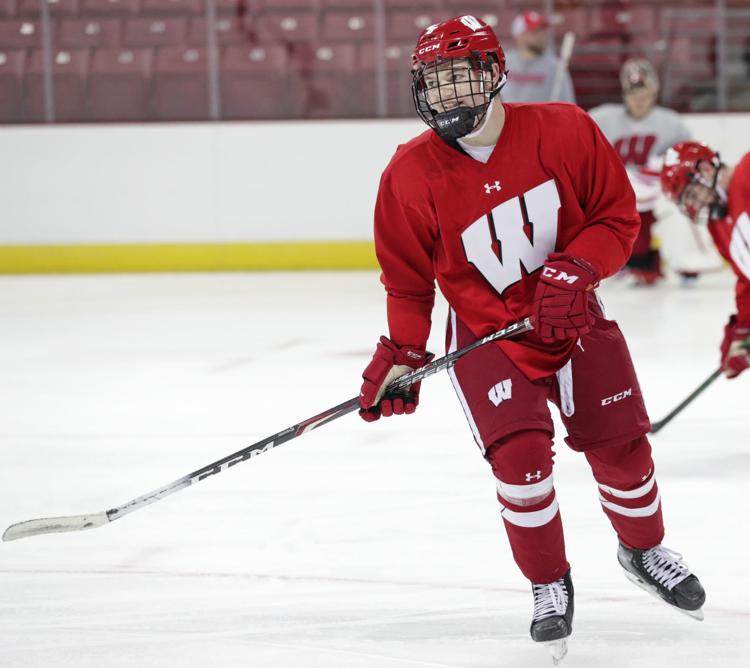 A majority of the collegians picked in the first round of the 2019 NHL draft could be on the same ice on the first Friday night of the season.
Boston College's three picks — forwards Matthew Boldy and Alex Newhook and goaltender Spencer Knight — and UW forwards Alex Turcotte and Cole Caufield (above) are set to face off in Chestnut Hill on Oct. 11.
Other 2019 first-round selections in college hockey this season are Boston University forward Trevor Zegras, Michigan defenseman Cam York and forward John Beecher, and Minnesota defenseman Ryan Johnson.
Add defensemen K'Andre Miller at UW and Jacob Bernard-Docker at North Dakota, both 2018 picks, and the count of first-round selections playing in college is 11.
5. All-American exodus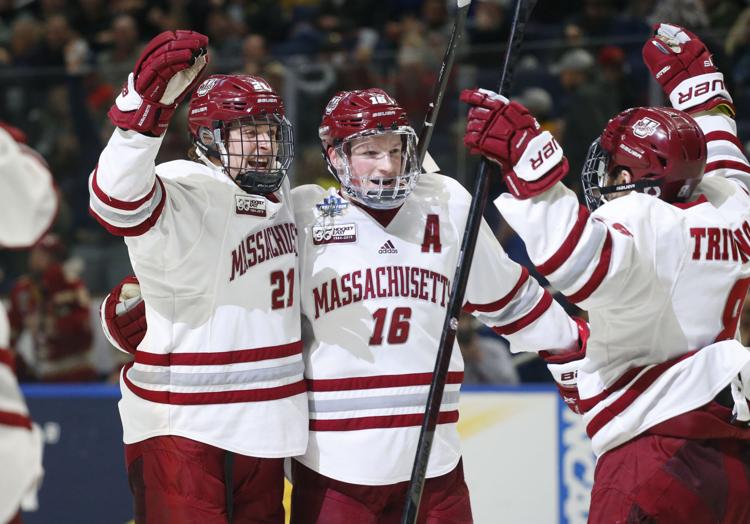 Nineteen of 25 players selected as All-Americans last season could have returned to college this season. Only six did.
That comes on the heels of 13 All-Americans opting for one more year of school in 2018, a figure that looks to be an outlier in a system where the best players often are plucked from college teams.
Because of that turnover, the list of returning All-Americans hasn't been a great predictor of the next Hobey Baker Award winner as the top player in Division I men's hockey. Of the past 20 Hobey winners, only eight were an All-American in the previous season.
The six who have a chance to improve the percentage: Minnesota Duluth's Shepard and Perunovich, UMass forward Mitchell Chaffee (above left), American International forward Blake Christensen, Boston College forward David Cotton and St. Cloud State defenseman Jack Ahcan.