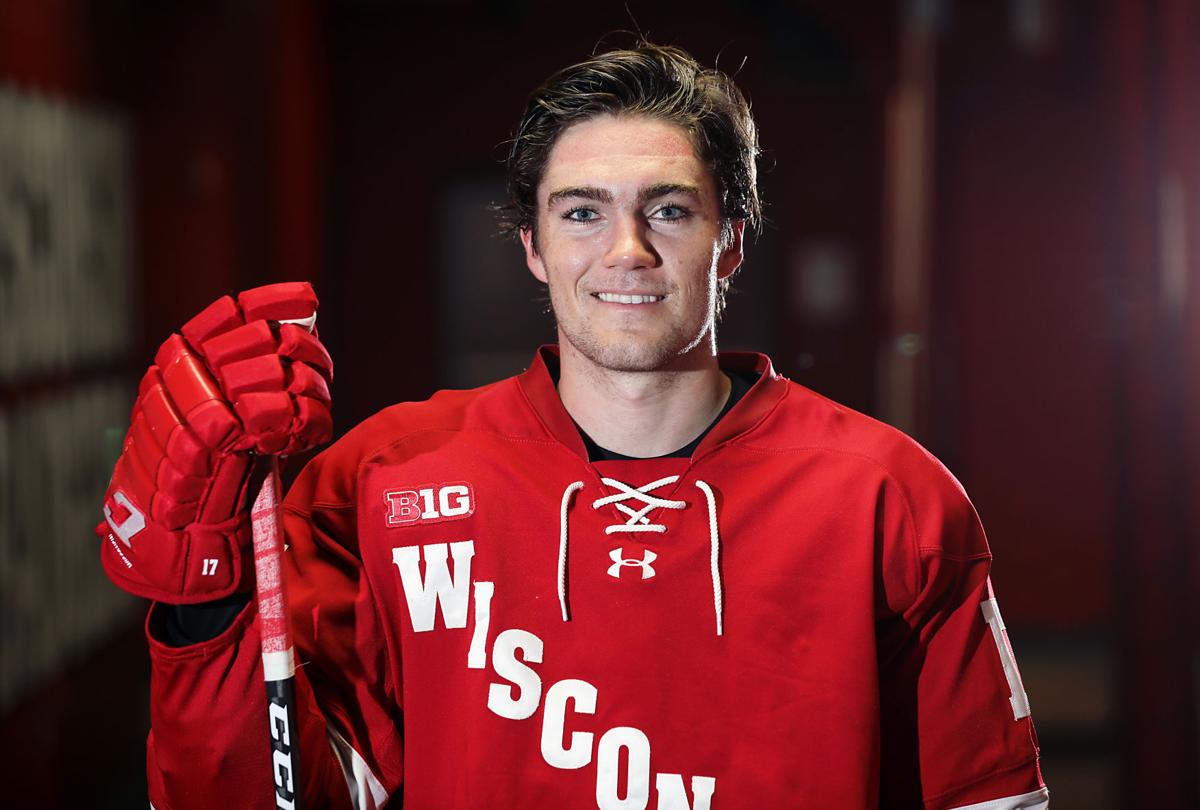 The day that he felt so distant from the fun everyone else was having around him was the first indication to Ty Pelton-Byce there was something wrong.
Others close to him had suspected Pelton-Byce, then in his second year at Harvard, was enduring some rough times. But he had pushed those thoughts away and tried to keep going with his hockey career and schooling.
But it all started to come out that spring day in 2018, when Pelton-Byce's world started to shift. The men's hockey team's friendly soccer game with the women's hockey team was a jovial outing that led into parties later.
But Pelton-Byce didn't want to be there. He snapped at a teammate and left.
He liked his time at Harvard. He liked his teammates. It didn't seem like those factors, however, were calling the shots anymore.
As he walked home, Pelton-Byce called back to Madison. His mom, Alicia Pelton, was shopping with her daughter when she heard her son say he thought he was depressed. Because she had suspected the same thing for a while, the words coming from him were something of a relief.
The acceptance of a problem is one of the most important steps to handling it.
"It makes it better if you just own up to it," Pelton-Byce said. "Once I did that, I really took control of my life back."
That was the start, anyway. Between being a Harvard player then and a University of Wisconsin player now were a series of turns to shake things up and test Pelton-Byce's resolve.
But he's back home in Madison with the Badgers to restart himself as a college hockey player. He has found a welcoming place and a sense of comfort with which he can finally share what really happened over the previous two years.
That, to Pelton-Byce, is a sign of how far he has come in living with depression. For a while, he shared the details of his departure from Harvard with his close friends but told others merely that things didn't work out there.
In the spring semester of 2018, he failed one class and got a D+ in another, a set of grades that, under Harvard's code, triggered an automatic one-year leave of absence. With the benefit of hindsight, he said the classes weren't overly hard for him but depression sapped his motivation.
"Sometimes I just didn't feel like doing an assignment and I would just blow it off," Pelton-Byce said.
In an appeal to Harvard's administrative board, he tried to make his case it was the depression — which by then had been diagnosed, with treatment underway — that caused the academic slip. The appeal was denied, as was Pelton-Byce's later application for another body to reconsider his situation.
He was going to have to sit out the 2018-19 school year.
Running parallel to that set of events, Pelton-Byce was learning ways to improve his mental health and self-awareness. But one morning in the summer of 2018, a buildup of stresses exploded into a breakdown.
Having tied for second on the team with 10 goals as a sophomore at Harvard, Pelton-Byce earned an invitation to the offseason development camp of the NHL's San Jose Sharks. For an undrafted player, those opportunities are valuable in opening a lane to a post-college playing career.
Pelton-Byce sometimes had trouble getting out of the house to work out ahead of the camp. On one morning, Pelton tried to get her son out after breakfast. A few minutes after she left the room, she heard the dishes shattering.
"Everything had built up, and I hadn't broken down at all during that process, and it all came out at once," Pelton-Byce said.
Pelton came back into the kitchen to find her son crying on the floor.
"It was that moment where he just let it all out, which was a relief to me," she said. "Finally, he could just let it all go. It was right then when everything started to turn, and he was starting to realize it's OK to not be OK."
Heading home
Pelton-Byce was a four-year standout at Madison Memorial, scoring 262 points. He originally committed to UMass but a coaching change with the Minutemen altered his plans.
At Harvard, he appeared in the 2017 Frozen Four, playing an energy role as a freshman on a team loaded with high-end talent. His sophomore season gave him more opportunities on higher lines as a player with good size and scoring ability.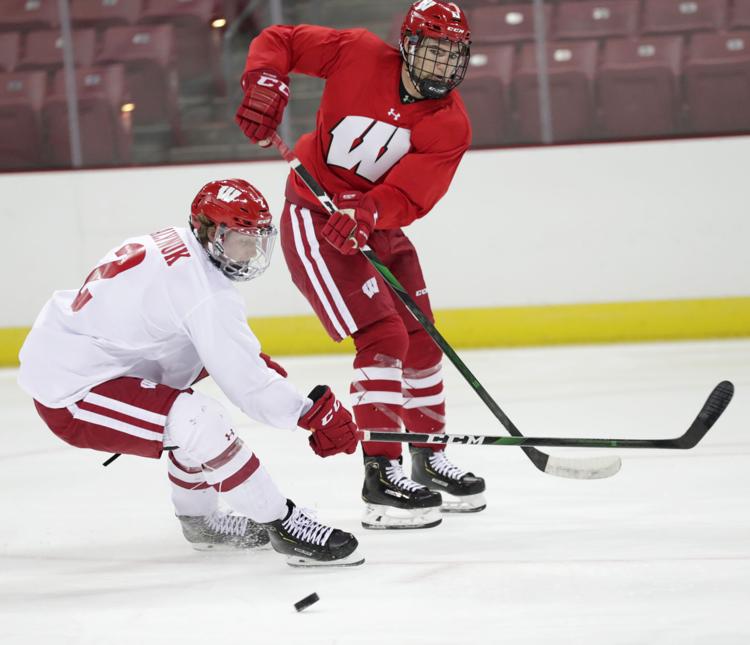 Pelton-Byce could have waited a year, try to get back into Harvard and resume his career there. He decided instead that it was time for a change, and it was time to come home.
His father, John Byce, played for the Badgers from 1986 to 1990, scoring a hat trick in his final game, the national championship contest against Colgate. Pelton was a track athlete at UW who played professional basketball in Sweden.
But transferring to UW wasn't a gimme. Academically, he had to complete a two-year degree, which he did last fall through Madison Area Technical College, to earn admission.
And there was no guarantee of ice time with the Badgers, who already were scheduled to bring in five freshman forwards this season.
Pelton-Byce wanted to give it a try.
"Growing up here, and always being a Badger fan, and my parents both being Badgers, it makes it easy to really care about this program and want to win for this state and this team," he said.
He joined the team for the start of the second semester last school year, giving him time to practice with his new teammates before regaining his athletic eligibility this fall.
In Pelton-Byce, Badgers coach Tony Granato said he sees a smart player who can provide an offensive impact. But he'll need time to get back to where he was two seasons ago.
"He's going to have a great opportunity to be a big part of our team," Granato said. "Where that is, I don't know exactly. He's going to get reps with really good players. It's pretty competitive because we're way deeper than we were last year and the year before. But he's done really, really well. He's fit in in the room. His practices have been sharp."
A willingness to be open
In their locker room earlier this year, Badgers players took turns making short presentations about themselves. They described how they grew up, where in the world their hockey careers have taken them and anything else that has made them who they are today.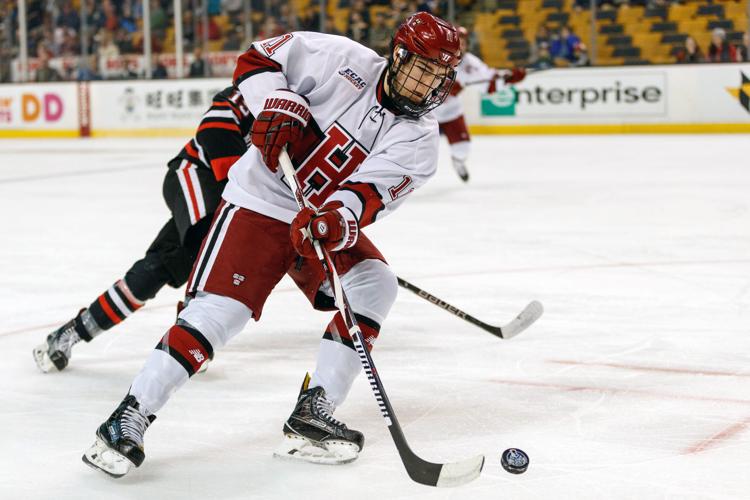 Pelton-Byce shared his story about depression.
Consider here that hockey has a past that's lined with stories of physical toughness: playing through the pain of broken limbs and visible wounds. The game is slowly catching up to the realities of mental illness.
Granato said he was heartened by Pelton-Byce's willingness to share a story of struggle with his teammates.
"You can say we're a hockey team, but it's not just a hockey team," he said. "You try to give kids a chance to grow and develop and experience different things with the game of hockey but also as part of a team that would allow you to be comfortable and do that in the room and share some tough things that you're going through. So I think that was really important."
Pelton-Byce's talk resonated with teammates, too.
"For him to open up like that is a great step," said junior forward and Verona native Tarek Baker, a longtime friend of Pelton-Byce's and now his roommate. "And that's something a leader does. He might not have a letter on his jersey and he may not have been here for a long time, but he's a leader on the team."
Over the last few years, Pelton-Byce has started to appreciate that a person can be tough without being the longtime hockey definition of tough. There's a mental resiliency that's part of the equation, too.
"It doesn't always mean you're fighting through everything," he said. "You have to accept what you're given. When you're given challenges, you can't just not think about them and keep going. You actually have to attack the problem."
The depression diagnosis was a relief to Pelton-Byce because it's treatable. For him, it involves daily medication and occasional visits with a psychologist. He has dabbled in meditation.
It also involves saying yes more often.
"Before, a lot of times I just didn't want to do things," he said. "So my philosophy now is say yes and figure it out later."
Through it all, one of the most precious lessons for Pelton-Byce is captured in six words:
"I'm just trying to put that out there so people know that sometimes you're not going to be having great days, and that's OK," Pelton-Byce said. "Everyone goes through that."
Be the first to know
Get local news delivered to your inbox!