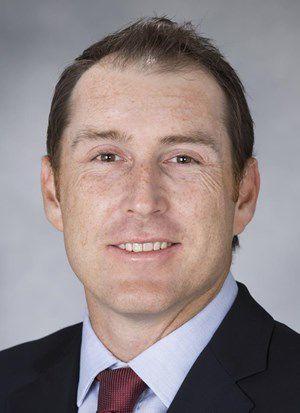 With 15 of the best college men's tennis teams coming to Madison this week, the University of Wisconsin doesn't want to just be a good host, coach Danny Westerman said.
"I think we're pretty fired up to play this at home," he said. "We feel like we could be up a point on most teams just because we're at home."
For the first time since 1977, the Badgers have home-court advantage for the ITA Division I National Men's Team Indoor Championship at Nielsen Tennis Stadium. Matches start Friday, with the championship on Monday.
UW got an automatic bid to the tournament as host, while the 15 other teams had to qualify through four-team regionals held last month. Of the teams that made it through, none is ranked below 16th in the most recent ITA rankings.
"It's going to be tough," Westerman said. "I think we could easily go 0-3 against this type of competition. But I think we could definitely be 2-1 at the end of the weekend. You're in this tournament to try to win it. Only one team walks away out of 16 with a perfect record."
While Nielsen Tennis Stadium hosted the ITA women's indoor team championship from 1988 to 2010 and again in 2016 and 2018, the men's edition has been away from Madison for 40 years.
Nielsen was the site of the inaugural February men's indoor event in 1973 and for three of the following four years before it moved to Cherokee Country Club in 1978 and 1979.
Ohio State, USC, Texas and North Carolina are the top four seeds this year. The bracketed tournament wraps up with the championship match at noon Monday.
As usual, the Badgers are a "win-by-committee group" this season, Westerman said. Senior Chase Colton and Elm Grove native Robert Krill, a junior, are two of the team's driving forces.
Krill earned UW's only singles victory Tuesday against USC at the No. 5 spot.
You have free articles remaining.
"They're kind of our loud, emotional guys — those locker room glue guys that we're going to lean on heavily this week," Westerman said. "I think when the energy goes up, they do lead the way. But other guys need to not always wait for those two to lead the way emotionally and vocally."
All teams are guaranteed three dual matches at the ITA indoors, a preview of the road to May's NCAA championship.
Westerman looked back on his youth experiences as a ball boy for pro tournaments in California and watching high-level college tennis at UCLA in previewing the event.
"I think there's enormous learning opportunities for the youth in Madison, but that's why you see them at all of our sports," he said. "Hopefully, this event will kick-start some new dreamers locally when they come to Nielsen this weekend."
Friday's first-round matchups
No. 3 Texas vs. No. 14 UCLA, 9 a.m.
No. 6 Texas A&M vs. No. 11 Michigan, 9 a.m.
No. 2 USC vs. No. 15 TCU, noon
No. 7 Stanford vs. No. 10 North Carolina State, noon
No. 4 North Carolina vs. No. 13 South Carolina, 3:30 p.m.
No. 5 Florida vs. No. 12 Columbia, 3:30 p.m.
No. 1 Ohio State vs. No. 16 UW, 6:30 p.m.
No. 8 Baylor vs. No. 9 Wake Forest, 6:30 p.m.