The club of NCAA women's volleyball champions is an exclusive one.
Only 10 schools belong and a new member hasn't been admitted since Washington won the title in 2005.
Two Big Ten programs are in the club, with conference newbies Penn State (7) and Nebraska (5 — 2 while still in the Big 8) accounting for 12 of the 38 national titles.
The University of Wisconsin has knocked on the door twice, only to be turned away in the championship match by Nebraska in 2000 and Penn State in 2013.
Although reigning champion Stanford is a favorite to repeat this year, the Badgers figure to be in the group of leading challengers, along with the likes of Texas, Nebraska, Minnesota, Penn State and Kentucky.
As practices commenced on Saturday, UW coach Kelly Sheffield discussed five questions about the Badgers, who return all but one starter from the team that finished last season ranked No. 8 with a 25-7 record after being eliminated by Illinois in the Elite Eight.
1. What are realistic aspirations for this year's team?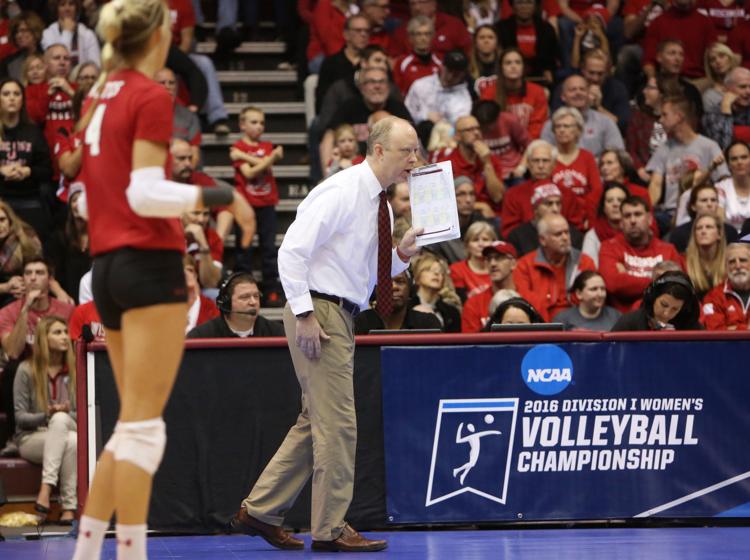 Q. This is a program with high aspirations every season. What are realistic aspirations for this year's team?
A. KELLY SHEFFIELD (above): "There's no question we want to take the next step. Every one of these players wants to take the next step. We've been knocking on the door quite a bit and I think a goal is a Big Ten title; a goal is to get to the Final Four and you want to put yourself in position where you're playing that last match and trying to win the first national championship in Wisconsin history. I think those are reasonable goals.
"There are different goals that we have. There is an end of the road that we put out there. It's like if you're driving to Florida, you know where you're going. But the attention is on the drive there, on the journey. So this is where we're trying to go, but there are so many goals that happen along the way that are very present, so that becomes where our attention is."
2. How will Dana Rettke's national team experience impact her as a player?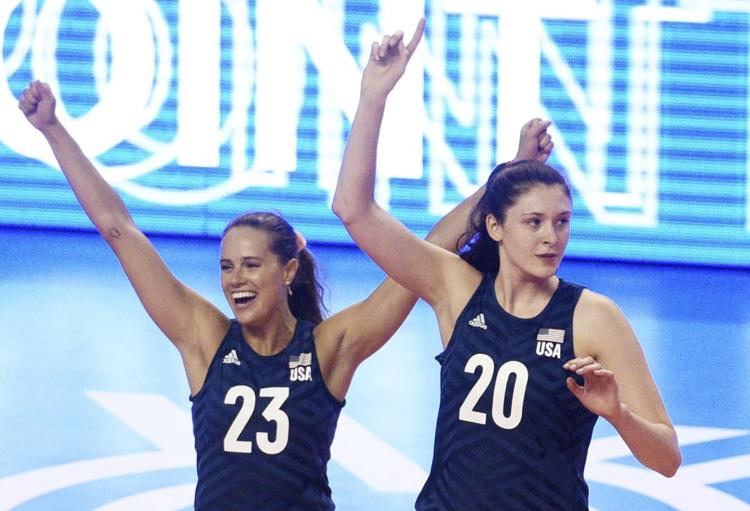 Q: Dana Rettke (above right) has had a rare summer experience for a college junior, playing and training with the U.S. National Team, competing around the world. How will that experience impact her as a player and how do you plan to manage her workload early on?
A. SHEFFIELD: "She was challenged in every way. You're traveling all over the world and playing with and against some of the best players in our sport. I think there are times when that really builds your confidence and there are times when you're like, 'My goodness, I can't get my hands on any ball, I can't get a kill.' It toughens you up. If you can keep your head above water, you come out stronger on the back side. I think she was able to do that.
"We want to make sure she has enough juice in the tank for the season, so she's had last week off and we're giving her the first few days of preseason off. We want her champing at the bit. So I want to make sure I give her ample amount of time to recharge and then build her back into what we're doing."
3. During your summer exhibition tour of Europe, did you see signs of the old Molly Haggerty?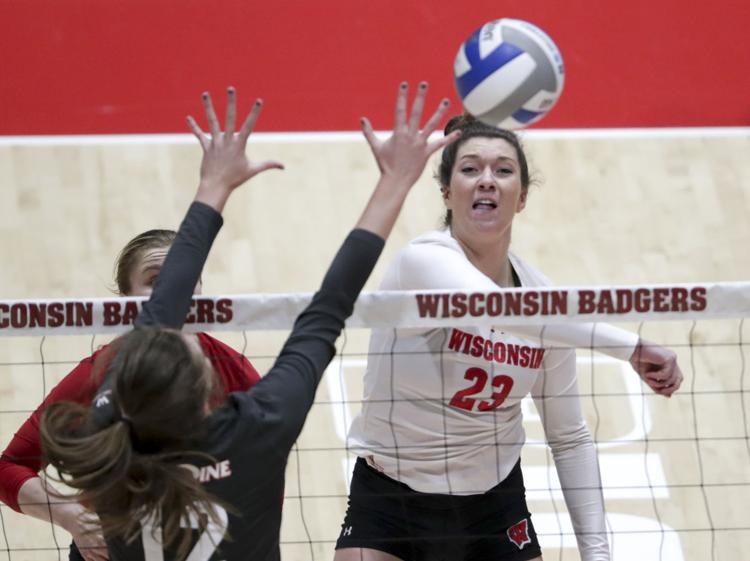 Q: Molly Haggerty (above) had an impact freshman season but then sat out a year following back surgery and had an up and down season last year. During your summer exhibition tour of Europe, did you see signs of the old Molly or even a new-and-improved Molly?
A. SHEFFIELD: "There wasn't a better player on our team in Europe than Molly. The important thing is that she knows it. She knows she was. Her skills, her strength, her athleticism and her game have been improving over the past couple years, but I'm not sure that her inner confidence, her swagger, has been where we want it.
"I see that back and I see that back consistently. There's a lot of strength from her. She's not as dependent on the pats on the back and the pep talks right now. There's a real inner confidence."
4. What are your contingency plans if your depth is tested?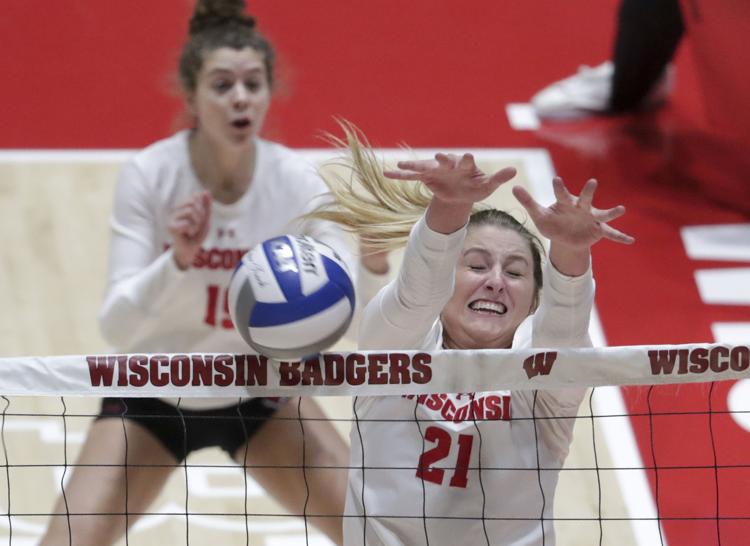 Q: With Molly Haggerty, Grace Loberg (above) and Madison Duello you have experienced, accomplished pin hitters. But with the departure of Mariah Whalen and injuries to freshmen Courtney Gorum and Liz Gregorski, there isn't much depth there. What are your contingency plans?
A. SHEFFIELD: "We don't have depth in the middle either. We'll be fine. Staying healthy is going to be important but we have some flexibility. Before she hurt her elbow, Nicole (Shanahan) was looking really good and she's an option in the middle or on the right. We've got the option of moving Duello over to the left if need be.
"With the development of Mallory (Dixon) and where Izzy (Ashburn) is as a setter, if one of them has to come in and run a 5-1 with Sydney (Hilley) on the right side, we have some options. We can put Danielle (Hart) on the right and Nicole in the middle as well."
5. How can you best make use of your talent in the backcourt?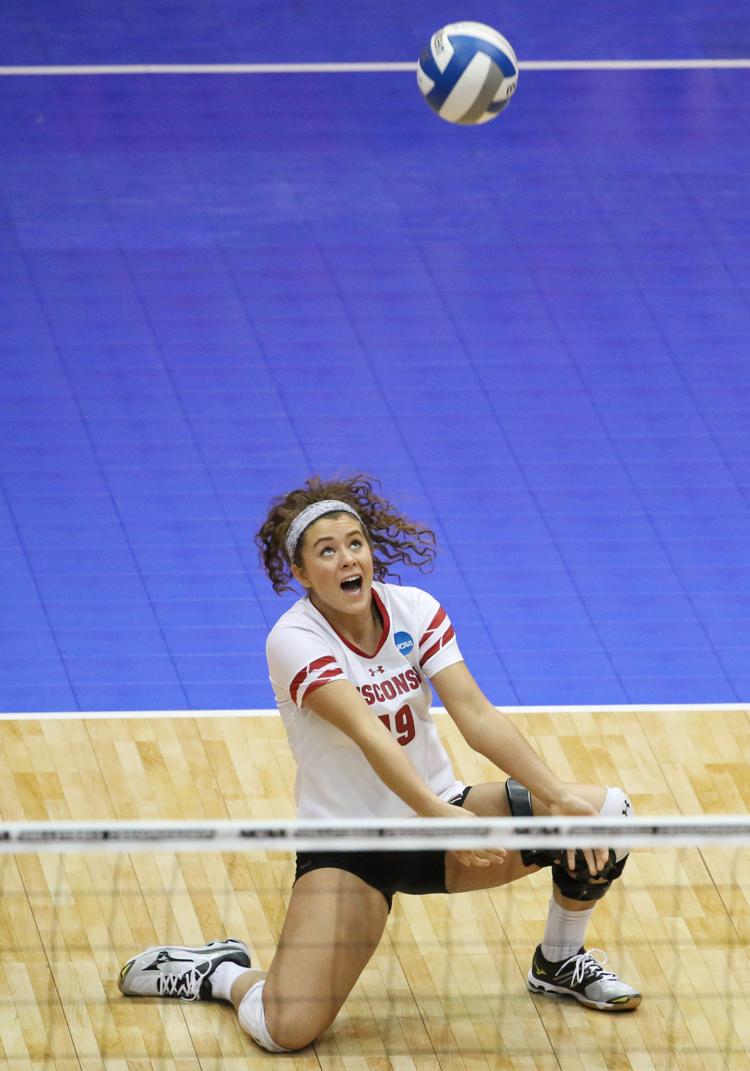 Q: On the flip side, with the addition of Lauren Barnes, you have a wealth of depth at libero with Tiffany Clark and M.E. Dodge (right). How do you view that competition and how can you best make use of your talent in the backcourt?
A. SHEFFIELD: "We view it like competition is a wonderful thing. What I love is that we have players who are wanting that as well. Tiffany and M.E. were probably two of the most welcoming players for Lauren on her visit. If they didn't embrace competition they wouldn't have been like that at all.
"When you've been playing the game long enough, the individual goals take a backseat and it's just about winning at the highest level. We'll be honest and open and it's up to them to perform. If you don't have the role you want at the beginning of the year then keep fighting for the role you want. How you start is not always how you finish.
"The goal for us is to be the best backcourt in the country. That's a challenge that they aspire to be. I feel like we've had some holes in our defense the past couple years. Not that it's been a weakness, we just feel like it could've been better. I feel like we have the personnel in the backcourt to be as good as we've been."