As a young girl growing up — and up and up — in Greece, Martha Anthouli wasn't comfortable with all the attention she attracted.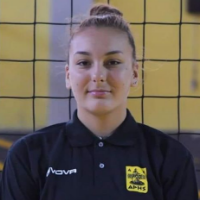 "When I was younger I didn't want to go out at all because people would stare and I was annoyed with that," said Anthouli, who has grown to 6-foot-7 barefoot and 6-8½ with shoes. "But right now I'm really OK with it and it really helps me a lot with volleyball. And volleyball helps with my social life. Every single one of my friends plays volleyball."
Anthouli figures to expand her circle of friends considerably in a couple years when she joins the University of Wisconsin volleyball program as part of the 2022 recruiting class.
Anthouli, who is a couple of weeks shy of her 16th birthday, committed to UW coach Kelly Sheffield last week.
Her commitment culminated a recruiting process that began more than a year ago when Anthouli let it be known that she was looking to come to the U.S. to attend college.
She was one of the main attractions at the European Volleyball Exposure event in Greece in late February and early March, having been voted the Most Promising Prospect at the event the previous year.
She has played on the National Team of Greece with various age groups and was the leading scorer in Europe in the U17 CEV European Championship Qualification Rounds and was named the best opposite in the U16 Balkan Championships.
Coaches attending this year's EVE event couldn't do more than say hello to her but when they were allowed to contact 2022 recruits on June 15, a long list of schools, including Stanford, Texas, Marquette and Pittsburgh, made pitches for her. And others were waiting in line to join the pursuit.
But they all might as well have saved their breath because Anthouli already knew where she wanted to go.
"It didn't matter because I would've chosen Wisconsin anyways," said Anthouli, who had established a relationship with the UW staff last year before the new NCAA rules cut off contact with recruits. "With coach Kelly, I would say we had a real connection. Everyone that I met from the staff is lovely, Brittany (Dildine) and Gary White. Everybody was very helpful explaining the process. They, honestly, were my favorite coaching staff."
The UW staff had a couple other factors working in their favor: their track record of having foreign players on the roster, including 2021 recruit Julia Orzol of Poland; and the success of 6-8 Dana Rettke in developing into a three-time first-team All-American who already has become a presence on the U.S. National Team.
Like Rettke, Anthouli grew up playing a variety of sports, although she never played basketball. "Back then I pretty much tried everything," said Anthouli, who started volleyball at age 9. "I swam for three years. I also did gymnastics for a year, which is kind of surprising."
When she does become a Badger, Anthouli likes the prospect of being only the second-tallest player on a team, with 2021 recruit Anna Smrek having grown to 6-9.
"I'm kind of excited about that," she said. "I've never been the short girl. It's going to be kind of nice."
Anthouli, who lives in Perea, a small suburb of Thessaloniki on the Thermaic Gulf in Northern Greece, stands out in her country, where the average height for women is 5-4.
"We're a nation of short people," said her mom, Anthi, who is an exception at about 5-9. Her dad, Leon, is 6-3.
"My grandpa also was really tall, but I don't know what happened with me," Anthouli said. "I'm extremely tall."
Anthouli said her long-term goal is to have an extended professional career in Europe. But her primary focus right now is to develop her game so she can be an impact player with the Badgers.
"There is a lot of time ahead but I'm making short-term goals and not huge goals," she said. "I'm working on technical stuff about my approach and I really have to work on my vertical jump. I know I'm really tall but I have to improve my vertical."
Anthouli is the second player to commit to UW for the 2022 class, joining 6-4 outside hitter Ella Wrobel of Plainfield, Illinois. Sheffield has one more scholarship available for the class.
Of course, Anthouli isn't the first tall Greek to set a destination of Wisconsin with big dreams and big potential.
She said Milwaukee Bucks superstar Giannis Antetokounmpo is an inspiration to all Greeks.
"He's huge," she said. "He is the most famous athlete from Greece. He's a hero. I would love to get to meet him in real life, but we'll see. It might happen, it might not. It would be amazing, honestly."
Her mom, however, had a slightly different take.
"Who knows, maybe Giannis will want to meet Martha," she said.
Be the first to know
Get local news delivered to your inbox!