GREEN BAY — Aaron Jones was taken aback when he tuned in just before kickoff of Thursday night's NFL season opener between the Kansas City Chiefs and Houston Texans and heard what he heard.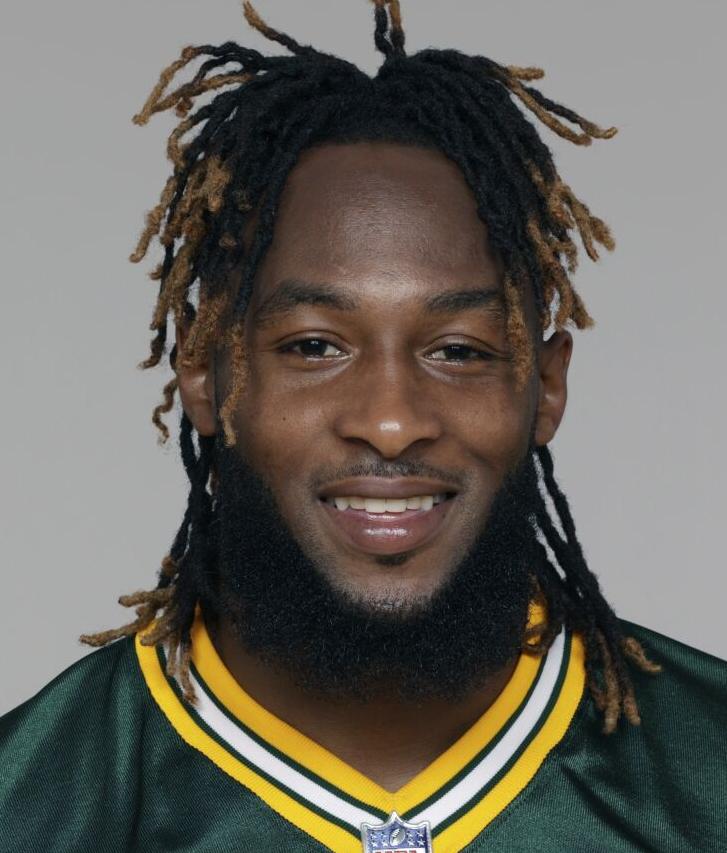 The Green Bay Packers running back, who had been engaged in talks with his teammates throughout camp about how the team could protest racial inequality, social injustice and police brutality in a meaningful way, thought the Chiefs' and Texans' approach — a moment of silence while locked arm-in-arm, an act separate from the playing of "The Star-Spangled Banner" — would be well received. Instead, during NBC's television broadcast, boos could clearly be heard from some fans in the limited crowd inside Arrowhead Stadium.
"It really caught me off guard," Jones said Friday in advance of the Packers' season opener against the Minnesota Vikings on Sunday in Minneapolis. "(Here were) people coming together for one common goal, and during a protest, a moment of silence, people were booing.
"I think that shows they don't have a lot of respect and they really don't care about the name on the back of your jersey or you as a person. (That's what) it feels like when they're booing during those times. We know it's not everybody out there that's like that, so you can't group a group of people into that."
The Packers and Vikings won't have that kind of instant reaction on Sunday, because there won't be any fans inside U.S. Bank Stadium. But just as there were some fans at Lambeau Field who reacted negatively when players and coaches locked arms during the national anthem in advance of the team's Sept. 28, 2017 game against the Chicago Bears, there surely will be some fans who will take exception to whatever the players choose to do.
"Unfortunately, you're not going to be please everybody," Packers coach Matt LaFleur said. "It's still hard for me to understand as people how you can't put yourself into another person's shoes and try to see everything with an open heart and an open mind. I think that's obviously been very challenging for this country and continues to be that way.
"Until people start recognizing that and being more mindful of others and maybe some of their struggles … it is what it is. Certainly, everything that's gone on is very, very difficult for all of us."
Defensive tackle Kenny Clark reiterated Friday what teammates Adrian Amos, Za'Darius Smith and Preston Smith had said a day earlier, that the team was still talking through what type of demonstration it would like to do. Clark praised the Chiefs and Texans for being "united" and doing what they did together.
"With us, we're still talking about everything, about what we want to do," Clark said.
Jones, who grew up in a military family, said he wishes fans could support players without conflating their protests with disrespect for the anthem or the military. His parents served a combined 56 years in the U.S. Army — his father, Alvin Jones Sr., retired as an Army command sergeant major and his mother, Vurgess, as a sergeant major — and dating back to San Francisco 49ers quarterback Colin Kaepernick kneeling during the anthem, he never understood as a Black man why some fans reacted the way they did.
"I think everybody around here, at least in our locker room, we know it's never been about the flag and disrespecting the flag. It was about injustice, police brutality and things like that," said Jones, who was a rookie on that 2017 team. "We knew it was never necessarily disrespecting the flag or towards the military or any of that stuff. Kaepernick let it be known when he first did it as well that what he was protesting. For me, what it was for from the beginning. I know it wasn't disrespecting the flag."
Making 'right' call?
The Packers listed offensive lineman Billy Turner (knee) as doubtful on Friday's injury report, making it unlikely that he'll start at right tackle against the Vikings after not practicing Friday. Turner practiced on a limited basis Thursday while wearing a bulky right knee brace.
That leaves LaFleur with a couple of options: Starting Rick Wagner, the ex-University of Wisconsin tackle who was signed in March after being cut by the Detroit Lions, or shifting one of his guards — Elgton Jenkins or Lane Taylor — out to right tackle and starting one of his backup guards such as Lucas Patrick or rookie Jon Runyan.
"That's something we're always going to be kind of looking at and evaluating and trying to do what's best for us," LaFleur said. "Billy will be doubtful for the game, and that's where it lies."
Wagner didn't have a particularly strong camp after not getting any on-field work this offseason because COVID-19 forced the offseason program online. Wagner also missed a week of the truncated training camp with a left elbow injury.
"There were certainly some challenges there," LaFleur said of Wagner's camp. "Anytime you're not out on the grass and not getting those meaningful reps, it does set you back. But Rick's a pro. We've got a lot of confidence in him. He's started a lot of games in this league and he's done it at a high level. We're trying to find the best five to go out there and compete against a very good Minnesota Vikings defense."
The Packers ruled out outside linebacker Randy Ramsey (groin), listed defensive tackle Montravius Adams (toe) as doubtful and listed safety/inside linebacker Raven Greene (quadriceps) as questionable. Inside linebacker Oren Burks (groin) was removed from the report.
After placing pass rusher Danielle Hunter on injured reserve earlier in the week, the Vikings don't have anyone on their report.
Nothing cooking
Jones created a bit of a stir earlier in the week when he appeared on the NFL Network's "Good Morning Football" show and said his agent, Chris Cabott, was in talks with the Packers on a contract extension. Turns out, there haven't been any significant recent developments on that front, and no new deal for the soon-to-be free agent is imminent.
"I have no clue. I haven't talked to Chris in the past couple of days, so I'm just going to prepare for this game as any game and just go out there and focus on football," Jones said. "And whenever Chris calls me, he calls me."
Jones said he's still hoping for an extension before the season ends but said he realizes that might not happen. Left tackle David Bakhtiari, who is also in the final year of his contract, said he is expecting to play out the rest of the season as well.
"We'd love to get that contract done as soon as possible, as anybody would," Jones said. "I know it's a process, so I'm just going to wait until it's my time. I understand how it works."
---
Three things to watch in Sunday's game vs. Vikings
1. SOMETHING COOKING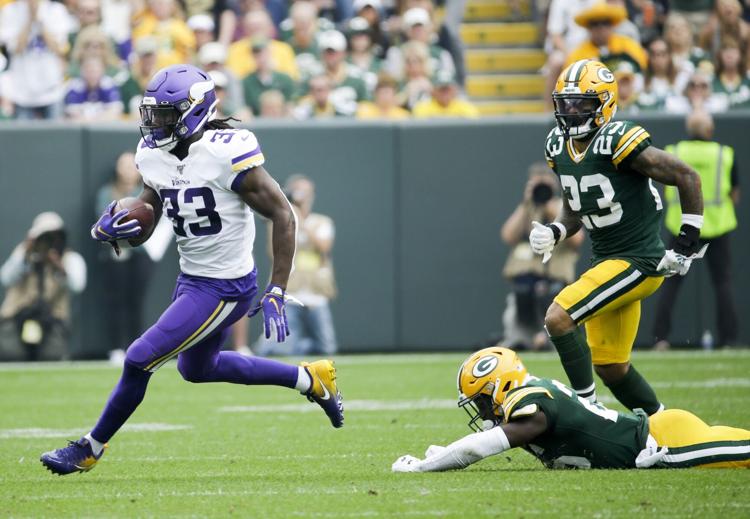 Everyone remembers what happened against the 49ers, of course, with Raheem Mostert running through the defense for 220 yards and four touchdowns as part of a 285-yard 49ers ground assault. And as they enter a new season, the Packers know that opponents will likely run on them until they prove they can stop the run. And defensive coordinator Mike Pettine believes they will stop it.
"We feel good about where we are," Pettine said at midweek. "From a run defense standpoint, just some of the tweaks we've made, some of the subtle changes that we've made, some of the things we put in, some of the things we've taken out, I think we're excited about it because we certainly know it's going to get tested. It's going to get tested right out of the gate on Sunday."
The Packers' only notable personnel change since that fateful day in the Bay Area was replacing inside linebacker and defensive communicator Blake Martinez with ex-Cleveland Browns linebacker Christian Kirksey, who played for Pettine in Cleveland.
"I think when it all comes down to stopping the run, having a good run defense is just attitude," Kirksey said. "Are guys all willing to stay in their gap? Make sure they're responsible for holding their gap? Are guys willing to stop the run? There's no secret formula to it. I think the guys are fully invested into understanding that teams are going to try to run the ball. And it's our job to stop 'em. I wasn't a part of the San Francisco game, but I can just see that guys are really putting a special emphasis on stopping the run here."
2. GETTING DEFENSIVE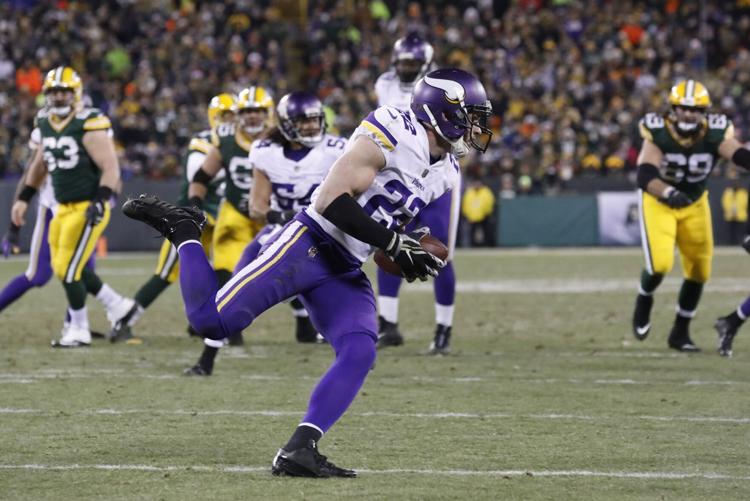 Defense has long been the Vikings' calling card under head coach Mike Zimmer, who is entering his seventh season in Minnesota. Last year, the Vikings finished fifth in scoring defense, 14th in total defense, fifth in sacks and fourth in takeaways. But the group will have some noticeable personnel differences this time around, with recently acquired Yannick Ngakoue having replaced Everson Griffen as one of the edge rushers; sack leader Danielle Hunter (neck) on injured reserve to start the season; and the cornerback position having been remade with new starters Mike Hughes and Holton Hill and sub-package corners Jeff Gladney, Cameron Dantzler and Harrison Hand.
But there are still holdovers, including all-pro safety Harrison Smith (above), who leads the re-imagined unit.
"He's obviously a familiar face," Packers quarterback Aaron Rodgers said. "(Xavier) Rhodes and (Trae) Waynes are gone, but it's still the same linebacker crew with (Eric) Kendricks and (Anthony) Barr inside, who have been very consistent for so many years. Really good, heady football players — smart, tough, instinctive. Having (Kendricks) and Harrison there together for so many years I'm sure gives Mike confidence that it doesn't matter who they put in there. They're going to be able to execute what he wants to do."
That said, the Packers coaches did find it challenging during the week that with such scant film on the Vikings' cornerbacks, prepping for what they do best and what their weaknesses might be was a challenge.
"The guys they had last year were pretty darn good, too," Packers head coach Matt LaFleur said. "There's a lot of unknown with the new guys, but we're anticipating that they're not going to miss a beat. That's a really well-rounded defense. They've got stars on all three levels and we know that in order to go out and do our best, we've got to be prepared and put our best product out on the field."
3. MISSIN' COUSINS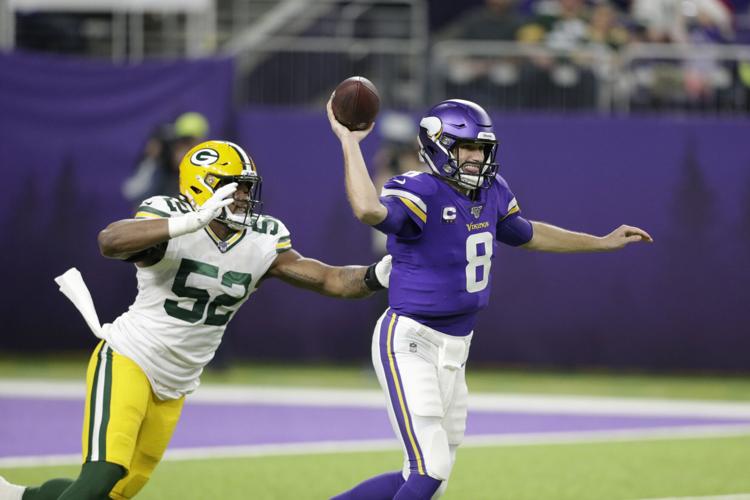 LaFleur has plenty of history with Vikings quarterback Kirk Cousins (above), having been the Washington Redskins' quarterbacks coach when the team drafted Cousins in the fourth round out of Michigan State — the same year the team picked Baylor's Robert Griffin III with the No. 2 overall pick.
"We talked about it from the day we drafted him, just his approach to the game is, it's rare," LaFleur said. "He does everything in his power to be at his best and you could see that early on in the process, just the amount of time that he would spend post-practice, the amount of time that he would spend in the film room, just watching tape, the types of questions he would come back on a daily basis (with). And, he's got elite arm talent. The guy's a natural thrower, he can hang in the pocket, he can make very tight-window throws, so it's definitely not a shock to me that he's progressed to being the kind of quarterback that he is today."
Nevertheless, Cousins hasn't always been good enough in his matchups with the Packers, with his teams going 2-3-1 against them (including playoffs) in games he's started. And for as good as Cousins was statistically last season, when he threw for 3,603 yards with 26 touchdowns and just six interceptions for a passer rating of 107.4, he was just 30 for 63 for 352 yards with two touchdowns and three interceptions (55.8 rating) against Green Bay.
"You're aware of how you need to be better," Cousins said. "I think they did a great job defensively. We've got to have a great plan and we have to go execute that plan. We can't afford to waste plays or make mistakes or turn the ball over. It's about many of the same things it's always about — protecting the football, running the football, time of possession. If you do those things, you give yourself a chance against a really good defense."
---
Jason Wilde covers the Packers for ESPN Wisconsin. Listen to him with former Packers and Badgers offensive lineman Mark Tauscher weekdays from 9 a.m. until noon on "Wilde & Tausch" on 100.5 FM ESPN Madison.
Be the first to know
Get local news delivered to your inbox!