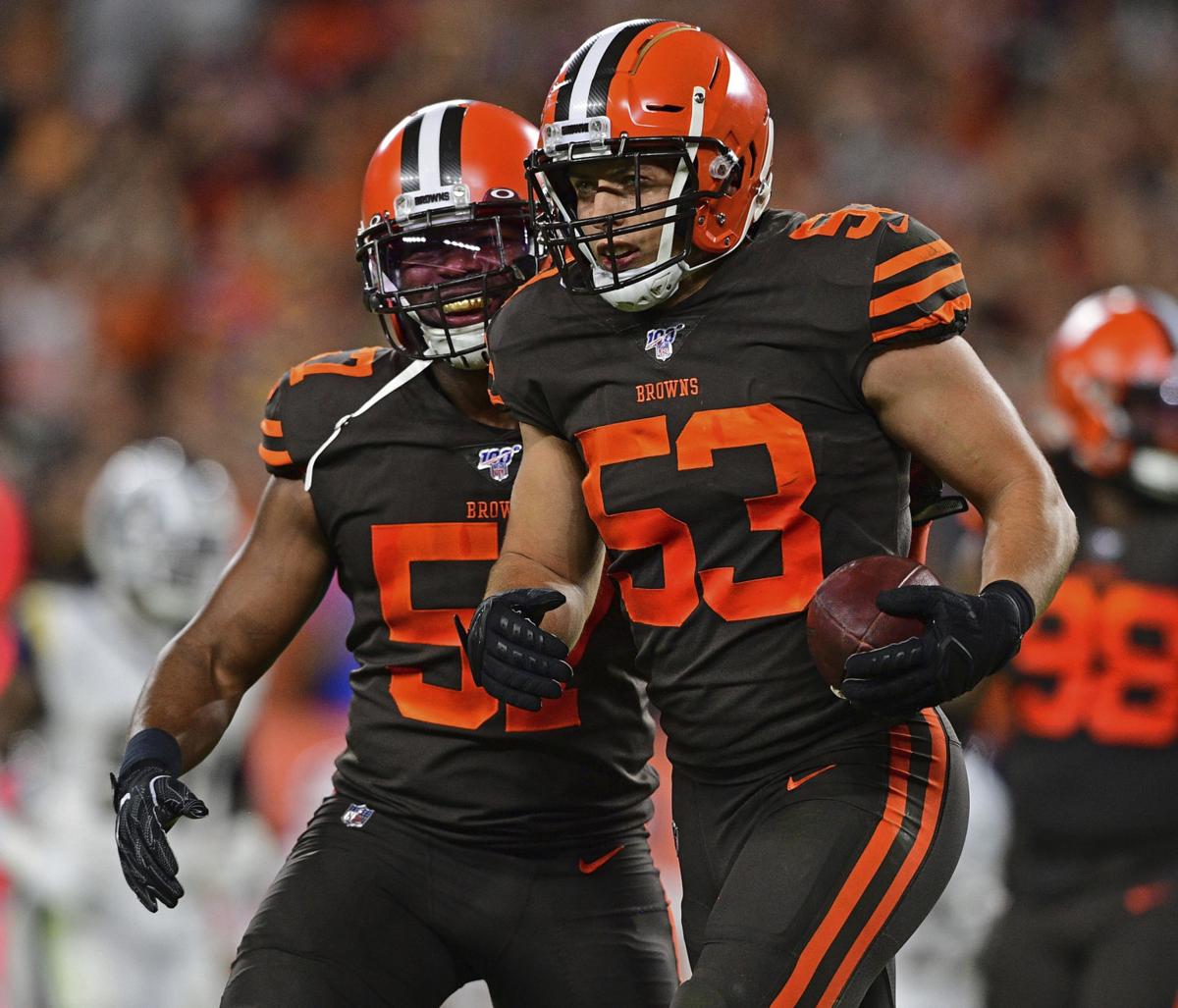 GREEN BAY — Joe Schobert considered the question and searched for the most diplomatic answer he could.
Certainly it's been nice having Grandma and Grandpa to lend a helping hand with baby Simon, who was born on March 14. And his wife Megan's parents have been generous in allowing the ex-University of Wisconsin linebacker to commandeer the basement of their Waukesha home and turn it into a makeshift gym so he can get his offseason workouts in.
But had Schobert known the COVID-19 crisis was going to force Wisconsinites to shelter-in-place for the next month, would he have agreed to move into his in-laws' home while he was in-between NFL gigs?
"If I knew I was going to be quarantined?" Schobert said as he contemplated the question during an interview Wednesday morning on ESPN Wisconsin. "We probably would have tried to buy a house or something so we could just have our own space and do with it as we wanted. But I think in the circumstances, it's worked out quite nicely."
So is the former Badgers standout's football career — even though it didn't lead him back to Wisconsin with his home-state team, the Green Bay Packers.
Even though the Packers did have interest in Schobert in the weeks leading up to free agency, the Cleveland Browns-turned-Jacksonville Jaguars linebacker said Green Bay dropped out of the running for his services before last week's free agent frenzy began. Schobert said he didn't hear from the Packers after they initially expressed interest at the annual NFL scouting combine last month, and when they signed his ex-Browns teammate, Christian Kirksey, as a less expensive option at the position, he knew the Packers were out of the running.
"That put it in my mind, 'Well, that means they're probably not going to want to make too many other moves in free agency at linebacker if they've already signed Kirko,'" Schobert said. "We talked to them a little bit at the combine beforehand, and they were interested, but I think they kind of decided to go that way."
Schobert, meanwhile, had multiple teams bidding for his services until he and his agent whittled the options down to two teams: the Jaguars and the Cincinnati Bengals. In the end, Schobert opted for Jacksonville, which gave him a five-year, $53.75 million contract with $22.5 million guaranteed at signing. He agreed to the deal four days after Simon arrived — three weeks before Megan's due date.
"This last week and a half, it's been quite a crazy ride," Schobert said. "I think Simon was born in the hospital the same day the NBA was shut down, and then free agency was four days later. It's been quite crazy in terms of over-the-phone texting, calling, contract details. Everything has changed. But then at the same time, except for having a newborn, I've been home. I think I left the house once last week. So not much has changed. I'm just enjoying working out in the basement, going for runs in the neighborhood. That's about it."
In four years with the Browns, the 6-foot-1, 245-pound Schobert played in 61 of a possible 64 games, recording 394 tackles, 8.5 sacks, six interceptions and seven forced fumbles. In Jacksonville, he'll play mike linebacker in a 4-3 scheme, but he certainly would have fit well in defensive coordinator Mike Pettine's hybrid 3-4 scheme had the Packers been willing to invest more money at his position.
Instead, they allowed starter Blake Martinez to leave in free agency for a three-year, $30 million deal with the New York Giants and let B.J. Goodson leave for a one-year, $2.4 million deal with the Browns while the Jaguars invested in Schobert and the Las Vegas Raiders gave ex-Chicago Bears inside linebacker Nick Kwiatkoski a three-year, $21 million deal ($13.5 million guaranteed). Interestingly, Schobert (No. 99 overall), Goodson (No. 109), Kwiatkoski (No. 113) and Martinez (No. 131) were all taken in the fourth round of the 2016 NFL draft.
The Packers appear set to go with Kirksey, who they got at a relative bargain rate (two years, $13 million) because of his injury issues the past two seasons, along with former draft picks Oren Burks and Ty Summers at the position. Schobert, who played with Kirksey in Cleveland, gave his former teammate rave reviews Wednesday and said he believes the injuries, which limited Kirksey to nine games over the past two seasons and just two games last year, were flukes.
"Kirko's just a really instinctual linebacker who can really fly around the field, make a lot of plays and he's going to bring a lot of good energy and good leadership to your team," Schobert said. "He's the type of player your teammates always love to have in the locker room, on the field, and he makes a lot of plays. He's been a little bit unlucky the last couple of years obviously getting hurt, but I think the four years before that, he hardly missed any games at all.
"I think it's just a little more of a bump in the road for Kirko the last couple years than a pattern that's going to be repeated for the rest of his career. He'll be good, and healthy. I know he's raring to go and play football because he hasn't played a lot of games the last two years. So he's going to be really eager to get back on the field. And when he does, he'll make a lot of plays for the Packers, I'm sure."
That's surely what the Jaguars are expecting from Schobert as well — once he's able to move out of his in-laws' basement and get to work, of course. For now, he's content to change diapers, work out as best he can and wait like everyone else for life to return to normalcy.
"I brought a bunch of weights back from NX Level, because I think they're going to be forced to close here soon," Schobert said of the Waukesha-based sports performance facility that has trained a host of NFL players, including J.J, T.J. and Derek Watt. "And then I bought a barbell rack from Amazon, I have a medicine ball, I have a couple little mats on the floor, and then there's a park right next to us so I have some cones and an agility ladder so I can get some footwork stuff in at the park and some running in. And then there's a big ol' hill down the street that I can run up if I need to."
"I don't know how many diapers I've changed so far. it seems like quite a lot. It's surprising that a little kid can go through that many diapers. He's already gone through one whole box and it's been a week and a half," Schobert said. "I think I do a pretty good job getting him changed and getting him wrapped up in his swaddle, putting him down for naps and stuff."
Be the first to know
Get local news delivered to your inbox!