Packers at 100 | Ranking the five most important defensive players in Green Bay history
As the Green Bay Packers prepare to mark the 100th anniversary of the franchise's founding on Sunday, Jason Wilde ranks the five best defensive players in Packers history. 
5. LeRoy Butler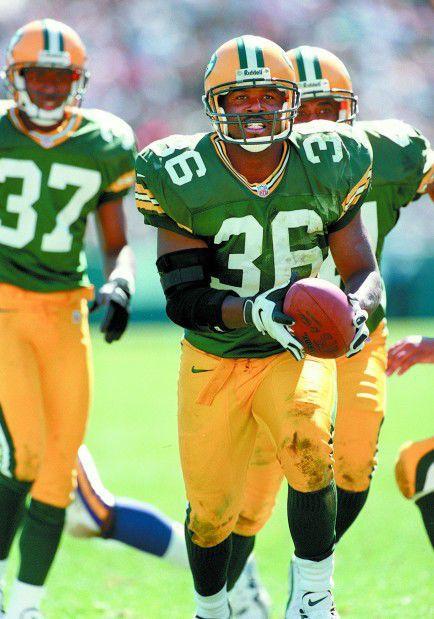 Once legendary Lombardi-era guard Jerry Kramer got his Pro Football Hall of Fame gold jacket in 2018, most Packers fans turned their attention to another one of their favorites who remained on the outside looking in to Canton: safety LeRoy Butler.
Whether Butler will ever get his Hall pass at a position historically overlooked by the selection committee — and one with a logjam of other qualified candidates — remains to be seen. But ex-Packers head coach Mike Sherman, who was around Butler for four NFL seasons — two as an assistant under Mike Holmgren in 1997 and '98, and two as head coach in 2000 and '01 before Butler's career ended — probably said it best when it comes to the loquacious playmaking safety.
"As far as loving the game, loving his teammates, loving the Packers and loving the fans," Sherman once said, "he's in a class all by himself."
There's no doubt about that, as Butler, nearly two decades after playing his final snap for the Packers, remains one of the franchise's most beloved retirees. And there's certainly an argument to be made that Butler revolutionized the safety position during a 12-year career that saw him earn four All-Pro nods and four Pro Bowl berths.
A second-round pick from Florida State in 1990, Butler played his first two seasons at cornerback before general manager Ron Wolf hired Holmgren in 1992. Holmgren's defensive coordinator, Ray Rhodes, decided to move Butler to safety, where he'd spend the next 10 years. While Butler moved in part to make room for rookie cornerback pick Terrell Buckley, Rhodes also loved the idea of using Butler's diverse skill set at safety.
"It comes down to this: When I got the phone call to move to safety in 1992, safeties weren't doing the things they're doing now," Butler said. "Ray Rhodes had this vision. Go back to before 1992, and see how teams were playing safeties and how I played — close to the line, making sacks, covering tight ends and third receivers. Troy Polamalu, Brian Dawkins — the recipe for how those guys played was the one we put out there in the 1990s."
Butler's case would have been strengthened had his career not been cut short by the fractured left shoulder blade he suffered late in the 2001 season, leading to his retirement in July 2002, one day shy of his 34th birthday. Butler, who had started 116 straight games before the injury, wound up two interceptions shy of becoming the first player in NFL history to record 40 or more interceptions and 20 or more sacks in his career.
"He was the quintessential safety," Wolf said. "He could do everything you needed a safety to do — he could play at the line of scrimmage, he could tackle, he could cover man-to-man, he could dog (blitz). He had no weakness."
4. Herb Adderley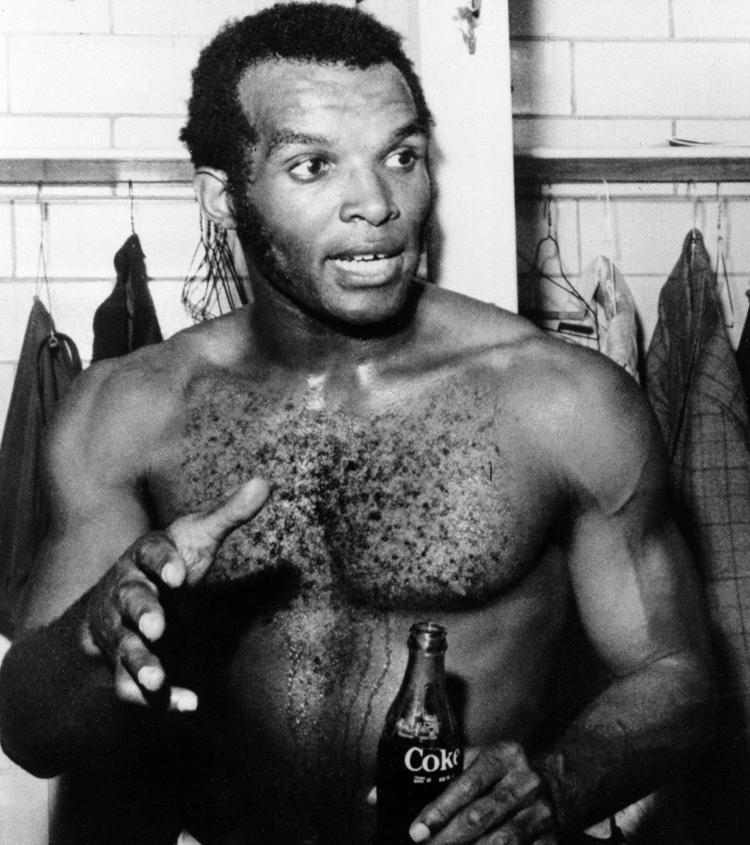 The Lombardi-era Packers had so many great players on defense — from linebacker Ray Nitschke to defensive end Willie Davis to safety Willie Wood to defensive tackle Henry Jordan to linebacker Dave Robinson, Pro Football Hall of Famers all — that this list could have been compiled solely of defensive players on those teams.
But as good as they all were, this list had to include Adderley, a shutdown, big-play cornerback who could have played in any NFL era and dominated in the secondary. Just ask Robinson.
"He was the best I played with," Robinson said. "And I played with a lot of guys."
The 6-foot, 205-pound Adderley had the kind of speed and size NFL teams still seek at the position today. He was also instinctive and tough, with a knack for making things happen. He finished his 12-year NFL career with 48 interceptions, including 39 with the Packers. He returned seven of those for touchdowns.
A starter on all five of Lombardi's championship teams before playing his final three seasons with the Dallas Cowboys, where he won a sixth title, Adderley was named to the NFL's 1960s all-decade team, was a five-time All-Pro pick and five-time Pro Bowler. He also played in four of the first six Super Bowls, including two with the Cowboys.
And Adderley, who was inducted into the Pro Football Hall of Fame in 1980, was as dominant as he was during his Packers career while playing almost exclusively man-to-man coverage — something Lombardi demanded.
"We played 99% man-to-man. We didn't play zone," Adderley told Packers team historian Cliff Christl in 2014. "Lombardi said, 'Gentlemen, we're not playing zone. You have to be held accountable. I want to know who is covering these guys.'"
3. Charles Woodson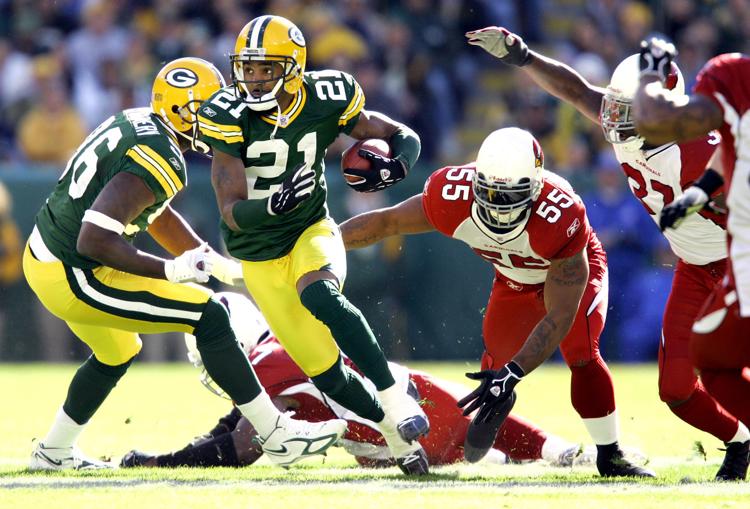 When Aaron Rodgers was backing up Brett Favre at quarterback in 2006 and 2007, there was nothing Rodgers worried about more during his days on the scout team than throwing an interception to Woodson. Viewing those snaps as a proving ground where he could show his teammates and coaches he was a worthy successor to Favre, Rodgers desperately wanted to avoid the kind of mistakes he knew Woodson would capitalize on.
"He made me a lot better player," Rodgers said. "If you weren't aware of where he was at (on) every single rep, he'd make you look bad. When you're a backup, you care so much about how those practices go, and the last thing you want is to see Charles holding that ball up after an interception and tossing it back to you.
"He made everybody better when he was here."
Woodson, meanwhile, made himself his best self during his seven seasons in Green Bay, putting together a Pro Football Hall of Fame-worthy résumé that he didn't have before joining the Packers.
In his first eight seasons in Oakland, where he earned four Pro Bowl berths, Woodson intercepted 17 passes, forced 14 fumbles, had 5.5 sacks and scored two defensive touchdowns. In seven seasons in Green Bay, Woodson was also selected to four Pro Bowls, but he had 38 interceptions, 11.5 sacks and 10 defensive touchdowns. He was twice a first-team All-Pro, won the 2009 NFL Defensive Player of the Year award and during the 2010 Packers' run to the Super Bowl XLV title, Woodson set career highs in tackles (105) and forced fumbles (five).
As good as Woodson was during his time in Green Bay, Rodgers said he believes the leadership lessons Woodson provided were even more valuable, especially during the team's Super Bowl season.
"If I think about some of my favorite teammates that I've been able to have here, obviously Charles would be in the top two or three," Rodgers said. "Just his presence around here — obviously his talent was incredible — but his presence, his leadership and especially the run we had in the Super Bowl, he was such an important part of that. It was difficult to see him go (in 2013).
"He was a great leader for us at a time when we needed that type of leadership and he took us to a special place. We had a lot of memories together."
2. Reggie White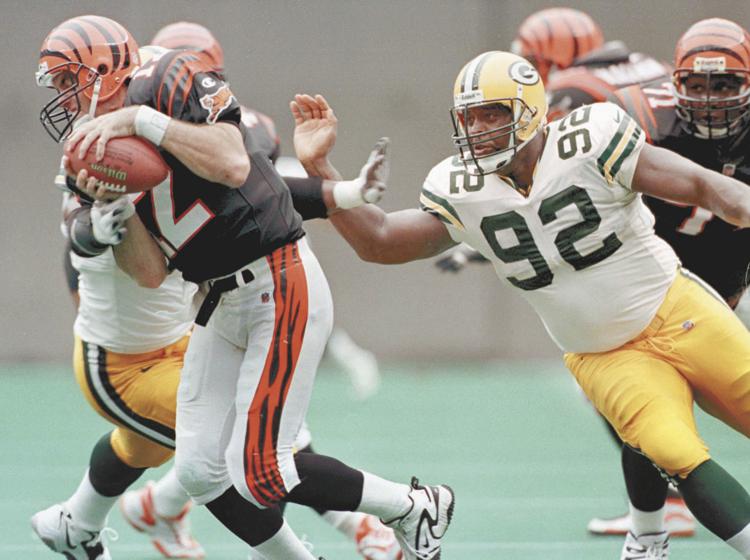 The first and possibly most important moment in the Packers' free-agent recruitment of the legendary defensive end came at Milwaukee County Stadium on Nov. 15, 1992. White's Philadelphia Eagles were playing Brett Favre's Packers, and on the first play of the Packers' second possession of the game, White beat Packers right tackle Tootie Robbins, slammed a scrambling Favre hard to the turf and ...
"He separated my shoulder," Favre recalled, smiling and patting his non-throwing left shoulder. "But I wasn't going to let him know he hurt me."
As it turned out, White did know and was impressed by what he saw next: Favre played through the injury and, after the Packers blew a 21-10 lead to trail 24-21 with 5 minutes, 45 seconds left to play, he led the offense to a pair of Chris Jacke field goals, the second of which was a game-winning 41-yarder as time expired.
"That was the game that proved to me that Brett was going to be the player that he (became)," White said before his death in 2004 at age 43. "I mean, he came out and I knew I had separated his shoulder. When he came back out (and played), the first thing that ran through my mind was, `This guy's going to be good.'"
Five months later, White hit the open market as the NFL's first big-time free agent, and one of the most feared defensive players in NFL history wound up choosing the Packers, signing a four-year, $17 million contract to play with the swashbuckling quarterback who'd gotten his attention. White and Favre led the 1996 Packers to the Super Bowl XXXI title, and White, who had 68½ of his 198 career sacks with the Packers, proved to be the perfect fit in tiny Green Bay.
White, who was on the NFL's all-decade teams for the 1980s and 1990s and was posthumously inducted into the Pro Football Hall of Fame in 2006, retired after the 1998 season, during which he won the NFL Defensive Player of the Year award for his 16-sack performance.
He had second thoughts about retirement, however, and before coming back to play for the Carolina Panthers in 2000, he'd actually wanted to play again for the Packers, only to learn the team didn't have salary-cap space to bring him back for the 1999 season. The Packers said no thanks again in 2000, but White and the organization were on good terms when he passed away.
"He was like a big brother to me, taught me a lot, not only on the field but in life," said Vonnie Holliday, the Packers' 1998 first-round pick who was mentored by White during his rookie season. "I just wish I could have come into the league a little earlier to have an opportunity to play a little longer with him."
1. Ray Nitschke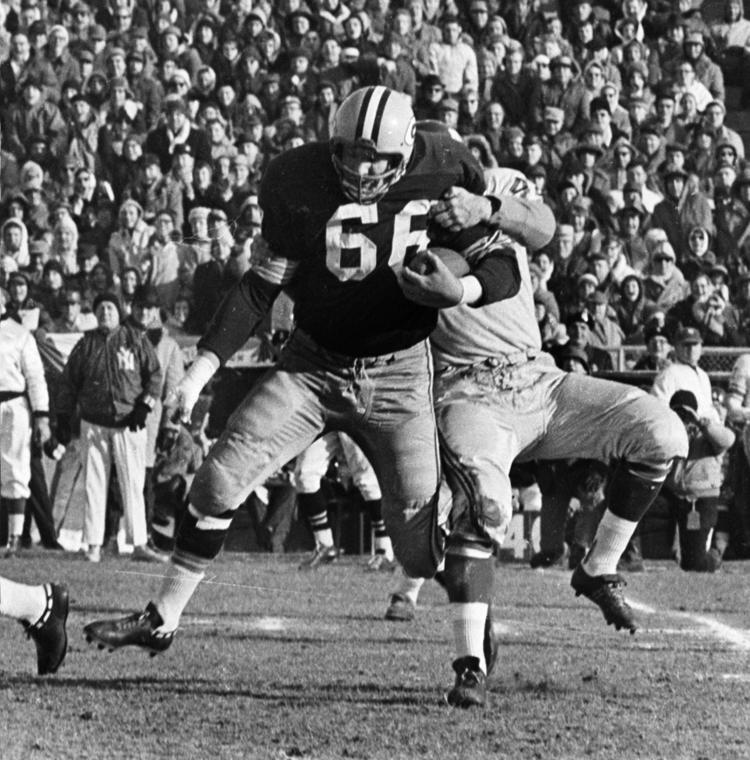 He is in the Pro Football Hall of Fame, having been inducted in 1978. His No. 66 jersey is retired and hangs on the Lambeau Field north end zone façade. He was the only linebacker on the NFL's 50th anniversary team, compiled in 1969, and was chosen for the league's 75th anniversary team in 1994, too. And yet, Nitschke was picked for the Pro Bowl ... once?
Now there's an odd piece of Packers trivia for you.
Part of the Packers' remarkable 1958 draft class, the all-time tough Nitschke — his autobiography was called "Mean on Sunday" — didn't become the face of the Packers' Lombardi-era defenses until later in his career. He couldn't crack the starting lineup until late in the 1960 season — former first-round pick Tom Bettis staved him off for much of Nitschke's first two-plus NFL seasons — and when Nitschke was called up for active Army reserve duty in 1961, he went back to sharing time with Bettis because of all the time he missed while on duty. (Nitschke was able to secure weekend passes from his post in Washington state and did play in all but two games, but missed significant practice time.)
Nitschke finally became the full-time starter in 1962 after Lombardi traded Bettis, and earned his first Pro Bowl nod in 1964. Then, in 1965, the Chicago Bears drafted Dick Butkus, and Butkus was chosen for the next eight Pro Bowls at middle linebacker, from 1965 through 1972.
Nevertheless, Nitschke deserves the top spot on this list. When Packers historian Cliff Christl asked Phil Bengtson, the Packers' defensive coordinator under Lombardi and his hand-picked successor when he retired from coaching, who was his best player on defense, Bengston said Nitschke.
Before his death in 1998 from a heart attack at age 61, Nitschke was among the 1996 Packers' most ardent supporters during their run to Super Bowl XXXI. On the same Lambeau Field frozen turf where he had played in the iconic Ice Bowl, Nitschke stood and shed a tear as the final seconds of the Packers' 1996 NFC Championship Game victory over the Carolina Panthers ticked away.
And before the Packers beat the New England Patriots for the franchise's first title since the Nitschke-led 1967 Packers won Super Bowl II, White spoke of his interactions with Nitschke leading up to the big game.
"Ray Nitschke, Willie Davis, Bart Starr, they come around," White said. "Nitschke, he's really intense. He'll come over and smack you in the face and say, 'You can't lose this game.' He's like a coach, but after a while you say, 'Ray, you got to stop smacking me.'"
---
Jason Wilde covers the Packers for ESPN Wisconsin. Listen to him with former Packers and Badgers offensive lineman Mark Tauscher weekdays from 9 a.m. until noon on "Wilde & Tausch" on 100.5 FM ESPN Madison.