Three things to watch when Green Bay Packers host Chicago Bears
Jason Wilde breaks down three keys for the Green Bay Packers when they host the Chicago Bears in an NFC North showdown on Sunday at Lambeau Field in Green Bay. 
1. LONG TIME, NO SEE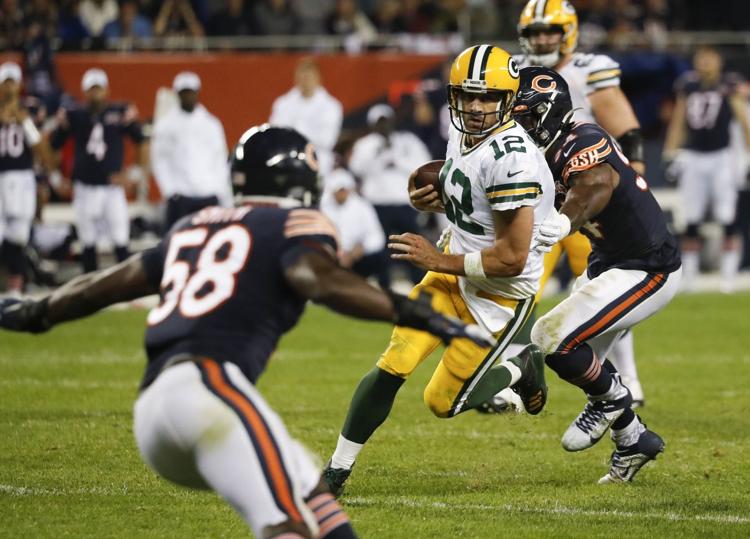 The NFL's 100th season kickoff game seems like, well, ages ago — actual time elapsed: 99 days — and while the Packers' 10-3 victory over the Bears at Soldier Field that night certainly holds value in the standings, the actual value of looking back on that game for insight into this matchup is minimal. While the Packers have been remarkably fortunate on the injury front, the Bears have not, having lost inside linebacker Roquan Smith for the rest of the season and set to be without several other starters, including fellow inside linebacker Danny Trevathan, this week.
Moreover, the opener provided an interesting preparation dichotomy: More time to prepare than for any other game of the season, but less knowledge of the opponent because there was no 2019 film to scout. Now, both teams had 13 games of film to work off of in game-planning, and the staff that did a better job in that department will have the upper hand. That'll hold true for the Packers again next week, when they face the Minnesota Vikings on Monday Night Football after seeing them in Week 2 earlier this year.
"I think this is a really unique situation because when we first went into that Chicago game, their defensive coordinator (Chuck Pagano) hadn't been a coordinator in a long time, so there were a lot of questions that were up in the air," Packers offensive coordinator Nathaniel Hackett said. "I think now you can kind of look back at the whole season and see what they've done and it kind of clarifies — or doesn't clarify — some of the things that we had seen going into that first week. So it allows us to kind of focus in on some specific things."
Packers defensive coordinator Mike Pettine's group dominated in the opener, as Bears coach Matt Nagy had quarterback Mitch Trubisky dropping back to pass a whopping 50 times. That's unlikely to be the game plan this time around.
"Given that they were the opener, a lot of your offseason is always spent on your first handful of opponents. And then throw on top of it, it was two division teams. So we invested a lot of time in the offseason, and then throughout training camp for both of those teams," Pettine said of the Bears and Vikings. "So you get a pretty good sense, and you get into some pretty detailed stuff, when we really drill it down. Because you're spending so much time on them.
"After you play them, we always do an 'after-action' report anytime there's a chance we're going to play somebody twice where we take detailed notes. Did we get what we expected? What will we do different the next time? So we kind of have to blow the dust off of those (Bears and Vikings reports) since it was so long ago. They've changed in some ways, and then in some other ways they've stayed the same. I'm sure they see us the same way, where we've evolved over the season."
2. KEEPING UP WITH THE JONESES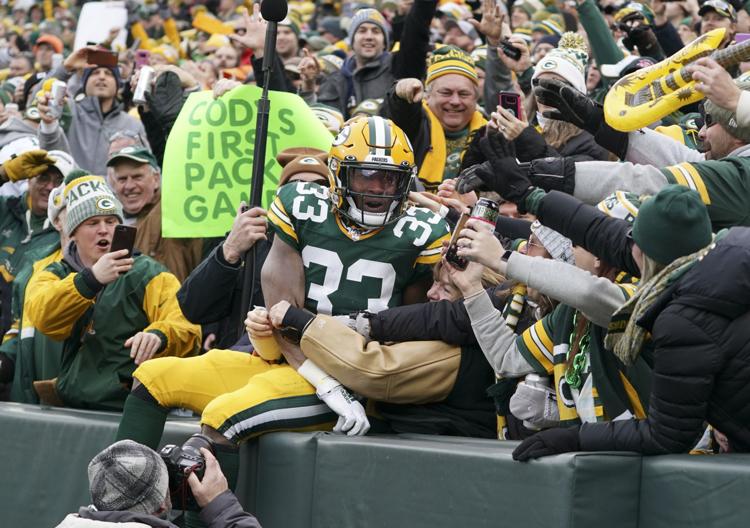 Packers running back Aaron Jones (above) is coming off his fourth game this season in which he accumulated 150 or more yards from scrimmage. And that might be … a bad thing?
Yes, with 16 carries for 134 yards and a touchdown, and six receptions for 58 more yards, Jones largely carried the Packers' offense last week against Washington. The problem is, the previous three times he had big games, his numbers flatlined the following week
In Week 2 against the Vikings, Jones had 150 total yards on 27 touches. Week 3? Just 23 total yards against Denver on 11 touches. In Week 5 against the Dallas Cowboys, he had 182 total yards on 26 touches. Week 6 against Detroit? Only 60 yards on 15 touches. And what happened in Week 9 after Jones put up a season-high 226 total yards on 20 touches in a win at Kansas City? He managed a meager 29 yards and got only nine touches in a loss to the Los Angeles Chargers.
For the Packers to beat the Bears, Jones will clearly need 20-plus touches and need to be productive with them.
"It's been a lot of different things," Hackett replied when asked about that troublesome pattern. "I think we always want to try to get him right around the 20-touch world if we can. Sometimes the things that we are trying to get him the ball are good. And whether it be taken away or something else happens, it just doesn't work out like that. Or (No. 2 running back) Jamaal (Williams) is going in there and he's the hot hand. So it's one of those things, we want to get him those 20 touches because he is electrifying. It's fun to watch him out there, and we're going to continue to try to do that."
Added Packers head coach Matt LaFleur: "If the run game's going, that affords more opportunities to try to get him involved. I think on a weekly basis in terms of the pass game, it's just (dependent on) what type of coverages are they playing and how can we get him involved. But we're always looking for different ways. If the run game's going, it's much easier to get him his touches."
3. SPECIAL CIRCUMSTANCES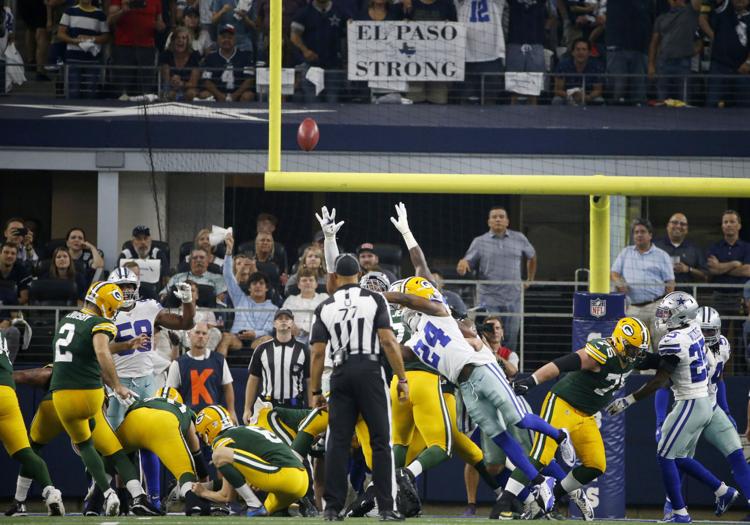 One game does not a turnaround make, and no one knows that better than LaFleur, whose anyone-can-do-it-once philosophy is one he uses to challenge players and position groups alike. And that's how LaFleur is viewing the Packers' special teams units, which got a huge lift from new punt returner Tyler Ervin last week, has been more consistent in the coverage game and even saw punter JK Scott seemingly snap out of his late-season slump.
"I think we've definitely improved," LaFleur said. "But you're only as good as your last game, and I know there's more out there for us. We've got to keep continuing to get better and each and every day — dig at the details, because you've got to be consistent. Two good games doesn't mean you've arrived by any stretch. You've got to keep doing it each day. We'll keep striving for that."
The one constant this season has been kicker Mason Crosby (above), who enters the final three weeks of the season having missed one kick all year (35 for 35 on extra points, 16 for 17 on field-goal attempts). But the punt return game, which entered last week's win over Washington at minus-8 net yards on the season, now is plus-43 after Ervin energized the unit in his debut. The group that figures to be challenged most will be the coverage units, with the Bears boasting two of the best in the league in Tarik Cohen and Cordarrelle Patterson.
"Obviously, their résumés speak for themselves. Two Pro Bowl returners," Packers special teams coordinator Shawn Mennenga said. "I know Cordarrelle is one of the best of all-time as far as his average and having seven career touchdowns. He's just a big guy that hits it. Cohen has been a Pro Bowl returner and is dangerous every time he touches the ball.
"I feel like we're improving in all areas. You just want to continue to see the growth. To say we've turned a corner, no. If you have a bad game, then you can say you haven't, but I feel like we're continuing to improve and I like where we're going."
---
Jason Wilde covers the Packers for ESPN Wisconsin. Listen to him with former Packers and Badgers offensive lineman Mark Tauscher weekdays from 9 a.m. until noon on "Wilde & Tausch" on 100.5 FM ESPN Madison.