Three things to watch when Green Bay Packers kick off preseason against Houston Texans
Jason Wilde offers three keys for the Green Bay Packers when they host the Houston Texans in their preseason opener Thursday night at Lambeau Field. 
1. BACKUP PLAN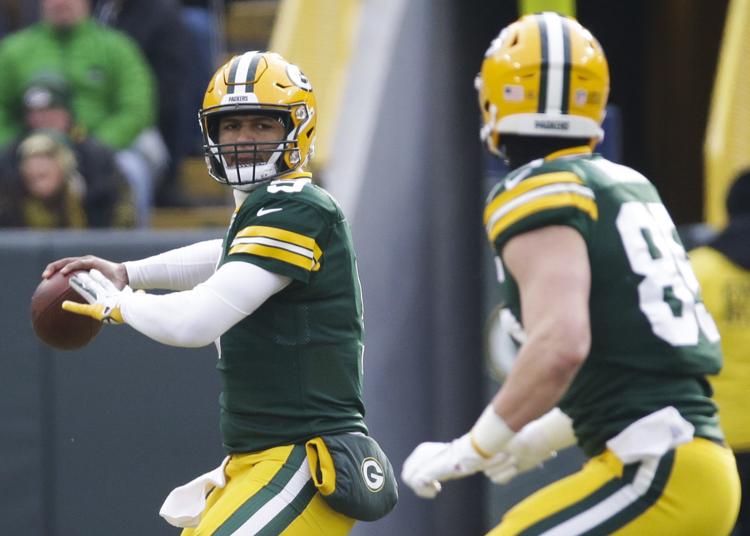 With Packers head coach Matt LaFleur apparently having decided to hold starting quarterback Aaron Rodgers out of the preseason opener — LaFleur wouldn't say definitively that Rodgers is out, but he even said he expects to get his preseason work in Games 2 and 3 in Baltimore against the Ravens and Winnipeg against the Oakland Raiders — it'll be interesting to see how LaFleur divvies up the quarterback snaps among DeShone Kizer (above), Tim Boyle and rookie Manny Wilkins.
LaFleur has been clear that he will mete out playing time and snaps based on competition and how each quarterback performs, sometimes mixing up the rotation on a practice-to-practice basis. Last week, he made it clear that Wilkins had earned more opportunities with his play in practice, and his laser downfield throw to Trevor Davis along the right sideline during Family Night on Friday was exactly the kind of play that earns a guy more opportunities.
That said, LaFleur was frustrated with all his quarterbacks at the end of the team's two joint practiced with the Texans, so it's hard to tell which way he's leaning — although Kizer figures to start.
"We just want consistent play from the quarterbacks. And I think you've seen some good and some not-so-good," LaFleur said Tuesday. "I just want those guys to play decisively. We talk to the QBs a lot about, 'Indecisive equals ineffective.' Hey listen, are you going to make a mistake? Yeah, chances are you're going to make a mistake in the game at some point. But, it's being decisive and if you do make a mistake, how do you respond to that? And that's what I want to see from those guys."
2. LIGHT IS ON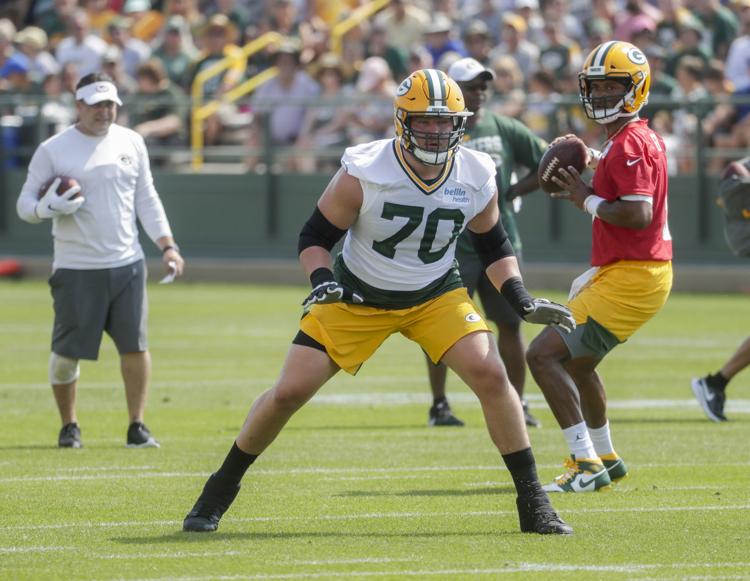 With the decision to move on from 2016 second-round pick Jason Spriggs, who was waived/injured on Tuesday with a trapezius injury, the Packers sent a clear message that Spriggs is no longer in their long-term plans and wasn't the answer as their No. 3 swing tackle behind starters David Bakhtiari and Bryan Bulaga. It was a precipitous fall for a player who arrived with hefty expectations but ended up starting only nine career regular-season games, including the five he started — with uneven results — at right tackle last year.
With Spriggs gone, the Packers must determine two things: Whether Alex Light (above), who made the team as an undrafted free agent a year ago, is capable of being the next man up at tackle; and what they would do if Bulaga or Bakhtiari went down in a game and they weren't comfortable putting Light in. With two interior linemen with experience — Justin McCray and Lucas Patrick — the Packers could conceivably kick Billy Turner out to tackle and put McCray or Patrick in at right guard. In addition, McCray, Patrick and rookie Elgton Jenkins should get work at center in this game with Corey Linsley (biceps) not expected to play.
Nevertheless, the focus will be on Light, who had his ups and downs during the Family Night practice and saw just 26 snaps of action on offense last season — all but three of them coming in the regular-season-ending loss to Detroit.
"As I look across the line, I feel great about those first five, but like I said last year, I feel good about those next guys, too," Rodgers said. "I really like our depth right now. Having Billy there has been a really good thing for us."
3. TAKE IT ON THE RUN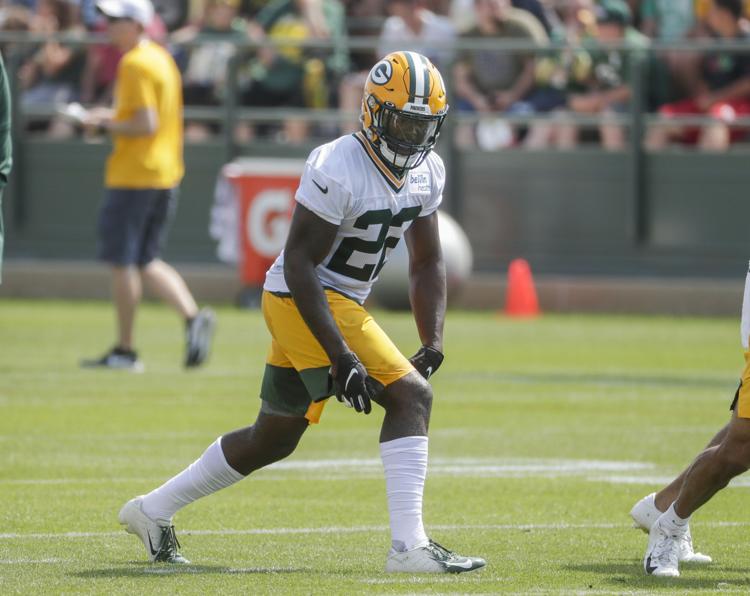 While LaFleur and general manager Brian Gutekunst each said that the hamstring injuries aren't considered long-term concerns, the absence of the team's top two running backs — Aaron Jones and Jamaal Williams — for most of camp so far can't be considered a positive. And even more disconcerting, rookie sixth-round pick Dexter Williams (above), who has flashed in the run game, struggled in pass protection on Family Night, while practice-squad holdover Tra Carson, after looking good in his unexpected opportunities last week, didn't practice on Tuesday because of a neck injury.
That means that if Carson can't go against the Texans, the Packers' four running backs will be the rookie and three guys who've been on the roster for less that two weeks: Corey Grant (signed on July 26), Darrin Hill (claimed on waivers from Cincinnati on July 27), and Keith Ford (claimed on waivers from Buffalo on Tuesday). Given how vital the run game is to LaFleur's scheme, the Packers have to not only find out which guys behind Jones and Jamaal Williams are viable threats, but also hope that their top two backs sitting out will be a blessing in disguise by saving them from unnecessary preseason hits.
That said, given the Packers have a new outside zone running scheme to master, those snaps would have been valuable to their top guys. LaFleur acknowledged this week that while it looks like the linemen are getting more comfortable in the ground scheme, the running backs have a ways to go.
"I think you look at the offensive line and I think our combinations are starting to come together. I'm really fired up about that," LaFleur said. "You see it not only from the 1s, but from the 2s and 3s as well. It's just, we're constantly on those running backs to press the heels of the linemen and it's one cut and make a decision. Again, be decisive and get your pads downhill and hopefully we're falling forward for positive yards."
---
Jason Wilde covers the Packers for ESPN Wisconsin. Listen to him with former Packers and Badgers offensive lineman Mark Tauscher weekdays from 9 a.m. until noon on "Wilde & Tausch" on 100.5 FM ESPN Madison.