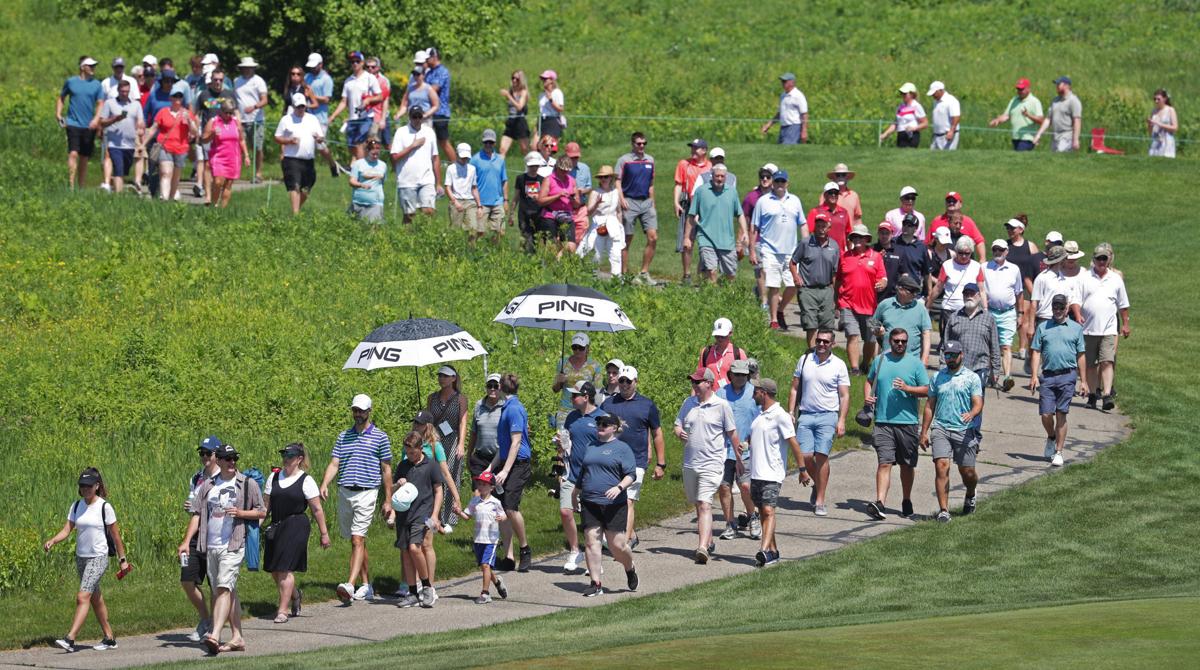 Skip Kendall looked back in his element Saturday at University Ridge Golf Course.
He came out blazing in the second round of the American Family Insurance Championship, making birdies on four of his first eight holes to vault himself into contention. But a difficult stretch on the front nine that saw him go double bogey-bogey-bogey reminded him he's still got a bit to go before being back in full form.
The Milwaukee native is in the field on a sponsor's exemption, 20 months removed from his most recent pro tournament. The long layoff created some rust, but he was able to match his Friday round of even-par 72. Yet being tied for 33rd wasn't the result he was hoping for after his hot start had him tied for fourth at one point.
"It was a tale of two sides," Kendall said. "Had a hiccup on 18 … and then, gosh, starting on (No.) 3, barely got on the green, three-putted again … those holes were playing into the wind, so they were pretty difficult. Hit some good shots, just didn't end up in the right places."
Kendall lives in the Orlando suburb of Windermere, Florida, where he's been a golf coach for about five years. One of his pupils, Eddie Fernandes, is a long-drive competitor whom Kendall is teaching about wedge play. He said their relationship is symbiotic, with Fernandes teaching Kendall how to add yards to his drive.
"I'm learning a lot from him, and it's actually helped my coaching and helped me. I've kind of been my own guinea pig in that respect," Kendall said.
He also coaches youth golfers and says he's known to crack the whip on them if he sees them slacking.
"I see the progression they make and hopefully I have a little bit to do with their successes," Kendall said. "I don't sugarcoat anything, I let them know exactly where they are … A lot of them have been told their whole lives they're the best thing since sliced bread. They're not.
"I'm brutal. If I see them putting around on a putting green with a couple of balls, I'll start yelling at them. 'What are you doing? You're not accomplishing anything out there.'"
His first two rounds haven't been what he wanted, but Kendall's back in the fold at a golf tournament, a situation he hadn't been in since the SAS Championship in October 2019. He's enjoyed being back in his home state and seeing friends on Tour again.
He didn't pick up a club for six months once he decided to take a break. Now, 36 holes into his first tournament back, he's feeling comfortable.
"I wish I could say it's like riding a bike," Kendall said. "I'm playing better than I was two years ago, and that helps. I really, truly came here to do some damage. Hopefully, tomorrow I can get it rolling."
Stricker doesn't make move
Steve Stricker's scorecard was full of circles and squares in the second round.
The player-tournament host carded an eagle, three birdies, a double bogey and three bogeys to go even for the round and finish at 2 under, tied for 23rd. He's eight strokes behind the leader Miguel Angel Jiménez.
"I want to play well here so badly, I think, and that's part of the problem," Stricker said. "I put some extra pressure on myself to play well. And I had been playing well coming into here and I'm still striking the ball fairly nicely at times. A couple wayward shots on the way in when I tried to force things."
Stricker said his putting hasn't been in tune, an irony for a player who is known to help other players with their putting, but there's a bigger culprit in his inability to consistently score.
"I'm not hitting it close enough and made some really dumb mistakes coming in," he said.
Haas defies Father Time
Jay Haas was one of four players to shoot the day's low round of 5-under 67, moving to 7 under to get into contention.
Haas, 67, would be the oldest winner of the AmFam if he were to climb to the top of the leaderboard Sunday. He used back-to-back birdies on the front nine to build momentum, and he went bogey-free on the back nine with three birdies.
"I would have never anticipated that at 67 I'd still be playing competitive golf and still be playing out here," Haas said. "The way I've played the last year, most of the time has been saying you need to leave, maybe it's time to quit, then I do things like today."
Haas, an 18-time winner on the Champions Tour, won the Greater Milwaukee Open 40 years ago and embraces the chance to win in the state again.
"I know what I'm supposed to do. I'll be nervous, which is great," he said. "Teeing off … in the second-to-last group off of No. 10, I'm not nervous … would I rather play off the 1 late or 10 late? I know which one I want."
Family caddy affair continues
Madison native Mario Tiziani got help from his sister Nicki Stricker on Friday after Tiziani's original caddy, Wally Niebuhr, fell ill in the heat.
Stricker, who caddies for her husband Steve, wasn't available to fill in again in the second round because Steve and Tiziani teed off within 20 minutes of one another. Instead, Bobbi Stricker — Steve and Nicki's daughter and Tiziani's niece — carried the bag for her uncle.
"She was great. It was nice to have her out there," Tiziani said. "I know she was a little nervous going in that she was going to say the right thing … it was great."
Tiziani was 3 over in the second round and is 7 over overall.
---