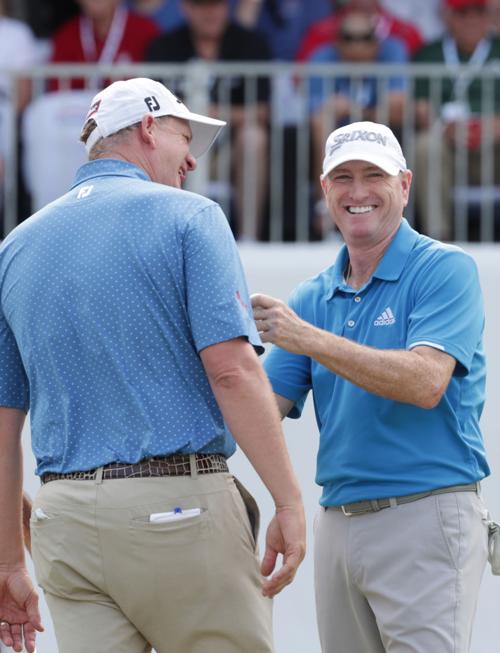 Steve Flesch put away his golf clubs for a week and spent a few days with a microphone in his hand as he followed Brooks Koepka around Pebble Beach during the U.S. Open.
And he came away with a valuable lesson along the way.
"I learned a lot from those guys just watching Brooks Koepka," said Flesch, who was an on-course reporter for Fox during its Open telecast. "I think I was getting a little too worked up putting pressure on myself playing. He looks like he's not trying and he's winning majors.
"I just kind of took a little bit of that and said, 'You know, let's just play golf … you've done this your whole life.' And for two days it's been working well."
That approach certainly worked for Flesch on Saturday as he fired a 7-under-par 65 to take a one-shot lead after the second round of the American Family Insurance Championship at University Ridge Golf Course.
And he understands he may have to duplicate that performance today if he's going to finish atop a crowded leaderboard with six players within two shots of the lead.
Now in his third season on the PGA Tour Champions, Flesch has learned you have to go low to win. That's contrary to most regular PGA Tour events, where par is usually a good score.
In his first two Champions tour seasons, Flesch has just one win, and struggled his first two years at the Am Fam, tying for 51st as a rookie in 2017 and tying for 49th last year.
"I've never particularly made a lot of birdies here, and you have to make putts and you have to keep your foot on the gas," he said. "On this tour, since it's only three rounds, it's not so much a shootout, but you have to just be aggressive. That's never been kind of my M.O. in my 20 years of playing the tour. I'm kind of a plodder and conservative and not a big risk taker. And out here I've had to change that."
Flesch will have to take some risks to hold off a strong group of contenders, including hometown favorites Steve Stricker, in a group at 10 under, and Jerry Kelly, one shot back at 9 under.
You have free articles remaining.
Billy Andrade and Duffy Waldorf also are at 10 under, while Champions rookie Retief Goosen and Tom Pernice Jr. are tied with Kelly for fifth place.
Stricker's round was highlighted by a chip-in eagle on the par-5 No. 16 hole, a shot that lifted him into the final group today along with Flesch and Andrade. Because of anticipated inclement weather, the starting time for today's action was moved up to 7:15 a.m. for the first group, with the leaders going off at 9:15 a.m.
"I'm in position to try to win this tomorrow and that's a good feeling," Stricker said. "There's a lot of guys bunched up there, though. I imagine somebody's going to come out of that pack with a good round, shoot a good round tomorrow, and that means that's what I'm going to have to do if I want to have a chance to win."
For Stricker to pull that off and get that much-coveted hometown victory, he'll have to perform better on the par-3 and par-4 holes. Through the first two rounds he was 10 under on the par-5s, while making just one birdie on a par-4 and getting his only bogey so far on the par-3 No. 8.
"I played the par-5s extremely well this week," Stricker said. "If I'm going to contend tomorrow and have a chance to win, I'm going to have to make some birdies on par-4s. I can't rely on all the par-5s like I did the first two days here."
Kelly, who led the first round despite making birdie on just one of the five par-5s, birdied three of them on Saturday. But those were the only birdies he got and his streak of bogey-free holes in the tournament ended at 67 with a bogey on the par-3 17th.
While bogeys are a problem, the shortage of birdies was the bigger concern for Kelly.
"On the Champions tour you make a bogey, you could have seven guys pass you," he said. "That's just the way it is every single week. I had one bogey today. The problem is I only had three birdies. The one bogey's no big deal, but you pit it against three birdies, yeah, then it gets tougher."
Despite surrendering the lead and struggling to make putts, Kelly still was fired up about the prospects for getting his first home-state victory.
"I'm going to be champing at the bit, there's no doubt about it," Kelly said. "You know, one of these times it's going to happen. I really feed off the people. They've been fantastic. I appreciate every single hole what they give me. I feel like all the love that the can give me, it's working."
Likewise, after coming up just short in his first two attempts, Stricker is hoping to become the fourth come-from-behind winner of the tournament.
"This course lends itself to some exciting finishes, I think," Stricker said. "It's kind of a shootout course. You have to play aggressively, there's birdies to be made. There's eagles you can make on some of these par-5s. They're reachable, so a lot can happen in these closing holes. That's what makes it exciting and fun to play here."
Be the first to know
Get local news delivered to your inbox!