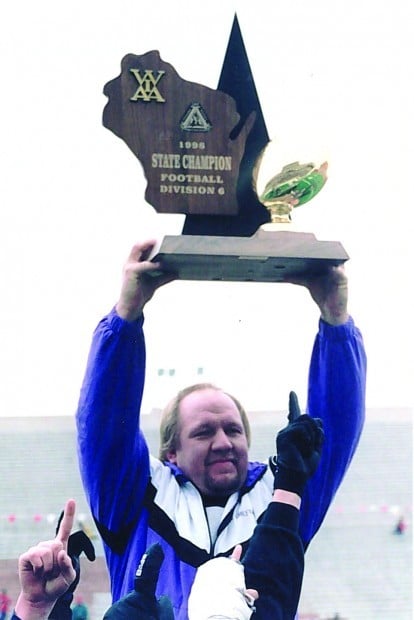 Longtime Lake Holcombe football coach Rollie Hall remembers the first time he coached against Gilman's Duane Jenson.
Little did he know that 22 years after that game, they'd both be entering the Wisconsin Football Coaches Association Hall of Fame together.
Hall and Jenson were announced as two of 19 inductees of the WFCA's 2013 Hall of Fame class on Wednesday.
In addition, longtime Stanley-Boyd assistant coach Lee La Flamme was named as this year's recipient of the Marjorie and Dick Rundle, Positive Influence of Coaching Award. La Flamme entered the WFCA Hall of Fame in 2011 after a 41-year football coaching career that included 20 playoff appearances, 17 conference titles, two state championships and three runner-up finishes.
For Hall and Jenson, it's almost fitting that the two coaches who coached nearly 20 miles apart for nearly all of their careers enter the Hall of Fame in the same class.
"It's exciting," Hall said of the honor.
Both Hall and Jenson have championship resumes as they are enshrined next March.
Hall tallied a 115-50 overall record (102-34 at Lake Holcombe) in his coaching career and led the Chieftains to the 1998 Division 6 state title, defeating Black Hawk 28-0. Hall coached at Lake Holcombe from 1990-2002 before taking a job as the activities director at River Falls High School, a position he still holds today. He also was a volunteer football coach at River Falls from 2007-09.
"My time at Lake Holcombe was very special, I had a lot of really good kids," Hall said. "I met a lot of good parents, a lot of good people I worked with and coached with."
Prior to his days at Lake Holcombe, Hall coached at Cameron and Wautoma briefly before getting the job with the Chieftains.
Hall stepped in as head coach in 1990, replacing Robert McLeod.
"The one thing I remember saying in my interview (for the coaching job) was that Holcombe's been very good and I hope to take them to another level," Hall said.
Hall did that and then some. He, along with his two predecessors McLeod and Art Brunje, are now hall of famers. McLeod and Brunje were both selected to the hall of fame in 2000.
Hall coached the Chieftains during a time when the small-school football landscape in the area was as competitive as it has ever been. Starting with Jenson's Pirates taking the Division 6 crown in 1986, Turtle Lake (twice), Augusta, Greenwood, Shell Lake, Owen-Withee (twice), Thorp, Flambeau and Lake Holcombe would all win Division 6 titles before the turn of the century, with Owen-Withee winning its second championship in 1999.
"There was a time there in the 90s where probably the best, and this is my prejudice feeling, the best small-town football was being played right in that area," Hall said.  
Jenson enters the hall after a successful coaching career with the Pirates. He coached at Gilman from 1961-1997, guiding the Pirates to one conference title and one state championship, both in 1986.
It was in that 1986 season where the Pirates went 12-0, including a 44-12 victory over Cambridge in the Division 6 title game. The victory was the first of three state championships for Gilman to-date. The other two Gilman teams were coached to victory by Robin Rosemeyer, current Pirates coach and member of Jenson's 1986 team.
"(He was) kind of the face of the school for all those years," Rosemeyer said. "He was at the school for 36 years, as successful as he was and a teacher in biology. He's really a very big part of the whole school as a whole and not just as football coach."
During his three-plus decade coaching career at Gilman, Jenson went 143-175-2.
And as for that first game between Hall's Chieftains and Jenson's Pirates?
Gilman won 14-10 on a late kickoff return for a score. That game proved to be the first in a long line of matchups between two now hall of fame coaches.
"We had some great games and Duane is a great coach and did a good job there (in Gilman) so it's going to be a lot of fun going in with him," Hall said.
This year's class also  includes two coaches currently working in the National Football League. Jim Caldwell, currently with the Baltimore Ravens, and former Packers head coach, and currently with the Miami Dolphins, Mike Sherman.
The official enshrinement for the WFCA Hall of Fame takes place on Saturday, March 23, 2013 at the Marriott West in Madison.
Note: This story has been corrected to fix a numerical error in the second paragraph