The Kenosha St. Joseph fan base saw the student section jumping, being loud and having fun while they cheered on the boys basketball program during Saturday's WIAA Division 4 state championship game against Onalaska Luther.
The cheering and school spirit has been boosted all school year due to one kid: senior Eric Lamere.
"Eric is one of our biggest sports fanatics." St. Joseph first-year athletic director Jenny Kenesie said. "He's a senior as well. He's a perfect fit for coming out to games and putting the armor on and leading our crowd."
Lamere has been wearing a suit of armor of a silver helmet, shin guards and a chest plate with a "J" logo in the middle of it and a blue and yellow cape. Lamere said he hopes the next person to don the costume will see some upgrades because it is "a little broken, especially after all of its use this year."
Lamere said the school used the mascot costume at a prep rally and talked to Kenesie at the beginning of the school year to start wearing it to sporting events because he "wanted to have fun and have everyone's year be great."
The Lancers finished 12-1 this past fall, losing to Darlington 20-7 in a WIAA Division 6 state quarterfinal playoff game. During the basketball season, he tried to show up to as many games as possible as the Lancers went 19-11 and runner-up. The Lancers lost 60-46 to the Knights.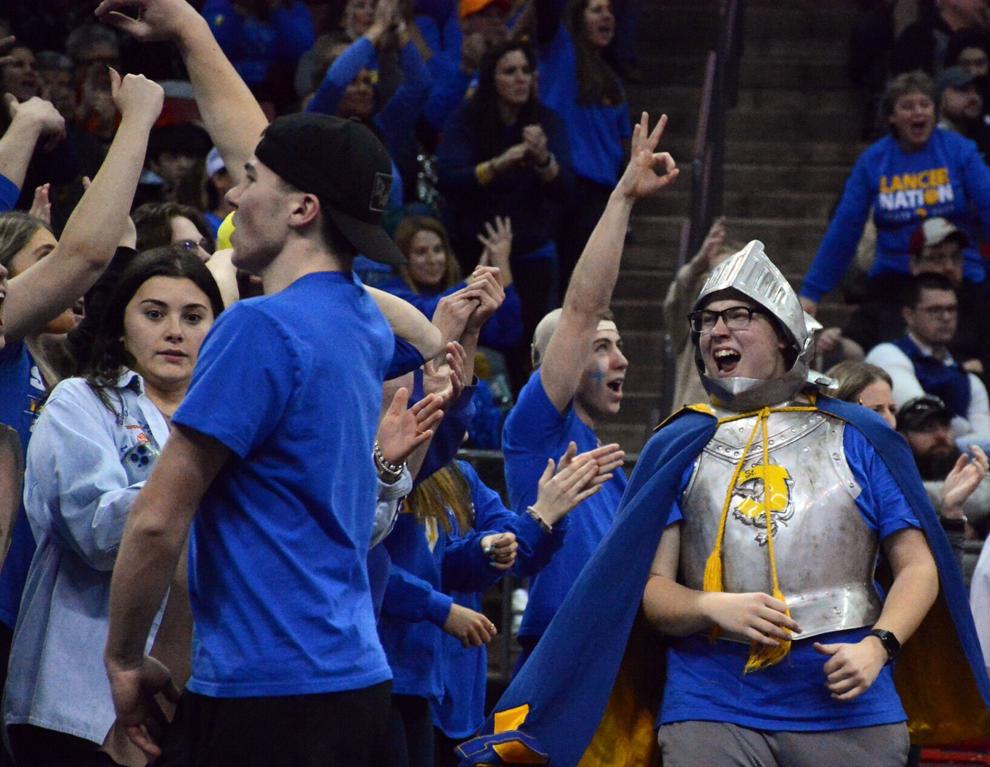 "As soon as I saw it this year, it was definitely something we wanted to implement on gameday to help get our crowd rowdy and excited about all of our sporting events," Kenesie said.
Lamere said being the mascot has the responsibilities of being excited, leading the student section in chants and getting everybody hyped up.
"With such a great student section, with such a great school, it's been a really easy job," he said.
However, with this being his senior season, Lamere said he will select the next student to wear the costume next season, and while he's had several ask about it, he's looking at just a handful of students who fit his qualifications.
"I know since we haven't done it in the past, I really want to keep the trend going," he said. "Pretty much anyone who's excited, who's a good St. Joe's Lancer, I'm going to choose. I just haven't chosen just yet."
Follow Mark McMullen on Twitter @mmcmull2 or contact him at 920-356-6754.