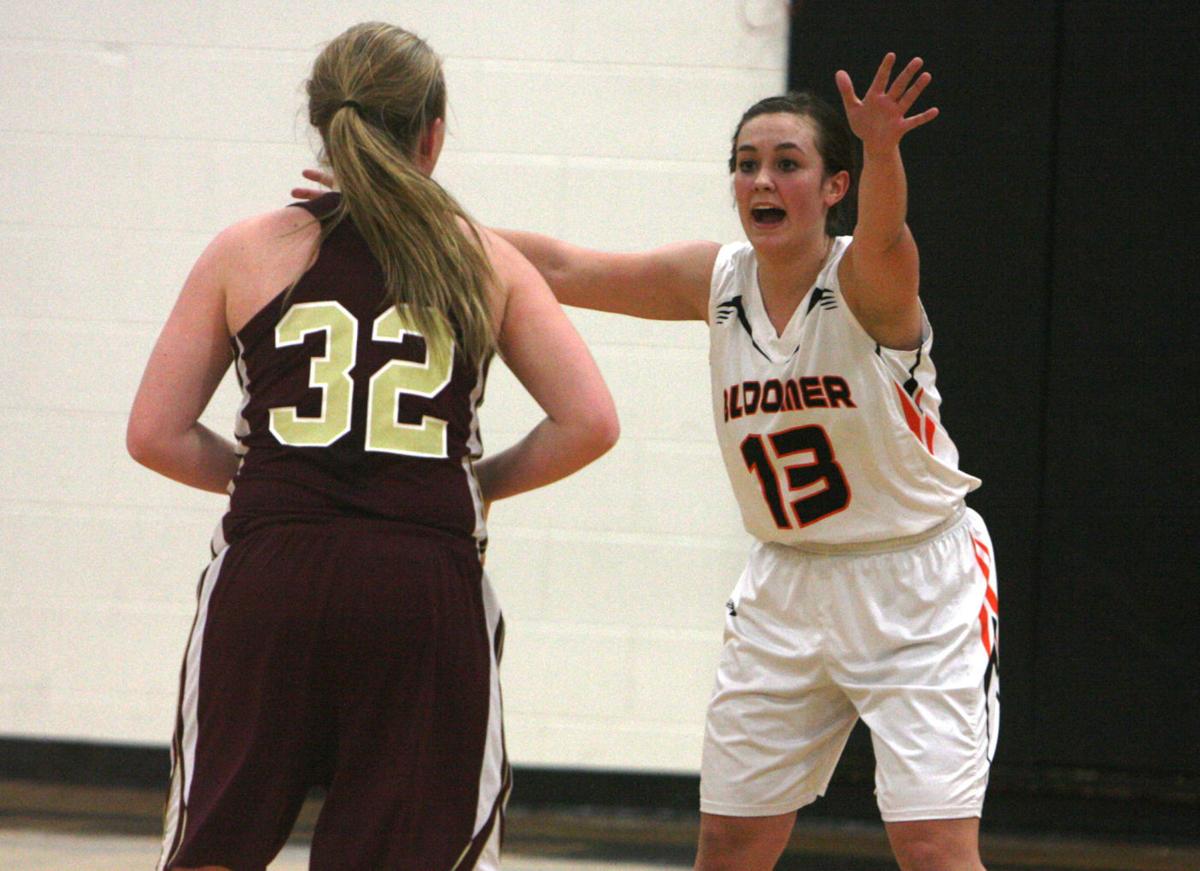 BLOOMER — A nail-biting 52-50 loss to Barron on Dec. 16 is the only thing keeping the Bloomer girls basketball team from being tied for first place in the Heart O'North Conference.
So when the rival Golden Bears came to town on Thursday, the Blackhawks knew it was time to return the favor.
Barron made it interesting late in the second half, but a dominating defensive effort in the first quarter set the tone and Bloomer carried on to win 63-51 for the team's seventh victory in its last eight games.
The Blackhawks opened with their signature press defense and executed it with precision in the first quarter, deflecting passes, blocking shots and frustrating the Bears at every turn. Bloomer led 9-2 in the opening minutes and led 22-9 after the first frame.
"They're getting more and more confident," Bloomer coach Nikki Seibel said of her defense. "They know where they're supposed to be at and they know where the other girls are on the floor. They do a really good job of anticipating passes. I'm just really, really proud of them for doing that and bringing that pressure right away."
Forcing turnovers led to quick baskets for Bloomer (11-4, 9-2 HON) in the first half. It was a contrast to the last game played between these two teams where Barron won the turnover battle and ultimately the game.
Aliya Seibel led the Blackhawks with 16 points (an even eight in each half), followed by Justyne Burgess who finished with 12 points on a nice shooting night where she hit a couple early 3-pointers to help Bloomer stretch the lead.
Krystina Seibel added eight points (all in the second half) and Chandler Zwiefelhofer had eight, scoring all of hers in the first half in an all-around balanced night for the Bloomer offense.
Bloomer kept up the defensive pressure deep into the third quarter and finally pulled it back with a 21-point lead (43-22). That's when Barron coach Mickey Hover had his team pick up the intensity and make the most of the opportunity Bloomer was giving it.
In a span of seven minutes the Bears turned a 21-point deficit into a 2-point one, trailing 53-51 with 2:32 remaining in the fourth quarter.
"They really turned up the defense and we started making a couple turnovers in that third quarter that led to them having more opportunities," coach Seibel said of Barron. "We had to make sure we were getting back on defense. That's one thing we got beat on is them getting the rebound and throwing over top of us."
Gina Forehand and Kristin Doriott each had 16 points to pace Barron (7-8, 6-3 HON).
Despite surrendering the big lead, Bloomer stayed tough and finished out the win on a 10-0 run. The Blackhawks made 11 of 13 free throws in the fourth quarter and 16 of 20 in the game.
"That's been one thing that we've been working on is just getting mentally tough," coach Seibel said. "Winning games like this and being in games like this is going to make them that much more prepared for whether it be tournament time or other close games to know what to do in those types of situations. I was very proud of them tonight."
After a loss to Colfax on Tuesday ended a six-game winning streak, Bloomer's win on Thursday got the team back on track and provided some necessary momentum before the team heads on the road for a four-game stretch. The Blackhawks begin that run on Monday at Boyceville.
"We knew this week was going to be difficult," coach Seibel said. "To end on a win this week and get that momentum shift for the next games I think is huge."