Looking Back is a weekly series from The Chippewa Herald, taking a peek at the goings on in the Chippewa County sports world during this week one, five, 10, 20 and 30 years ago.
One Year Ago (2019)
June 16: The Cadott Red Sox edged Jim Falls 8-6 in Chippewa River Baseball League action. Rick Danielson struck out two batters in five innings while Bennett Bowe had two hits and two runs scored for the Red Sox.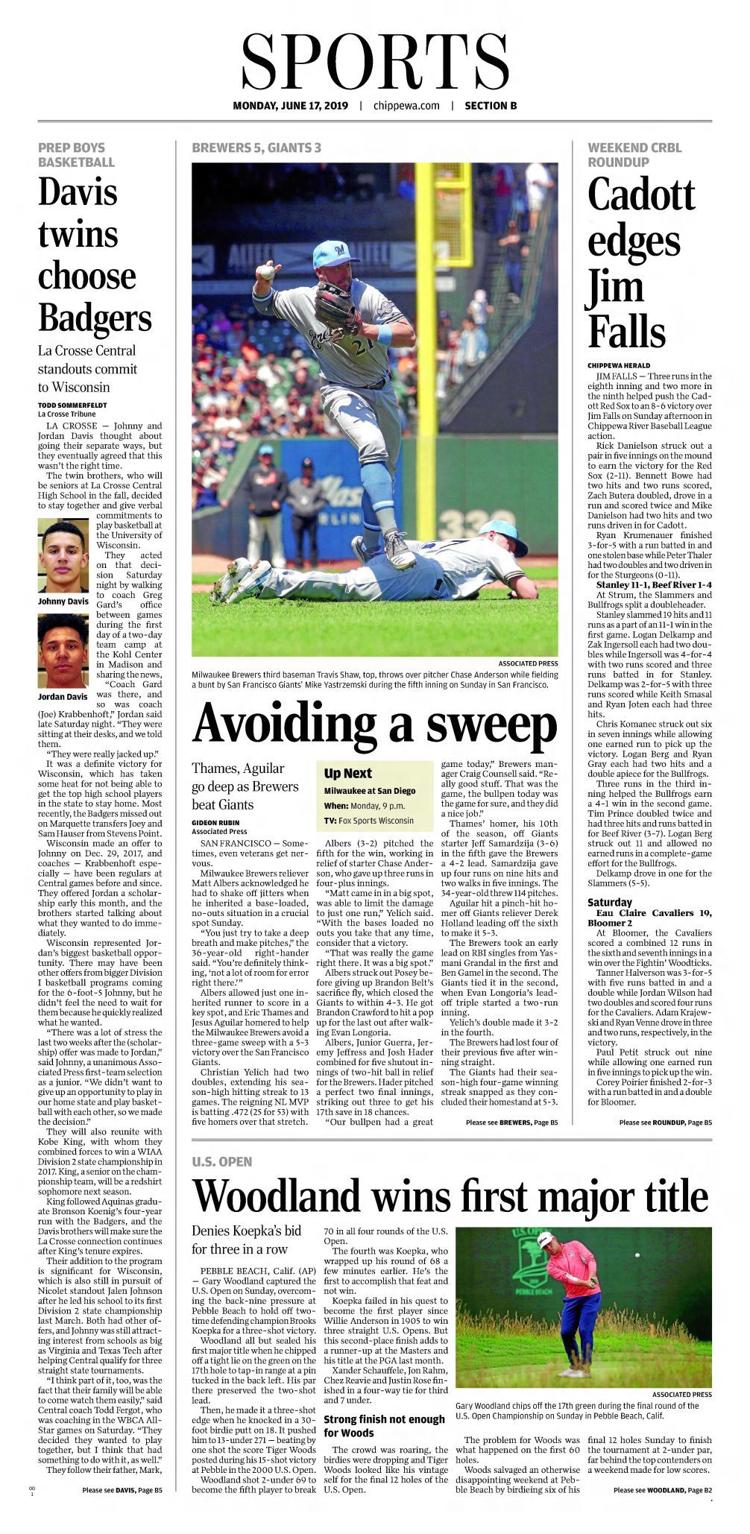 Five Years Ago (2015)
June 13: The McDonell and Bloomer softball teams each fell in their respective state semifinal games. Bloomer lost 7-4 to eventual Division 3 state champion Laconia in the semifinals in a game played in Verona after inclement weather earlier in the tournament pushed games back into Saturday, moving the Division 3 semifinal and both Division 1 semis away from Goodman Diamond. Katlyn Caterer's just missed a game-tying three-run home run for the final out when her hard-hit ball died at the warning track. Caterer and Aliya Seibel each homered for the Blackhawks. Stevens Point Pacelli blanked McDonell 6-1 in a Division 4 semifinal at Goodman Diamond as the Cardinals scored three runs in the second inning to take a lead Pacelli wouldn't relinquish. Sydney Schemenauer finished 2-for-3 and Maddie Rietschel drove in McDonell's lone run. Pacelli went on to blank Oakfield 1-0 for the title.
June 14: The Chippewa Falls Post 77 senior legion baseball team started the season with a doubleheader split against Wausau, winning game one 7-0 before falling 8-2 in game two. Carl Krumenauer tossed a complete game 3-hit shutout in the victory on the mound and Jordan Steinmetz had two hits including a double and three runs batted in as a part of the win.
June 15: Chi-Hi graduate Dallas Steward was named as the associated head coach for the Chicago Steel of the United States Hockey League. Steward played for the Cardinals during the mid-1990s before playing collegiately at the University of Alaska-Anchorage and in the Central Hockey League and East Coast Hockey League and transitioning into coaching.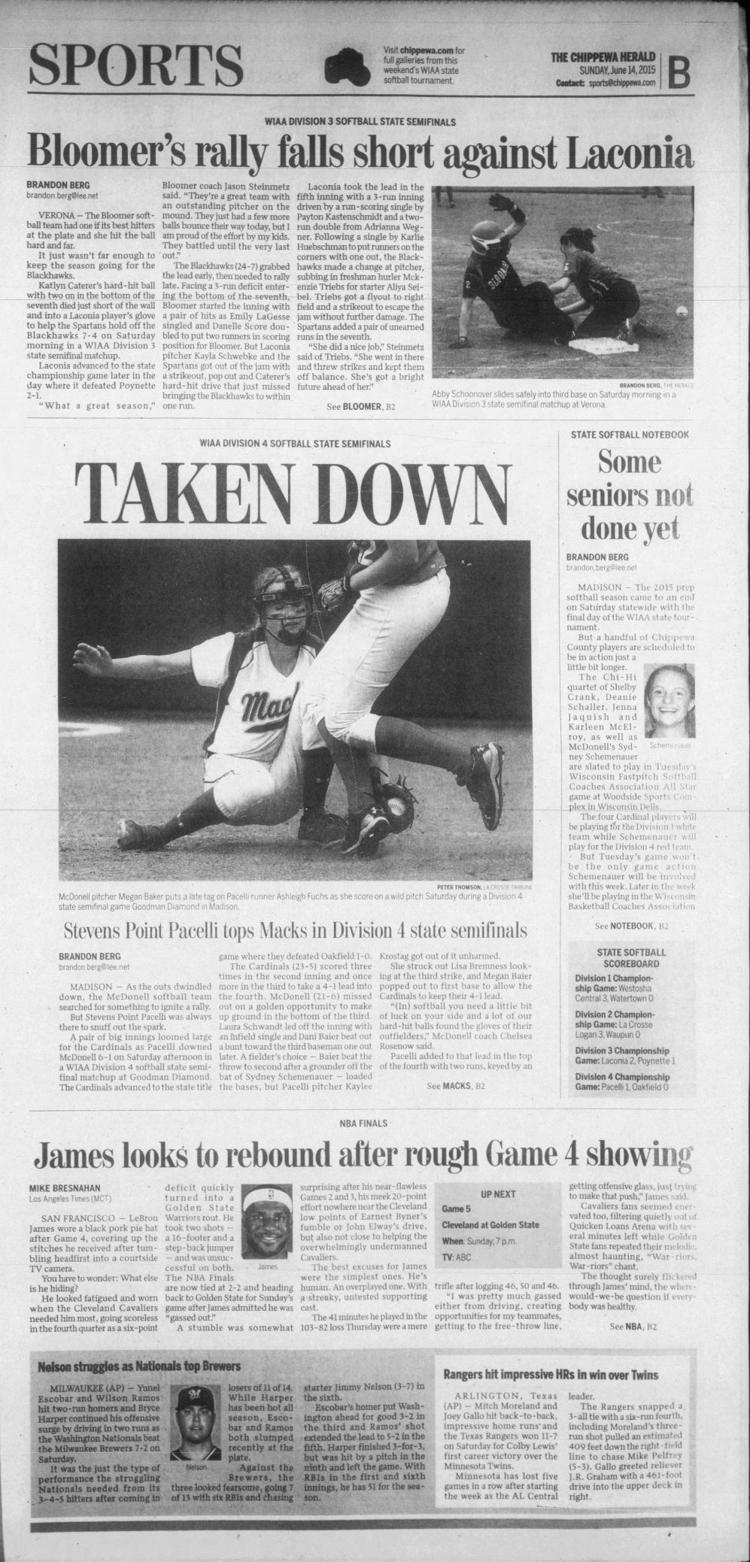 Ten Years Ago (2010)
June 13: The Chippewa Falls Lumberjacks took both games of a CRBL doubleheader against Augusta by scores of 7-2 and 2-1. Josh Briggs and Shawn Held each had doubles with Briggs driving in a pair of runs. Pitcher Tyler Gray scattered three hits over seven hits in a complete-game win. Hans Soukup had three hits in game two for the Lumberjacks.
June 16: Andy Davis struck out 14 batters on the mound and had three hits at the plate for the McDonell baseball team as they defeated Rosholt 7-3 in the Division 4 state semifinals. McDonell scored in four of the first five innings while limiting Rosholt to three hits while playing error-free baseball.
June 17: The Chi-Hi softball team won its Division 1 state quarterfinal matchup against Verona 7-0 before falling to Kaukauna 4-0 in the state semifinals in Madison. Kendra Bowe struck out 12 in the opening victory and added two runs batted in. Carissa Maes had three hits with an RBI in the shutout of Verona. The Galloping Ghosts limited the Cardinals to three hits in their semifinal game with Val Hayes, Emily Holldorf and Megan Schnobrich accounting for the hits in the defeat.
June 17: Seven errors by the McDonell baseball team hurt the Macks in a 14-4 defeat to Burlington Catholic Central in the Division 4 state championship game. Jake McIlquham and Robby Cooper each had a pair of hits while Andy Davis drove in two runs.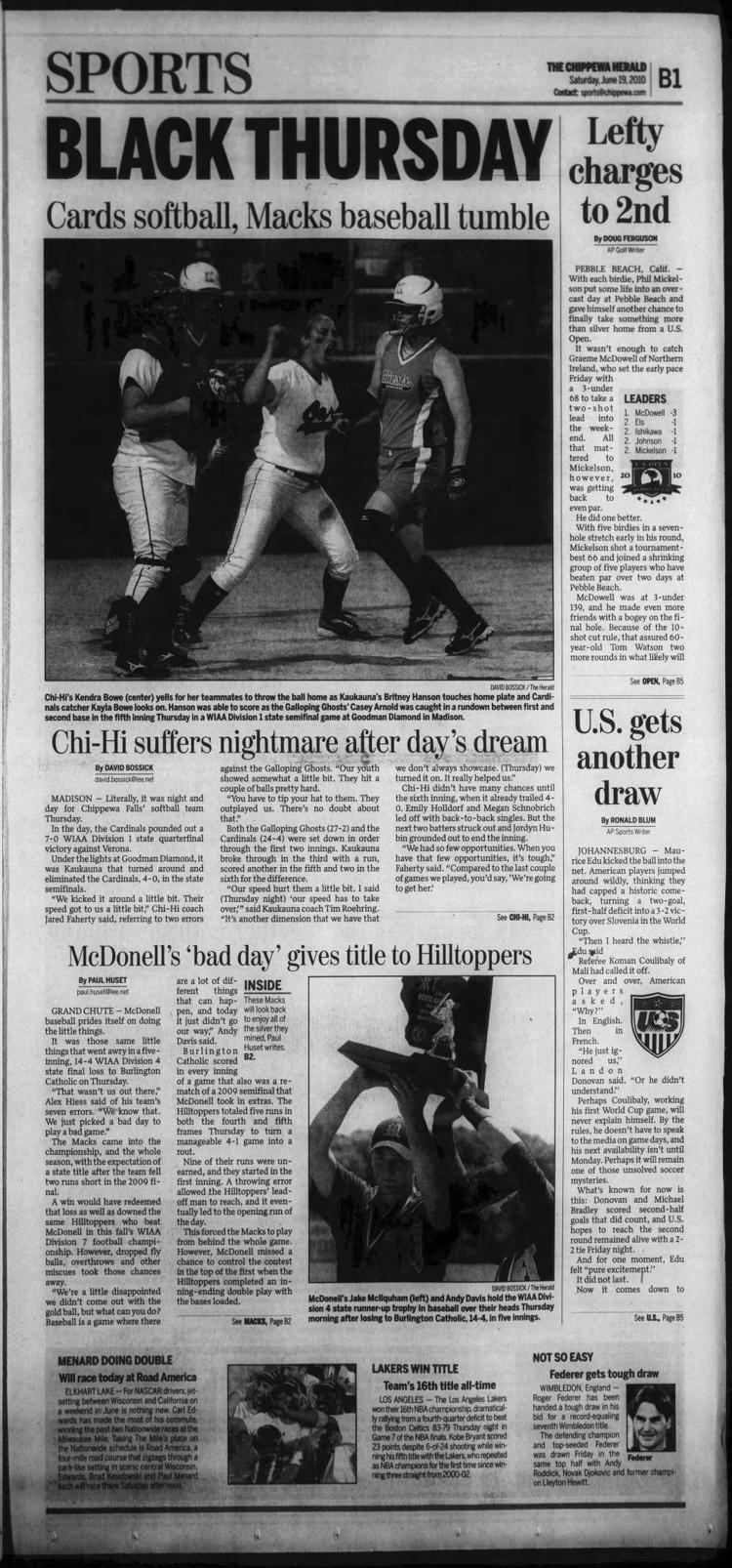 20 Years Ago (2000)
June 13: The Cornell Post 353 American Legion baseball team swept Stanley in a doubleheader of five-inning games. Adam Helgerson allowed one hit while striking out four on the mound with two doubles at the plate. Kyle Harris pitched five innings and struck out three in a 5-3 victory to complete the sweep.
June 16: Bobby Swoboda struck out nine batters in seven innings as the Chippewa Falls Post 77 baseball team defeated Viroqua 10-1. Trevor Bauwens had two hits including a double and a run batter in while Joe Miller added two RBIs.
June 17: The Augusta Athletics outslugged Eau Claire 16-11 in CRBL play with both teams combining for 27 runs and 24 hits. Mike Gilbertson homered and drove in three while Marcelino Alonso had two homers and five runs batted in for the Athletics. Eli Rupnow had three hits including two doubles and two runs batted in for Eau Claire.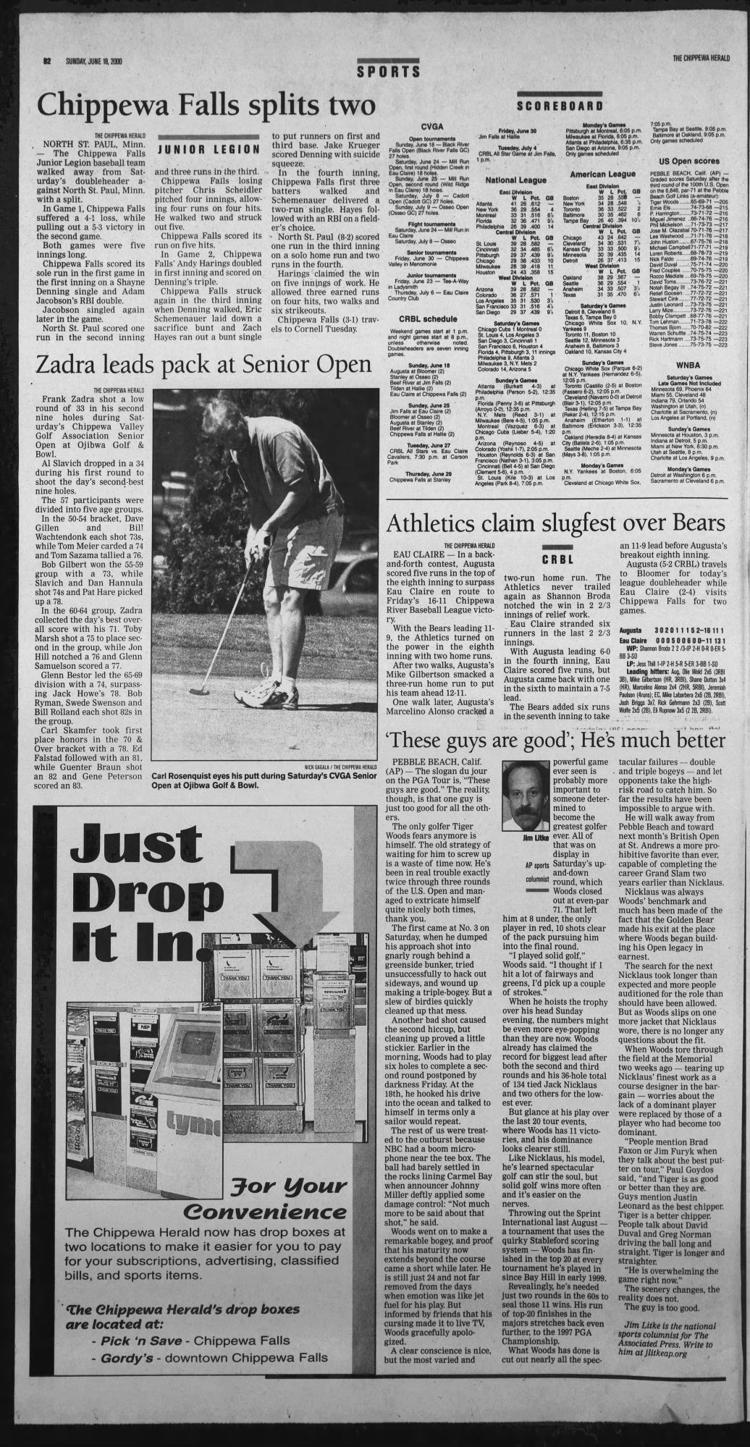 30 Years Ago (1990)
June 14: Chuck Morning tossed four strong innings of relief to pick up the victory for the Bloomer baseball team in an 8-7 win in Ellsworth. Consecutive two-run, two-run singles from Morning and Buddy Boiteau helped the Blackhawks scored four runs in the second inning before two-run fifth and sixth innings sparked the rally.
June 17: Lafayette and Jim Falls split a CRBL doubleheader with the Lakers scoring nine runs in the first three innings of a 9-8 victory in game one before the Sturgeons won 7-2 in game two. Dennis Zech went 4-for-4 and Andy Eslinger hit a two-run home run in the game one victory. Ron Rubenzer allowed five hits on the mound for Jim Falls in game two while Scott Schemenauer hit a three-run homer.
June 17: The Chippewa Falls Post 77 legion baseball team swept a doubleheader with La Crosse 5-1 and 11-1. Todd Zwiefelhofer and Jason Bobb were each stellar on the mound in the sweep, striking out 12 batters apieece in seven-inning efforts on the mound.
June 17: Dan Zutter and Larry Willkom teamed up to win the sixth annual over-35 men's doubles draw tennis tournament, defeating Terry Winter and Bud Hughes (6-4, 1-6, 6-2) in the finals at the Marshall courts.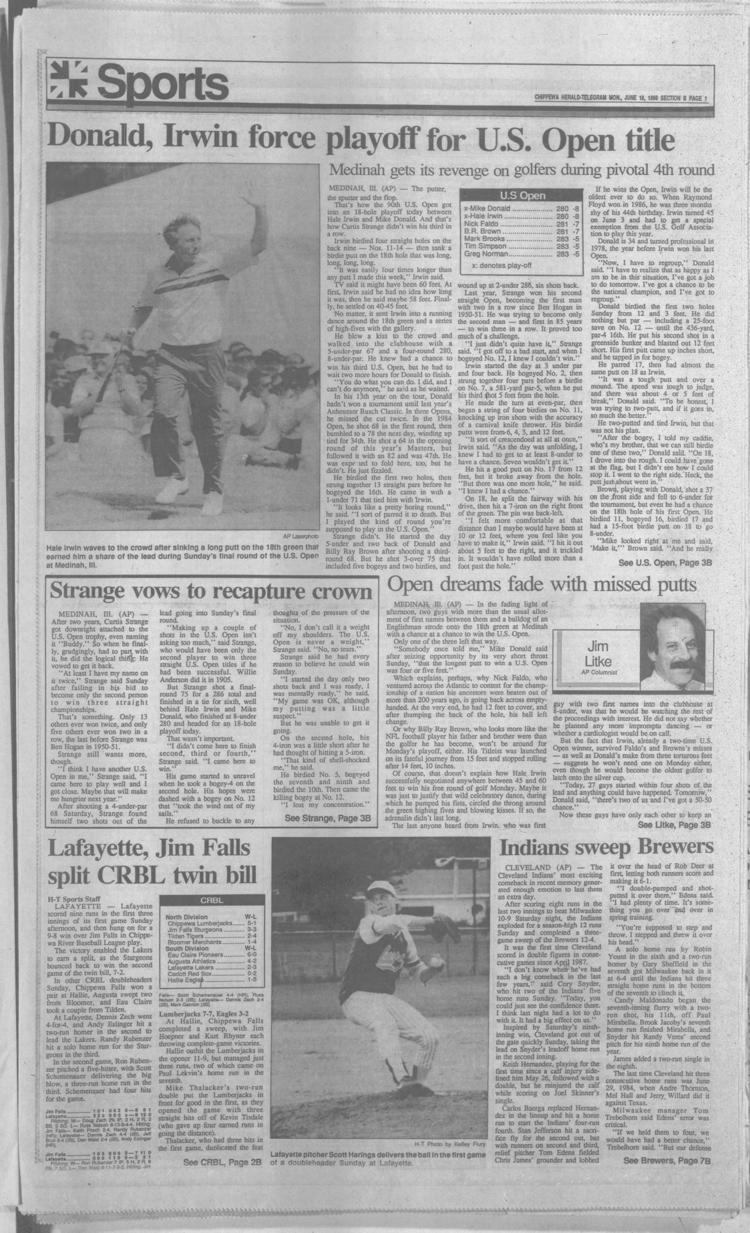 Get in the game with our Prep Sports Newsletter
Sent weekly directly to your inbox!