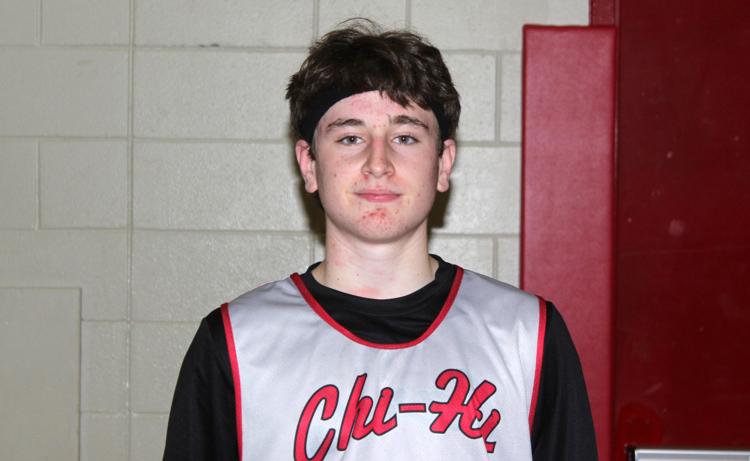 The Chi-Hi boys basketball team won out in a major gut check on Friday evening.
The Cardinals let a 13-point halftime lead slip away but outlasted state-ranked Eau Claire North in double overtime 85-81 to remain tied atop the Big Rivers Conference standings.
Joe Reuter led Chi-Hi with 24 points including the go-ahead basket when he drove and finished a layup with 35 seconds left to push his team in front 83-81. Following a turnover by the Huskies, Nick Bruder delivered two free throws with 11.4 seconds left to put the Cardinals out front by four as Chi-Hi (9-4, 5-1) finished off the season sweep of Eau Claire North after earning a 59-51 win last week.
"We stuck together. We overcame some adversity," Chi-Hi coach Jason Proue said. "Jacob Walczak and Peyton Rogers(-Schmidt) got into some foul trouble and ended up fouling out and (it was) next man up. They stepped up and played some good minutes and made some tough plays and came out with the win."
Reuter dished out 11 assists and pulled down 10 rebounds for the triple-double.
Freshman Mason Monarski scored a season-high 19 points, connecting on 3-of-5 shots from 3-point range.
"I can't say enough about Mason," Proue said. "He's really coming along the last couple weeks and got 'em in early. No fear. Got a nice bucket around the basket to get started, knocked down a couple threes and let the game come to him and knocked down shots when he needed too. Defensively he was solid."
Bruder added 18 points to go with six assists and four rebounds. Peyton Rogers-Schmidt scored 12 points and had eight rebounds and Jacob Walczak added 10 points before each player fouled out of the game.
Eau Claire North's Dalton Banks led all scorers with 38 points before fouling out, one of three Huskies (9-2, 4-2) to pick up five fouls.
Chi-Hi is now tied atop the league standings with Hudson after the Raiders defeated Eau Claire Memorial on Friday. The Cardinals are off until hosting Hudson on Saturday, Feb. 1.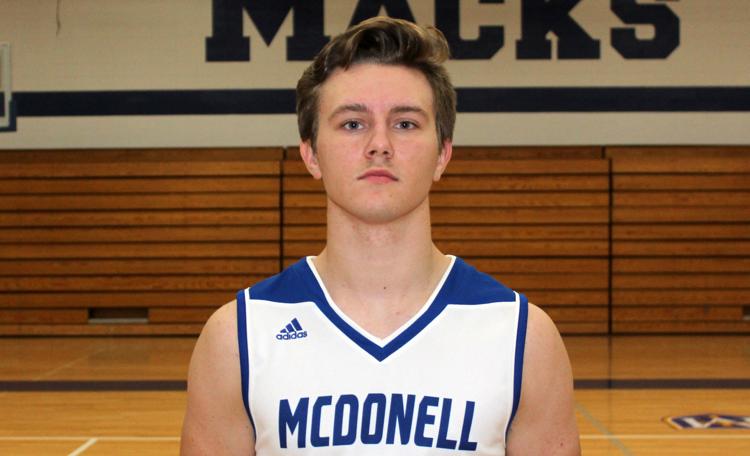 McDonell 49, Stanley-Boyd 46
At Stanley, the Macks edged the Orioles in a Western Cloverbelt contest.
You have free articles remaining.
JD Bohaty scored 15 points to lead McDonell (12-2, 7-1) while Eion Kressin added nine.
Carsen Hause had a game-high 17 points for Stanley-Boyd (3-9, 2-6) with Brady Potaczek adding 14.
Stanley-Boyd plays at Somerset on Monday while McDonell is off until hosting Thorp on Thursday.
Lake Holcombe 64, New Auburn 53
At New Auburn, the Chieftains raced out to a 32-16 halftime lead en route to an East Lakeland Conference win over the Trojans.
Kaden Crank scored 13 points for the Chieftains (10-2, 6-2) in a balanced scoring effort. Six players scored at least nine points with five finishing in double figures. Josh Jones and Kaden Kinney had 11 points apiece, Tyler Dixon and Jarred Jiskra scored 10 points each and Brock Flater added nine in the win.
Ethan Patz led all scorers with 15 points for the Trojans (8-4, 5-2), followed by Michael Pederson with 13 points, Triton Robey scoring 12 points and Tristen Harder chipping in with nine points.
The win was Lake Holcombe's seventh in a row and moves the Chieftains one game behind Birchwood for the top spot in the conference.
Lake Holcombe hosts Luck on Monday before a home matchup with Birchwood on Tuesday. New Auburn plays at Cornell on Tuesday.
At Thorp, the Rails maintained their spot atop the Western Cloverbelt with a win over the Cardinals.
Isaac Soumis had 19 points for Thorp (8-5, 5-3).
Keshawn Harris had a team-high 18 points for Altoona (10-1, 8-0).
Thorp hosts Owen-Withee on Monday.
Get in the game with our Prep Sports Newsletter
Sent weekly directly to your inbox!