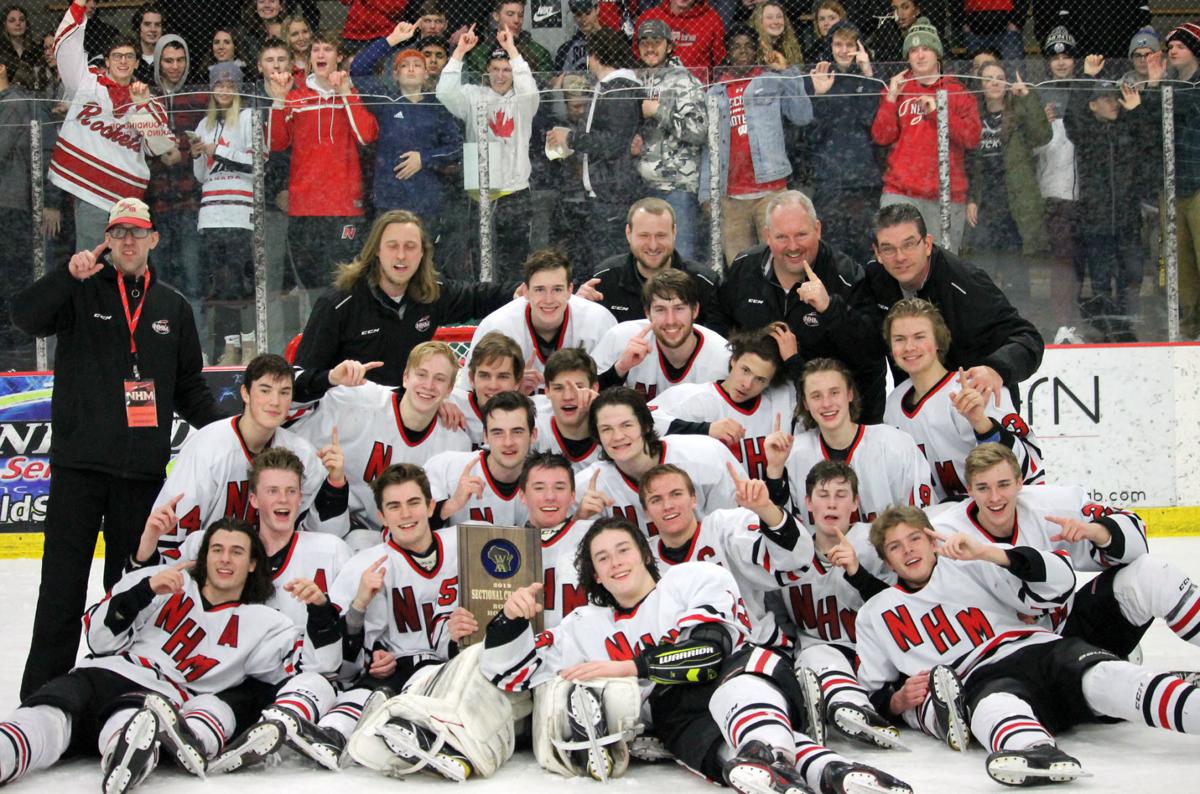 Thirty one years ago, Mike Elkin was preparing for the state boys hockey tournament as a senior defenseman and captain for Chi-Hi.
This week Elkin is heading back to Madison, but this time in a much different role.
The Chi-Hi graduate and Chippewa Falls native returns as a co-head coach for the Neenah/Menasha/Hortonville co-op as the third-seeded Rockets face sixth-seeded Hudson on Thursday at 6:30 p.m. at the Alliant Energy Center in the state quarterfinals.
Elkin is in his fifth season as a co-coach along with Jeff Lindemann after a tenure as head coach with the team earlier on. Elkin is a 1988 graduate of Chi-Hi and was a letterwinner for the Cardinals football and hockey teams.
Elkin was a fullback and linebacker on Chi-Hi's first Big Rivers Conference championship team in 1987 and a captain and defenseman on the first boys hockey team to qualify for state in 1988.
"He's a great Chippewa Falls alumni and he's well respected and well known in this community," Chi-Hi boys hockey coach Scott Parker said of Elkin.
Chi-Hi football coach Chuck Raykovich vividly remembers his first interaction with Elkin. Raykovich was in the school's weight room after taking over the program in 1986 when a young athlete zipped by the room on inline skates. It was Elkin and one of Raykovich's assistant coaches had a short message for the new coach — we have to get him for the team.
Elkin went on to play football collegiately at UW-Eau Claire before returning to Chi-Hi as an assistant coach under Parker and Raykovich.
"He's just very knowledgeable, very solid in what he does," Raykovich said. "He's very conscientious and obviously he's really easy to get along with."
Elkin left Chippewa Falls to take over the team in Neenah in 1995 and held the position until 2004 when he stepped down to spend more time with his children as they grew up and went through youth hockey. Elkin returned to the bench for the team in 2013, teaming up with Lindemann to lead the program.
"I know they say people are crazy for doing co-head coaches but if it's with the right individuals, it's an awesome experience and that's what coach Lindy and myself have going here," Elkin said. "Just a good working relationship."
Neenah has been to seven sectional finals in program history, with last Friday's 3-0 win over Green Bay Notre Dame being the program's first sectional championship.
"You just felt the energy on the bench and in the third period there was a belief of what we were doing," Elkin said of the win. "You could sense it. I don't think I said too many words on the bench in the third period. The kids just knew what to do. They managed the puck and managed the game and that was it."
This year's state boys hockey tournament has plenty of local flavor. In addition to Elkin, the eight-team tournament features a pair of Big Rivers Conference schools with Eau Claire North and Hudson. The Rockets play the final game of the quarterfinals on Thursday against the two-time defending state champion Raiders.
"They're all good teams," Elkin said of the field. "We've got six number one seeds and two number twos. It's just the way it worked out and we'll see what we're made of against the defending champs."
Elkin also noted that during his trip as a player in 1988 it was the last year of the four-team state format before expanding to eight. This year is the final eight-team single division format before the WIAA establishes two divisions for the tournament beginning next season.
Mike's wife Dana Elkin (Fox) is also a 1988 Chi-Hi grad and lettered in volleyball, basketball and softball during her time as a Cardinal. Elkin's son Luke is a sophomore on the team while his older son Alec graduated a season ago and was a finalist for the Wisconsin Hockey Coaches Association Player of the Year award. He's now a freshman and plays football at UW-Oshkosh.
"To experience it with your own kid is something special," Elkin said of sharing the state trip with Luke. "I don't even think I've realized it yet because I'm focused about the team and moving forward."
Elkin is also an assistant coach for the Neenah football team to go along with his duties as a technology education teacher in the district.
"He's a great teacher," Raykovich said of Elkin. "That's what makes a great coach is a great teacher."
Even though Elkin is a half of a state away, he still keeps close ties with Chippewa Falls including both Parker and Raykovich.
And rest assured this week his hometown will be keeping a close eye on him.
"The town of Chippewa (Falls) should be proud. Mike has put his footprint on another town and those kids will always remember him and think highly of him," Parker said. "It's really a special time in Neenah's hockey history right now and win or lose, they're going down there and they're a tough team. They're not there by accident, they're a very good team and they should compete just like Hayward competed with (Eau Claire) North last weekend to double overtime (in the sectional finals).
"Neenah is going to wear their Mike Elkin passion on their sleeve and they will compete and that as a coach is what you want your players to do, is compete on the biggest stage that you can. Chippewa Falls will be pulling for Neenah, that's for sure."
Get in the game with our Prep Sports Newsletter
Sent weekly directly to your inbox!