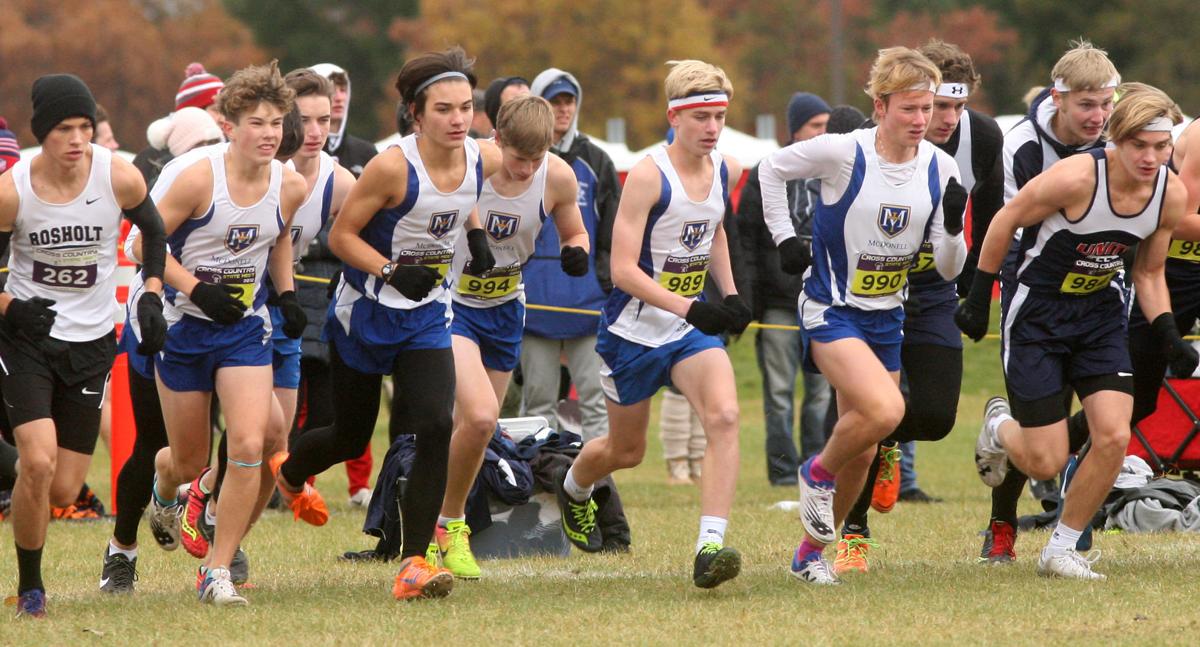 WISCONSIN RAPIDS — The McDonell boys cross country team ran to a ninth-place finish on Saturday at the Division 3 state championships at The Ridges Golf Course.
The Macks finished with 201 team points, one point behind Boscobel in eighth as La Crosse Aquinas (68) topped Brillion (96) for the championship.
"I'm extremely proud of what these guys accomplished this season," McDonell coach Marty Bushland said. "Four of the seven ran their lifetime best in less than ideal conditions and on the toughest course we ran on.
"The other three ran just off their best times and some were dealing with health issues. On a perfect day we are fourth and in a field as talented as what we saw today, a few seconds here and there cause the points to add up quickly."
McDonell sophomore Dan Anderson led the way for the team by finishing in 15th with a time of 16 minutes, 57.9 seconds. Senior Joey Thaler was 31st, junior Luke Newton came home 96th, junior Max Hauser finished 102nd and junior Jake Siegenthaler was 104th.
"We had a great race from Dan (Anderson) on his first rip to state and he along with the junior class should make for an outstanding team next season if they put the work in," Bushland said.
Senior Caleb Thornton was close behind in 107th and senior Anthony Roach was 138th as unscored runners for the Macks.
"It's sad to lose our seniors, but glad they were able to end their cross country careers at state and I'm already looking forward to working with these guys in track," Bushland said.
Wisconsin Heights/Barneveld's Christian Patzka won the race in 16:08.7 with Birchwood's Matthew Marcinske second (16:14.5).
McDonell advanced to state with a second-place finish at last weekend's sectionals in Boyceville while Anderson ran to the sectional individual title. McDonell won the Cloverbelt Conference championship during the regular season.
Chi-Hi's Mason 71st, Behling 101stHaley Mason and Ella Behling finished 71st and 101st, respectively, in the Division 1 girls race earlier in the day for the Cardinals.
Mason completed the race with a time of 19:59 seconds in her second trip to the state championships. Mason stuck near the middle of the pack throughout the race. The sophomore was 60th at the 1-mile mark and 69th at the 2-mile position.
Behling ended the race with a time of 20 minutes, 19.1 seconds and was 62nd at the 1-mile mark and 86nd at the 2-mile spot. Behling was in her third trip to the state championship as the junior as qualified in each of her first three high school years.
Onalaska's Kora Malecek won the race in 17:44.6, well in front of Middleton's Lauren Pansegrau (18:14.2) for first.
Muskego won the team championship with 72 points while Onalaska (111) was second.
Get in the game with our Prep Sports Newsletter
Sent weekly directly to your inbox!