CADOTT — It's easy to second guess when things don't go right.
After the Cadott football team had run the ball on all 28 of its second half plays the Hornets went to the air. 
Facing third and eight in the red zone with five minutes remaining quarterback Jake Ackley dropped back to pass and he was intercepted by Osseo-Fairchild's Ryan Myhers. A 57-yard run a play later sealed the game as Cadott dropped a 28-12 Cloverbelt matchup with Osseo-Fairchild on Friday night.
"I'm second guessing it. We get eight yards in two carries, we were running down their throat," Cadott coach Jeff Goettl said about the decision to not run the ball. "We got word that their safety was crashing so I thought we were going to take a shot and it didn't work out."
The duo of Nelson Wahl and Brady Spaeth powered Cadott in the second half behind an offensive line that was getting into a rhythm.
Out of the break Cadott (1-2, 1-2) ran the ball 13 times in a row, covering 62 yards as a one-yard touchdown carry from Spaeth pulled Cadott to within two at 14-12 halfway through the third quarter.
A five-yard carry from Spaeth gave Cadott a first down at the Osseo-Fairchild 16-yard line as the Hornets had moved the ball 64 yards on 13 plays on it's next drive looking to give themselves a chance to tie the game trailing 20-12 around halfway through the fourth quarter. Wahl took a one-yard loss on first down setting Cadott behind. On second down Spaeth gained just three yards setting up a crucial third down.
"I just told our defensive backs that we knew sooner or later they're probably going to pound and pound and eventually they got to do some kind of play action," Osseo-Fairchild co-coach Eric Boettcher said of the late interception.
The Thunder (2-1, 2-1) made an opening statement to start the game as Brice Shimon took the opening kickoff for a 75-yard score which gave Osseo-Fairchild the early lead.
"Anytime you can have a big play and get some momentum whether it's the opening kickoff, whether it's a punt return or a big pass you've got to be able to take advantage of the momentum right away," Boettcher said.
Early mistakes put Cadott behind and it was left climbing its way back the remainder of the contest. After the Hornets forced a punt Nelson Wahl fumbled giving the ball back to the Thunder. Four plays later Osseo-Fairchild was back in the end zone, this time as Jackson Johnson connected with Bret Koska from 14 yards out giving Osseo-Fairchild a 14-0 lead at the end of the first quarter.
You have free articles remaining.
Despite the slow start the defense for Cadott picked up and the running game on offense started to find its groove. The defensive front was able to get into the backfield and force losses or short gains as Osseo-Fairchild had just five yards rushing at the half.
Cadott had a chance to tie things up late in the half. After Spaeth scored on a one-yard run in the second quarter that made it a 14-6 game with 1:16 to halftime, Brant Bowe forced a fumble on the ensuing kickoff which was recovered by teammate Michael Pecha.
Cadott got the ball down to the 21-yard line of the Thunder but back-to-back false start penalties pushed the Hornets back and they were unable to score to close the half. 
Spaeth and Wahl combined for 128 yards in the second half on 27 carries as the offensive line continued to get a strong push wearing out the front seven of Osseo-Fairchild.
"They did great. Do your job and keep grinding and that's what we did that drive down there," Goettl said of the offensive line.
Spaeth ran the ball 27 times for 139 yards and two touchdowns. Wahl had 101 yards on 23 carries. Cadott was only able to generate 23 yards through the air for the game.
Osseo-Fairchild quarterback Jackson Johnson was 9-of-13 for 139 yards and 2 touchdowns. Myhers had four catches for 68 yards.
Cadott plays at Neillsville/Granton next Friday.
"This don't set us back. This wakes us up," Goettl said of the loss. "We're going to grind this week and we're going to get after Neillsville."
Osseo-Fairchild at Cadott football 9-6-19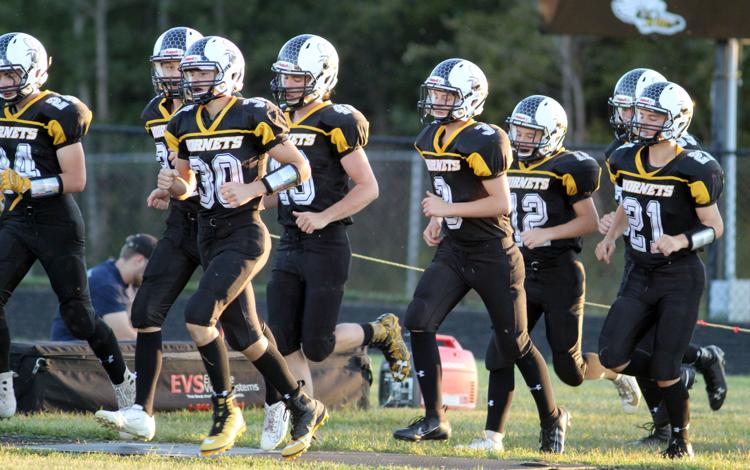 Osseo-Fairchild at Cadott football 9-6-19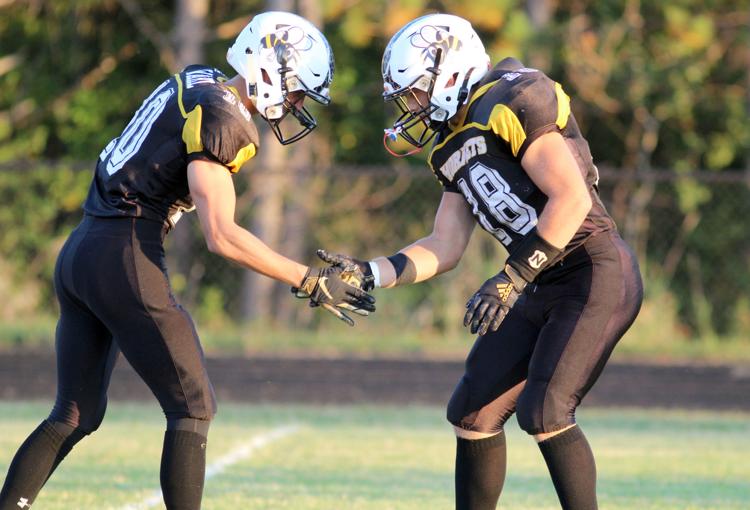 Osseo-Fairchild at Cadott football 9-6-19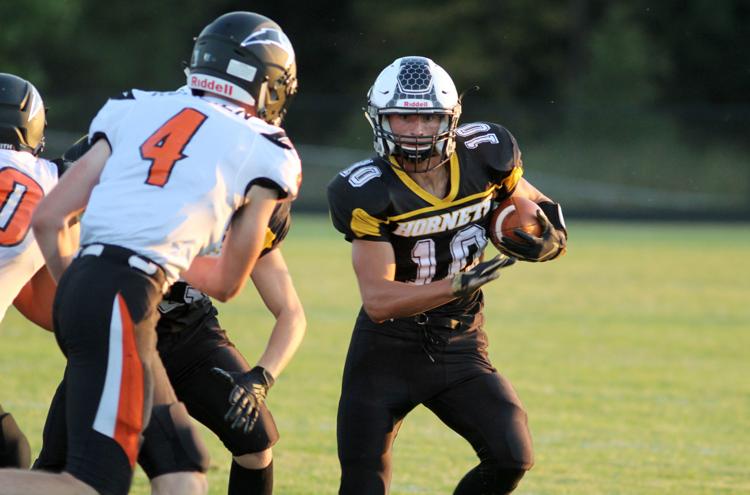 Osseo-Fairchild at Cadott football 9-6-19
Osseo-Fairchild at Cadott football 9-6-19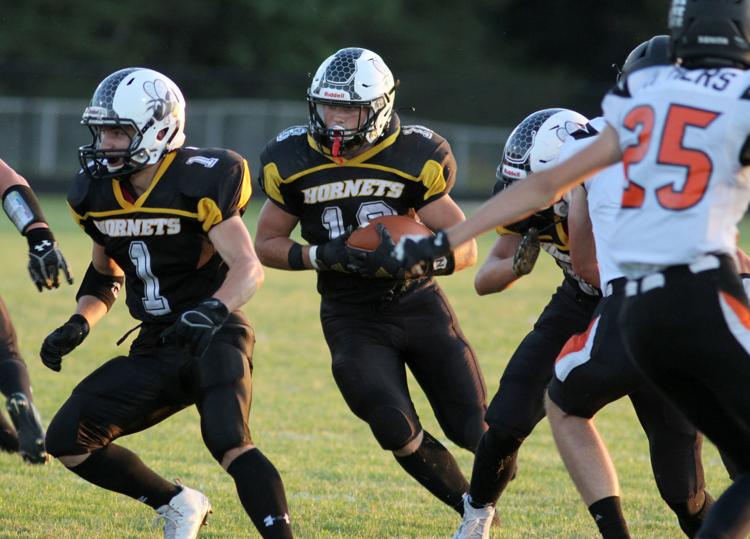 Osseo-Fairchild at Cadott football 9-6-19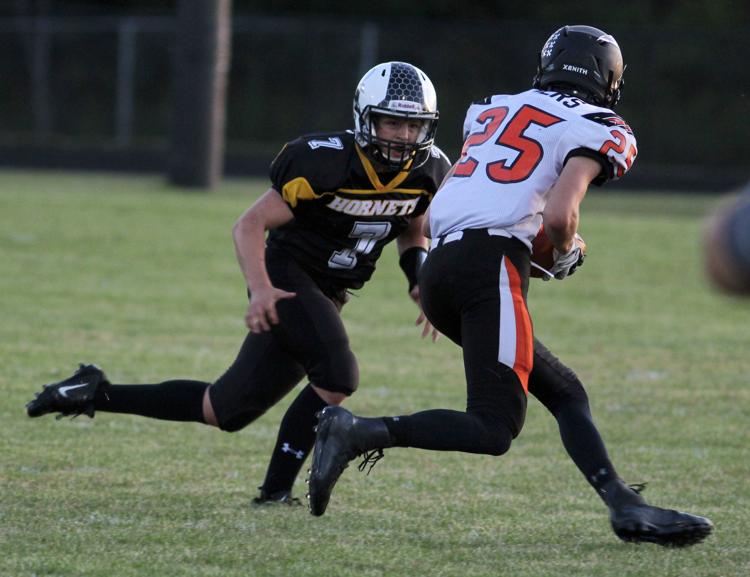 Osseo-Fairchild at Cadott football 9-6-19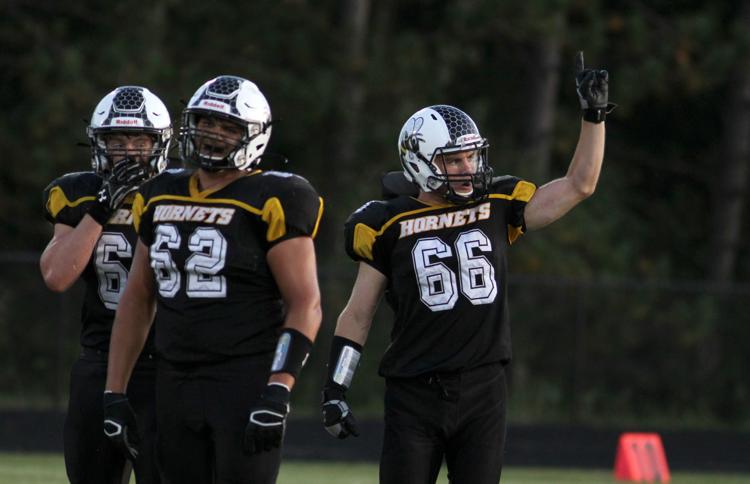 Osseo-Fairchild at Cadott football 9-6-19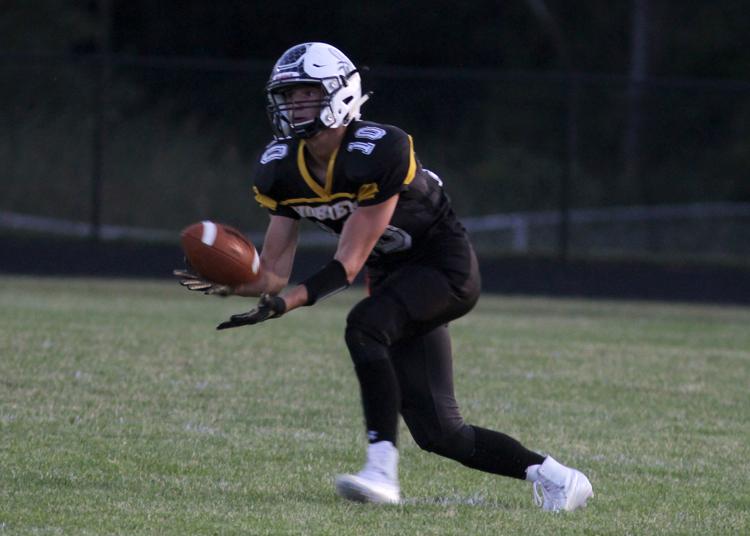 Osseo-Fairchild at Cadott football 9-6-19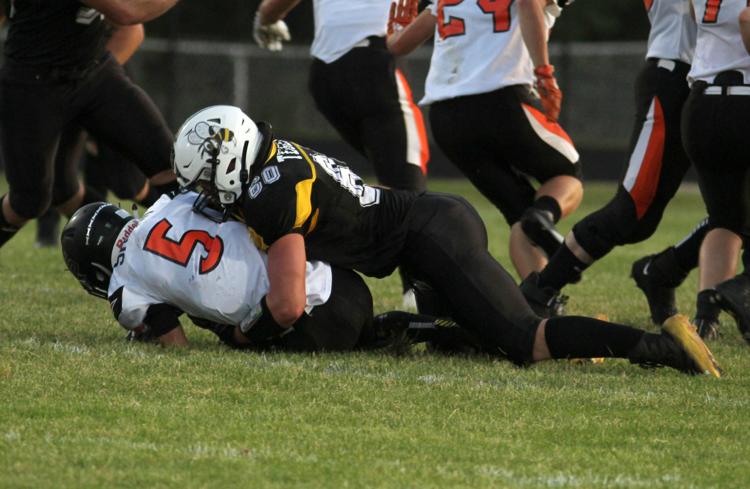 Osseo-Fairchild at Cadott football 9-6-19
Osseo-Fairchild at Cadott football 9-6-19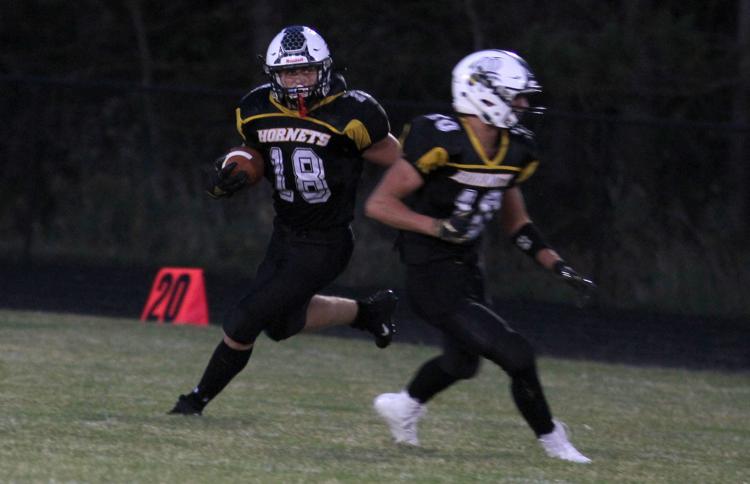 Osseo-Fairchild at Cadott football 9-6-19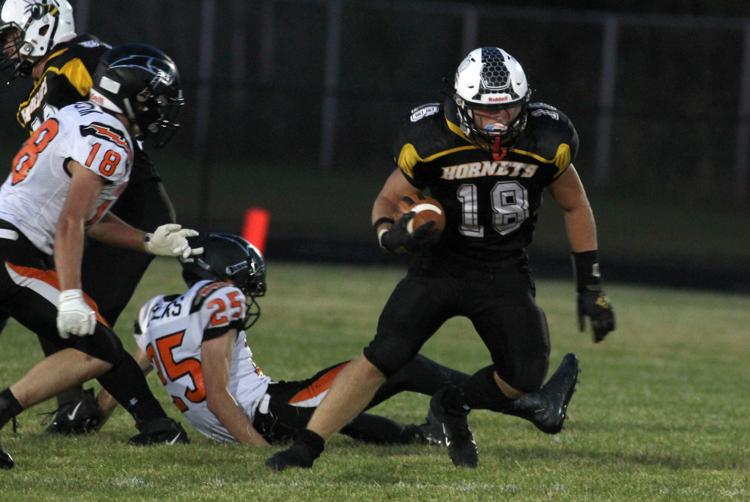 Osseo-Fairchild at Cadott football 9-6-19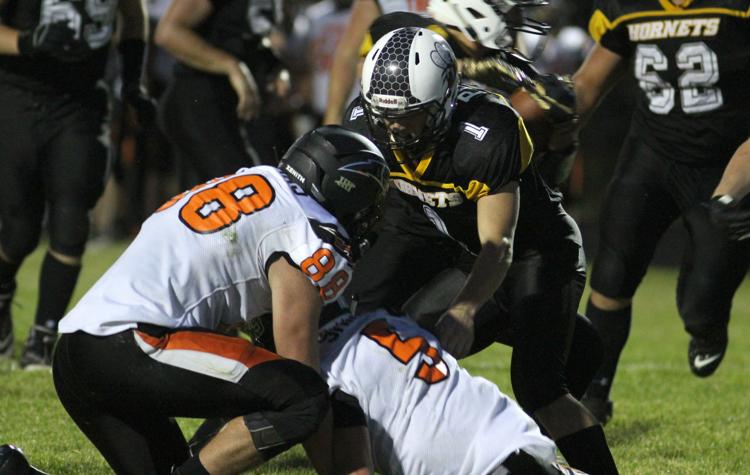 Osseo-Fairchild at Cadott football 9-6-19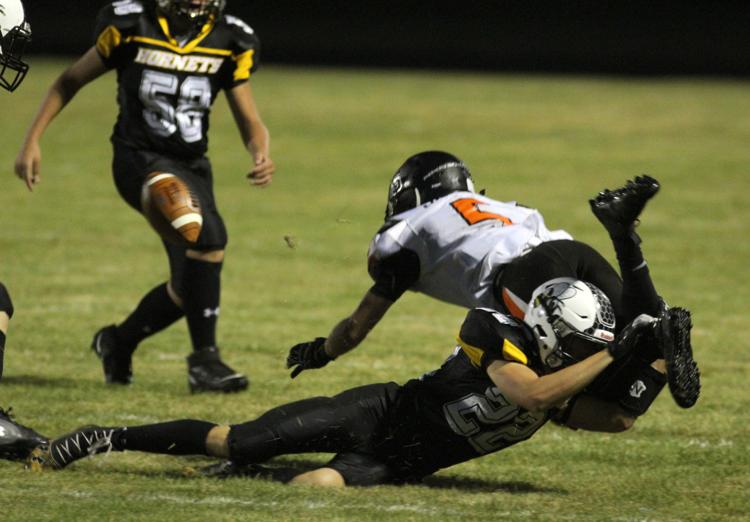 Osseo-Fairchild at Cadott football 9-6-19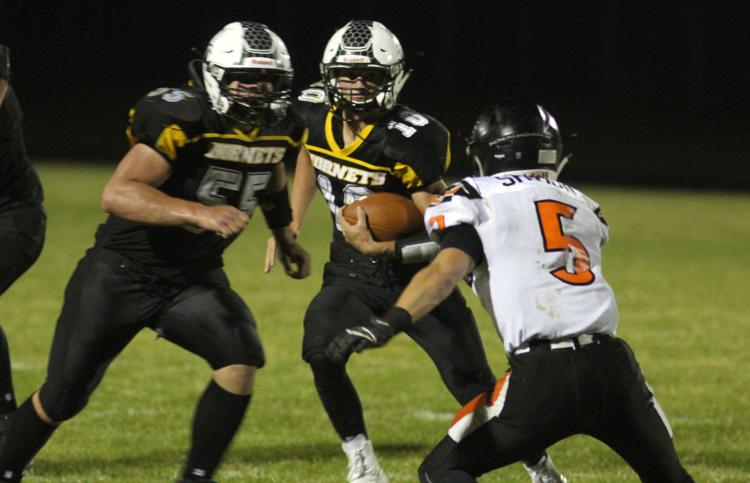 Osseo-Fairchild at Cadott football 9-6-19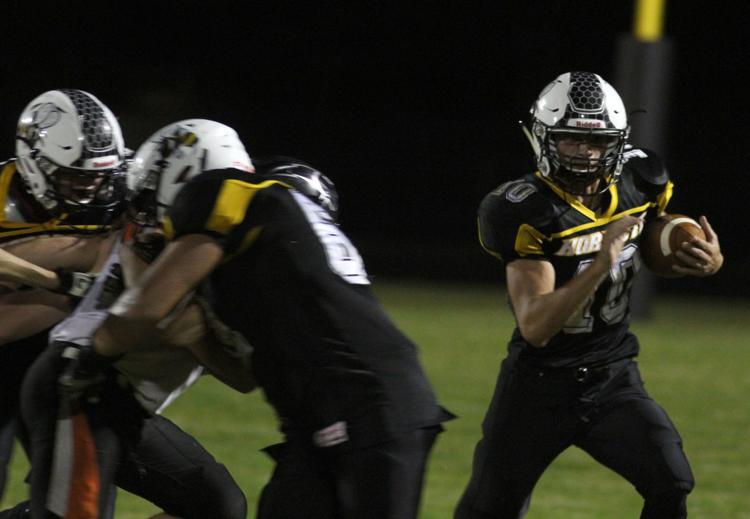 Osseo-Fairchild at Cadott football 9-6-19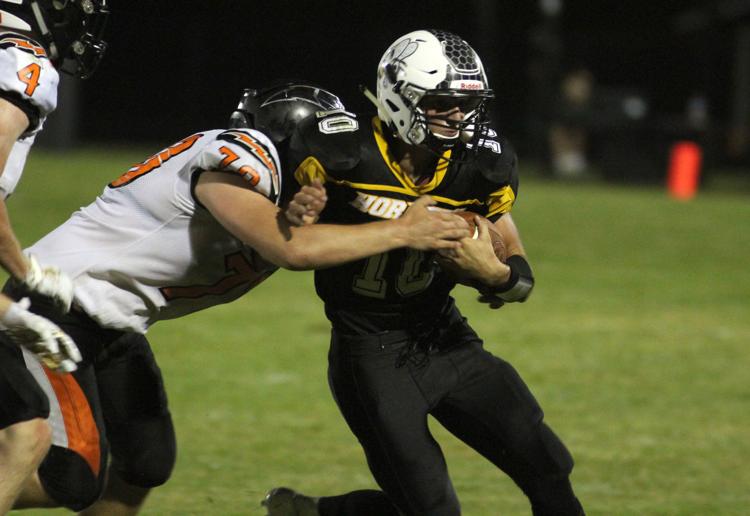 Osseo-Fairchild at Cadott football 9-6-19