The McDonell girls basketball team will lean on tough defense while it develops more punch on the offensive end of the court to start the season.
Overall the Macks return nine letterwinners from an 11-13 team that fell in the Division 5 regional semifinals a season ago and are aiming to improve on the team's fifth place finish in the Western Cloverbelt Conference.
The team returns starters Maggie Craker, Lauryn Deetz and Anna Geissler and that trio will shoulder the scoring load early as a cast of other players look to find their roles with the team. While that offense rounds into shape, sixth-year coach Don Cooper has a team that he believes can make life difficult for opposing offenses.
"Their defensive presence (has stuck out) and for them their familiarity with everything we did from last year it's crossed over," Cooper said. "They had a great offseason and I'm looking forward to it."
Craker averaged 16 points and six rebounds per game as a sophomore while earning first team All-Western Cloverbelt and All-Chippewa County accolades and finishing second in the WIAA 3-Point Challenge. The sophomore Deetz had six points, three rebounds and two assists per game in her first varsity season while the junior Geissler averaged five points, two rebounds and three assists a season ago.
McDonell graduated its second and third leading scorers in Abby Wampler and Hannah Sykora but the team returns several players that Cooper feels are more than capable of shouldering some of the scoring load as the season develops.
"Our focus was finding out the depth and who can play and we have such great depth this year (with) all the girls coming back," Cooper said. "We were trying to be very hopeful when we put these girls in a game and gamelike situations and now they're going to get their opportunity."
You have free articles remaining.
Keep reading for FREE!
Enjoy more articles by signing up or logging in. No credit card required.
Senior center Lexi Johnson (two points, three rebounds per game last season) and 5-foot-10 sophomore Abigail Petranovich will give the Macks some height in the post while junior Rachel Eisenreich and sophomores Destiny Baughman, Laneyse Baughman, Emma Stelter and Sydney Flanagan return with sophomore Kait Ortmann and freshman Marley Hughes also ready to jump into the varsity fray.
McDonell opened the season Thursday with a 58-45 victory over Mondovi, a contest in which the banged-up Macks were at less than full strength. The Macks have some time off before jumping into conference play on Friday, Dec. 6 when they play at Stanley-Boyd. That conference opener against the Orioles starts a stretch of five games in eight days, one that includes a nonconference home matchup with Clear Lake on Monday, Dec. 9. The Warriors knocked the Macks out of the playoffs last season and come into the season as one of the favorites in this area's Division 5 sectional.
Overall McDonell has four Western Cloverbelt games before the new year and if the team can develop scoring options around Craker and Co., the Macks could be a factor in the race for the league title.
"We're young but we're experienced and I'm looking forward to the season," Cooper said.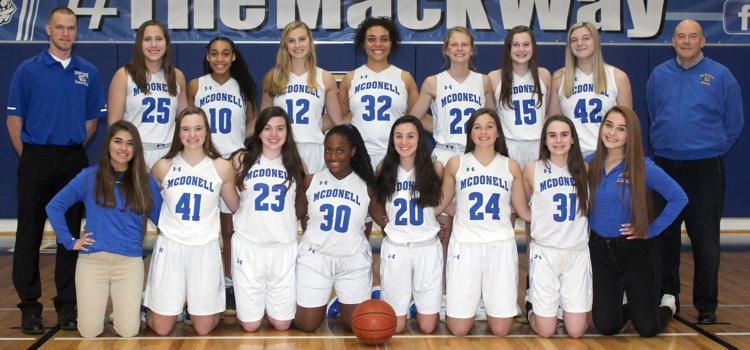 Photos: Eau Claire Immanuel at McDonell girls basketball Division 5 regional quarterfinal 2-19-19
The McDonell girls basketball team defeated Eau Claire Immanuel 61-48 in a Division 5 regional quarterfinal matchup on Tuesday, Feb. 19, 2019 at McDonell.