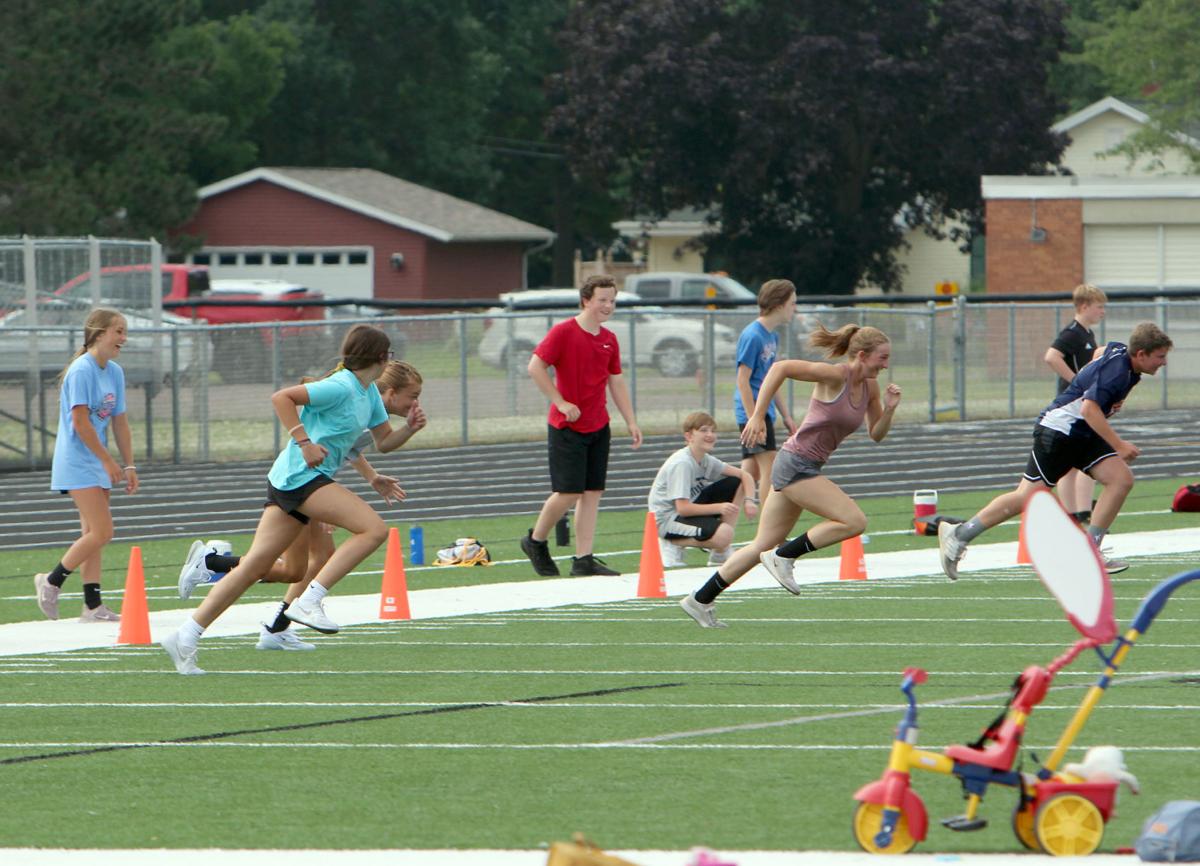 No final determinations have been made as of yet as to what a fall sports season may look like.
But in the meantime athletes around the state of Wisconsin have been able to return to some semblance of athletic normalcy as the WIAA announced a guidance in June that would allow districts to return to summer workouts beginning July 1.
The 16-page guideline packet detailed increased protocols for health and safety measures designed to help keep everyone safe amid the ongoing COVID-19 pandemic.
Monday marked the first day for Chippewa Falls High School's summer conditioning program. Physical education teacher and the school's strength and conditioning coordinator Becky Nette and her husband Derek led the workouts, which were 50 minutes in length. The school is hosting 7, 8, 9 and 10 a.m. sessions on Monday through Thursday and have gone to great lengths to make sure all proper protocols are met.
After the WIAA's guideline release, the school has worked with the Chippewa County Health Department and school board to figure out a way to follow and implement a plan and be sure all the necessary equipment could be used while doing so in a safe way. Nette reached out to families after that to let them know what they could offer.
"It was a lot of where do we go from here?" Nette said Monday. "Who do we talk to and making sure we follow the guidelines so students and athletes and parents and families feel comfortable."
Workouts took place at Dorais Field with designated areas for smaller groups within the larger session. Sanitizer was available upon entering the facility and cones were set up all around the turf field to help coaches and athletes keep their distance. Athletes were reminded not to share water bottles and to stay the designated distance apart as Nette announced the workouts through the facility's speaker system.
"We just have to make sure the kids understand our expectations, the guidelines and how to follow it so everything can be run pretty smooth," Nette said.
Nette said she expected more than 150 students for the first day of the workouts and more than 230 overall had signed up for the program.
McDonell is running a similar program called MackFit, focusing on sports movements, increasing strength and power and improving an athlete's focus and attitude towards their sports and life. McDonell athletic director Emily Mallek said the school has set up a few summer contests for the baseball and softball teams for later in the month and is working on addition events for other sports after the conclusion of the winter and all of the spring seasons were canceled.
Some other schools are hosting summer contact days and workouts while others are simply holding off and seeing what the landscape looks like at the beginning of August.
"I think it's just so nice to see so many kids because we haven't seen them since March," Nette said. "It's nice to see they want to come and work out and they want to be here."
Get in the game with our Prep Sports Newsletter
Sent weekly directly to your inbox!