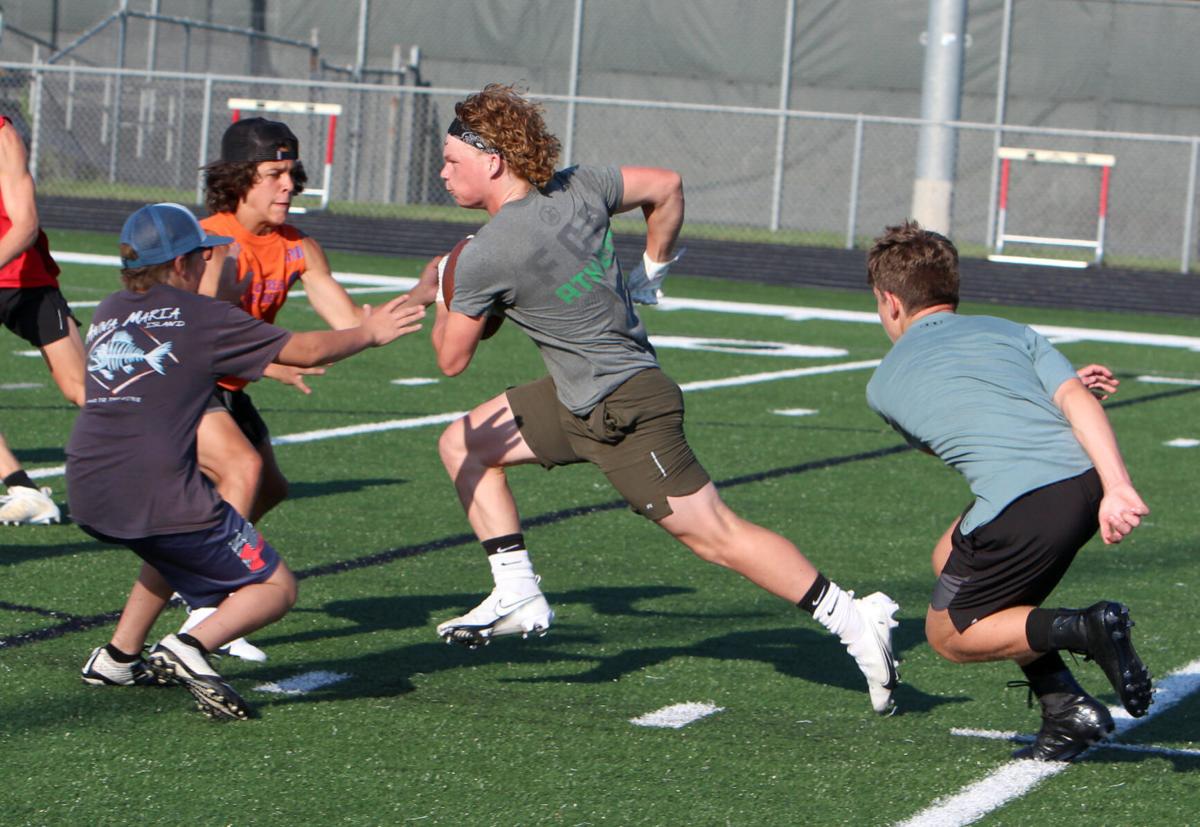 No news is good news so far for area prep sports coaches and athletes.
Coaches and athletes have been back on the field and in the gym this month for contact days, WIAA-approved offseason practice time with the fall season just around the corner.
Last fall coaches and athletes competed while working through ramped up protocols as the first sports to return to action since the COVID-19 pandemic ramped up near the end of the 2020 winter season. Face coverings, distancing measures and decreased numbers of fans in attendance were among the factors in play throughout the fall.
Thus far summer contact days have felt more like 'normal' as many of those initial protocols have been relaxed through the winter and into the spring. And while the pandemic is still ongoing, case numbers in Chippewa County are down from a year ago and with vaccination options available the situation is different from 2020.
"It's funny how fast you forget what it was like last year," McDonell volleyball coach Kat Hanson said this week. "One of the first contact days we had it was hot and sticky in the gym and they were sweating and tired and I remembered putting masks on and having to breathe through a mask. How did we do that? You did it because you had to and that was the only option but it was not fun, it was not comfortable and it was not easy but they did it. So being able this year to kind of have some normalcy, have more than 10 people in the gym at a time and just play is nice."
The Macks were able to work through the challenges all athletes faced, advancing to the Division 4 state tournament for the first time in a decade before finishing runner-up at the state tournament which was held at Little Chute High School instead of the normal site of the Resch Center in Green Bay.
"It all ties into mental toughness and what you focus on," Hanson said. "There was for every team in the state a lot of negatives last year. We didn't know what was going to happen, who was going to play, what it was going to be like. It was hard to play in masks. You can choose to focus on that or you can choose to focus on all the good things – we got a season, we didn't have a game canceled. Those type of things apply to this year, it applies to life.
"There's always negative in life, sports and everywhere. But there's lots of positives too. You just have to look for them sometimes."
Chi-Hi football coach Chuck Raykovich also credited the adaptability and resiliency of his athletes from last fall. The Cardinals finished 3-3 with wins over Hudson, Rice Lake and Marshfield before their season was ended shy of postseason competition when the school district moved to virtual instruction.
"That year I'm really glad that our seniors got to play some football but in reality there was no conference championship, there was no playoffs. It was kind of like old-time football when you didn't have anything like that," Raykovich said. "It's good to get back to what high school football is all about – the competitive and the discipline that it takes and we're excited about it."
Chi-Hi and other 11-man football teams around the state will kickstart the 2021-22 prep sports season when they begin handing out equipment on Monday, Aug. 2 before the first day of practice on Aug. 3. Eight-man football, girls golf, girls swimming, girls tennis, cross country and volleyball will start practice in the weeks that follow and both Raykovich and Hanson said they have not been notified as of yet of any major protocols or other factors that may be in place for the fall season.
That could certainly change in the coming weeks before fall sports officially start but thus far things have felt a little more 'normal' for the first time in a long time.
"Kids are resilient and they've got good memories," Raykovich said. "Good memories but they've forgotten about last year. If you tell them to put their mask on they wouldn't know what you're talking about but they're excited about being out here. They've worked hard this summer and they're looking forward to this as well as the coaches are."