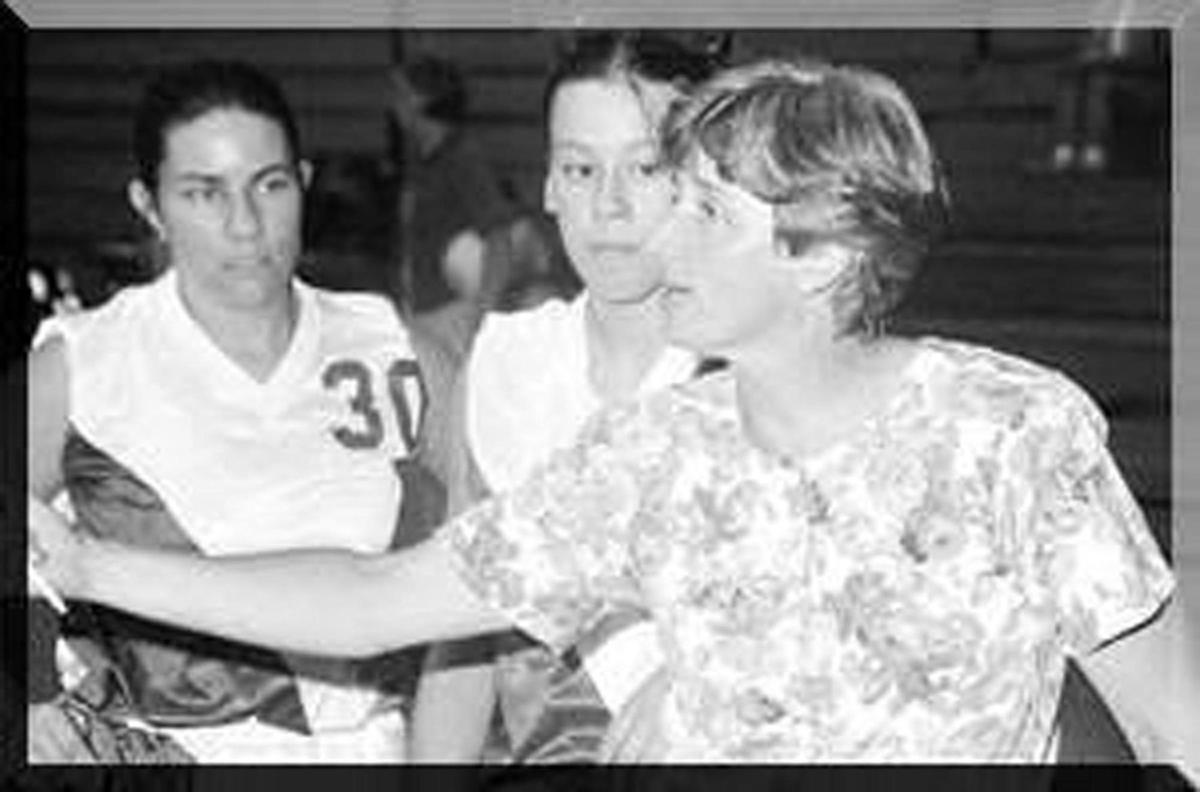 It's a name that is synonymous with excellence at McDonell — Debbie Roesler.
The longtime McDonell teacher and coach was known for her intensity and success on the volleyball court just as much as her success at relating and working with students in the classroom.
This Friday, the late Roesler will take her place among the top names in the history of volleyball in the state of Wisconsin when she is inducted into the Wisconsin Volleyball Coaches Association Hall of Fame during a banquet hosted at Wild Rock Golf Course in Wisconsin Dells.
Roesler's impact on the McDonell program she created is easy to see with a 1,483-777 career record to go with 15 conference championships and seven trips to the Wisconsin Independent Schools Athletic Association state tournament with a state championship in 1999. She coached the program she created for 27 years until her sudden passing in 2003 and created a lasting legacy in the classroom and on the court that is felt to this day.
Building a program
Debbie Roesler was born on Oct. 10, 1954 in Hemet, California and graduated from Drummond High School in 1972. She would move on to UW-Superior and was a standout multisport athlete, lettering in volleyball, basketball and track before graduating in 1976. She was inducted into UW-Superior's Athletic Hall of Fame in 2003.
She began teaching at McDonell and Notre Dame Middle School in the fall of 1976, when she would meet her future husband Steve. She would teach physical education and health in the school district until her passing nearly 30 years later.
At the beginning of her teaching career, she was asked to take on another assignment — starting up a varsity volleyball program at McDonell. High school girls sports was still in its infancy in the area, and the district believed Debbie would be the perfect person for the job.
What made Debbie a great coach is what also made her a great teacher. She was known for her ability to instruct and relate to her students, taking interest in them and their lives.
"She was a great teacher of the game (of volleyball) itself but also a great teacher (in general)," Steve said. "She planned things out well, she was able to get the respect of the girls in the program, and then she was able to get them to buy into that. The most important thing she was able to do was making sure the girls cared for one another and that they formed a team.
"Throughout her career that was the number one thing she worked at and she was very successful at doing that."
The first year of play was a learning experience as the team won sparingly, but the program would make a significant leap in the second year by taking home the first of 15 conference championships under Roesler's direction. It was during this time she also started as an assistant coach for the track and field team before ultimately becoming the girls coach. She would coach track and field for 27 years as the girls program would win WISAA state titles in 1984, 1985, 1997, 1998 and 1999. She was also the first girls basketball coach in school history, coaching the Macks during the program's first four seasons.
Her volleyball teams quickly became known for their fundamentals and team-first mentality, helping the program have an extended run of success that included just five losing seasons out of 27 with her at the helm.
The crowning achievement of her volleyball coaching career came in 1999 when the team would win the WISAA Division 2 state title, a team with her eldest daughter Kari as one of its senior leaders. McDonell finished the year with a 102-11 record on the season, capping the run to the title with an epic comeback to defeat Sheboygan County Christian (15-10, 4-15, 20-18) after trailing 7-0 early in the final set.
"I never dreamed we could win 100 games in a season," Roesler would say in a Nov. 1, 1999 story in The Herald following the team's state championship. "The girls did it all on their own."
Her husband Steve and their two daughters Kari and Kat remember the game well. Steve was a scorekeeper for the team, Kari was the Central Wisconsin Catholic Conference's Player of the Year on the team and Kat was a freshman in the program.
Steve said he remembers the consistency the team showed all season long, as well as the comeback and how following the win Debbie took time to celebrate with each player and coach on the team.
"As a teacher and coach, she was amazing. As a mom, she was simply the best. But what made her so special, is just who she was as a person," Kari said. "She was that one person you meet in a lifetime who had this innate ability to make everyone's day brighter, just by being in it. She had this zest for life that was unparalleled, and she constantly put her students and athletes ahead of herself. The success and well-being of every individual is what she dedicated her life to.
"McDonell volleyball's team-first philosophy was developed and then executed perfectly by her, and a huge part of McDonell volleyball's success is because of how special she truly was, and the legacy she leaves."
A lasting legacy
Roesler passed away suddenly in the spring of 2003. She suffered an aneurysm while on the telephone at work and was taken to Sacred Heart Hospital in Eau Claire where she would pass away a day later.
Her passing was felt not just in the athletic community, but throughout the area as well as her caring and willingness to help made an impact on many in all walks of life.
"She made everyone smile. There wasn't a person she met, whose heart she didn't touch," was written in her obituary following her passing.
And that legacy has lived on.
Since her passing the McDonell program has had a combination of four coaches: Steve, Kat, Kari and longtime assistant coach and former player under Roesler, Denise Boos. Kat took over the program from Boos in 2008 following five successful seasons under the direction of Boos, a UW-Eau Claire Blugold Hall of Famer. Kat guided McDonell to its first WIAA state championship when the Macks won the Division 4 state championship in 2009.
Steve took over leading the program from Kat in 2012 before she and Kari would become co-coaches in 2015, a position they hold today. No matter who has been coaching the program following Debbie's passing, they've remained successful. That has come in large part from the groundwork set by the program's inaugural coach.
"Kari, Kathy, Denise and I built on what she started and being first-hand observers and participants in that, I don't know that we would've been to where we are if she hadn't put in 27 years of teaching all of us what was important," Steve said.
Family tradition
Kat and Kari first found out their mother was being inducted into the hall of fame last fall when they were attending the state volleyball tournament in Green Bay.
Fellow coaches were discussing possible candidates among themselves when Debbie's name came up. Early on while gathering information on Debbie's career, the organization quickly came to a conclusion.
"As they looked through that (record book) they realized she is one of the most successful coaches in volleyball in the state of Wisconsin, and they more or less said 'How did we overlook her in the past?'" Kat said.
Prior to her passing, Debbie said one of her greatest joys during her coaching career was getting to coach her two daughters. Debbie's passion for volleyball first began with her great uncle Harold Friermood, an International Volleyball Hall of Fame inductee who helped bring the sport of volleyball into the Olympics, where it debuted in 1964 during the Tokyo summer games.
The program she created is now in good hands with her two daughters, and they too look forward to getting the chance to work with their children and nieces once they enter the program, the way their mother did not too long ago.
"We coach like she did because of the role model we had and how we were raised by both of our parents," Kat said. "They both have that same philosophy and that's ingrained in us and that's how we parent and how we coach."
To this day many parents and grandparents that had children go to McDonell still follow the program will share memories because of their relationship with Debbie. In many ways, it has helped her keep a presence within the program.
"We miss her every day but we get to share that experience together and still with her because we feel her presence," Kari said. "We couldn't be more proud of her and everything she's done and I think one of the greatest compliments Kat or I can have is that we're like our mom and our dad."