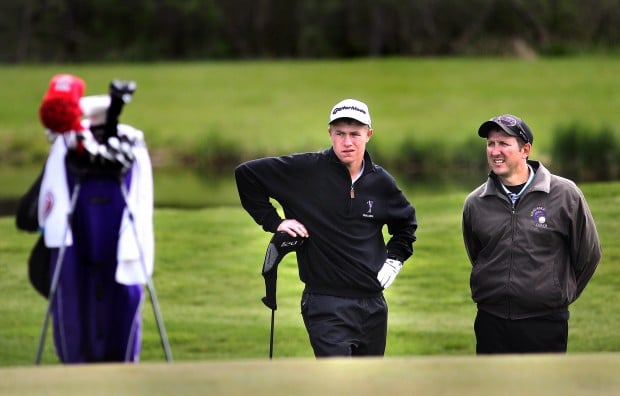 ONALASKA — He submitted his resignation as the boys golf coach at Onalaska High School on Wednesday morning.
It was accompanied by a mix of excitement and sadness.
Dick Kyes knew he'd go home at some point, but he wasn't sure when.
He knew it back when he was helping — as much as he could, anyway — with the initial stages of building Whispering Pines Golf Course in Cadott, Wis., around 30 years ago.
It was the dream of Frank Kyes — Dick's father — to own his own golf course in his hometown and not manage someone else's. He'd already done that.
So Frank Kyes, a former teacher and basketball coach at Colfax High School, got the ball rolling on constructing his own golf course in the mid-1980s.
Twenty-six years after opening as a nine-hole course, the call has come for Kyes to go home and manage the course.
"He's reached the point where he's in his early 70s and just doesn't want to work that hard anymore," Kyes, a Bloomer High School and UW-Eau Claire graduate, said of his dad. "Everything just seemed to line up for this to be the right time for me to go back."
Kyes, 47, walks away from an Onalaska program he helped win 11 MVC championships in 15 seasons. Ten of those seasons have produced either a team or individual WIAA state appearance, and four of his teams placed fourth in the final Division 1 standings.
That success, according to those who played for him, is due to his understanding of people even more than his knowledge of the game.
"He was made to coach, whether it be golf or basketball or whatever," said three-time MVC golfer of the year and former University of Wisconsin player Jeff Kaiser. "It's just his personality. He's not going to give you a complicated lesson about golf, but he knows how to get a lot out of his players.
"He knows which players need support and encouragement, and he knows which players respond better to getting chewed out for doing whatever they did."
Kaiser, a three-time state qualifier and runner-up state finisher after losing a one-hole playoff as a junior, said he fell into the latter category and that Kyes knew just how to manage that.
"He is very, very good at what he does," said Kaiser, who runs a TaylorMade development center in Madison. "There aren't a lot of people who have that whole package of knowing the game and being able to read people."
Some conversations on the course during competition were about the upcoming shot or hole, but a lot of them were also centered on keeping players loose and the mood light.
"I used to get frustrated a lot more than I do now," said Ben Skogen, who just completed his fourth state-qualifying performance and will play at Wisconsin next season. "Everything with him was about staying positive.
"We'd be walking down the fairway and talking about something at school or where we were going to eat afterward. It was always good for us to get a laugh out of each other."
Kyes said that had to be his focus with the development of players at younger and younger ages. The mental aspect is what he can influence the most.
"A lot of these guys show up, and they are already using swing coaches, so you don't want to interfere with that too much," he said. "What you can do as a high school coach is to help them with the other phases of the game."
Kyes' career change completes a course of action that began when he was a student and the family found a parcel of land that was affordable and seemed like it could be what Frank envisioned.
The interesting parts of the process were finding ways to get the work done.
"We were out there raking everything by hand," Kyes said, "and we used a local construction company that had only built roads before."
A local dentist with a background in course design — Dr. Gordon Emerson — used plaster molds from his office to show builders how to construct the greens.
The experience, he said, was a memorable one.
"It was so neat when I look back on it," Kyes said with a smile.
Whispering Pines began as a nine-hole course in 1987 and expanded to 18 holes in 1995.
Kyes has been a regular employee from the start, but after splitting residency between La Crosse and Eau Claire for his entire teaching career, he is ready to have a little more stability in that aspect of life.
"I have an apartment in La Crosse, but I have always maintained a home in Eau Claire," said Kyes, who has lived in Eau Claire when school is out to help at the golf course. "There has been a lot of traveling back and forth, especially when I was coaching basketball."
A two-year stint following legendary Onalaska basketball coach John Shelton didn't go nearly as well as golf has, and Kyes stepped down after two seasons with a 13-29 record.
He said he made some mistakes in those two years. A community that had watched Shelton win 493 games and two WIAA state titles in 27 seasons wasn't about to stand for it, either.
Kyes has followed two legends — former Onalaska golf coach and coaches association Hall-of-Famer Linda Mills is definitely one in her own right. He's experienced wild success in one sport and plenty of frustration in the other.
The good thing for Kyes is that he is ending with the successful sport. The bad thing for those left behind is that following Kyes might be just as tough as following any other Onalaska legend.
Be the first to know
Get local news delivered to your inbox!