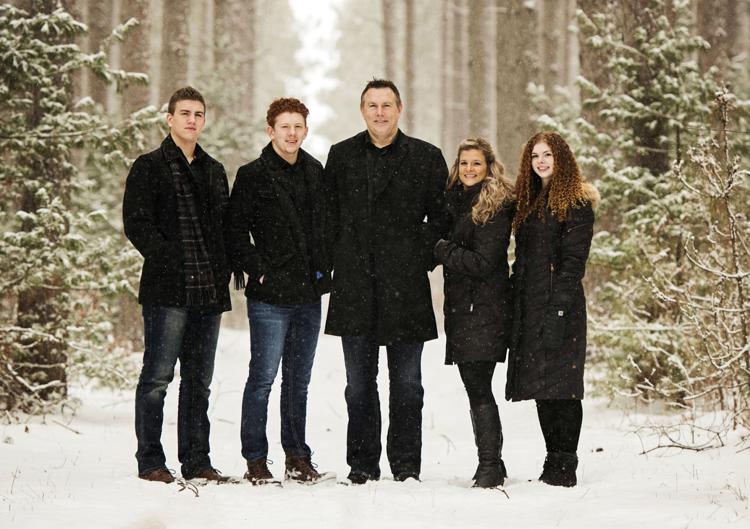 The best things in life happen organically.
David Czech and Mary Hyland never expected to meet each other as they did. They never expected that decades after moving on from being student athletes at St. Cloud State University in St. Cloud, Minnesota, that they would return as parents to three fellow Husky student athletes.
The most satisfying aspect of the situation is how it developed.
"They wanted to do whatever it is they wanted to do and at the end of the day each one of those kids made their own decision, made their own path and we helped guide them based upon their goals and their dreams," Mary Czech (Hyland) said. "It's kinda cool they ended up where they ended up. I never would've thought my three kids would've ended up going to my alma mater."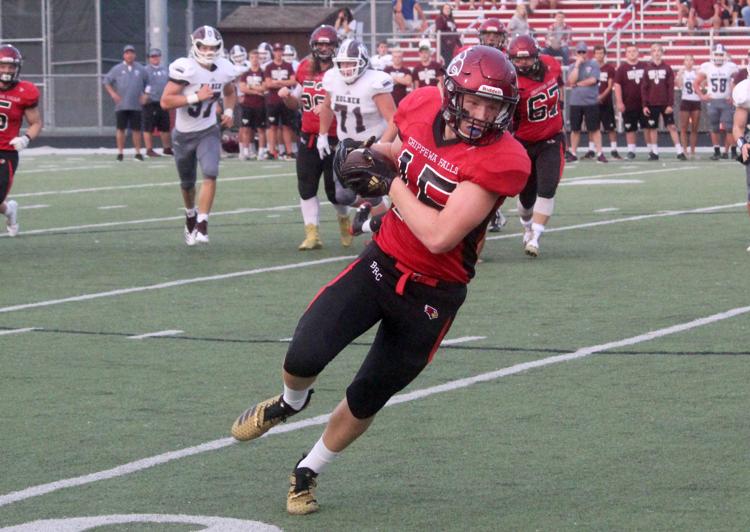 The beginning
Dave Czech was a stellar three-sport athlete at Chi-Hi, lettering and starring in football, basketball and track and field for the Cardinals before graduating in 1989. Czech earned first team all-state honors at tight end and linebacker for the Cardinals, was a part of Chi-Hi's last Big Rivers Conference championship team on the hardwood and won a Class A state championship in discus and holds the school record in the event.
Dave earned a scholarship to play at the University of Wisconsin and spent four years with the the program, hauling in 18 catches for 207 yards as a tight end before transferring to St. Cloud State in 1993.
That's where he met Mary, a St. Paul native. Mary entered college with an impressive athletic resume of her own. She played football as a freshman at Johnson High School in addition to being a three-year starter for the volleyball team. Mary was a two-time all-conference player and a part of a team that finished fourth at state in her junior year. She was also a two-year starter for the softball team, earning honorable mention accolades there before earning a scholarship to St. Cloud as a defensive specialist.
Before the fall school session, dorms on campus were open to incoming freshmen football players as well as volleyball players. The transfer Dave was among the players on campus and quickly caught the eye of Mary, a volleyball player for the Huskies.
"This big guy comes walking in to a conference area. He's pretty big and nice physique, very tall and eye catching and I'm like 'that dude ain't no freshman' but he has to be, because he's in the dorm," Mary said.
Dave and Mary struck up a conversation and things took off from there. The relationship grew and continued, even after David transferred his biology credit back to Madison to graduate from UW in December of 1993 while Mary continued at St. Cloud before graduating from there.
Dave earned All-North Central Conference honorable mention accolades in his one season with the Huskies while Mary remains easy to find in the St. Cloud volleyball record books.
She is tied for 10th in school history for matches played (118) and earning North Central Conference Defensive Player of the Year honors in 1995, a year in which the program advanced to the NCAA Division II Elite Eight for the first time. She was a four-year starter for the team, captain on the 1995 team — the school's last team to date to make it to the Elite Eight.
"It was a good experience for me, not just picking up my family there but leaving football on a good, positive note," Dave said of his time in St. Cloud.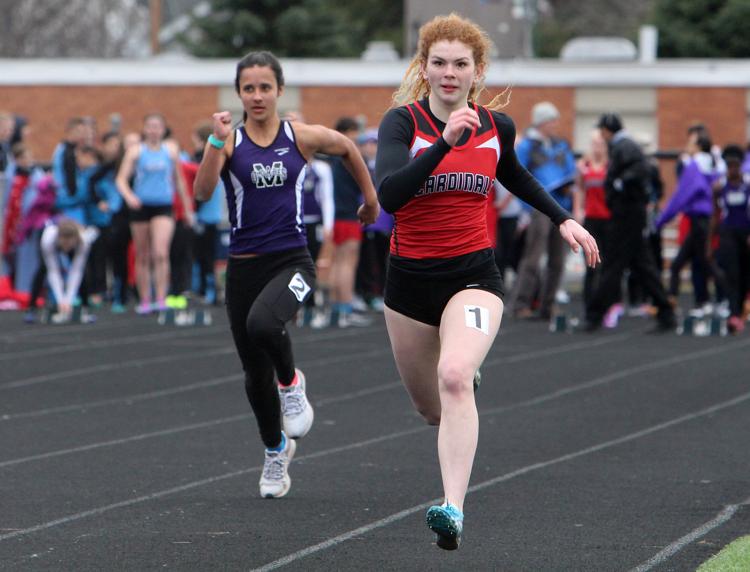 The next generation
Dave and Mary married and returned to Chippewa Falls where they had three children — Justin, Victoria and JD.
Like their parents, the trio gravitated toward sports and showed a knack for playing at a high level.
Justin was a standout for the Chi-Hi football, basketball and golf teams, quarterbacking the Cardinals within one round of the Division 2 state championship while also starting for the Cardinal boys basketball and golf squads before graduating in 2016.
Victoria excelled as an outside hitter for the volleyball team and part of equestrian in the fall and the track and field squad in the spring, qualifying for sectionals in the 100-meter hurdles and is a 2017 graduate.
JD graduated from Chi-Hi this spring after a strong career as a three-year starter for the football team and accomplished track and field career, advancing to state three times and coming within 10 feet of his father's discus school record on the way to the Division 1 state track and field championships this past spring.
As a youngster, Justin could be found thumbing through his dad's University of Wisconsin playbook and scribbling down some plays of his own. That aptitude for the game carried over into success at one of the most difficult positions to play sports — quarterback. Czech has completed 48 of 108 passes in 11 games played thus far for the Huskies, throwing for six touchdowns while making a pair of starts last fall. The oldest child was the first to step onto campus as an athlete and beginning this fall will be joined by his two younger siblings.
"I think it's really cool to represent such a great university with my whole family," Justin said. "There is a lot of family pride in having that connection and I think that it makes everything we do have more meaning."
Victoria is transferring to St. Cloud after a successful two-year run at North Dakota State College of Sciences of the National Junior College Athletic Association. Victoria was a first team Academic All-American twice, an All-Mon-Dak Conference selection this past fall as well as an all-region selection after finishing second on the team with 307 kills while carrying a hitting percentage of .227.
She will be making the transition from volleyball to track and field with the Huskies, turning down a scholarship to play in Virginia for the chance to be closer to home.
"I'm excited to be in a different environment than I was (in) the last two years," Victoria said. "I'm also really looking forward to the fact that I'll be doing track. It will be nice to have been able to do two out of the three high school sports that I did. I'm looking forward to the challenge and seeing how far I can push myself."
JD will join Justin on the football team after signing with St. Cloud earlier this year to play tight end. Czech was a first team All-Chippewa County and second team All-Big Rivers Conference accolades after playing all over the field for the Cardinals. During the spring, JD put together a dominant senior campaign as a discus and shot put thrower, advancing to state in both events.
"I think it is really unique that we have kind of a family tradition going," JD said. "Being able to be a part of that is special."
Each of the siblings are looking forward to carving their own niche and making their own friends at school, while also maintaining those family bonds. Justin and Victoria will be living across the street from each other and Victoria said the older siblings will make sure to utilized their youngest brothers' cooking skills whenever they get the chance.
All three were pursued for their athletic and academic talents by many universities, but each ultimately decided independently that St. Cloud was right for them.
"I think that it is important to know that we all made our college decisions on our own," Justin said. "We all had other options, some better than others, but in the end it was our decision along to choose SCSU. I didn't come to St. Cloud to be in my parents respective shadows, I came because it was the best fit athletically and academically and it has been one of the best decisions of my life."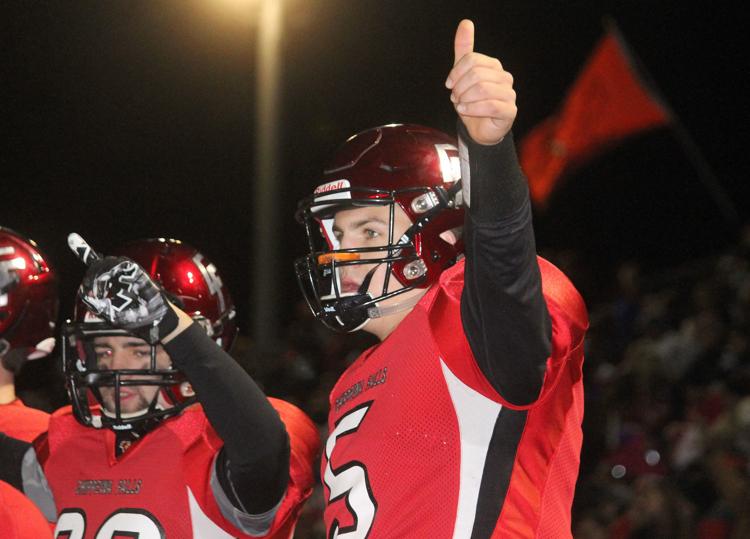 The future
For the first time in a long time, David and Mary will have some free time. No hustling to high school volleyball or football games in the fall. No hosting team meals.
The weekends in the fall will be taken up by traveling to watch the football team before springtime track and field meets hit. But this fall will begin a different feeling and both parents were quick to admit that will be the part that is most different.
"You're still going to wind up rooting for the (Chi-Hi) teams and everything, always rooting for the players, but it's so different. You're changing your focus now," David said. "You have St. Cloud State as your team, so it's hard. I don't think we've looked at what the most enjoyable thing is going to be about this next step is going to be other than now they're on their own and it's interesting to see how they (the kids) progress on their own."
Mary added that it's also a different connection among college parents compared to those the families grew up around in Chippewa Falls.
Justin, Victoria and JD supported each other as the older children started with college athletics, traveling to see each other compete when they were able. That becomes much easier for everybody now that they're in the same area.
"I think it's going to be awesome. I think they're going to have a close-knit relationship," Mary said.
And there's the academic portion of the situation. Justin is majoring in accounting and plans on staying on staff with the team after graduating as an assistant coach while he goes to grad school. The parents believe Justin has the intellect and the temperament to be a head coach one day. Victoria brings a 4.0 grade point average to St. Cloud and could be in line to take over David's law practice in Chippewa Falls down the line. JD's academic path is still undecided, but David and Mary believe he has the ability and natural charisma to make whatever path he chooses work.
Twenty six years ago, David and Mary's paths first crossed in St. Cloud State. This fall their three children will be together again as student-athletes in the same place before they eventually go different ways.
"We couldn't be prouder of them. Not just the way they turned out as athletes, but the way they turned out as people," David said. "The relationships they have with other people…they are 10 times better than the person that I was."
Be the first to know
Get local news delivered to your inbox!