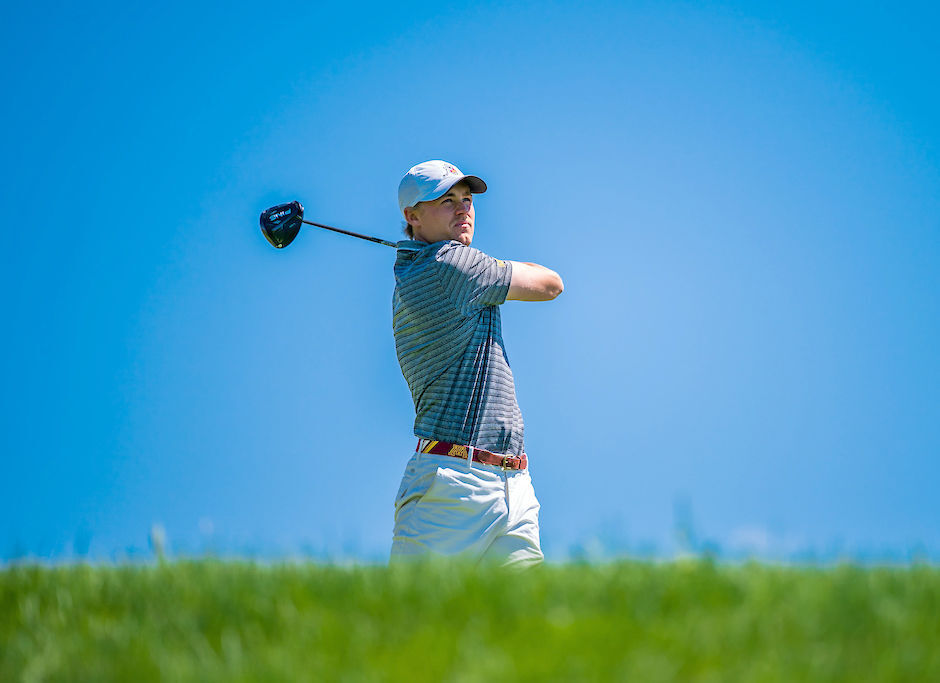 Thomas Longbella has always dreamed of being a professional golfer.
And right now he's closer to that goal than ever before.
The Chippewa Falls native and McDonell graduate is one step closer as a part of the Korn Ferry Tour after advancing out of a pre-qualifying tournament recently in Madison, Miss. The Korn Ferry Tour is the developmental tour for the PGA Tour and features pro golfers who have not yet reached the PGA Tour or those who have but did not earn enough FedEx Cup points to remain there.
Longbella tied for 25th at a pre-qualifying tournament on Aug. 25-27 at Lake Caroline Golf Club in Mississippi with a 5-under to advance to the first stage of qualifying. Thoughts of playing at the professional level have been in Longbella's mind ever since he first picked up a club as a youngster.
"I think in all honestly that's been my goal with golf since I've started playing golf," Longbella said of playing at the professional level. "I had never had (the thought that) I just want to be a Division I college golfer and be done. It was always to turn pro and play professional golf, and it's crazy. I graduated and you kind just get thrown into it, but I had some big decisions to make and one of those was playing in Korn Ferry qualifying."
Longbella wrapped up his final season with the Minnesota Golden Gophers this past spring. He was second on the team in scoring average (74.87) and percentage of scores counted (83.3) and third in birdies (43). He finished tied for 37th at the Big Ten Championships and earned a season-best tie for 13th place at the Git R Done Husker Invitational with a 4-over in 2021.
The 2016 McDonell graduate put together a dominant high school career with the Macks, winning the 2014 Division 3 state individual championship by seven strokes. He earned medalist honors in 30 of 40 tournaments he competed in and was a first team all-state selection in 2014 and 2015 and a third team all-state honoree in 2013. He also won the Wisconsin State Golf Association's Junior Boys Championship in 2014 and prior to that was first in age-level junior championships from 2012-14.
But when Longbella stepped on campus to golf with the Gophers he knew things would be different. Longbella had experience in tournaments outside of the spring prep season but knew that each time he hit the course he'd be seeing some of the best golfers the sport had to offer at the college level.
"It's a Big Ten school and with that we always played a really strong schedule and that was something I knew going into it," Longbella said. "I knew right away I was going to start playing against guys that are four years older than me and are all-American golfers (and) ready to make it on the PGA Tour. I've played a lot of those guys in college golf tournaments and it gave me a really good gauge of where I was at."
Longbella said his best season as a Gopher was his first as a freshman in 2016-17, when he averaged a 73.04 across nine tournaments. He used that experience against high-level players to win the 119th Wisconsin State Amateur Championship by 10 strokes prior to his final season with the Gophers in 2020.
He has set his mind to taking the next step into the professional ranks, and his performance in the pre-qualifying tournament was the first step of the journey that is quite different from those of other pro sports.
"It's been absolutely amazing," Longbella said. "There's a lot of pressure with doing pro golf. In other sports, if I was a good at hockey as I am at golf, the route looks a lot different in some sense where you get signed with a team or you have a contract. In golf you can do that, but it's really hard."
Longbella fired off back-to-back 66s in his second and third rounds to help move into an advancement position at the pre-qualifying tournament. Then he and his parents made the nearly 15-hour drive back to the area where on little sleep Longbella won the 61st Annual Chippewa Valley Golf Association Tournament of Champions on Aug. 28 at Eau Claire Golf and Country Club with a 2-under 69.
The next step in the process comes later this month when Longbella competes at one of 12 first stage tournaments around the country. Longbella hasn't been told yet where he's competing, but he's been training hard to be ready for the challenge.
"That's my life just golf, golf, golf every day," Longbella said. "I think that's one thing I'm excited for because through college golf I was a college student having to do regular college things and on top of that I had 12 tournaments where I had to fly to and miss five days of the week. Not having to worry about school and just go to the course for eight hours a day and just kind of make it my job in a way has been nice."
Golf may be treated more like work for Longbella, but it's a dream job as the Chippewa Falls native chases a dream he's had for a long time.
"I'm excited," Longbella said. "I'm excited to be a professional golfer and I think it just goes back to what I always wanted, how I viewed what I want in life and that's definitely has been the forefront of my life for at least the last 10 years."