MILWAUKEE — Michael Conforto needed some time to adjust to changes he was making in his hitting approach.
Now, he's seeing the benefits of his new plan.
Conforto went 4 for 4 with a homer, and six San Francisco pitchers combined on a four-hitter as the Giants beat the Milwaukee Brewers 5-0 on Thursday night. Conforto has gone 8 of 17 with three homers and six RBIs over his last four games.
"It's one of those things that happens in baseball when you're trying to make adjustments," Conforto said. "Sometimes it doesn't kick in right away. You have to be comfortable with it. The timing changes. So we worked through a tough stretch, and now I feel like I'm in a good place."
Conforto had started tinkering with his process a few weeks ago. He wanted to make his decisions a little later on each pitch, enabling him to stay through the ball. Conforto says when he gets good pitches to hit now, he's driving the ball rather than fouling it back, as he'd been doing in the past.
This four-game tear has improved Conforto's batting average from .210 to .239. His OPS has soared from .715 to .810.
Conforto has 11 homers and 22 walks this season. The former New York Mets outfielder has joined Moises Alou, Barry Bonds and Willie Mays as the only Giants players since 1901 to have at least 10 homers and 20 walks in their first 44 games with the team.
"That's pretty awesome company to be with," Conforto said. "That's pretty special."
Conforto stole a base and reached on each of his five plate appearances with three singles, a solo homer and a walk. LaMonte Wade Jr. went 3 for 5 with an RBI and Casey Schmitt was 2 of 4 with two RBIs and two runs scored.
They backed up an exceptional all-around performance from San Francisco's pitching staff.
In a designed bullpen game, Scott Alexander, Taylor Rogers, Jakob Junis (3-2), Sean Manaea, Tyler Rogers and John Brebbia teamed up to strike out 13 and walk two.
Teheran, an All-Star selection with the Atlanta Braves in 2014 and 2016, had been pitching for the San Diego Padres' Triple-A affiliate in El Paso, Texas. He opted out of the minor league contract with the Padres and agreed to terms with the Brewers on Tuesday, though the signing wasn't official until Thursday.
″I'm kind of proud of myself and the job I've been doing, to kind of come back in the big leagues," Teheran said.
The 32-year-old right-hander struck out five and gave up four hits and a walk. The only run Teheran (0-1) allowed came when Wade singled home Schmitt with two outs in the fifth.
"He pitches like he knows what he's doing, which is kind of what we expected," Brewers manager Craig Counsell said. "Maybe a little lower arm slot than I remember him having, and that makes him a little different. It makes the fastball, makes them react to the fastball a little differently. But he's using his stuff very effectively."
Wade's hit produced the first run the Brewers had allowed since Monday, as they were coming off back-to-back shutout victories over the Houston Astros. The Brewers have three shutout losses and two shutout wins over their last eight games.
The Giants broke the game open by scoring four runs off Tyson Miller in the eighth.
Milwaukee's best scoring chance came in the first inning on a long drive from Darin Ruf, but San Francisco's Mike Yastrzemski made a leaping catch at the wall in right-center to rob his former teammate of an extra-base hit and possible homer.
Trainer's room
Giants right-hander Luke Jackson is expected to pitch Friday for Triple-A Sacramento as he continues his recovery from reconstruction to his ulnar collateral ligament. Giants outfielder Austin Slater (left hamstring strain) could start a rehabilitation assignment as early as this weekend.
Up next
Left-hander Alex Wood (0-0, 4.05 ERA) starts for the Giants and right-hander Freddy Peralta (5-3, 4.15) pitches for the Brewers as the four-game series continues Friday night.
5 greatest Milwaukee Brewers sluggers of all time
5 greatest Milwaukee Brewers sluggers of all time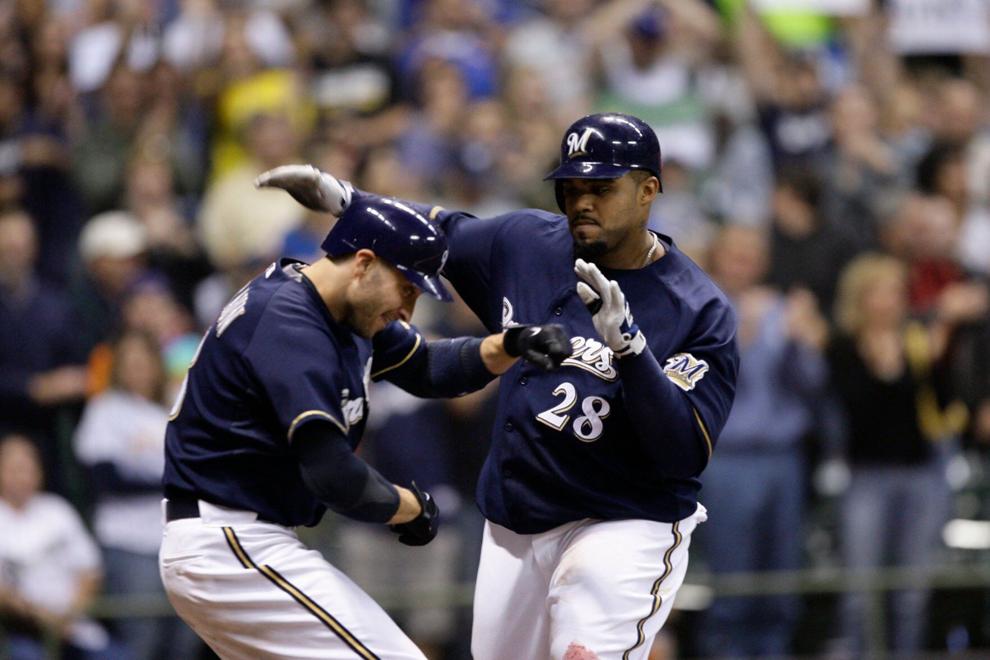 The home run is one of the most exciting plays in all of sports and the Milwaukee Brewers have had some of the most memorable sluggers in MLB history.
Spring training is underway and Opening Day is around the corner for the Brewers, who blasted 219 home runs (third most in MLB) and finished last season as the runner-up to the St. Louis Cardinals in the NL Central with an 86-76 record.
First baseman Rowdy Tellez led the Brewers with 35 home runs, followed by shortstop Willy Adames (31) and since-traded right fielder Hunter Renfroe (29). However, despite the impressive stats, the Brewers missed the postseason for the first time since 2017. 
The Brewers agreed to terms with Tellez and Adames, while Renfroe is now with the Los Angeles Angels. 
Leading up to Thursday's season opener at historic Wrigley Field against the divisional rival Chicago Cubs, here's a look at the five greatest sluggers in Brewers history.
5. CF Gorman Thomas (1973-83, 1986)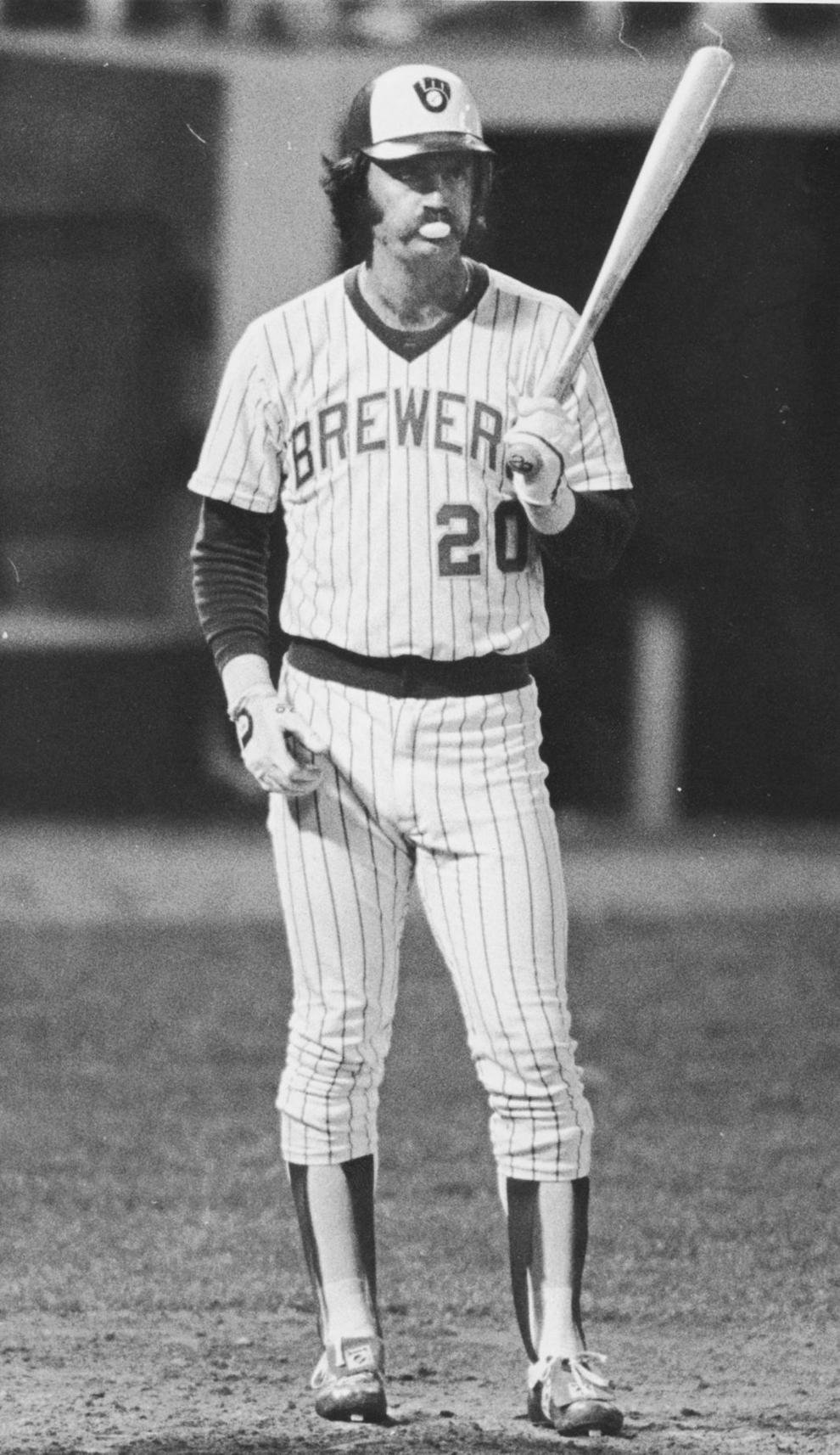 Stormin' Gorman was the original heavy hitter and a fan favorite for the Brewers during the franchise's early years. 
The 6-foot-2, 210-pound Thomas rose through the minor leagues with MLB stints before being called up for good by the Brewers in 1978. During his first full season in the majors, Thomas hit 32 home runs along with 86 RBIs. 
Thomas followed that up in 1979 with the finest season of his pro career. He led the AL with 45 home runs while also amassing 123 RBIs and an OPS of .895. Thomas finished seventh in AL MVP voting. 
In 1980, Thomas played in all 162 games and collected 38 home runs with 105 RBIs. During the 1981 season, Thomas tallied 21 home runs and made his lone All-Star appearance. 
During the breakthrough 1982 AL pennant, Thomas tied Reggie Jackson for a league-best 39 home runs while also coming through with 112 RBIs. 
After spending 1983-85 with the then-Cleveland Indians and Seattle Mariners, Thomas returned to Milwaukee in 1986 to play the final 44 games of his career. 
Thomas is a member of the team's Wall of Honor and the American Family Field Walk of Fame. For his 11 seasons with the Brewers, Thomas hit 208 home runs with 605 RBIs.
4. LF Geoff Jenkins (1998-07)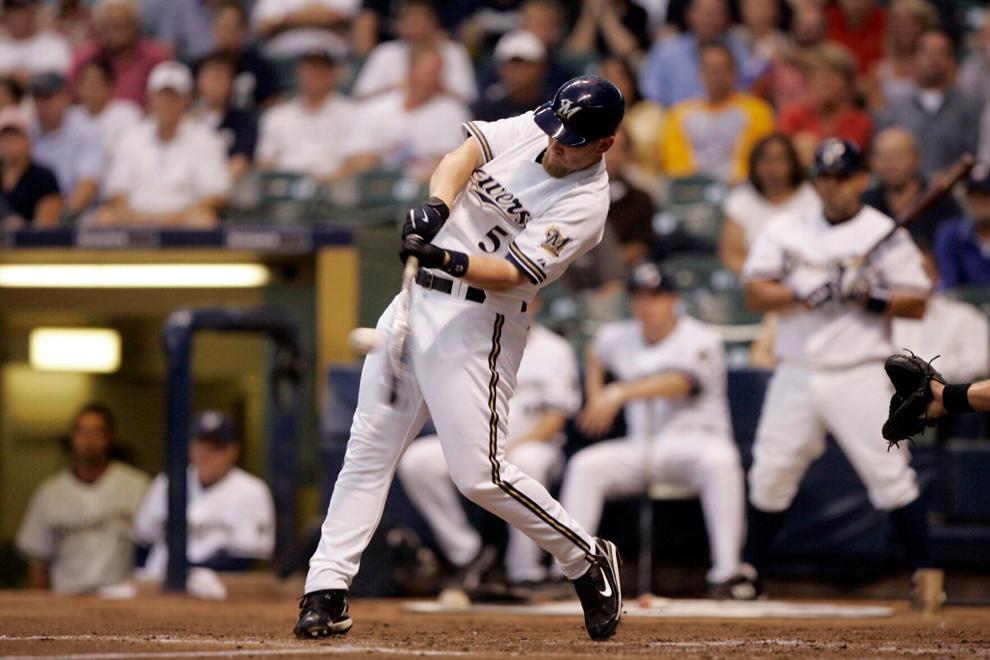 The 6-foot-1, 205-pound Jenkins spent the first decade of his 11-year career with the Brewers.
As a rookie in 1998, Jenkins hit a home run off San Francisco's pitcher Orel Hershiser in his third career plate appearance. During the 2000 season, Jenkins hit .303 with 34 home runs, his career high.
After suffering a gruesome dislocated ankle in 2002, Jenkins bounced back the next season with his lone All-Star selection. During that 2003 campaign, Jenkins batted .296 with 28 home runs and 95 RBIs.
For his career with the Brewers, Jenkins totaled 212 home runs, 704 RBIs with an .843 OPS. Jenkins is a member of the team's Wall of Honor and the American Family Field Walk of Fame. 
3. 1B Prince Fielder (2005-11)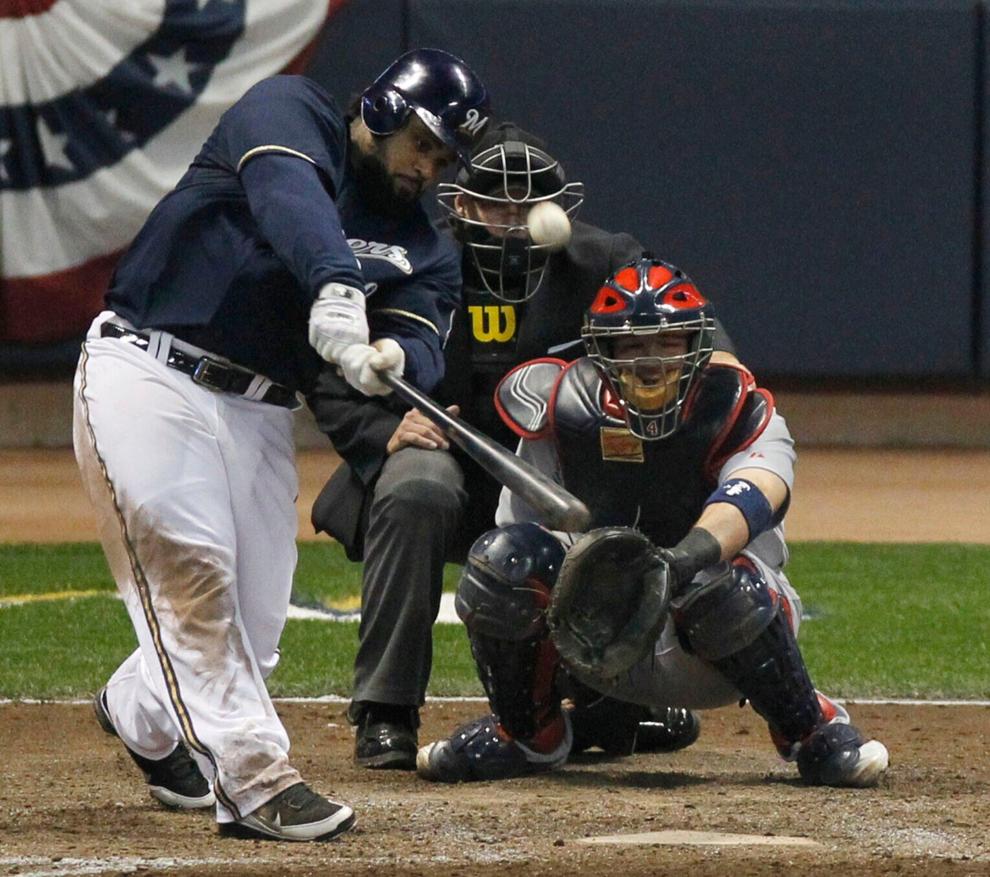 When it comes to going yard, Fielder was a king for the Brewers during his seven seasons with the franchise. 
The 5-foot-11, 275-pound Fielder, son of famed former pro Cecil Fielder, was a wrecking ball of fury at the plate and quickly established his own identity. 
In 2006, Fielder was tops for all rookies and broke a Brewers rookie record with 28 home runs. 
The following season, the 23-year-old Fielder erupted for 50 home runs to set a single-season franchise record that was previously held by Richie Sexton (twice) and Gorman Thomas (45). 
Fielder became the youngest player in MLB history to hit 50 home runs in a season. He also finished second in the NL in slugging percentage (.618) behind his teammate Braun and tied for third in RBIs (119) to earn his first Silver Slugger. 
Fielder regressed to 34 home runs in 2008, yet still helped the Brewers reach the postseason via a Wild Card berth for the first trip to the playoffs since the 1982 World Series. 
In 2009, Fielder was an ironman and played in all 162 games. He hit 46 home runs (second in MLB) and drove in a career-best 141 runs (tied for first in MLB) as he earned an All-Star appearance. Fielder also wowed the crowd in St. Louis at the Home Run Derby with 23 home runs, including a massive 503-foot moonshot, to secure the crown.
Fielder's dominance was on full display in 2011, his last season with the Brewers. Fielder smashed three bombs on Sept. 27 vs. the Pittsburgh Pirates. Fielder hit a three-run home run en route to winning All-Star Game MVP. The fearsome Fielder was intentionally walked an NL-best and Brewers record 32 times. He hit 38 home runs (second in the NL).
He finished his Brewers career hitting .282 with a .929 OPS, 230 home runs and 656 RBIs.
2. SS/CF Robin Yount (1974-93)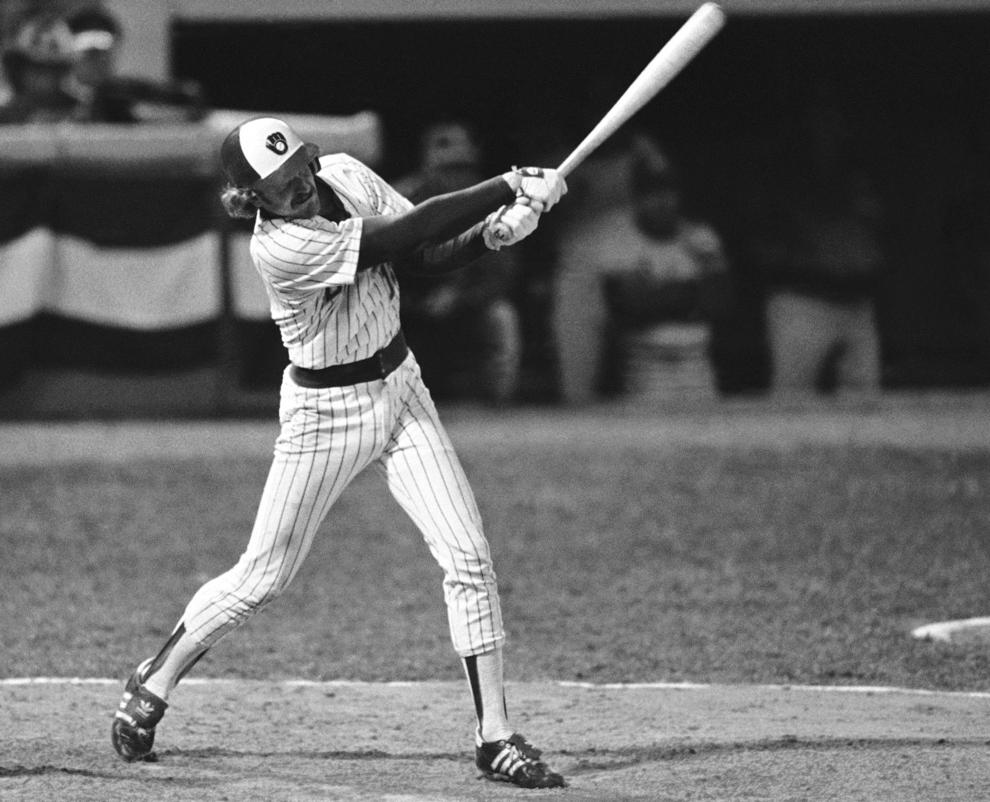 Rockin' Robin has a rightful claim as Mr. Brewer. The 6-foot, 165-pound Yount joined the Brewers in 1974 as an 18-year-old during the franchise's fourth season and grew into a man that's now enshrined in Cooperstown. 
The first-ballot Hall of Famer spent the entirety of his two decades in the majors with the Brewers. 
Yount was a two-time AL MVP (1982, 1989), a three-time All-Star (1980, 1982-83), and a three-time recipient of the Silver Slugger (1980, 1982, 1989). Yount's No. 19 is retired by the Brewers and he's recognized on the team's Wall of Honor and at the American Family Field Walk of Fame. 
Yount is the last player to hit a home run as an 18-year-old, doing so with a game-winning shot in his sixth contest. However, Yount didn't hit double-digit home runs in a season until his breakout campaign in 1980 when he finished with 23. 
Yount wasn't as gifted of a power hitter as some of his fellow peers in the Hall of Fame. The most home runs Yount hit in a season was 29 in 1982. Yet his longevity and versatility at the plate resulted in him holding the crown for the Brewers until Braun surpassed him 25 years later. Yount retired as the Brewers' career leader for games, at-bats, runs, hits, doubles, triples, RBIs, total bases and walks. 
The crowning achievement of Yount's career was during that 1982 season. Yount helped the Brewers to their first World Series appearance in which they lost to the Cardinals in seven games. Yount became the first player in MLB history with two four-hit games in one World Series. Yount batted .414 with a home run and six RBIs in the 1982 World Series.
Honorable mention
OF Christian Yelich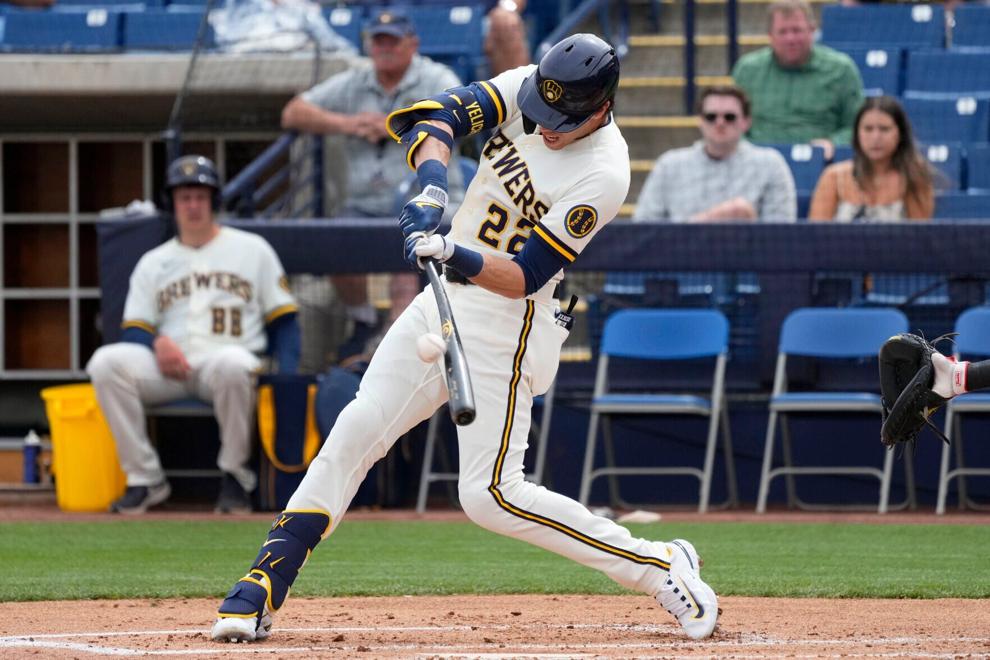 When Christian Yelich arrived in Milwaukee after spending his first five seasons with the Miami Marlins, his power was limited.
Fast forward five years later, an NL MVP (2018) and two All-Star appearances later (2018, 2019) and Yelich has amassed 115 home runs with the Brewers. 
Yelich has lost some of his pop in the last three seasons but in those first two seasons with the Brewers he had slugging percentages of .598 and .671 respectively. Yelich was also runner-up for the NL MVP in 2019 and won back-to-back Silver Slugger awards in that span.
1B/LF Richie Sexson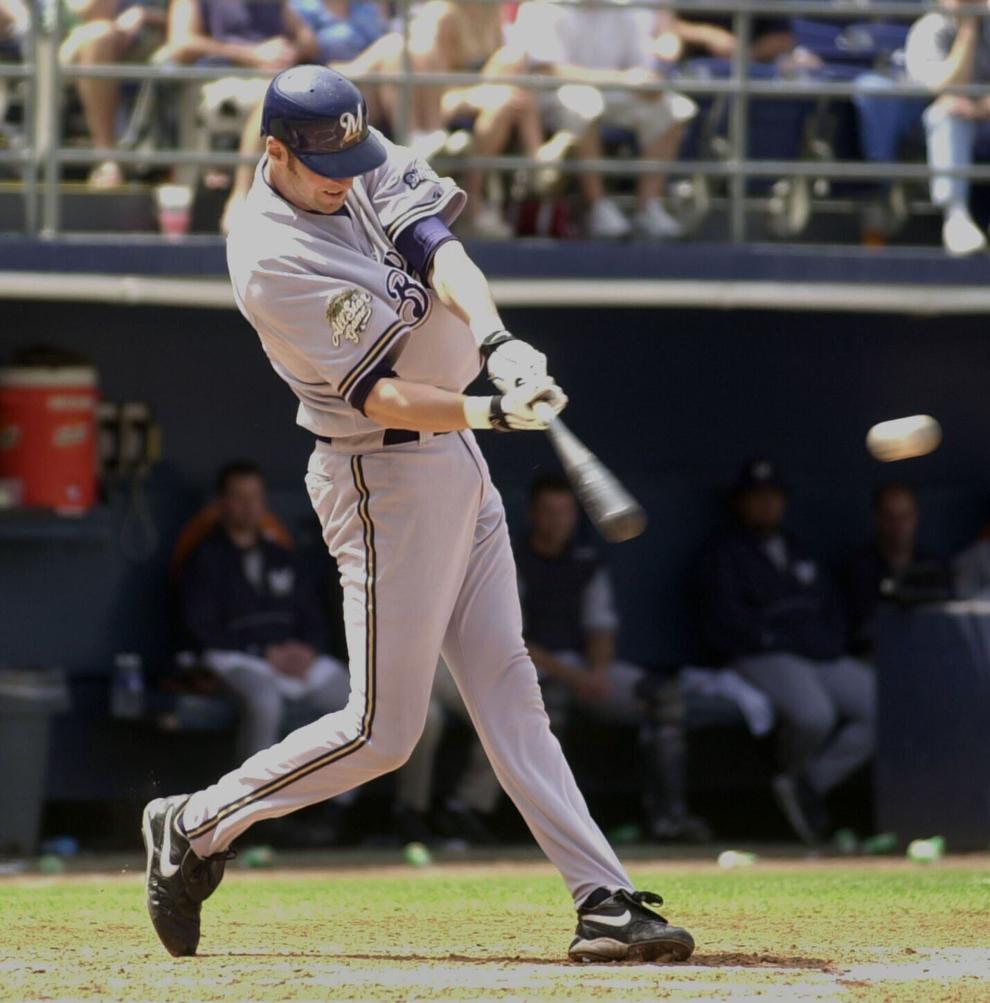 During his four seasons with the Brewers, Sexton produced a pair of the highest home-run totals in franchise history. 
Sexton notched 45 home runs apiece in 2001 (.547 slugging percentage) and 2003 (.548 slugging percentage) for the third-most figures ever for the Brewers. 
In 2003, Sexton placed 13th in NL MVP voting. 
In total, Sexton finished with 133 home runs as a Brewer. Sexton earned two trips to the All-Star Game (2002, 2003) with the Brewers and is included in the franchise's Wall of Honor. 
1B Cecil Cooper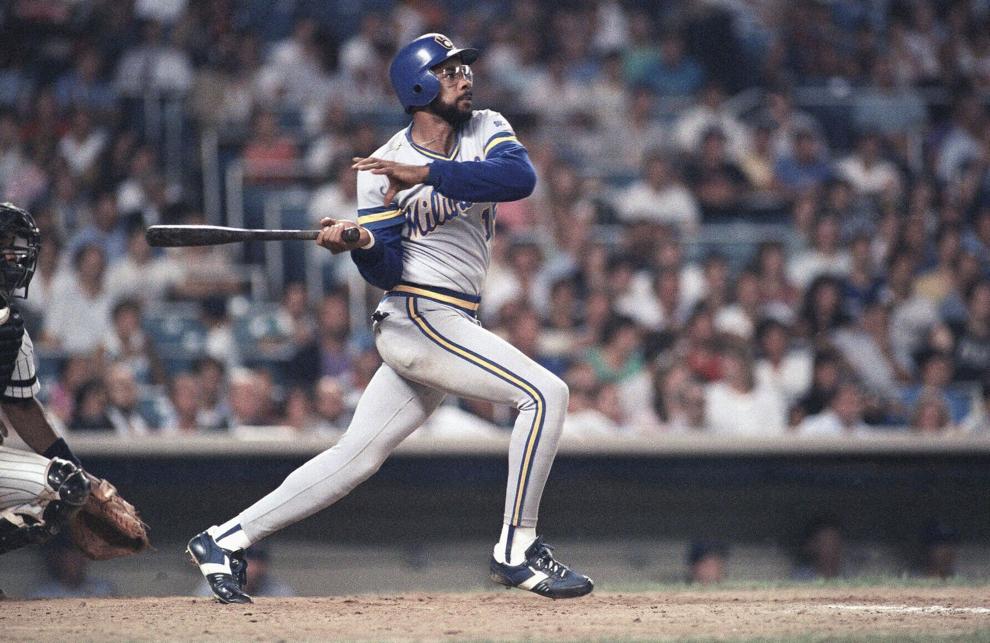 Despite never hitting more than 32 long balls in a season, Cooper ranks sixth in franchise history with 201 home runs.  
Cooper was top 10 in AL MVP voting from 1980-83 while also earning three consecutive Silver Slugger Awards from 1980-82. The five-time All-Star averaged a .470 slugging percentage in his 11 seasons with the Brewers. 
Cooper is included in the American Family Field Walk of Fame and the Brewers' Walk of Honor. 
1. LF/3B Ryan Braun (2007-20)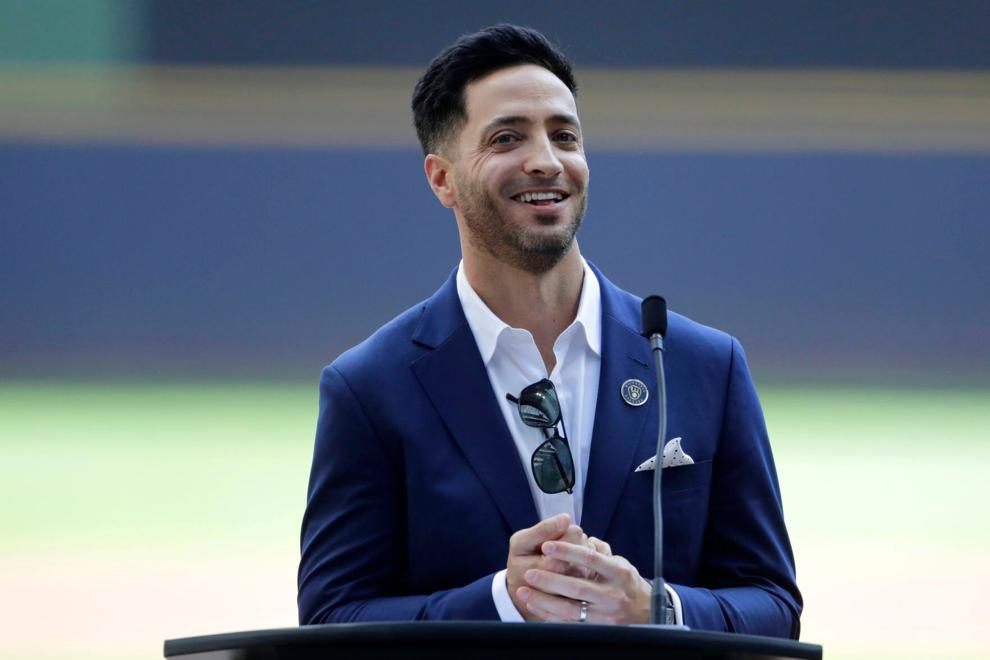 The 6-foot-2, 205-pound Braun showcased his potential during his rookie season as he amassed 34 home runs and 97 RBIs with a .324 batting average and 1.004 OPS. Those marks earned Braun the NL Rookie of the Year in 2007. 
Blessed with a short and compact swing, Braun racked up four All-Star Game selections in his first five seasons. 
The peak of Braun's individual accolades occurred when he captured the 2011 NL MVP as the Brewers won the NL Central, but fell to the Cardinals in the NLCS. Braun had 33 home runs, 111 RBIs, .332 batting average and a .994 OPS. 
It was later revealed by Braun that he used performance enhancing drugs during the 2011 season. This resulted in Braun being suspended on July 22, 2013 for the remainder of the season. 
From 2008-12, Braun tallied five consecutive Silver Slugger awards. In 2012, Braun hit a career-high and NL-best 41 home runs, while also being second in the league in RBIs (112) and first in OPS (.987). 
In 2015, Braun earned his sixth trip to the All-Star Game to break a record set by Cecil Cooper and Paul Molitor. During that season, Braun surpassed Robin Yount as the Brewers' all-time home run leader with his 252nd long ball during a contest vs. the Miami Marlins on Aug. 19. 
Braun also broke the Brewers' record for career grand slams in 2017 with his sixth. Braun finished his 14-year career, all with the Brewers, with a line of .296 with 352 home runs, 1,154 RBIs, 1,080 runs, 216 stolen bases and an .891 OPS.