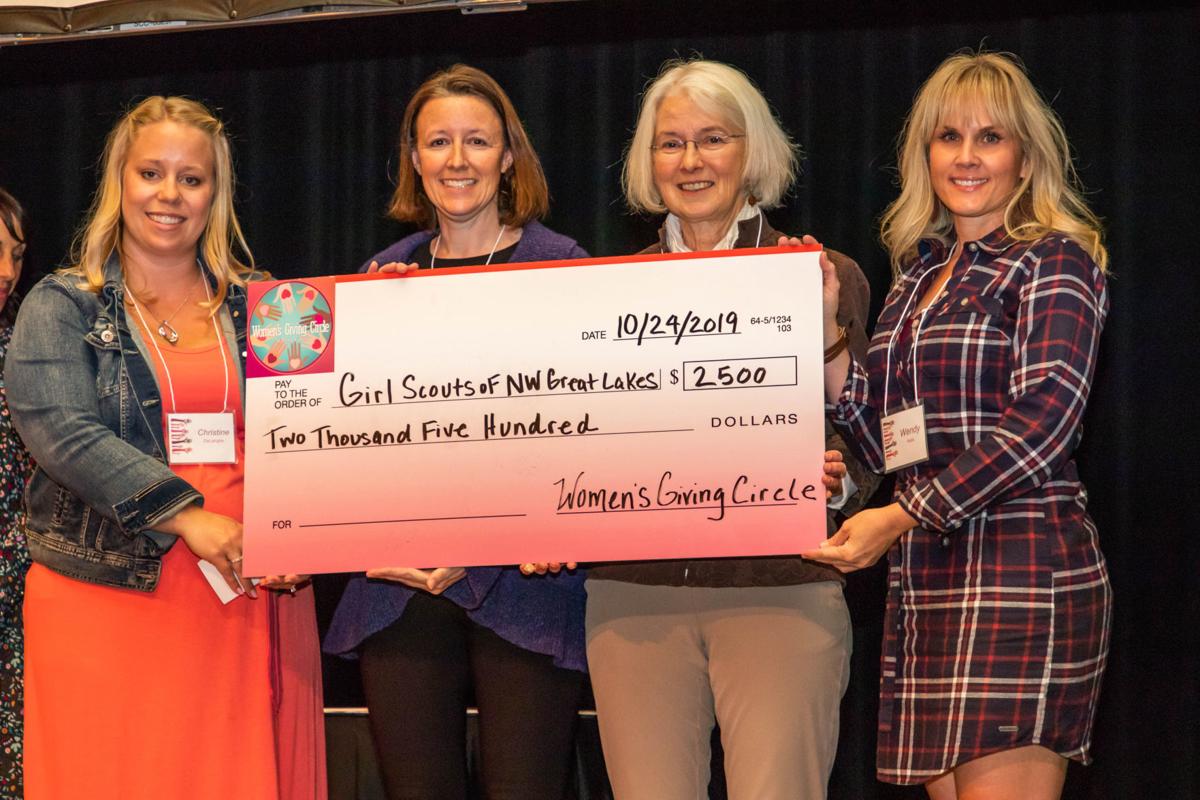 The Women's Giving Circle (WGC) of Dunn County celebrated its 2019 Fall Philanthropy Gala on October 24 at the Mabel Tainter Center for the Arts, where they gave away $12,735 to nine local non-profit organizations through their yearly grant process.
The WGC of Dunn County is a fund of the Community Foundation of Dunn County (CFDC) which focuses its efforts on women and children in Dunn County through education, grantmaking and other community-based activities. The WGC brings together women from diverse backgrounds with the common goal of improving the lives of disadvantaged women and families in Dunn County.
During the Fall Gala, the WGC gave $2,500 to two organizations, the Foster Closet and Girl Scouts of the Northwest Great Lakes, Inc. The Foster Closet will put those funds towards their outreach program "The Missing Link" which provides basic necessities to children entering foster care, while the grant for Girl Scouts will go towards UW-Stout's STEAM (Science, Technology, Engineering, Arts and Math) event, which provides hands-on learning for girls.
You have free articles remaining.
Positive Alternatives received $2,000 to expand community-based services for prevention, intervention and aftercare services for at-risk youth and families. UW-Stout Fostering Success was also awarded $2,000 for welcome baskets which support former foster youth attending UW-Stout.
The Bridge to Hope was awarded $1,650 to provide welcome bags containing basic essentials for women (and children) escaping abuse. Mayo Clinic Red Health System—Red Cedar, Inc. was awarded $585 for their Reach Out and Read Pediatric Literacy Program, which promotes literacy by providing free books at pediatric visits from birth to age five.
Five hundred dollars each was awarded to Dunn County Public Health for bicycle helmets for families in need, the Eau Claire Area Hmong Mutual Assistance Association for sexual assault support group outings, and the WGC Youth Philanthropy Initiative to introduce local middle school students to philanthropy.
The Fall Philanthropy Gala concluded all the WGC events for the year. They will begin the 2020 cycle with their Membership Meeting on April 21 (time and location TBD). If you're interested in becoming a member, please visit http://www.wgc.cfdunncounty.org/join-us/.