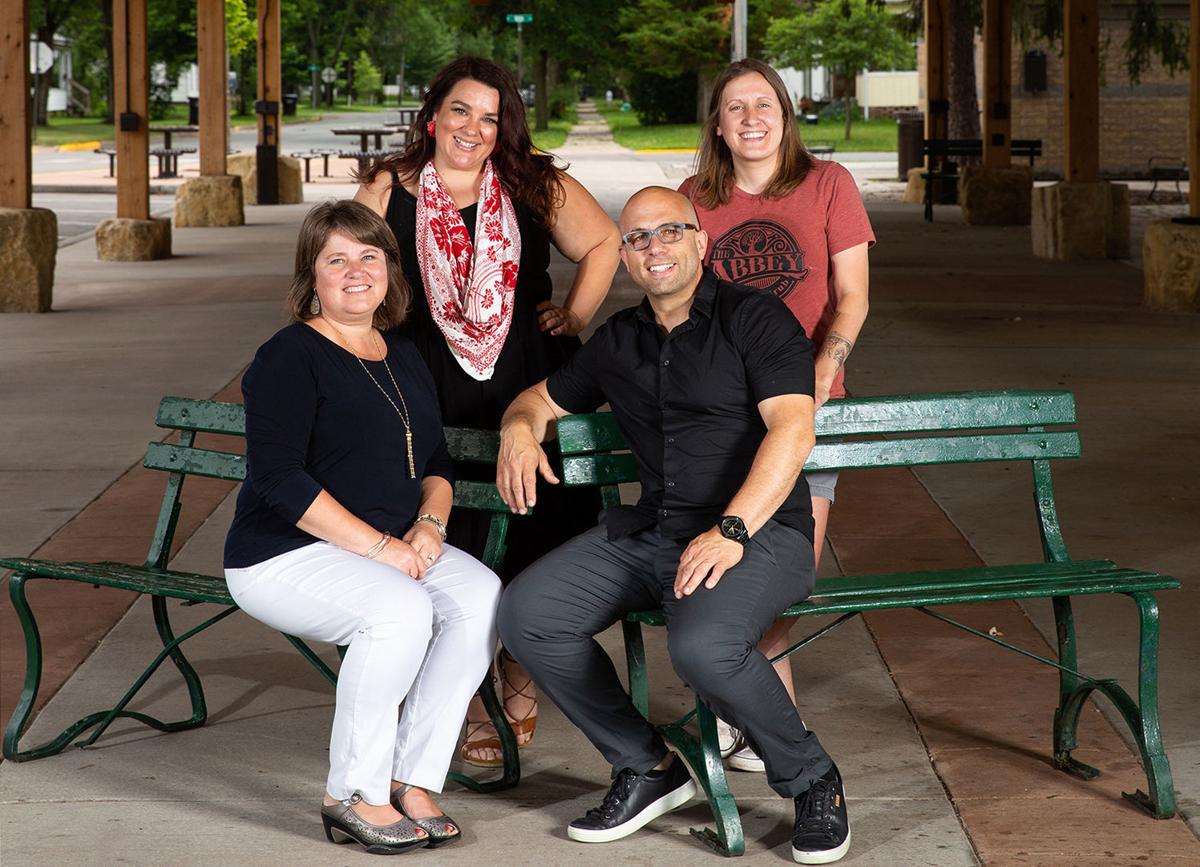 Walking in downtown Menomonie is almost like attending a UW-Stout alumni event.
UW-Stout' s homecoming parade from 11 a.m. to noon on Saturday, Oct. 5, will march by many of the businesses owned by alumni.
Anshus Jewelers, Studio MLM, Iris Boutique, Mike's Art & Design Supply, Mood Boutique, the Abbey and more are businesses owned by alumni. Many other downtown businesses are managed by or employ alumni and students.
"Menomonie would not be Menomonie without UW-Stout," said Lisa Anshus Frank, who owns Anshus Jewelers, which her family has operated downtown for 104 years. "It brings a vibe. Stout helps keep Menomonie current. We can't be stagnant."
On a daily basis Anshus Jewelers, on Main Street, has university students stop in for jewelry repair or a watch battery. Those relationships expand to couples who meet at UW-Stout buying wedding bands, said Frank, a 1990 business administration graduate who has worked four decades in the family jewelry shop started by her grandfather, Nels, in 1915.
Frank took over the business five years ago from her father, John, and her mother, Audrey, a 1949 UW-Stout textiles graduate.
While at UW-Stout, Frank lived in the dormitories for two years and then got an apartment with friends. "As soon as I went up the hill from Froggatt Hall, I was home," she recalled. "As soon as I went down the hill to campus, I was in a different place. I made new friends. It was a different environment."
Art, design influence
Alumni Mike and Kari Tarr co-own Mike's Art & Design Supply. Mike graduated in studio art with an emphasis in ceramics in 1995. Kari graduated in 2002 in graphic design and is an adjunct instructor, teaching foundation art classes.
Mike's, on Main Street, is the only art and design supply business in Menomonie. Mike worked there from 1996, when it was Penco, until 2007, becoming manager. Then he earned his Master of Fine Art in painting and drawing at Bowling Green State University in Ohio. He returned to manage Penco in 2009 and bought the business in 2011.
"UW-Stout is essentially the business," Mike Tarr said. "I don't think we could survive without that customer. The store is here because UW-Stout has the biggest undergraduate art and design program in the state." By the cash register is a Stout Proud pennant.
Since 2015 the store has offered four $150 stipends each year to students as a way to give back. Students fill out a simple application, including a biography, images of their work and the names of two faculty mentors. The stipends are awarded based on need and merit.
"I wanted to show students I care about them," Mike said. "I came to this business as an artist connected to the program. What I sell matters to me."
Micah Maraia, who owns Studio MLM in the former Masonic Lodge building he owns, is a 2003 industrial design graduate. Studio MLM is a full-service, multidisciplinary design and development company.
Maraia also owns Dotz, a company that invents and develops cord and cable management products. His businesses, which he started in 2008, have been in downtown Menomonie since 2010 and in the current space since 2016. Being close to campus allows Maraia to hire alumni, three currently.
"It's a nice town," he said of Menomonie. "Because of the university it is not your typical Midwestern town. What I like is the close proximity to the post office, the bank, the airport is nearby and the living expenses are low. I do work with the school. I've taught a class there, do guest critiques and judge competitions."
Across the hall in the building, at Main Street and Broadway, is Jennifer Joyce Design, a floral studio specializing in wedding and event floral design. It is owned by 2004 interior design graduate Jennifer Rentmeester. She has been in the studio for two years but has 22 years of experience in the floral industry. She rents studio space for classes, workshops or special events such as bridal or baby showers and offers pop-up retail sales.
"I think Stout is an integral part of downtown Menomonie," said Rentmeester, who employs UW-Stout students, citing their influence on retail sales and eventually as business owners.
A native of Menomonie, Rentmeester believes her education influences her business on a daily basis.
"I feel a lot of my courses and what I learned through Stout apply to what I offer people through my work," she noted, adding she talks with clients to learn their vision and then uses design fundamentals like color and texture to create her art-based floral creations for events. Using sustainably-grown products is another focus for her event work.
Rentmeester also is wedding and special events manager at the historic Mabel Tainter Center for the Arts downtown.
Popular pub
Abbey Schmaling has used much of what she learned as a 2012 industrial design graduate to help remodel the building on Main Street that houses her business, Abbey Pub.
"Industrial design is a very broad design," she said. "The concept is having a particular problem and coming up with a solution or working to make something better. I like to never be bored. I love creating and building things."
The Abbey, which is decorated with old church pews and stained glass, attracts students and other local residents, who like the pulled pork sandwiches with a Cajun horseradish or honey mustard sauce and the pork nachos.
Schmaling came to Menomonie from southern Wisconsin to attend UW-Stout and chose to stay. "Menomonie's got some small-town charm but is also progressive because of the college," Schmaling said. "They balance each other."
More businesses
Some of the other businesses in downtown owned by alumni include:
Stitched Up and 7th Bone Tailoring Agency, Erin Hogan-Braker
Mood Boutique, Veronica Smith
Iris Boutique, Leah Ritchie
Brewery Nonic, Ryan Verdon
The Market, Jason and Jeremy Davis
The Arena, Jason and Jeremy Davis
The Gin Mill (opening soon), Jason and Jeremy Davis
Log Jam, Rob and Kristin Schenck
Tabby's Catfe, Amanda and Karlyn Davis
Waterfront Bar and Grill, Jason Davis
Happy Apple Therapy Center, Rachel Funk Johnson
Silver Dollar Saloon, co-owned by Peter Gruetzmacher
Thread Lab, Lori Krause
UW-Stout is Wisconsin's Polytechnic University, with a focus on applied learning, collaboration with business and industry, and career outcomes.
Be the first to know
Get local news delivered to your inbox!