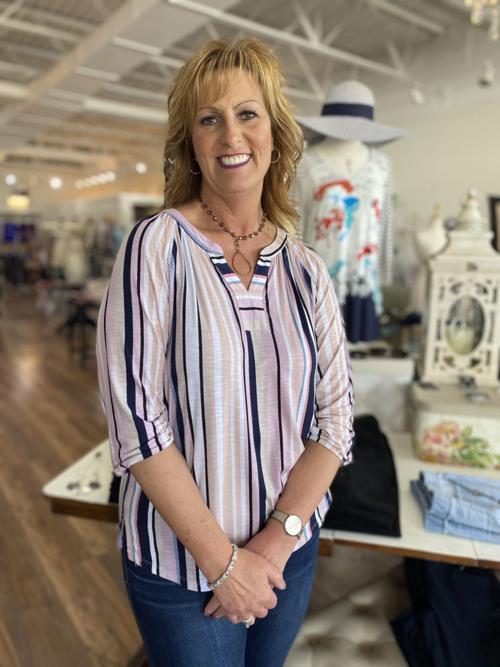 Dianna Fiergola always knew people cared about her and her store.
It wasn't until a pandemic led to the closure of Mainstream Boutique in Menomonie that she realized how many and how much people cared.
Fiergola has been blown away by the support of her customers as women's retail clothing store looks to navigate the challenges of the COVID-19 pandemic.
"I knew I had it," Fiergola said of the support. "I knew I had a small group of ladies who did that for me, but I didn't realize how big my tribe really was, how I had so many customers that loved and supported me in such a special way, and they've been showing it."
With the store's doors closed Fiergola had to adapt. She could offer curbside pickup but without a website that displayed the clothing there wasn't a way to show customers what was available. As a franchise, through collaboration with other store owners and Mainstream Boutique's home office, Fiergola has leveraged the power of social media.
Three times a week in the evening Fiergola does Facebook live videos in the store going through items as loyal customers watch and interact through comments. Each item is numbered and viewers can request a piece of clothing. Fiergola will place a note on the item with the buyers name and it can be picked up curbside or locally Fiergola has dropped of items outside people's homes.
Mainstream Boutique maintains a mission to empower, strengthen and celebrate women through fashion and for four years Fiergola has tried to do that. What's occurred during the pandemic is she now feels her customers have been the one's empowering and strengthening her.
"It's been a complete 180, and that's come back to me fully," Fiergola said. "That's where I like to use the word blessed because I truly am. If it wasn't for the fact that these women have loved me and supported me in this and they've been incredible."
Fiergola has also added themes to her days. On Wednesday evenings it's Wine Wednesday during her video as she features some of her favorite wineries in the area and asks viewers to share what they may be drinking. Mainstream Boutique usually provides at the store coffee and baked goods made by Fiergola's mother Harriette. During the closure, she decided to host videos of her baking with her mother each Sunday. After the baking session Fiergola posts the recipe.
As a result of the support she's felt from the community, Fiergola has made it a priority to also show her support to other local small businesses. On Tuesdays and Thursdays she gets delivery or curbside pickup of restaurants while sharing on her social media asking others join in supporting these businesses.
"It's kind of a little mystery surprise, where is Dianna dining tonight?" she said. "It's been really fun to do...supporting our local restaurants here and challenging my viewers to do the same thing and to really continue to support our small businesses here because that's what we need and that's the way we'll go ahead and survive."
The fear of closingWhen notified she would need to close her store there was fear, Fiergola said.
With fixed payments for rent, utilities and taxes, along with four part-time employees, she wondered how she would make ends meet not only for her business but also personally.
The Menomonie business was also coming up on a four-year anniversary and Fiergola had a big plans. She had purchased a large supply of items, gotten extra gifts for customers, planned a VIP bingo night all part of a three-day celebration.
"To suddenly have that pulled out from underneath me so to speak with the instant closure of our store, it was really scary." Fiergola said.
Being part of a franchise has been key, Fiergola said. Initially after closures daily conference calls were held to formulate a plan. The plan involved using social media to sell but Fiergola wasn't sure she was comfortable in front of the camera talking to herself. Although not a shy person, she felt a little intimidated, but once the back-and-forth interaction began that disappeared.
"At first it was a little scary, it was a little intimidating to go ahead and look at yourself, and you're like 'oh my gosh I'm just talking to myself.' This is the weirdest thing," she said. "It's becoming definitely more comfortable, having that interaction with my ladies and letting them have that interaction back and forth, having their comments and having their encouragement."
Speaking with other small business owners Fiergola said she isn't the only one to receive great support from a close-knit community. While everyone grapples with the challenges faced during the pandemic Fiergola has found a group of people that can share their concerns, their stories and their interest in fashion.
"If it wasn't for them sharing those stories with me I wouldn't have continued this because I felt like I was maybe overwhelming them with too much of me and too much of my store," Fiergola said, "and I didn't want it to be just about selling.
"At the end of the day of course I'm a business, I want to go ahead and sell products to people, but it was more about in the midst of these trials and this turmoil we're going through to come together and really help each other through this time."
Be the first to know
Get local news delivered to your inbox!